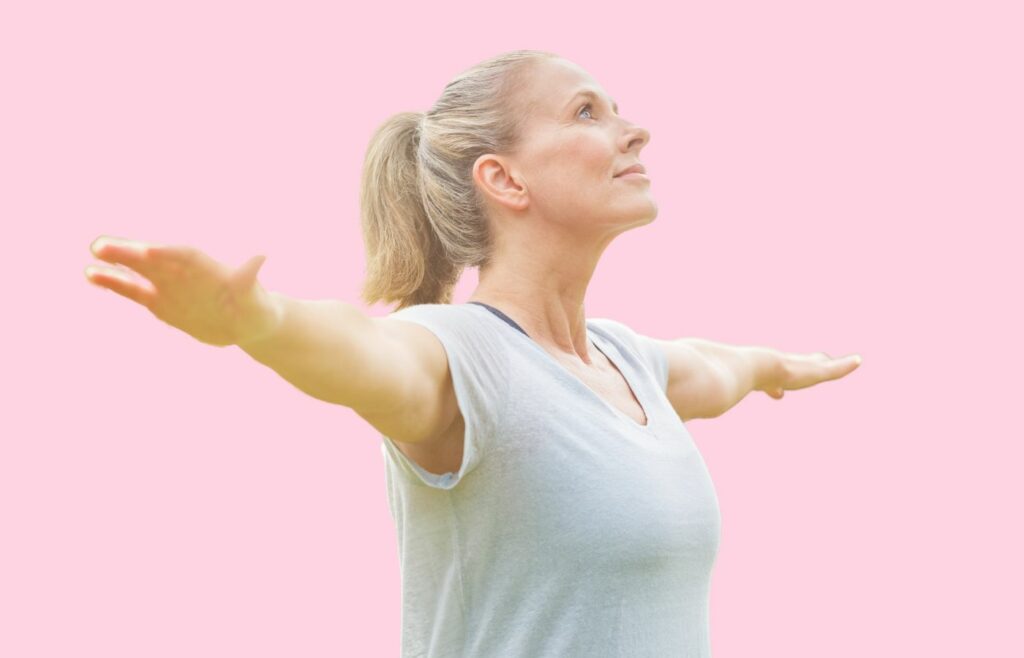 Toned arms are a timeless quest for most women over 50. But don't worry—these top 5-minute arm workouts will have you showing off your sculpted biceps and triceps in no time and making you feel like you've found a treasure trove of exercises to help you tone and shape your arms.
Last week, we were mentioned in a Bustle article about 5-minute arm workouts on YouTube. This got me thinking about how I can provide even more value to fabulous ladies who are looking for quick and effective arm workouts that can be easily integrated into their busy lives.
That's why I've curated a list of my top 5-minute arm workout videos on YouTube to help you get the most out of your exercise routine. These workouts are designed to target your biceps, triceps, and shoulders and strengthen your upper body.
My Top 5-Minute Arm Workouts With Fabulous50s
Take five minutes to say goodbye to flabby arms and hello to toned, sculpted masterpieces, whether you're at home, or on the go.
1. 5-Minute Toned Arm Workout With Dumbbell Weights
In this video, you will do a series of 5-minute arm workouts with a set of dumbbell weights that are meant to tone and strengthen the arms in just five minutes. The workouts focus on the biceps, triceps, and shoulders to help you get lean, toned arms. Start with a lighter weight and gradually increase it to suit your fitness level.
The workout includes bicep curls, tricep extensions, and shoulder presses. These 5-minute arm workouts work all the major muscles and provide a full-body workout. The fast-paced workout burns calories and improves fitness by keeping the heart rate up.
READ ALSO: Toned Arm Workout With Dumbbell Weights | Women Over 50
2. 5 Minute Tone Your Arms Workout CHALLENGE! No Equipment
This quick, no-equipment arm workout will tone and strengthen your arms. Without dropping your arms, the workout targets the biceps, triceps, and shoulders. This type of arm workout is called "isometric" because it involves holding the muscles without resting or dropping your arms.
The fast-paced workout is more challenging than it looks, but it is doable and a suitable exercise for beginners and seniors.
3. 5 Minute Toned Arm Workout To Get Rid Of Batwings | No Weights!
The 5-minute arm workout targets the triceps and reduces "batwings," or flabby skin on the underside of the arms.
The workout includes a variety of exercises that target the triceps muscles from different angles to reduce the sway of your bingo wings. These exercises work to strengthen and tone the muscles in the arms, leading to a more defined and sculpted appearance.
READ ALSO: How To Lose Arm Fat For Women Over 50!
4. 5 Minute Toned Arm workout For Mature Women Over 50
This 5-minute at-home toned arm workout for mature women over 50 requires no equipment. This arm workout for older women is quick and effective.
The workout strengthens and tones the shoulders, biceps, and triceps. Taking into account joint or mobility issues, these exercises are safe and effective for mature women over 50.
This is great for older women looking to build arm strength and tone.
5. 5 Minute Toned Arm Workout With Dumbbell Weights!
This quick and effective arm workout uses light dumbbell hand weights to tone and strengthen the arms, and get rid of those flabby bat wings forever.
The arm workout targets the biceps, triceps, and shoulders, improving arm strength and tone with a full range of motion. Dumbbells add resistance to exercises, making them harder and more effective for muscle tone and strength.
 In just 5 minutes, you can build strong, toned arms for summer sleeveless tops and dresses!
Closing Thoughts
These top 5 Fabulous50s 5-minute arm workouts are perfect for women who want to tone and strengthen their upper body in a short amount of time. They are not only quick and effective, but also enjoyable! 
These Fabulous50s 5-Minute Arm Workouts show that fitness has nothing to do with age. If you do these exercises every day, you'll soon have toned, strong arms that you'll be proud to show off.
So, if you want to take care of your arm health, get started right away.
---
Ready to lose weight fast? Check out our weight loss challenges to get in shape, tone your muscles—from eating healthy to staying active, you'll get everything you need to achieve your fitness goals.