Walking is a fantastic option if you're looking for an efficient and low-impact way to lose weight. It's not only simple to incorporate into your daily routine, but it's also a great way to increase your fitness and general well-being.
A weight-loss walking workout involves brisk walking at a pace that raises your heart rate and gets you sweating. You can burn more calories and lose weight more quickly by upping the intensity of your walking workouts.
Walking is great for your mental health in addition to its physical advantages. It can lower stress, improve mood, and even enhance cognitive performance.
Low-impact fat-burning weight loss walking workout
This 30-minute full-body, low-impact cardio fat-burning walking workout for weight loss will help you lose weight, burn calories, and improve fitness, especially for women over 50!
So lace up your sneakers and let's get started!
You can walk at home for 2 miles (3.8 km), burn up to 340 calories, and walk 3500 steps in this fast-paced indoor workout for all levels of fitness.
This is a full body workout suitable for beginners and can become your daily workout to increase your fitness level to burn fat and tone your whole body.
Walk at home and stay safe. There is no excuse to not exercise any more.
Walking workout benefits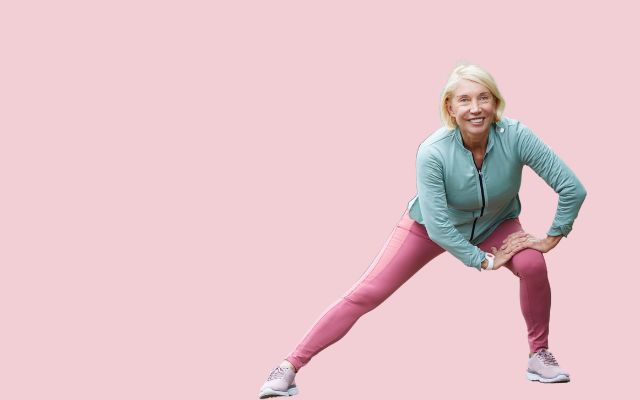 If you are feeling stuck with your cardio training and struggling to find the motivation to continue, here are just a couple of reasons why it's so beneficial to our overall health and some best practices to follow when setting out on your fitness journey.
READ ALSO: The Benefits of Cardio for Women Over 50
Weight loss
Walking is one of the most effective ways to burn calories and lose weight. Depending on your pace, the distance you cover, and your body weight, you can expect to burn between 100 and 300 calories every half hour while exercising by walking.
Cardiovascular health
Walking is an aerobic exercise that can strengthen your heart and lungs while also enhancing your cardiovascular health. This can lower your risk of heart disease, stroke, and other cardiovascular conditions.
Muscle strength and tone
Walking can help strengthen and tone your muscles, especially those in your lower body. Additionally, it can help with stability and balance.
Joint health
For those who experience joint pain or ailments like arthritis, walking is a low-impact exercise that is easy on the joints.
Mood and mental health
In addition to boosting mood and mental health, walking has been shown to lower stress, anxiety, and depression.
Improved sleep
Regular exercise, like walking, can help you sleep better, which is good for your health and well-being as a whole.
In conclusion, walking is easy to incorporate into your daily routine and is a simple yet effective way to enhance both your physical and mental health.
Click here to visit my YouTube Channel
Click here to join my 30-Day Mindfulness Challenge