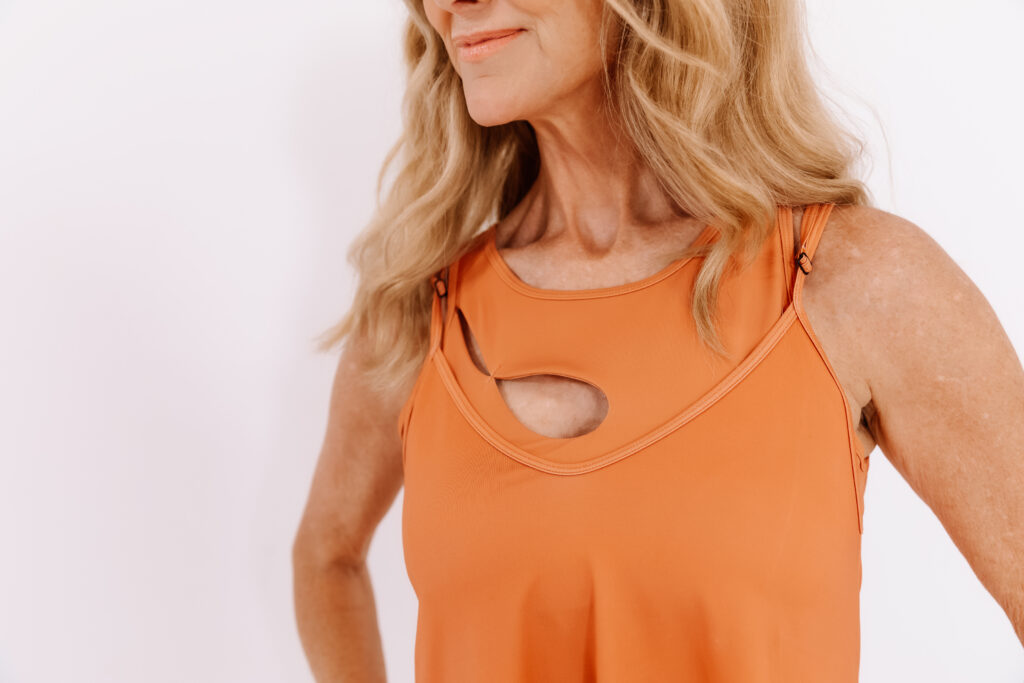 Are chest exercises with dumbbells necessary?
If you're like most women over 50, you may be concerned about maintaining the tone and shape of your chest. (After all, who wants saggy breasts?) 
But it's no secret that time naturally takes its toll on our bodies. As we age, the shape of breasts can change and droop more than before due to a loss in elasticity or "sagging."
This has always been something women were taught to accept and thus, probably that's why doing chest exercises may not be at the top of your list of priorities. 
But believe it or not, targeting this area is crucial for maintaining a strong and fit physique as you get older. In fact, neglected chest muscles can lead to poor posture which can eventually lead to all sorts of problems like back pain and spinal dysfunction.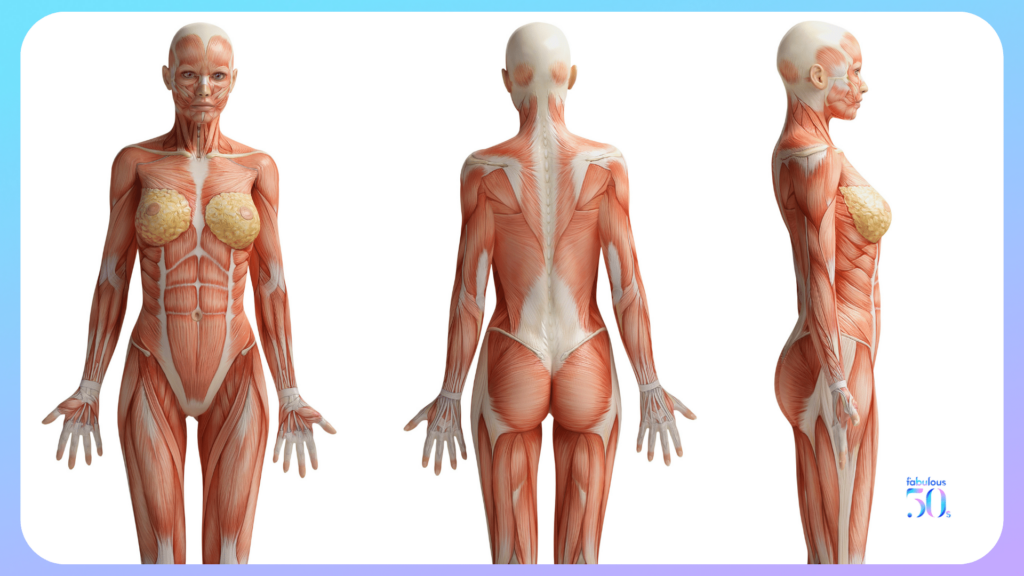 The image above is a diagram of all of the muscles that support the breast tissue.
This shows a front, back, and side angle to give you a reference to the muscles that you're working on while doing these chest exercises.
And what you'll notice is that you're going to feel it also in your shoulders, your back, and your side and as you can see it's all connected. Imagine all of these individual parts working together.
Well, it's time we started paying closer attention because this is exactly what our workout will do—unite every muscle from the front, back, and side into an amazing workout for Women Over 50!
What are the best chest exercises with dumbbells?
This blog post will show you how to perform four simple chest exercises with dumbbells that you can do at home.
We're not going to change the size of the bust or make them bigger (or smaller) but we're going to work on firming them.
You can do each exercises for 45 seconds with a 15 seconds rest in between. But remember, this is your journey, so listen to your body and if you're a beginner, do what's comfortable and just work your way up.
Let's get started!
Exercise 1 : Arms Out & In
Squeeze the dumbbells between your palms and then exhale as you extend your elbows.
Push in front of you and then hold and then bring it back again.
Exercise 2 : Dumbbell Circles
Bring your arms  out straight to shoulder height and start doing very small circles going inwards.
Just keep them  small and contract the muscles in your chest. Feel that squeeze, activate your arms and keep  your core held in very tight too.
To begin think of your lower body as a tree trunk.  So it's solid and firm. We're not going to move it.
Hold your core in very tight, have your hips straight.
Bring your elbows parallel to your shoulders  and we're going to push forward and pull back.
Exercise 4: Upright Front Raises
Bring your palm spacing out and bring your weight up to shoulder height. Squeeze at the top of the move and engage your chest.
Frequently Asked Questions
What Dumbbells to use?
Choose a dumbbell weight that becomes heavy and a little bit challenging after 8-10 reps (if it is too easy for you, increase your weight – if it is too hard for you, decrease the weight). A good place to start is with one kilo dumbbell weights but you can increase the weight depending on what feels comfortable. You can buy dumbbells in my Amazon store.
Can I do these without dumbbells?
You can but dumbbells provide a more challenging workout and they also help to improve balance and coordination. If you don't have dumbbells, you can use bottles of water or anything at all with a bit of weight to it.
How often should you do chest exercises?
You can do this workout up to three times a week on nonconsecutive days.
So there you have it – four of the best chest exercises using dumbbells. Give them a try and let me know how you do!
If you don't want to do it alone, you can follow along with me and watch these workout videos on YouTube for more upper body exercises:
Don't forget to do some stretches after doing the chest exercises:
If you find fabulous50s content useful and would like to support my work, you could always BuyMeATea  🫖 (completely optional, only if you want to!). Your support will help me create more quality videos and content created just for you… Fabulous women over 50! With love and appreciation, thank you. 🙏🏻😘
Gain a love for exercise and join over 1 million others today! 💖
Fabulous50s Workouts are designed with you in mind. They are meant to be a challenge, with the aim of improving your overall strength but they are very doable. 
We don't need to be athletes now we're over 50, but we do need to do some form of physical activity every single day. Aim to be 1% better than you were yesterday and you are a success. 
Now, let's celebrate YOU and enjoy the process!
✅ Join the Private Group -> Fabulous 50s Challenge Group
✅ Access the FREE Workout Plans here -> Fabulous 50 Fitness Challenge
****************
Disclaimer: 
(1) This content is not sponsored and all opinions are 100% my own. If I LOVE a product first, and there is an affiliate link available, I will use it. However, I will NOT look for a product that pays a commission first, and then do a review…EVER!
(2) Some links are affiliate links. If you click a link and buy something, I may receive a small commission for the sale. It doesn't cost you anything extra and you are free to use the link or not. It's totally up to you. If you do use my links…Thank you so much xxx
(3) Information provided in this content is of a general nature only and is for entertainment/educational purposes. We strongly recommend that you consult with your physician before beginning any exercise program. Performing any of these exercises is done so at your own risk.
********************