The 10-minute standing ab workout for the average 50 year-old woman is specifically designed to help you reduce belly fat and create flat abs. Additionally, you can strengthen and tone your core muscles while standing without having to go down.
We'll intensify the workout by using dumbbell weights, which will help you achieve your fitness goals faster.
Maintaining a solid core becomes more crucial as we get older. Strong core muscles can improve your balance, posture, and overall mobility. This makes it easier to do daily tasks and lowers your risk of falling and getting hurt.
If you want to stay active and lead a healthy lifestyle, this workout is ideal for women over 50.
We'll walk you through a series of exercises that work your abs, obliques, and lower back in just 10 minutes.
Watch the video to get started!
The workout is a low-impact exercise, making it accessible to all fitness levels. Thus, let's get started on your journey to a stronger core. Grab your dumbbell weight!
Do this at-home ab workout for 7 days straight to see results!
For women over 50, it is so beneficial to be doing some form of physical exercise every single day. This ab toning workout is very doable but still challenging enough to burn belly fat and achieve a flat stomach.
Fabulous 50s workout without equipment at home. Gentle on your neck and gentle on your back.
Why this 10-minute standing abs workout with dumbbell weights?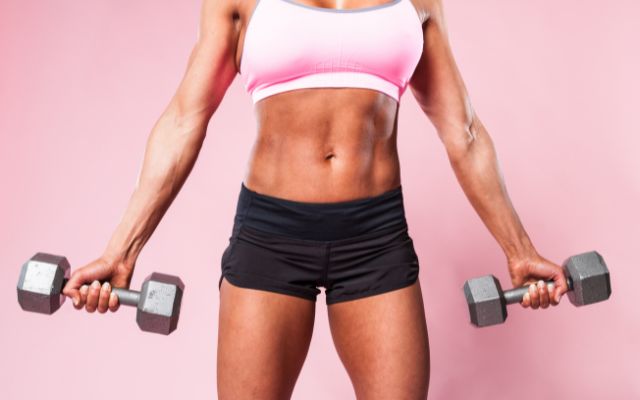 The 10 Minute STANDING Abs Workout with Dumbbell Weights has many advantages for women over 50. Some of the benefits include:
Accelerated metabolism
You can burn more calories throughout the day by increasing your metabolism with a high-intensity workout.
An increase in bone density
Exercises for strength training, like those in this workout, can help to increase bone density, which lowers the risk of osteoporosis and fractures.
Improved core strength
The workout focuses on your abs, obliques, and lower back muscles, assisting you in developing a stronger core. Your posture, stability, and balance may all improve as a result, making daily tasks easier.
Increased muscle tone
You can achieve a more defined and toned physique by using dumbbell weights to help tone and sculpt your muscles.
Reduced risk of injury
A strong core can help stabilise your body and lower your risk of falling and other accidents, especially as you get older.
Click here to visit my YouTube Channel
Join my 30-Day Mindfulness Challenge