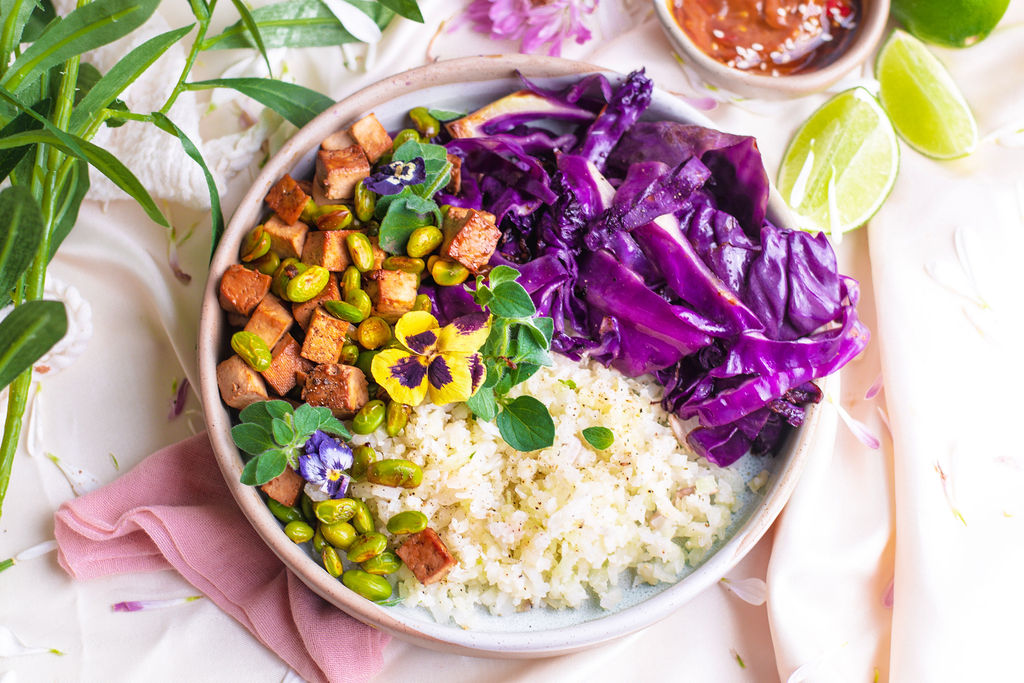 Baked Tofu and Cabbage with Peanut Ginger Sauce
I know that a lot of people think that healthy food is bland and boring, but I'm here to show you that it doesn't have to be!
Here's a delicious recipe that will make you love eating healthy meals. The baked tofu and cabbage are perfect with the peanut ginger sauce. So good, you won't even realize how healthy it is!
This dish is packed with flavor and healthy ingredients. The peanut ginger sauce adds a delicious Asian flair, and the baked tofu and cabbage are both incredibly filling.
Not only is this dish tasty, but it's also healthy and easy to make! Give it a try today!
Tofu. If there's one thing that I've learned from exploring healthy food options, it's that tofu is a magical ingredient. Seriously, what other food can go from being the star of a dish to taking on the flavor of whatever you cook it with? Tofu is truly versatile, and that's why I always make sure to have some in my fridge. Plus, tofu is packed with health benefits: 
Source of protective antioxidants

May alleviate menopausal symptoms

May support heart health

Source of 'complete' plant protein

May support blood sugar management
Edamame. Edamame, the baby green soybean, is making a name for itself as a top source of protein, antioxidants, and vitamins. From age-related brain diseases to diabetes, it seems that soy foods can help us fight off just about any illness. 
Here's another recipe to try: Field Mushroom and Edamame Stirfry
Purple Cabbage. Purple cabbage is a delicious alternative to traditional green cabbage. Not only does it have the same rich flavor, but purple varieties are richer in beneficial plant compounds than their green counterparts and can help you stay healthier longer! 
It's packed with impressive health benefits, all backed by science such as fighting the inflammation in our body that contributes to many diseases, up to 32% less risk for heart disease and promoting gut health.
This baked tofu and cabbage with peanut ginger sauce is nutritious, delicious, and easy to make. So put on your apron and let's get cooking!
📌 Pin it before you forget! Save this recipe  to your Healthy Recipes Board on Pinterest!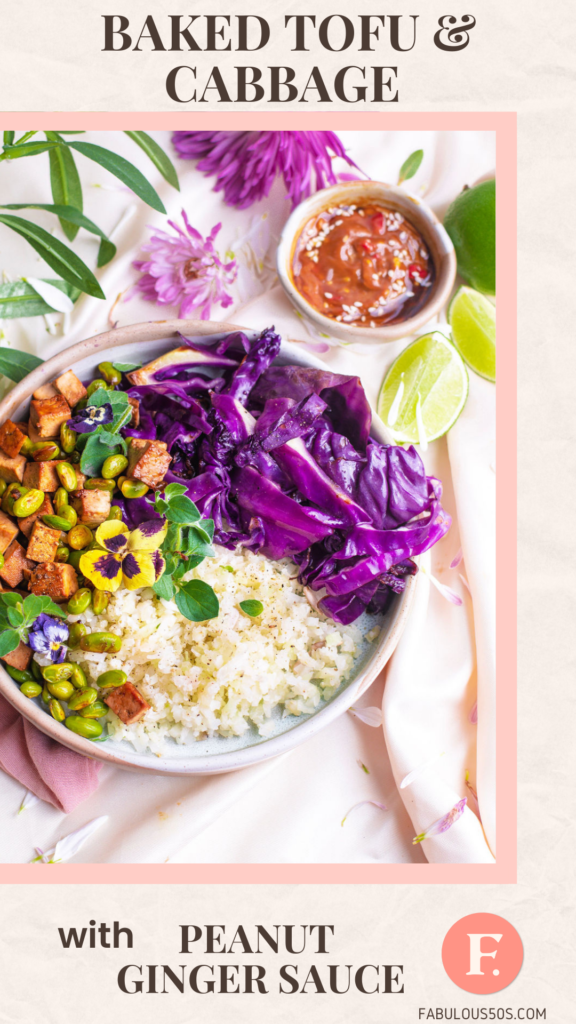 PREPARATION
Add the tofu and edamame to a mixing bowl with 3/4 of the tamari and toss to coat. Let the tofu marinate while preheating the oven.
Preheat the oven to 400°F (204°C) and line a baking sheet with parchment paper.
Arrange the cabbage on one side of the baking sheet and the marinated tofu and edamame on the other. Bake for 30 minutes stirring halfway through.
Meanwhile, in a small mixing bowl combine the peanut butter, ginger, lime juice, and the remaining tamari. Stir in the water to thin the sauce.
To serve, divide the cauliflower rice between plates. Top with the baked cabbage and tofu and drizzle with the sauce. Enjoy!
NOTES
LEFTOVERS Refrigerate in an airtight container for up to four days.
NUT-FREE Use sunflower seed butter instead of peanut butter.
MORE FLAVOR Add garlic, honey, sesame oil, or red pepper flakes to the sauce.
NO TAMARI Use coconut aminos instead.
MORE CARBS Serve with rice or quinoa instead of cauliflower rice.
So, there you have it – this baked tofu and purple cabbage is an easy way to make a delicious and healthy meal. And the peanut ginger sauce gives the dish just the right amount of flavor and zing.
I hope you'll give this recipe a try! If you do, be sure to let me know what you think in the comments below. And don't forget to share with your friends and family too – they're going to love it!
If you find fabulous50s content useful and would like to support my work, you could always BuyMeATea  🫖 (completely optional, only if you want to!). Your support will help me create more quality videos and content created just for you… Fabulous women over 50! With love and appreciation, thank you. 🙏🏻😘
****************
Disclaimer:
1. This content is not sponsored and all opinions are 100% my own. If I LOVE a product first, and there is an affiliate link available, I will use it. However, I will NOT look for a product that pays a commission first, and then do a review…EVER!
2. Some links are affiliate links. If you click a link and buy something, I may receive a small commission for the sale. It doesn't cost you anything extra and you are free to use the link or not. It's totally up to you. If you do use my links…Thank you so much xxx
3. Information provided in this blog post is of a general nature only and is for entertainment/educational purposes and is not medical advice. We strongly recommend that you consult with your physician before beginning any diet or health program. Making any changes to your health regime is done so at your own risk.

****************