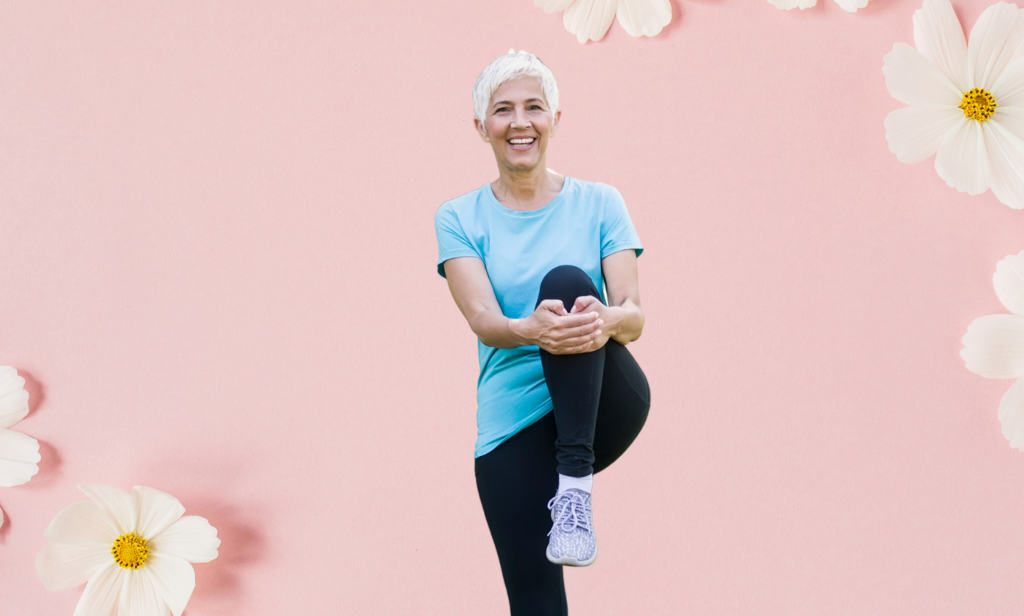 As we get older, keeping our bodies healthy becomes more and more important. For women over 50, keeping our legs strong and toned can help improve our balance, make them more flexible, and make conditions like arthritis and osteoporosis less painful.
Do leg workouts make you think of strains, sprains, or endless treadmill sessions? Do not believe that fitness myth anymore. You can strengthen your legs, and you should if you want to stay healthy, independent, and full of life.
Leg exercises for women over 50 are easy to do at home and do not require fancy gym equipment or expensive memberships. Build up the strength in your legs, and you can confidently stride into a healthier future.
These leg exercises will help you get stronger and get ready for more difficult weight-lifting workouts. Do not put it off any longer; this is the first step toward a life that keeps you young.
Why Leg Exercises for Women Over 50
Leg exercises for women over 50 can make a big difference in your overall health and quality of life.
Leg exercises help you build muscle and strengthen your lower body. This is very important because, as people age, their muscle mass naturally goes down. Strong legs help with balance and coordination, which lowers the risk of falling and getting hurt, which is a common worry among older people.
With leg exercises for women over 50, you can help them keep their weight down and get stronger. As your metabolism slows with age, regular exercise can boost it and help you burn more calories, helping you maintain a healthy weight. Better weight management can make it less likely that you will develop heart disease or diabetes.
Furthermore, leg exercises can help increase bone density, which tends to go down in women after menopause. This can lower the risk of osteoporosis. This is because weight-bearing exercises make bones grow and slow down bone loss.
But that is not all—women over 50 who do leg exercises regularly can also improve their mental health. Endorphins are "feel-good" hormones that are made when you work out. They can help reduce feelings of stress, anxiety, and depression.
Start working your legs into your routine today!
5-Minute Leg and Glute Workout for Women Over 50 (No Equipment)
This easy 5-minute leg and glute workout for women over 50 will help you build strength, muscle, and flexibility in your glutes, thighs, calves, and ankles without leaving your home.
This workout routine is safe and effective for you if you want to improve joint health and longevity.
The workout targets lower body muscles with simple but effective exercises. It is great for starting or adding to your fitness routine. It is quick, simple, and designed to make you healthier and more vibrant.
READ ALSO: Say Goodbye to Knee Pain: 10 Empowering Exercises for Women Over 50


Slim Leg Workouts (All Standing + Ankle Weights) For Women Over 50!
This 15-minute leg exercise is all about sculpting your butt, toning those thighs, and strengthening those calves. The best part? We are doing some serious muscle-building with ankle weights.
This workout has no jumping and is easy on your knees and back, making it good for women over 50. So, if you want a routine that will not hurt your body, this leg workout is the way to go.
It is easy for people who are just starting out because it focuses on strength training without any high-impact moves. So, you can jump right in and start feeling the burn, no matter where you are in your fitness journey.
This leg workout is only one piece of the puzzle. You can combine it with other microworkouts from fabulous50s to make your own full-body workout.
Now, what are you waiting for? It is time to treat your legs with the love and care they need. Grab those ankle weights and hit play!
12 Minute Leg Slimming Workout For Women Over 50
Are you ready to tone your legs without going to the gym for hours? Look no further! This 12-minute leg workout will help you lose weight by focusing on your inner thighs, outer thighs, and glutes.
It is the perfect way to lengthen and tone your legs, and it is great for both beginners and fabulous women over 50.
Say goodbye to the jiggle in your inner thighs and hello to legs that are toned and look great. This leg workout takes 12 minutes and is part of the Fabulous50s 14-Day Summer Body Challenge. You can start this challenge at any time, so there is no need to wait. And here's the best part—it's completely free!
5-minute Slimming Thigh Indoor Workout For Women
This 5-Minute slimming thigh indoor workout will help you tone your legs and get stronger without leaving your house. This workout will help you get the space between your thighs you want while also making your inner and outer thighs stronger.
This thigh-toning workout can be done in just 5 minutes a day and is both easy and very effective. It challenges your quads, hamstrings, and inner thighs to burn fat, tone muscles, and strengthen them.
The thigh workout will help you lose weight, gain strength, and improve balance. Enjoy this thigh-toning journey and celebrate your progress.
READ ALSO: 8 Knee Exercises for Strength, Fix Knee Pain and Increase your Mobility
10-minute Leg Workout For Beginners (Low impact, No Equipment)
Want to get your thighs in shape and maybe even get a thigh gap? This workout will get you to where you want to be. It is challenging, but you can definitely do it.
You can work on your legs and inner thighs in just 10 minutes. This will help you get slimmer, more toned legs. This indoor workout is designed to be easy on your body while still getting results.
Consider combining this slim leg workout with our easy-to-follow best toning arm workouts for women over 50 for a complete fitness plan. Together, these workouts will help you get strong, toned arms and legs that are not only beautiful but also strong
FAQs on Leg Exercises for Women Over 50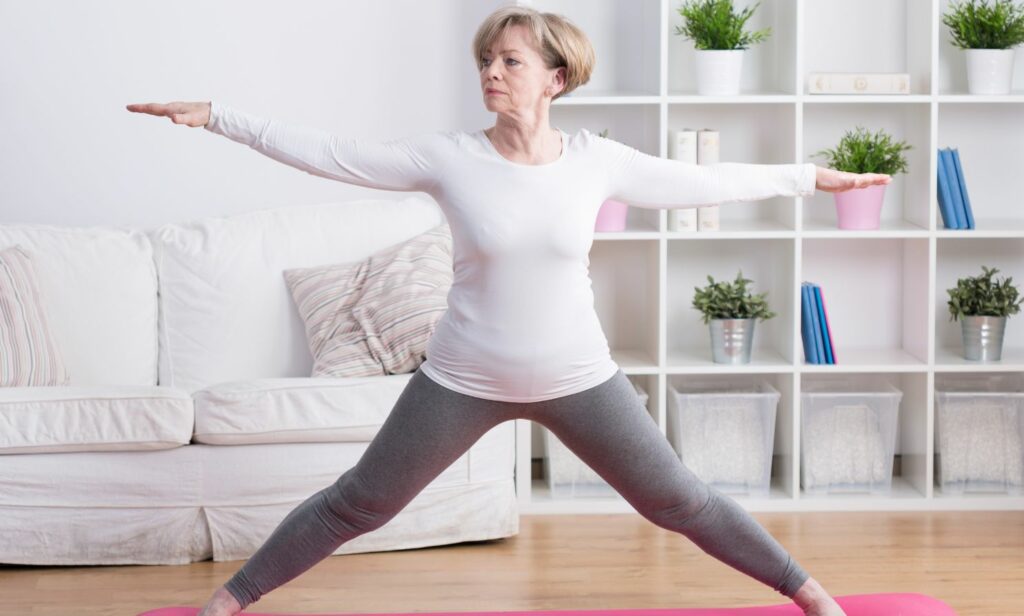 Q: Can I start leg exercises if I've never worked out before?
Yes, absolutely! It is never too late to start exercising. Just make sure to start slowly and build up your speed and time over time. Remember, consistency is key.
Q: How often should I do these leg exercises?
You should try to do it at least twice or three times a week. But again, listen to your body and change your routine accordingly.
Q: Do I need any special equipment for these exercises?
Most of these exercises can be done using your own body weight. For some, though, you might just need a chair or some resistance bands. Do not worry, our leg exercises will lead you through it.
Closing Thoughts
Regular exercise, especially leg exercises, can be a big part of keeping your health and fitness up after 50. These leg exercises for women over 50 can help you stay active, independent, and healthy.
But do not forget to always listen to your body and talk to your doctor before starting any new exercise plan.
Here's to stronger, healthier legs!