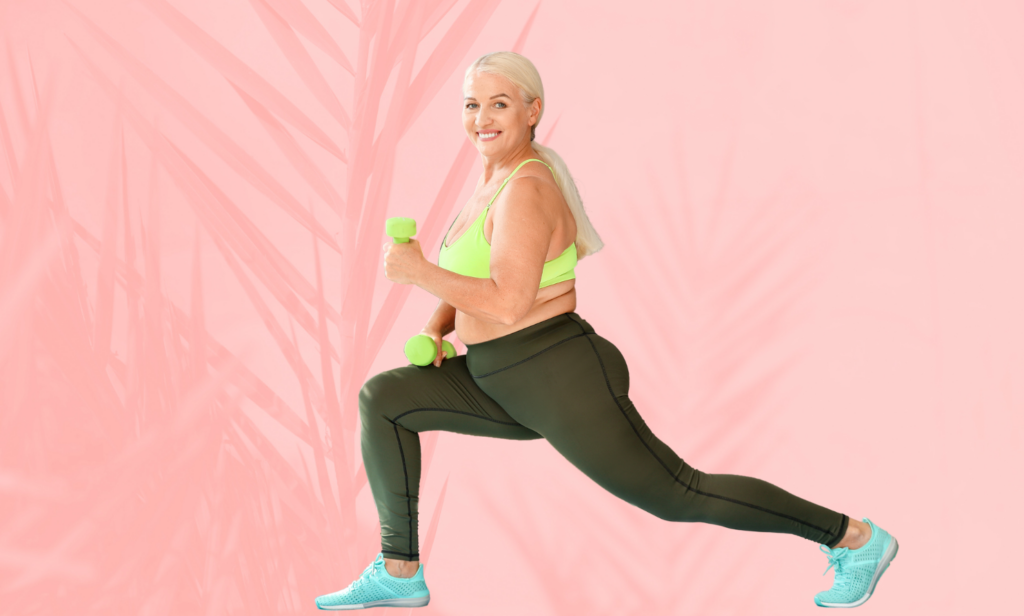 Our bodies go through a lot of changes as we get older, making it more important than ever to stay fit. One area that often gets overlooked is leg strength. That is where toned leg exercises come into play.
Whether you have always been into fitness or are just starting out, these workouts can help you maintain your leg strength and health in general.
Toned leg workouts mostly focus on the muscles in your lower body, like your thighs, calves, and glutes. They can be done at home with little or no equipment, which makes them perfect for busy women over 50.
In addition, you can adjust the intensity and duration of these exercises to suit your current fitness level and medical needs.
So today, I'll be sharing my favorite easy at-home toned leg workouts for women over 50. We're also going to take a closer look at the importance of toned leg workouts and the precautions to take before starting these workouts.
After reading this, you will be pumped up and raring to go on your leg-toning adventure.
Why Leg Workouts Are Necessary
Toned leg workouts are very important, especially for women over the age of 50. As we get older, our muscle mass and metabolism both naturally go down. This can make you gain weight, make it harder to move around, and make you more likely to fall and break something.
Regular leg workouts can help with these problems by making your muscles stronger and improving your balance and coordination.
Toned leg workouts are good for your body, but they are also good for your mind in many ways. Endorphins, which are often called "feel-good" hormones, are released when people work out regularly. This can help reduce stress, anxiety, and depression. Also, reaching your fitness goals can help you feel better about yourself and give you more confidence.
Lastly, it is important to do toned leg workouts because they can help improve your quality of life. If your legs are stronger, it will be easier for you to do things like climb stairs, go grocery shopping, and play with your grandchildren.
Plus, regular exercise can help you maintain a healthy weight, which is important if you want to avoid health problems like diabetes and heart disease.
Toned Leg Workouts for Women Over 50
1. 10 Minute Beginner Leg Workout For Women Over 50 // No Jumping!
This toned leg workout is great for people who have never done leg-toning exercises before. It has simple moves like leg lifts, calf raises, and leg presses while sitting.
It is great for women with knee or back issues because there is no jumping involved.
2. 10-Minute Toned Legs Workout For Women Over 50
This workout works your glutes, hamstrings, quads, and calves, which are the main muscles in your legs. It includes squats, lunges, and leg extensions, among other exercises.
Even though it only takes 10 minutes, it will make your legs feel strong and toned.
3. 5 Minute Slimming Thigh Indoor Workout For Women
Are you short on time? This quick five-minute toned leg workout is for you. It focuses on exercises like side leg lifts, inner thigh lifts, and scissor kicks to slim and tone your thighs.
This is a great leg workout for busy women because you can do it anytime, anywhere.
12-Minute Leg Slimming Workout For Women Over 50
This 12-minute workout is meant to make your legs slimmer and stronger. It has both standing and floor exercises, like step-ups, side lunges, and leg curls while lying down.
If you do this workout regularly, it can help you get lean, toned legs.
10 Minute Slimming And Toning Leg Workout With Ankle Weights
Want to make your leg-toning workouts more effective? Do this 10-minute workout with ankle weights. It includes exercises like donkey kicks, glute bridges, and leg circles.
The added resistance from the ankle weights can help you get stronger and build muscle tone.
Benefits of Toned Leg Workouts for Women Over 50
Toned leg workouts have many positive effects on women over the age of 50. They make your lower body stronger, which is important if you want to stay independent and do daily tasks easily. You can also keep a healthy weight and lower your risk of health problems like obesity, heart disease, and osteoporosis by doing these exercises.
Workouts that strengthen your legs can also improve your balance and coordination, making you less likely to fall and hurt yourself. They can also speed up your metabolism, which will help you burn more calories even when you are not doing anything.
Lastly, these workouts can help you feel better about your body and more confident. As your strength and stamina get better, you will feel proud of yourself and more in charge.
Before you start your workout, make sure you have warmed up enough. A good warm-up gets your body ready for exercise and lowers your chance of getting hurt. It could include light cardio exercises like walking or jogging as well as dynamic stretches that target the muscles in your lower body.
Last, pay attention to your body. Even though pushing yourself past your limits can help you get better, it is also important to know when to stop.
During a workout, you should stop and rest if you feel a lot of pain or discomfort. Remember that the goal is to make your health better, not worse.
Closing Thoughts
Leg workouts are a vital part of a healthy lifestyle, especially for women over 50. They help you maintain your strength, mobility, and independence. They also improve your mental health and make your life better overall.
You can start toning your legs right away with these five easy exercises.
Here's to healthier, stronger legs!
---