HOW TO NOT LOOK FRUMPY
The clothes we choose to wear have the power to transform us completely, and that is no exaggeration. Choosing the right combination of clothing can take years off your appearance and turn you from frumpy to funky. Today I'm so excited to share with you the secret formula to creating the perfect outfit to make you look 10 years younger.
People ask me all the time "what do I wear now that I'm over 50"? And it can be a bit of a juggling act between maintaining an age appropriate look and keeping things fashionable. One of the biggest reasons for the confusion behind what to wear is because the over 50 age group is not being marketed to properly. There doesn't seem to be any in-between from clothes suited to younger women and the kind of outdated clothing that is peddled for 'seniors'.
When choosing an outfit, there really are only a few things to keep in mind and I am going to lay these styling tricks out for you in this article. Dressing well will become effortless and choosing an outfit that is flattering, age appropriate and stylish will be something you can easily do with your eyes closed.
First of all, I'm going to explain what not to do.
WHAT NOT TO DO
If a top has a big, bold print (as in the example below) it's better to leave it on the rack. Bold prints have the power to overpower our look, making us look frumpy, formless and small. On top of this, bold prints can add years to our look because of how dated they style is.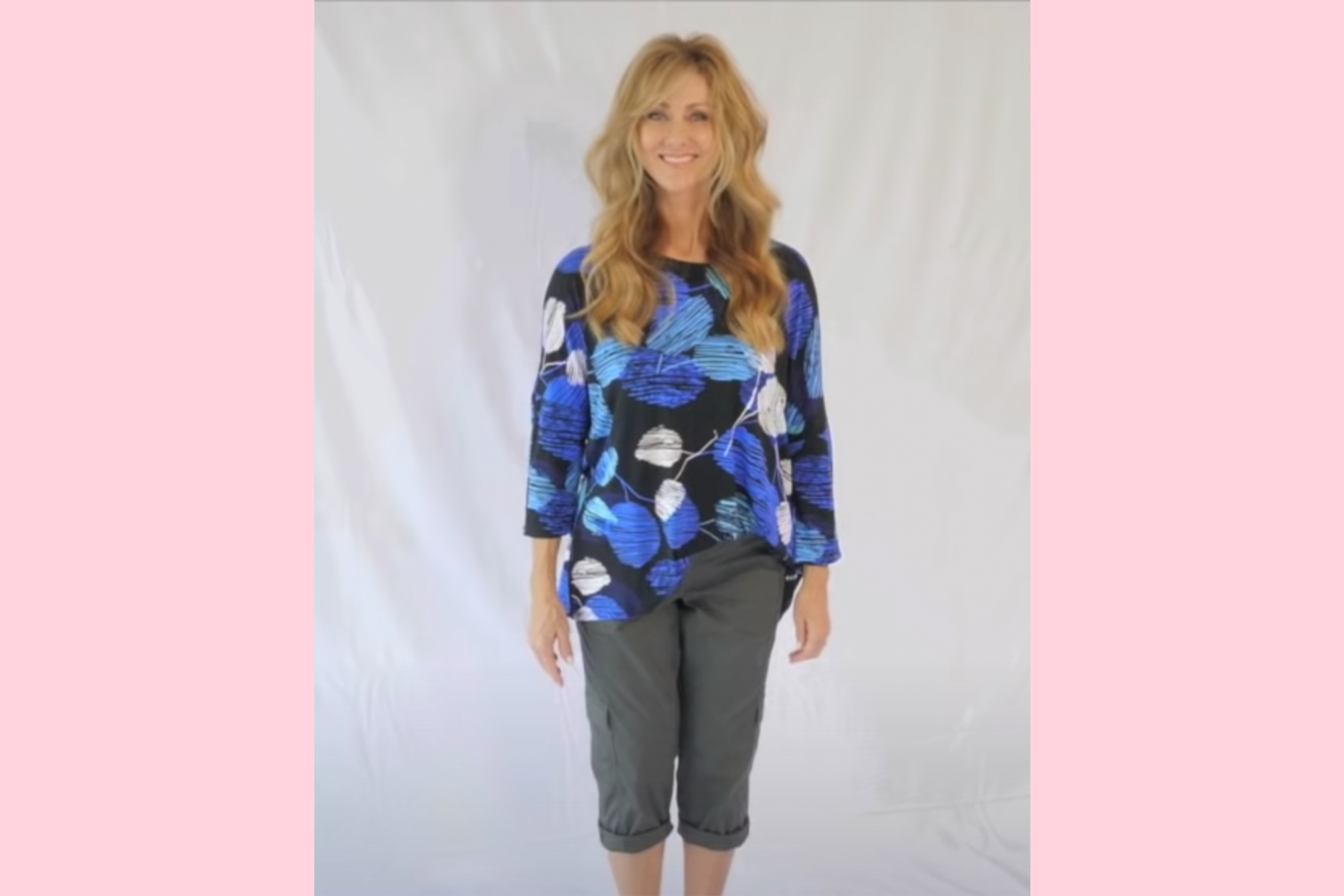 When choosing a pair of pants, avoid baggy or loose and try to steer clear of pants that cut off at the calf (as in the image below). When clothing cuts off at the widest part of the body, this will accentuate and draw attention to this area. As the calves are usually the widest part of the leg, pants that cut off here make us look short and stocky.
When it comes to shoes, it's definitely important to opt for comfort, however this should not come at the expense of style. The below example is a pair of shoes I picked up that I see on women quite often. Yes, they are super comfy, but they are not flattering in the least. I'm going to discuss picking the perfect pair of shoes soon, but just take note that this is not it.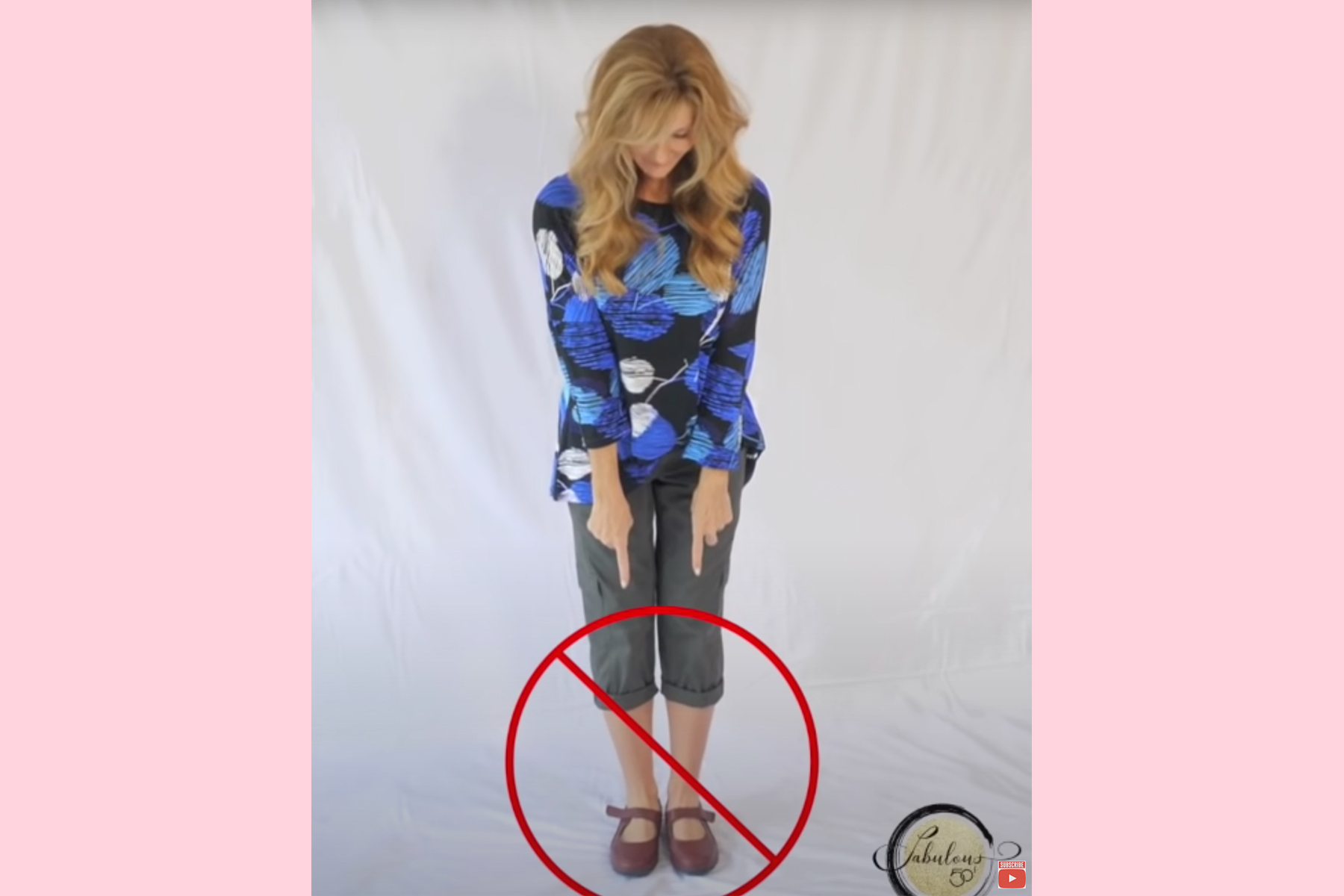 QUICK TIP
One really easy and quick way to check what is currently on trend for women over 50 is to jump on Google and search the name of a celebrity that has your body shape followed by 'street style'.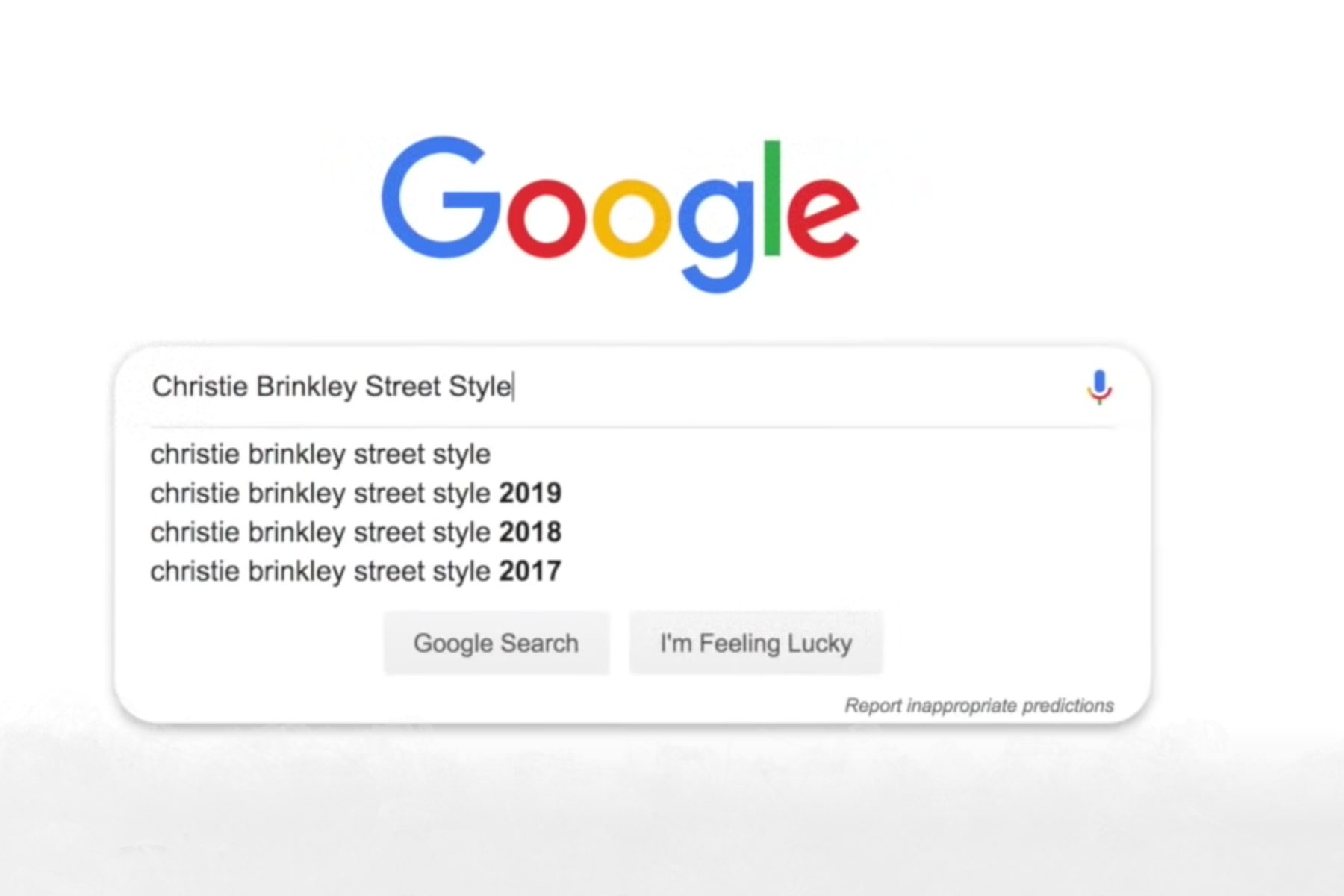 Have a quick look through the image results and you will be able to get an idea of what will most likely suit you and your body shape. Celebrity's usually have a team of stylists on hand who help dress them, even for a trip out for coffee. Why not take advantage of some professional advice for free?
WHAT TO DO!
In the example below, I've changed the shirt and already there is a huge improvement. Opting for a block colour as opposed to bold patterns will help to refine the look and choosing a colour that highlights your face will step it up even more. This is a total game-changer.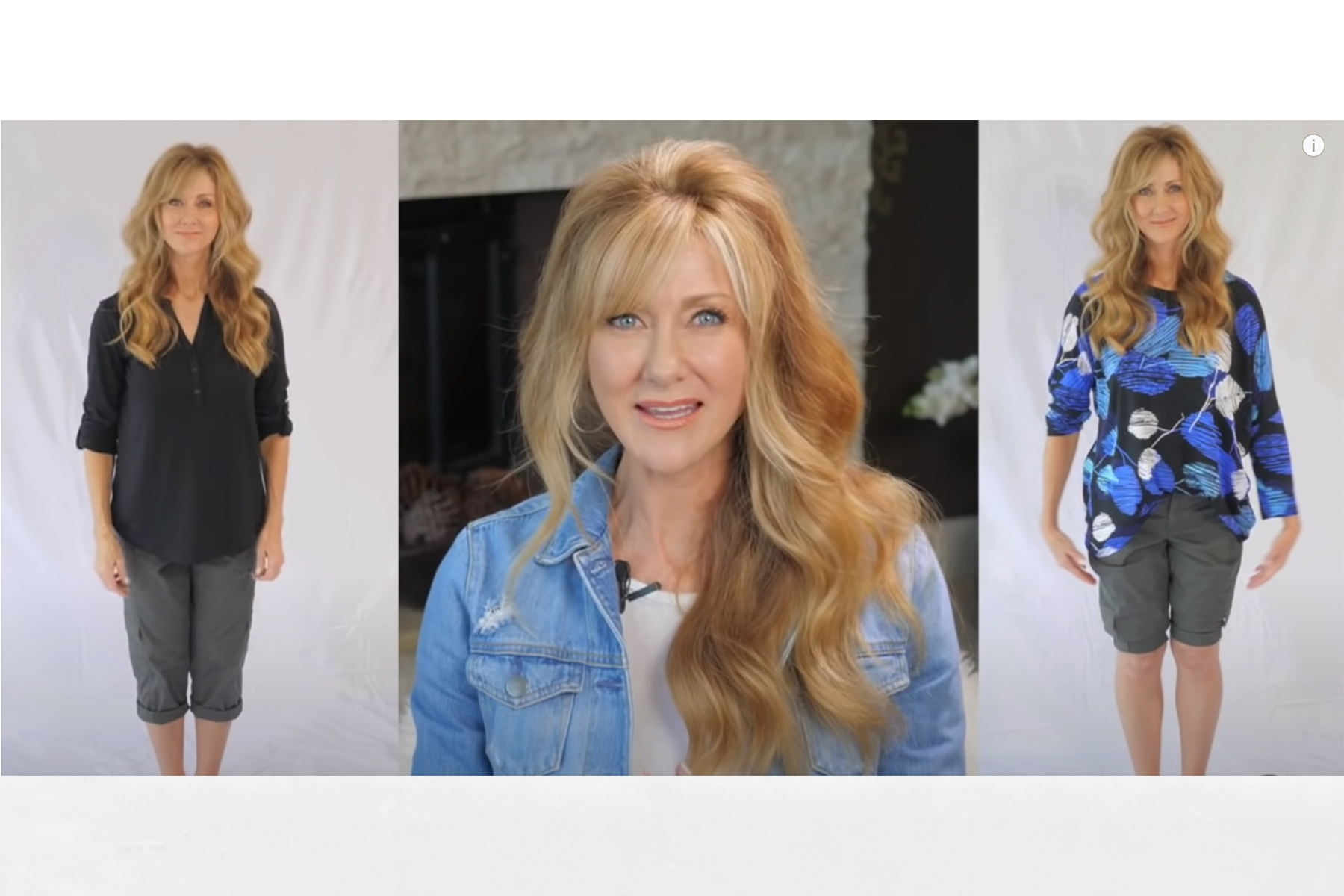 Below, I've addressed the pant issue and swapped the baggy pair out for some high waisted skinny jeans. Now, skinny jeans are not for everyone of course, but they work here to illustrate my point. Having your pants hug a little closer to your legs helps lengthen and define your figure, as opposed to the puffiness in the baggy pants which makes me look smaller and stockier. Choose the pair of pants that fit your legs really nicely and come down into a taper and make sure the pant legs finish at the narrowest part of your ankle.
Another important thing to keep in mind here is that if your pants are tighter, it's better to go for something loose and flowy up top, and the inverse is true as well if you've got something tight on up top. This will help keep you in proportion and balance out your body shape.
One universal tip which will help you take 10 years off your look is to invest in a pair of white sneakers. If you look anywhere online, doesn't matter if you're 20, 30, 60 or 70, white sneakers are the causal shoe of choice by some of the most fashionable people on the planet. Adding a pair to your wardrobe can instantly transform any look to be youthful and on trend.
IN CONCLUSION
Wearing an outfit that makes you look 10 years younger doesn't require a huge investment and it doesn't require years of training. Just knowing a few little tricks that you can implement in your everyday looks is going to make the world of difference. It may require a little trial and error to get just right, but that's part of the fun!
Disclaimer: This content is not sponsored and all opinions are 100% my own. If I LOVE a product first, and there is an affiliate link available, I will use it. However, I will NOT look for a product that pays a commission first, and then do a review…EVER!
Some links are affiliate links. If you click a link and buy something, I may receive a small commission for the sale. It doesn't cost you anything extra and you are free to use the link or not. Its totally up to you. If you do use my links…Thank you so much xxx