Walking workouts with dumbbells combine cardio and strength training to target multiple muscle groups and raise your heart rate. It is great that this workout works for all fitness levels. You can change the intensity by changing how fast you walk or by using different weights.
This exercise routine will not only boost your health but also fit seamlessly into your busy schedule. It's a 15-minute walking workout with dumbbells.
If you have not done this kind of workout before, you might be wondering why dumbbells are part of a walking workout. Well, the answer is simple: adding weights to your workout makes it harder, so you burn more calories and tone your muscles in a way that walking alone can't. The dumbbells work on your upper body, and walking works on your lower body. Together, they give you a full-body workout.
I burned 100 calories doing this workout as per my FitBit calculation, and everyone has a different rate of calorie burn based on height, weight, and fitness levels.
As part of your 7-day challenge, you will walk with dumbbells for 15 minutes every day. It might seem hard, but keep in mind that it will only take 15 minutes of your 24-hour day. Plus, you will get a lot out of this routine. Let us talk more about these benefits.
Benefits of Walking Workouts with Dumbbells
First of all, your walking workout with dumbbells is a great way to burn calories and lose weight. When you walk with weights, your body has to work harder, which makes it burn more calories. If you want to lose weight, this routine is a good way to do it. When you push your body to its limits, 15 minutes can make a big difference.
Second, this workout helps improve the health of your heart and lungs. Walking is a great way to get your heart rate up, and when you add weights, you make the workout harder and make your heart work harder. This makes your heart stronger and can lower your chance of getting heart disease or a stroke.
Lastly, walking with dumbbells is a great way to tone and strengthen your muscles. The weights help you build and tone your arms, shoulders, and back muscles. When you walk, on the other hand, your lower body gets stronger. This combination will work out your whole body.
READ MORE: This 30-Minute Walking Workout Is an Effective Fat Burner
Tips for a Successful 15-Minute Walking Workout with Dumbbells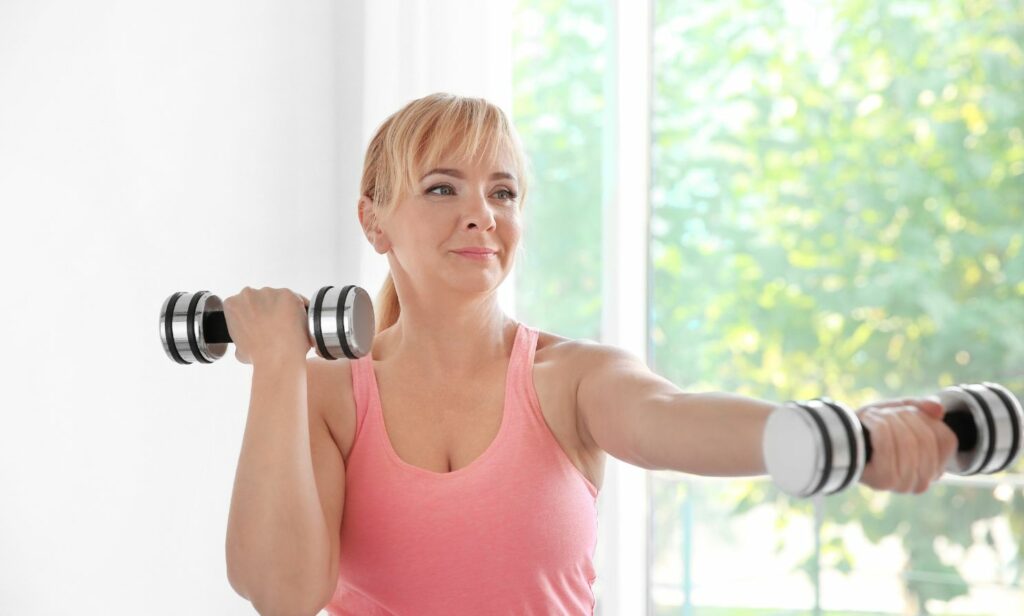 Now that you're aware of the benefits, here are some tips for a successful 15-minute walking workout with dumbbells.
Always warm up before you start working out. You can do simple stretches or take a few minutes to walk quickly. This gets your body ready for the workout and lowers the risk of getting hurt.
Choose dumbbells of the right weight. If you are just starting out, start with lighter weights and move up as your strength grows. The weights should be hard but not impossible to lift. Remember that the goal is not to push yourself too hard, but to do so in a healthy way.
Keep good form while you work out. Keep your back straight, drop your shoulders, and look forward when you walk. When you lift the dumbbells, make sure your movements are controlled. Do not move the weights or let them move on their own.
Consistency is key. Make sure you stick with the 7-day challenge, and even after the challenge is over, make the walking workout with dumbbells a regular part of your fitness routine.
Closing Thoughts
Adding a walking workout with dumbbells to your daily routine is a simple way to improve your health and fitness that works well.
This 15-minute workout helps burn calories, improve cardiovascular health, and tone muscles, among other things. With these tips, you can complete the 7-day challenge.
Do not give up too soon; getting fit is a marathon, not a sprint. Just take it one day at a time, and you will see progress in no time.
Get in shape quickly by starting your 15-minute walking workout with dumbbells right now.