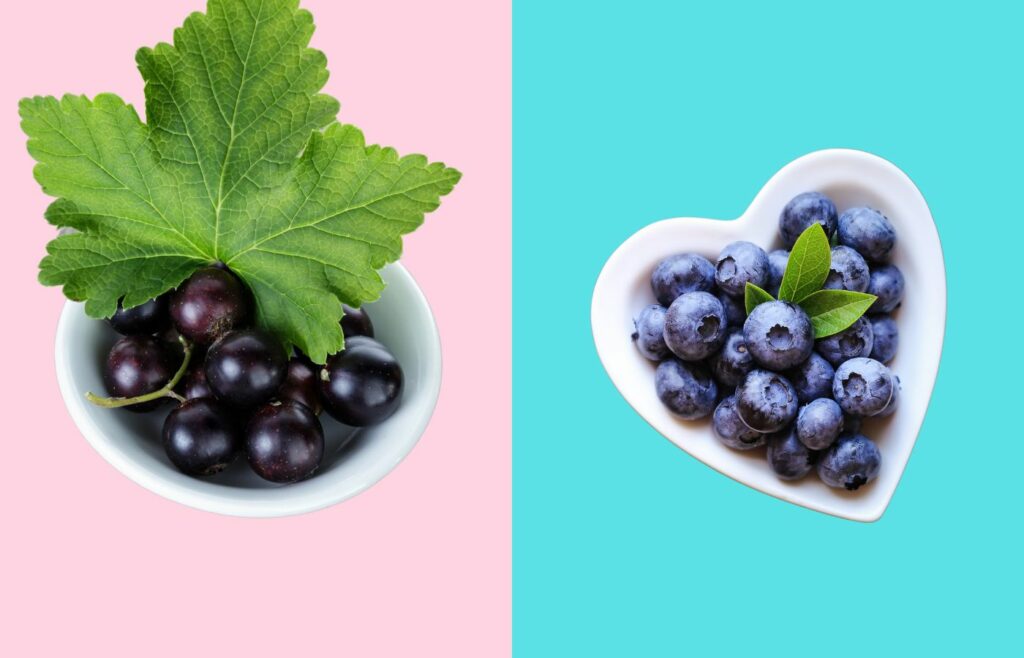 Women over 50 are more susceptible to fractures and osteoporosis due to increased risk of menopausal bone loss. This is mostly due to estrogen levels dropping, which maintain bone density.
In fact, 80% of US osteoporosis cases are in postmenopausal women. In severe cases, menopausal bone loss can cause chronic pain and disability, affecting a woman's quality of life.
However, there is hope for women with menopause-related bone loss. Natural remedies can relieve symptoms and lower the risk of serious bone health issues. 
The powerful and nutrient-dense blackcurrant and blueberry are among these natural remedies. These tiny fruits have many health benefits, especially for menopause-related bone loss.
Let's take a look at blackcurrant and blueberry nutrition, menopause-related bone loss, and how to incorporate them into your diet.
What You Need to Know About Blackcurrants and Blueberries
Blackcurrants (Ribes nigrum) and blueberries (Vaccinium spp.) are small, dark-colored berries rich in nutrients, antioxidants, and phytochemicals. They've been used in traditional medicine for their health benefits.
Blueberries and blackcurrants contain the most anthocyanin phytochemicals. These berries improve menopause symptoms, heart, brain, and bone health. Anthocyanins fight oxidative stress, which is crucial for brain and bone health.
In fact, regular berry consumption can reduce menopausal bone loss. Blueberries and blackcurrants can also improve blood flow and circulation in older women, which can lower blood pressure and reduce hot flushes.
Blackcurrants and blueberries are low in calories and high in fiber, making them good diet additions. They help women with menopausal bone loss due to their unique nutrients and antioxidants.
READ ALSO: 8 Ways to Prevent Bone Loss During and After Menopause
Blackcurrants and Blueberries' Nutritional Value For Menopause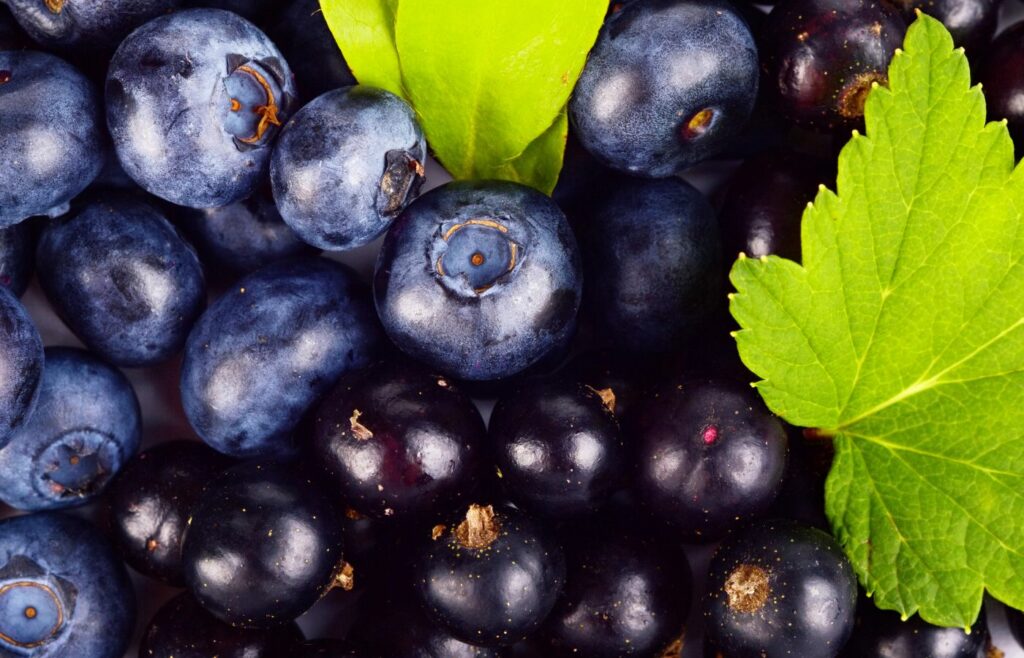 Blackcurrants and blueberries have many health benefits for women going through menopause due to their vitamins, minerals, and antioxidants. They contain bone-healthy vitamins C, K, and manganese.
Vitamin C is essential for collagen synthesis, which strengthens bones. As a powerful antioxidant, it protects bone cells from oxidative stress and inflammation. Blackcurrants have three times the vitamin C of oranges.
Vitamin K aids in calcium absorption and bone mineralization. Blueberries and blackcurrants are both good sources of vitamin K, but blackcurrants have more of it.
Manganese is an important trace mineral that helps bones grow and stay strong. It helps the body take in calcium and is a part of how connective tissue is made. Both blackcurrants and blueberries have manganese in them, but blackcurrants have more than twice as much as blueberries.
Several scientific studies have shown that blackcurrants and blueberries can help stop menopausal bone loss. These studies have shown that eating these berries can help stop bone loss and improve bone health in women who have gone through menopause.
In a study published in the Journal of Nutritional Biochemistry, researchers found that ovariectomized rats, which are often used as a model for postmenopausal osteoporosis, had stronger bones after taking blackcurrant extract.
The study also found that blackcurrant extract reduced bone resorption gene expression, suggesting it may protect bone.
READ ALSO: 20 Foods to Eat (or Avoid) During Menopause 
How Much Blackcurrants and Blueberries Do You Need to Eat?
All you need to get the health benefits of berries is 100 g, which is just over a half cup. This amount will give you enough antioxidants and essential nutrients to keep your health in good shape.
Remember to eat in moderation and eat a balanced diet full of fruits, vegetables, whole grains, lean proteins, and healthy fats. If you do these things, you'll be well on your way to being healthy and happy. So go ahead and eat a lot of these tasty berries—your body will thank you.
READ ALSO: 6 Ways Intuitive Eating Empowers Women During Menopause
Blueberries and Blackcurrants in Menopause Diet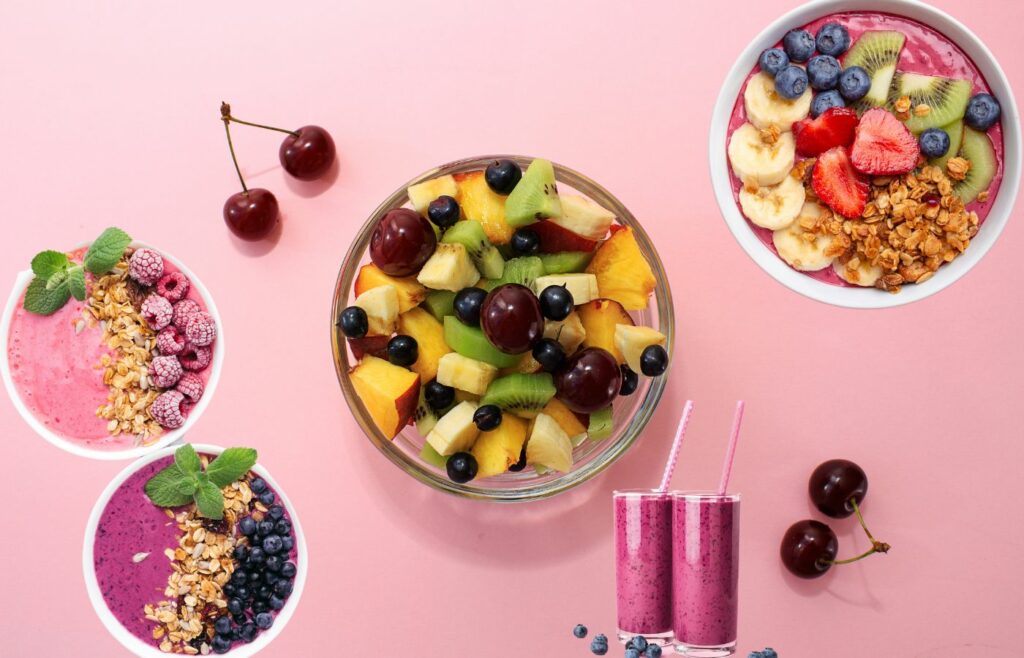 Adding blackcurrants and blueberries to your menopause diet is easy and delicious. You can eat them fresh, frozen, or dried and add them to recipes.
Here are a few ideas to get you started:
Add blackcurrants and blueberries, either fresh or frozen, to your morning cereal, yogurt, or smoothie.
Make muffins, pancakes, or scones with blackcurrants and blueberries for a tasty breakfast or snack.
Mix blackcurrants, blueberries, baby spinach, feta cheese, and a light vinaigrette to make a refreshing salad.
Make your own jam or compote with blackcurrants and blueberries to spread on toast or use as a topping for ice cream or yogurt.
For a healthy dessert, you can make a parfait with blackcurrants, blueberries, Greek yogurt, and granola.
READ ALSO: 15 High Carb Foods That Are Incredibly Amazing for Menopause
Other Remedies for Menopausal Bone Loss
Blackcurrants, blueberries, and other natural remedies and supplements can support bone health during menopause.
Some of these remedies include
Calcium and vitamin D supplements: Make sure you get enough calcium and vitamin D through your diet or supplements, as they are important for bone health.
Green tea: The polyphenols in green tea have been shown to protect bones, making it a good drink for women who are losing bone mass because of menopause.
Herbal remedies: In traditional medicine, herbs like red clover, black cohosh, and dong quai have been used to treat menopause symptoms and keep bones healthy.
READ ALSO: The Best Foods To Boost Your Metabolism Over 50
Closing Thoughts
Many women over 50 worry a lot about menopausal bone loss, but eating nutrient-dense foods like blackcurrants and blueberries can help protect your bones and lower your risk of fractures and osteoporosis.
In addition to eating blackcurrants and blueberries, making changes to your lifestyle can also help your bones stay healthy during menopause.
You should exercise regularly to maintain and even improve your bone density. Weight-bearing and resistance exercises are especially good for this.
Too much alcohol and caffeine can be bad for bone health, so it's important to limit your intake. Quitting smoking can greatly improve bone health because smoking is a known risk factor for osteoporosis and bone fractures.
Having a healthy body weight is important because being underweight or overweight can make menopausal bone loss more likely.
You can better deal with menopause symptoms and live a healthier, more active life by making small changes to your diet and lifestyle and talking to your doctor.