Today, I'm thrilled to finally show off my brand-new activewear collection, and I couldn't be more excited to share it with you all.
This collection isn't just about activewear; it's also a celebration of real women of all shapes, sizes, and ages. I believe that every woman, no matter what age, deserves to feel fabulous and confident as she gets and stays fit.
My goal was clear from the start: I wanted to make activewear that shows off the beauty and strength of women over 50.
This collection was designed with your unique needs in mind, with a focus on bringing out your best features and giving you comfort and support where you need it most.
Each piece is carefully designed to show off your curves and hide any areas you're working on. This lets you feel your best while you're working out.
What Sets This Activewear Collection Apart?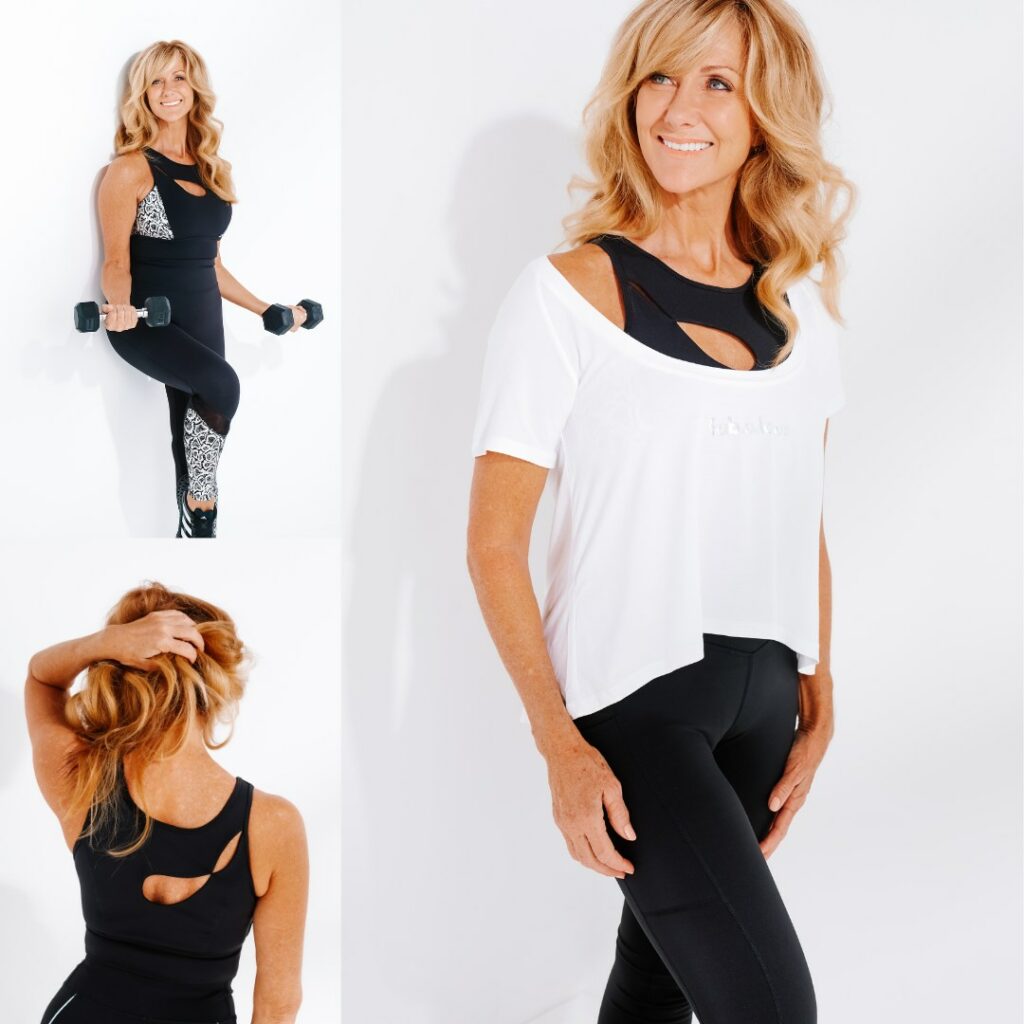 Our commitment to sustainability and diversity is what makes our collection stand out. We believe that fashion should be made so that it not only looks good but also helps the environment.
Our activewear is eco-friendly, so you can look good and feel good. We also celebrate the different shapes and sizes of women's bodies because we know that beauty comes in many forms.
Real women deserve workout clothes that celebrate their individuality, so our collection fits and looks good on every body type. With the pockets on our lengthening leggings, you can easily carry your essentials while enjoying a sleeker and longer look.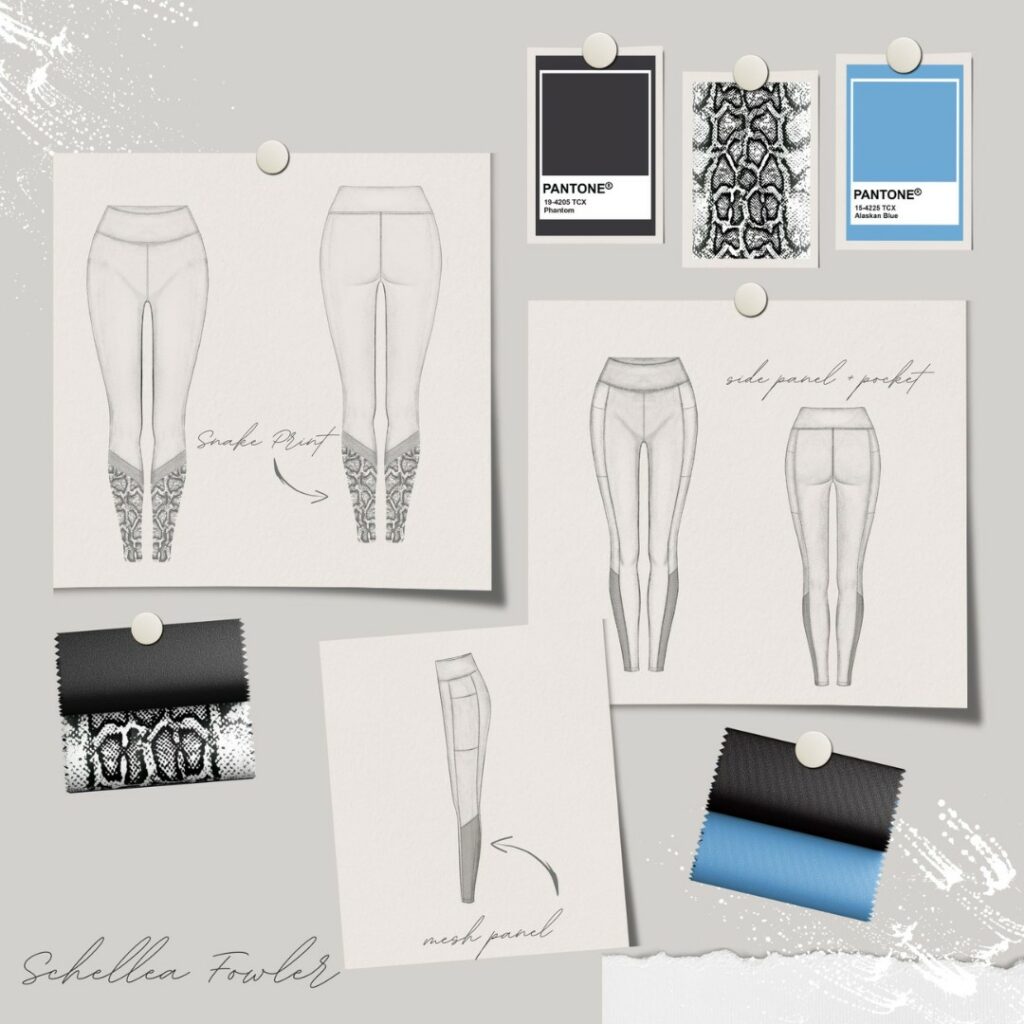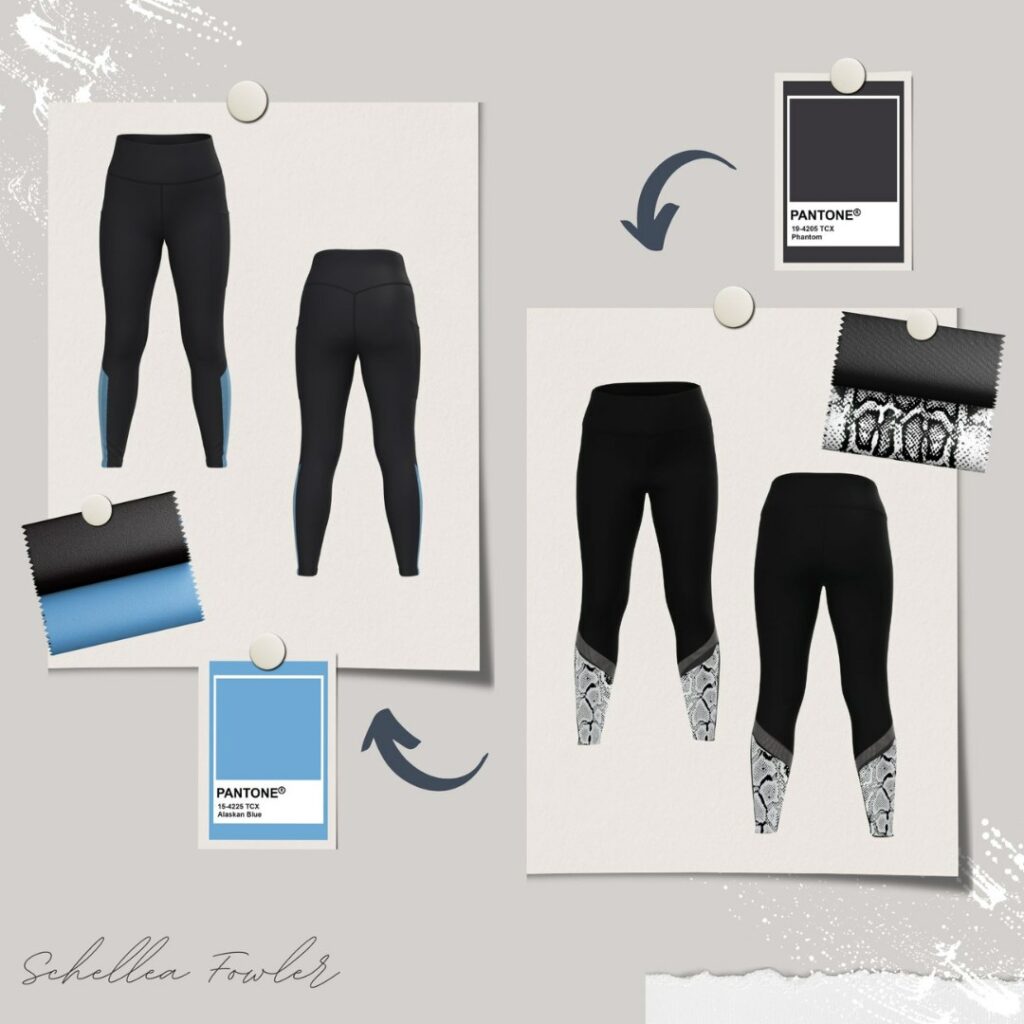 Our sports bras support you and make you feel safe and confident while working out.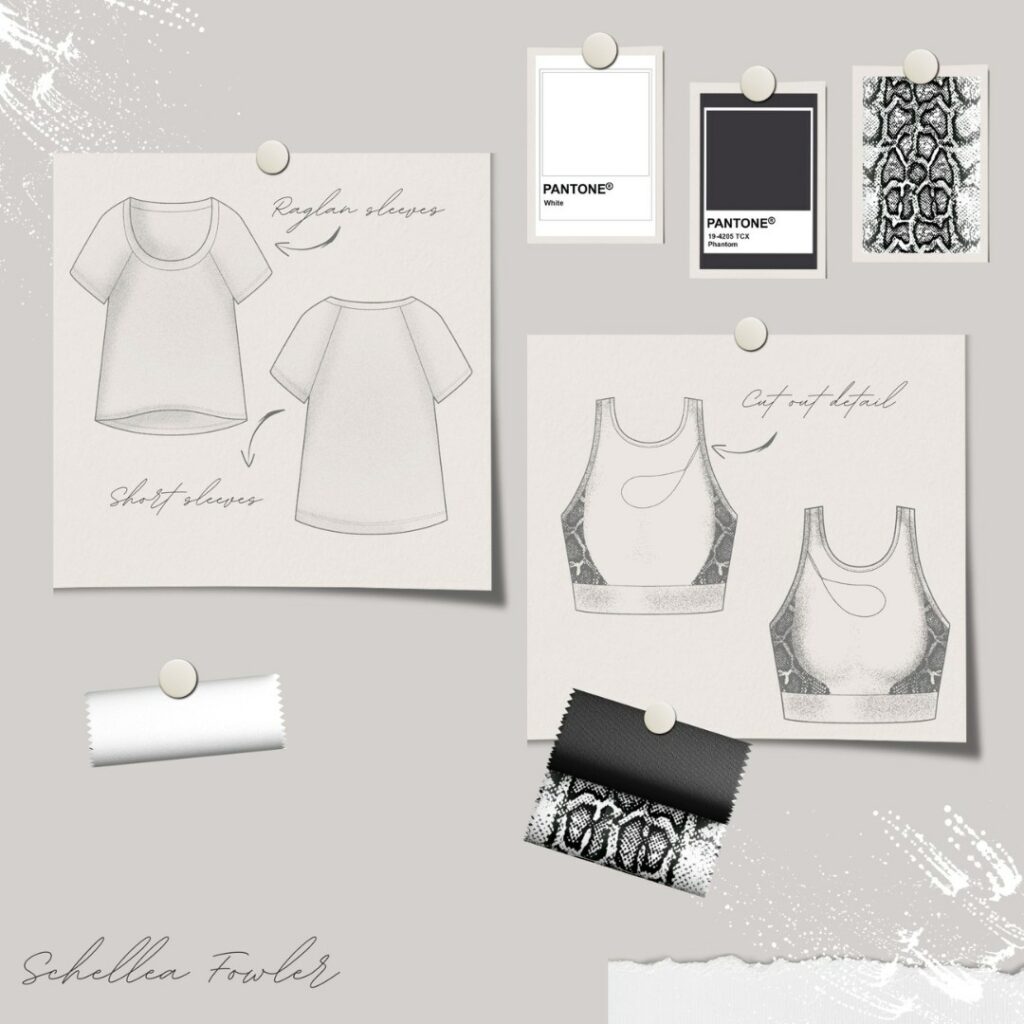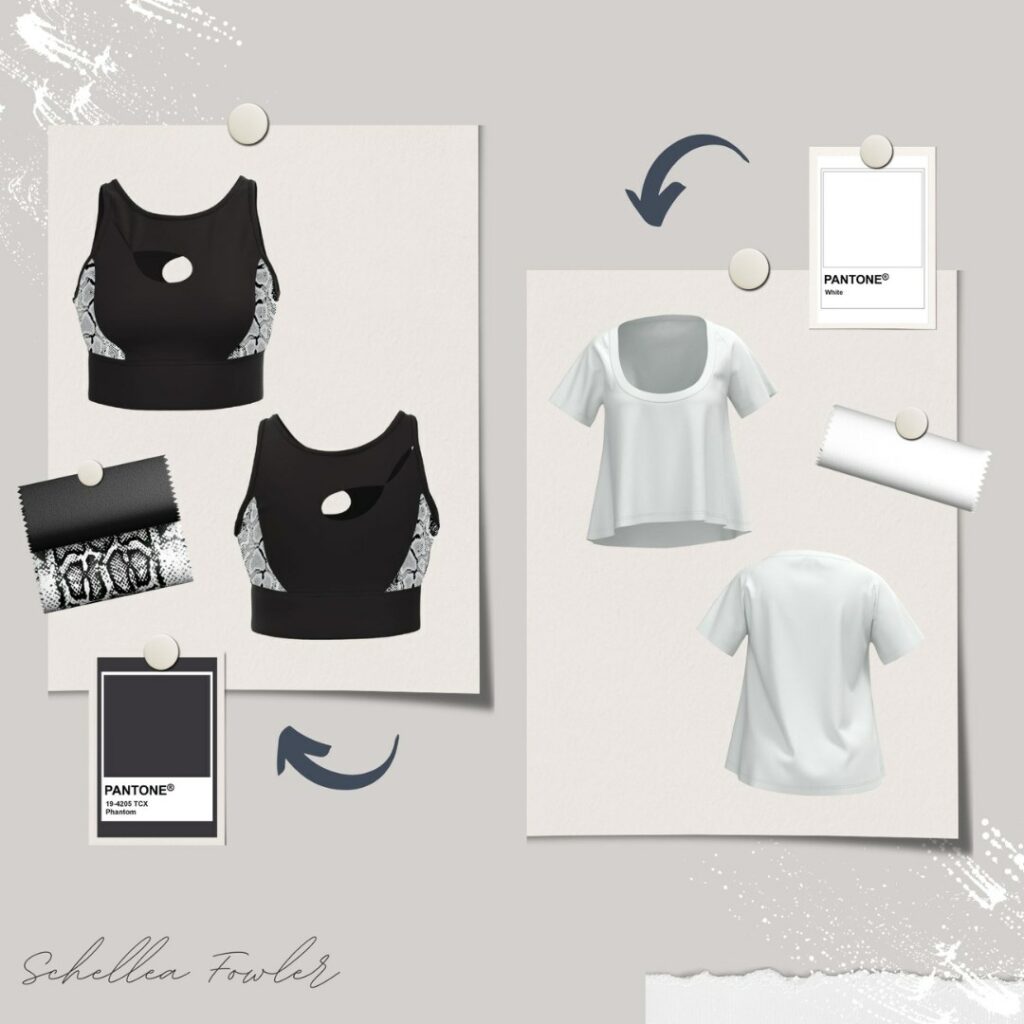 Every part of this collection will make your style look better and help you on your fitness journey.
Remember that the key to a fulfilling fitness journey is to feel great while you work out.
Our comfortable and confident activewear will give you the joy of effortless movement, a mood boost, and a sense of empowerment.
For the real woman who deserves to look and feel great every day, this collection is for you.
Sneak Peeks: The Ageless Activewear Collection
The Ageless Activewear Collection debuts TODAY. The Ageless Activewear Collection is versatile, stylish, and functional. Check out these sneak peeks.
We celebrate women over 50, their bodies, and their lives. Let's redefine activewear style, confidence, and agelessness.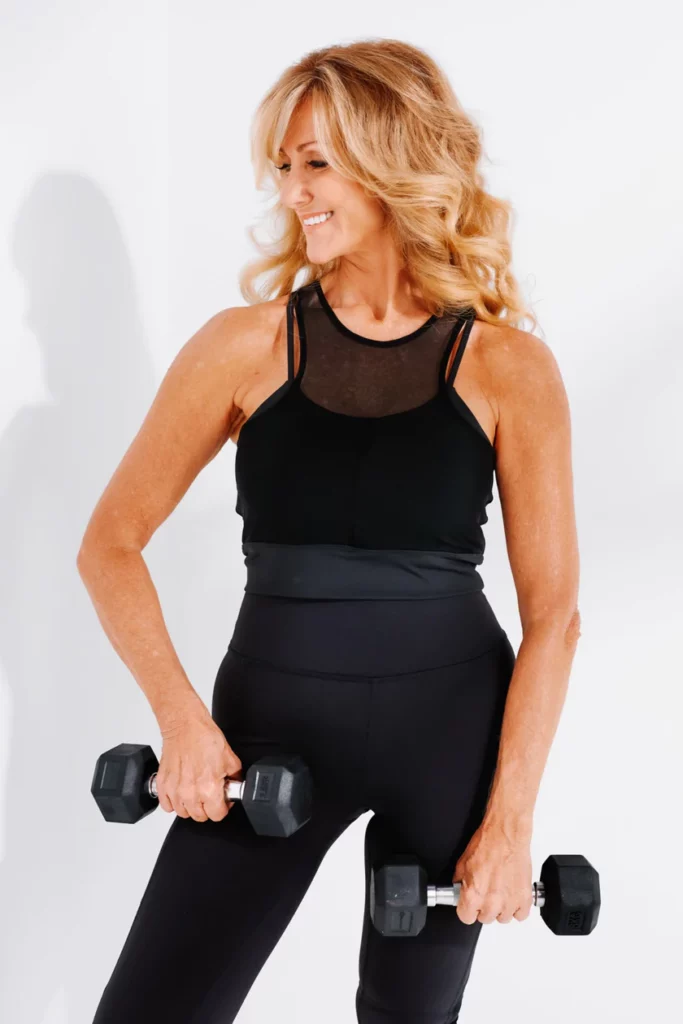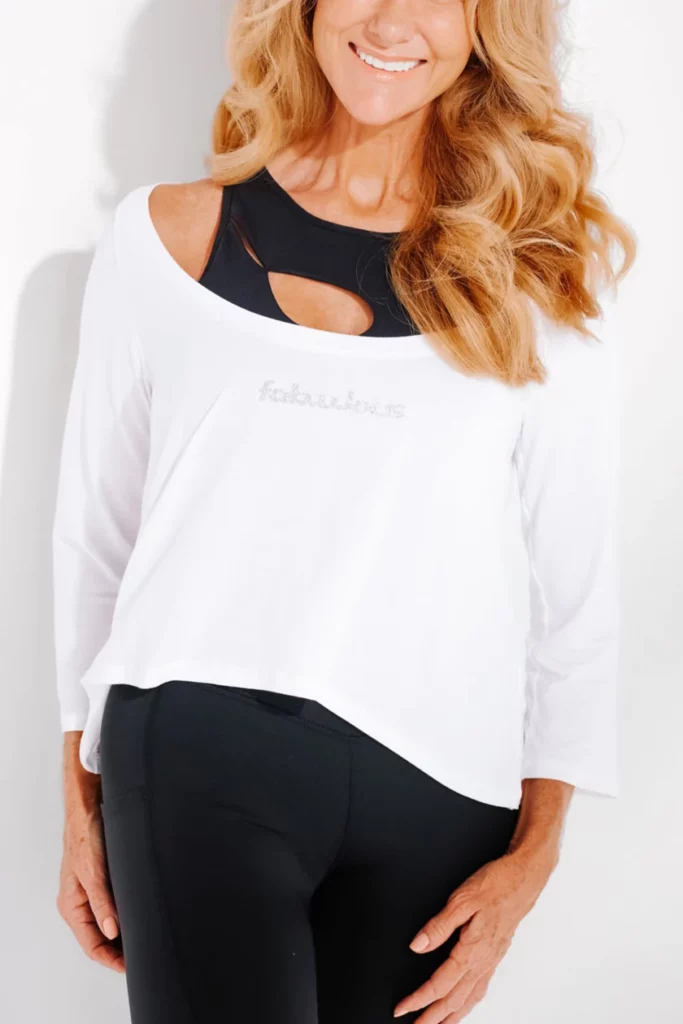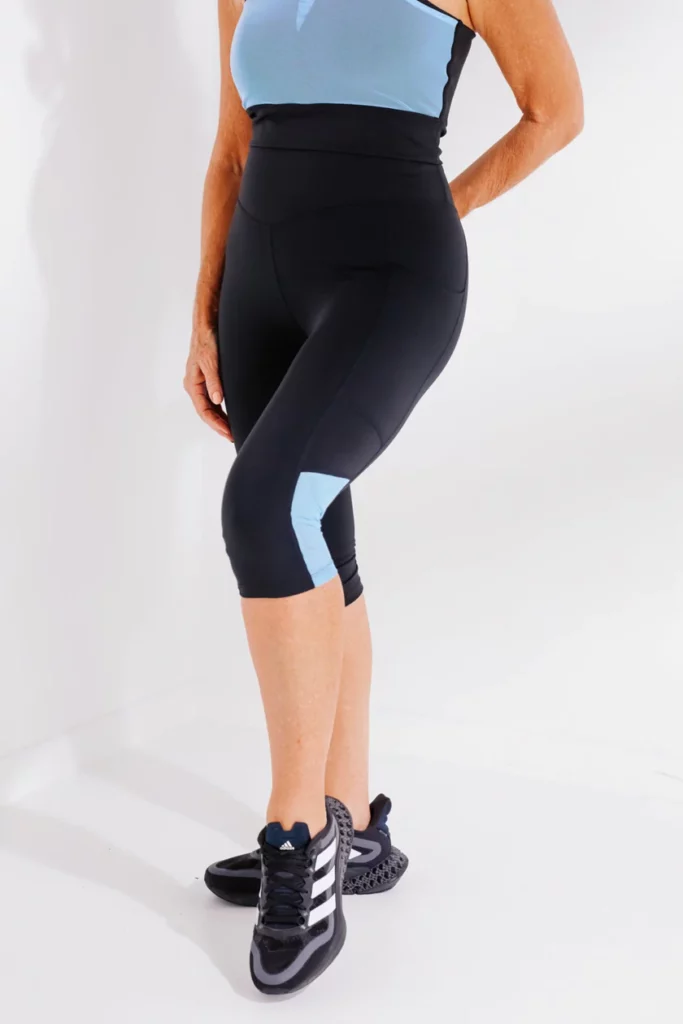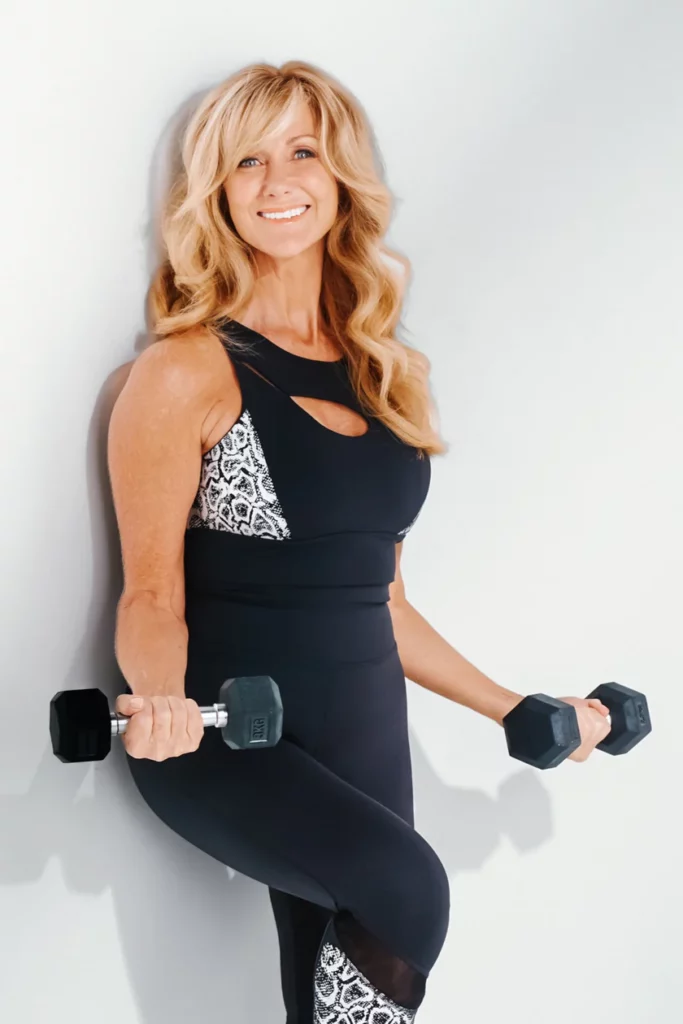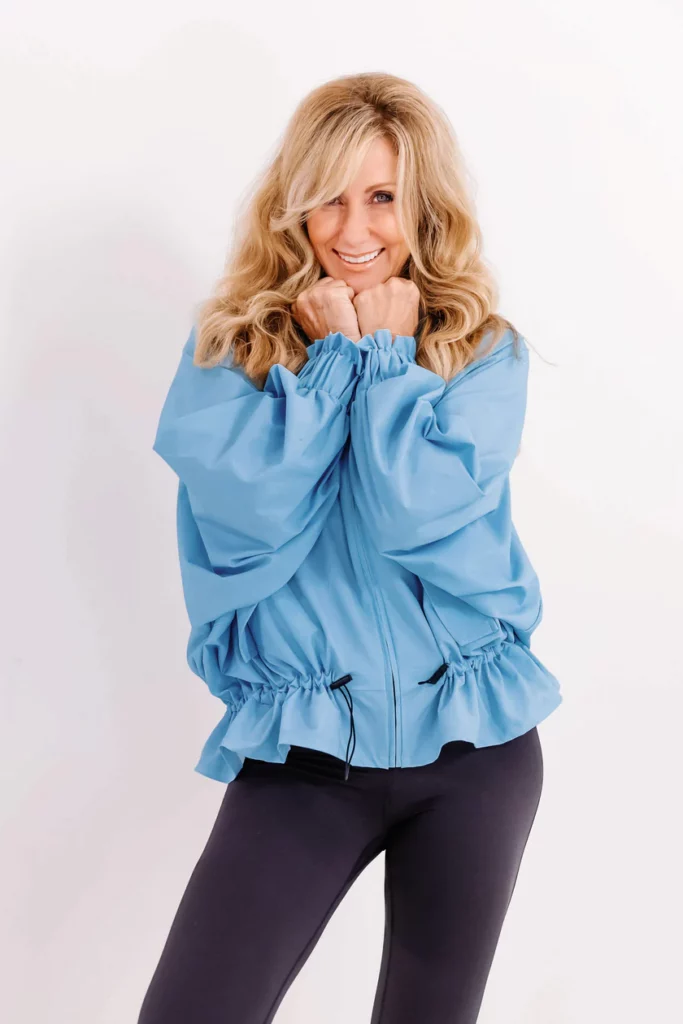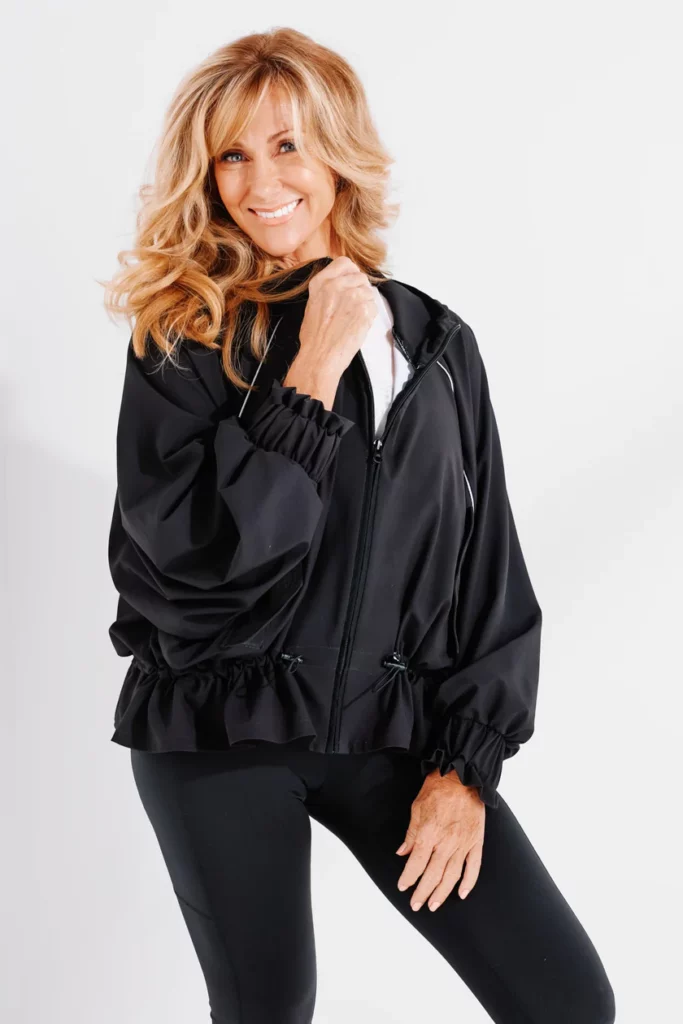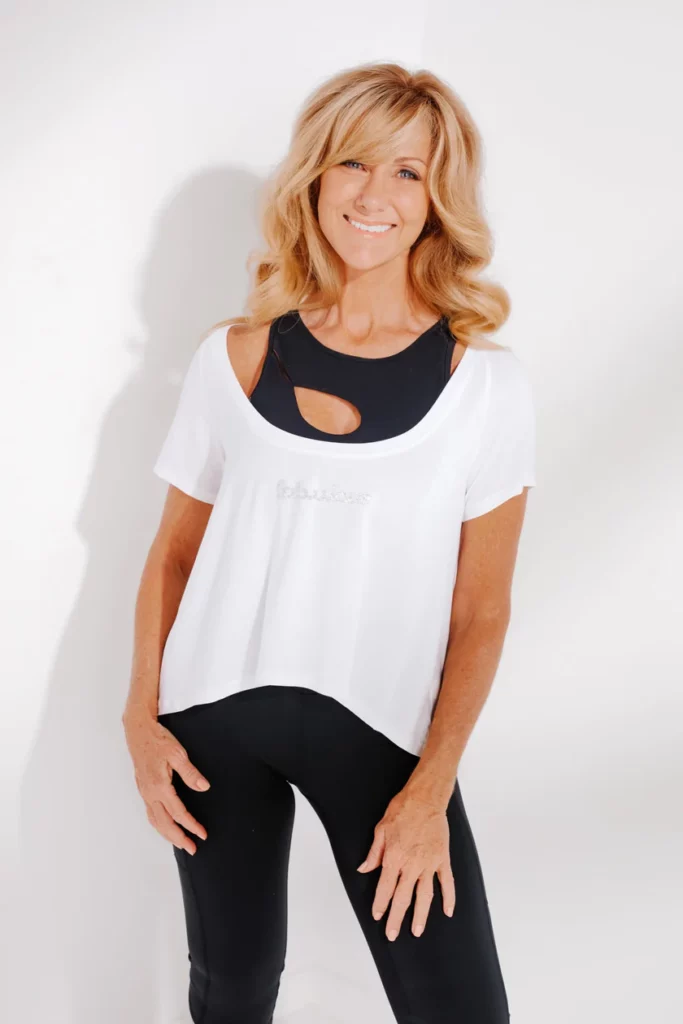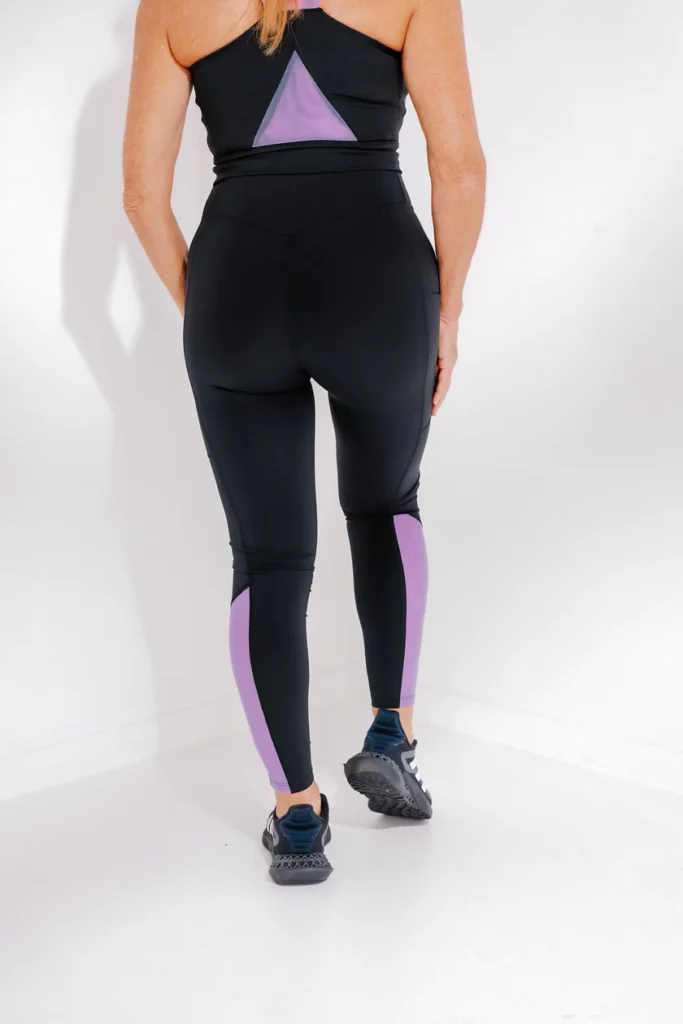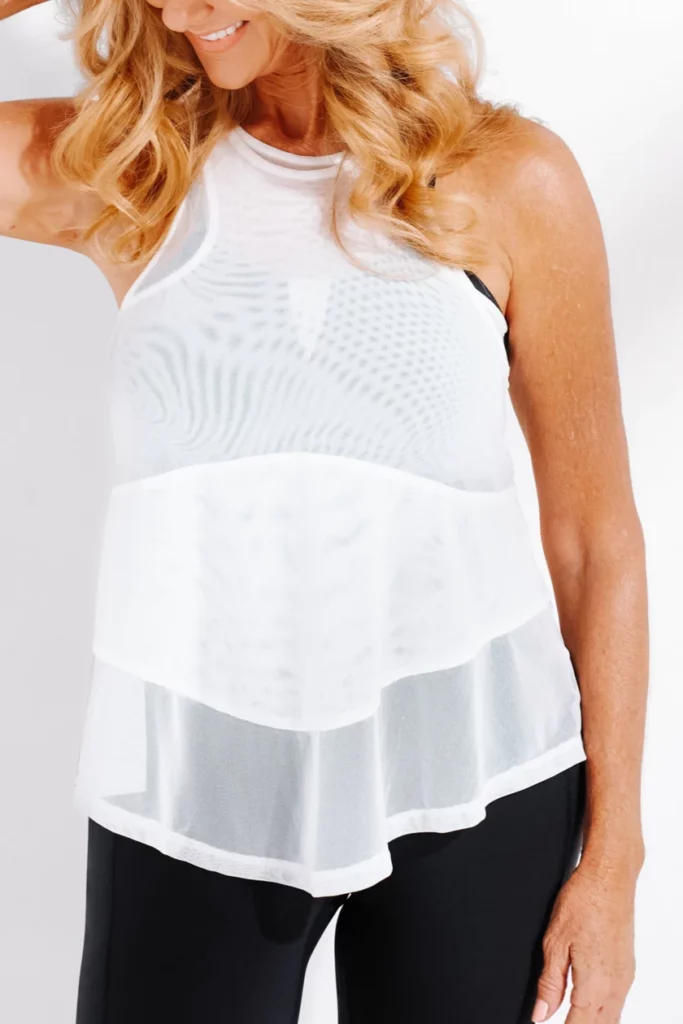 The Wait is Finally Over – Get Yours Now!
The Fabulous50s Activewear Collection launches today! To make this moment even more exciting, we have a special treat for you. From June 7th to June 10th, 2023, the entire collection will be on sale. Upgrade your activewear wardrobe with these amazing pieces at a great price. The discount code to Buy 2 and get 1 FREE is FABULOUS3.
You can shop for your Ageless Activewear here.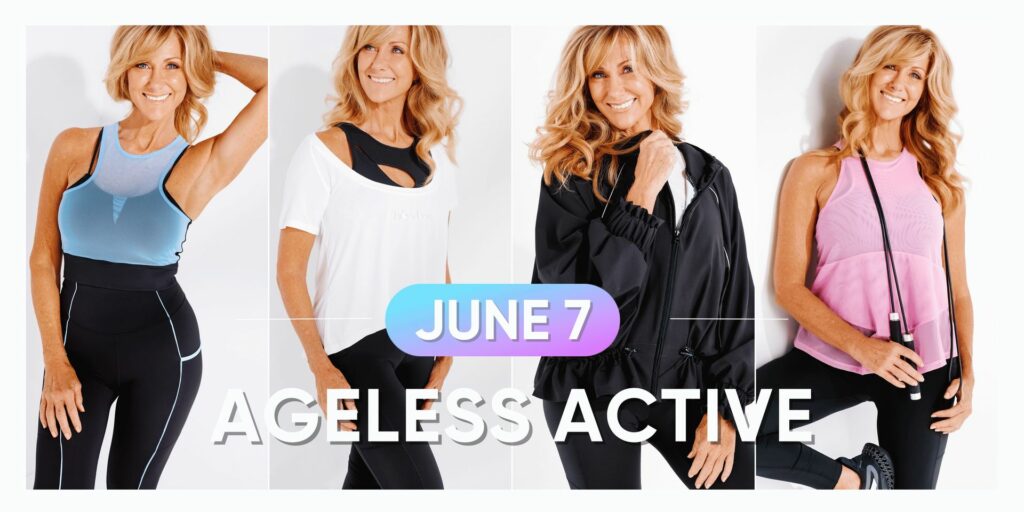 Our collection highlights your best features while concealing areas you're working on. We know how important it is to feel confident and comfortable in your activewear, so every Fabulous50s piece is carefully tailored to enhance your natural beauty.
This collection includes figure-flattering leggings with support and flexibility and comfortable sports bras. The slimming and lengthening designs will boost your confidence.
The Fabulous50s collection has something for everyone, whether you're a fitness fanatic or just like comfy, stylish activewear.
The Fabulous50s Activewear Collection celebrates every woman's beauty and strength. Feel great, embrace your style, and achieve your fitness goals like never before.
Let's make 2023 the year of confidence, empowerment, and fabulous fashion.
Thank You All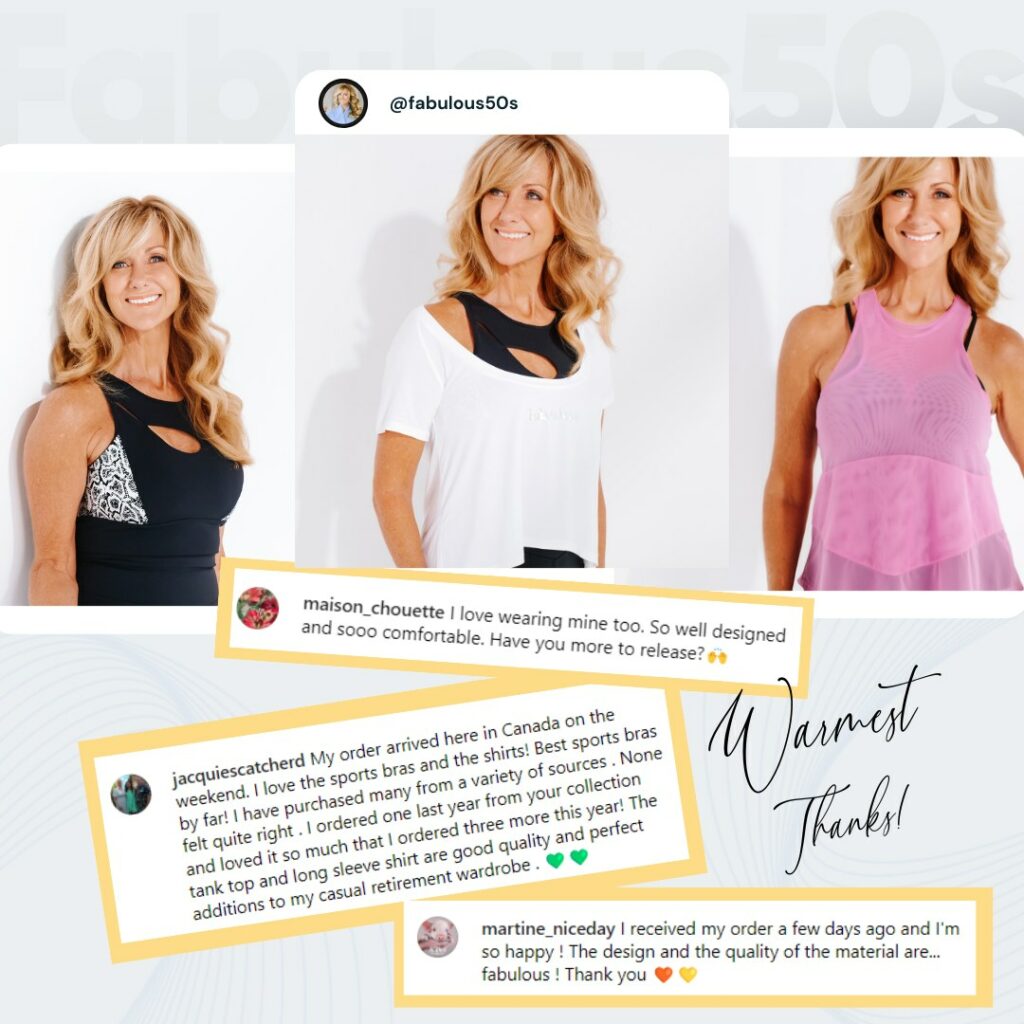 Thank you all for your kind words and support! I truly appreciate your enthusiasm and encouragement. Without our amazing community, we wouldn't be where we are today.
Your support means the world to me and every member of my team, and we're grateful to have you on this journey.
We're excited to bring you more updates, collections, and ways to feel fabulous and stay fit. Thank you again for being an important part of our journey. Your support fuels our passion and drives us to new heights.
Stay tuned for more amazing things, and let's keep embracing our age, style, and limitless potential.
I'm so grateful for your support on our empowerment and fashion-forward fitness journey.
♡ Love ♡,
Schellea.
---
Frequently Asked Questions: Ageless Activewear Collection
According to a 2020 Forbes article, around 30 – 40% of every apparel product made will remain unsold and ultimately end up in a landfill or be destroyed. My collection has no inventory, and every product will be made to order.

We use sustainable methods to ensure quality. We can avoid overproduction and reduce environmental impact by selling the collection until it's gone.
You can purchase the Fabulous50s Activewear Collection online. Simply visit the following link: https://bit.ly/ShopmyFabulousSS23collection. It will take you directly to the online store, where you can explore the collection and make your purchase.
Our custom-made process takes time, but we deliver high-quality pieces. You can expect to receive your order about 21 days after you place your order. We're glad you're being patient, and we promise that the wait will be worth it.
Absolutely! We love rewarding our valued customers. As a special promotion, if you buy 2 items from the collection, you will receive one item for FREE. Simply use the discount code FABULOUS3 at checkout to avail of this fantastic offer.
We know that it can be hard to find the right fit sometimes. But we have a very detailed size chart that will help you choose the right size. Also, all of our products are made with stretchy materials to make them more flexible and comfortable. If you order the wrong size, you can get a full refund within 14 days of receiving your order. Just contact our customer support team, and they will help you with the return process.
es, we are proud to offer worldwide shipping. We strive to make our collection accessible to women all over the globe, so no matter where you are, you can enjoy the benefits of the Fabulous50s Activewear Collection. Please note that shipping options and fees may vary depending on your location.
We hope these FAQs answer your questions. If you have any other questions, please contact our customer support team. We're here to make your shopping experience smooth and enjoyable.
Thanks for your interest in Fabulous50s Activewear. We appreciate your support and look forward to bringing you stylish, empowering, and sustainable activewear that boosts confidence and celebrates your ageless spirit.