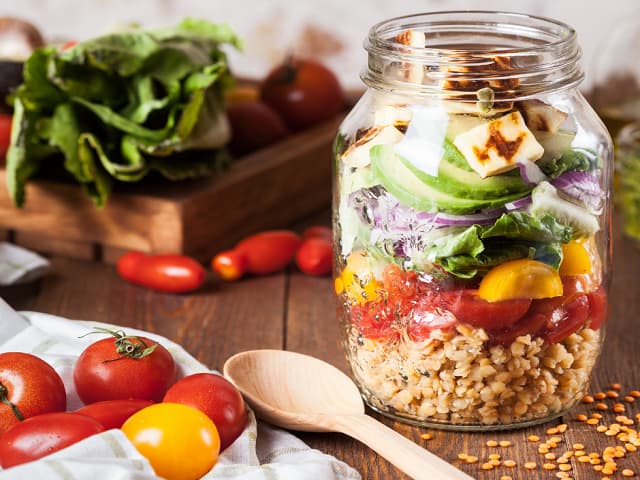 This salad in a jar is what I pack for lunch when I'm going to be out for the day. It is so simple and delicious plus I know that I can eat healthy instead of being seduced by a high fat/sugar takeaway option.

Top 3 Secrets For Losing Weight Over 50!


How To Make Broccoli Sprouts


How Much Protien Shoud I Have A Day

"This is what I pack for lunch when I'm going to be out for the day."
Here is what you do: (You can prepare the night before and store in the fridge)
Salad In A Jar
Ingredients:
Clean Jars with lids 24oz
Layer 1: sweet Mustard dressing (make sure you put this on the bottom so it doesn't make your salad soggy)
Layer 2: Cooked Quinoa, couscous or Barley
Layer 3: tomatoes, cucumbers, red onion, asparagus, celery, peppers, carrots plus anything green and leafy
Layer 4: Avocado
Layer 5: Organic tempeh or chicken
Layer 6: Sunflower seeds, pumpkin seeds or sesame seeds
Instructions:
Cut, peel, wash the veggies/fruits. Cook the grains.
Prepare the dressing.
Once everything is prepared, layer into the jars.
Sweet Mustard Dressing
Ingredients:
4 tbsp olive oil
3 tbsp Apple cider vinegar
2 tbsp mustard
2 tsp maple syrup (or honey for non-vegans)
Salt and pepper to taste
Mix all together and shake!
Salad In A Jar Tips and Tricks:
Always aim to include protein, fat and carbohydrate to every meal you consume. A salad like this is the perfect combination for you.
Put the salad dressing in first. Keep the moisture of the dressing away from your lettuce and greens for best results.
Salad in a jar can last 3-10 days in the fridge. Three days for any salad in a jar that includes meat (eat those first) and up to 10 days for salads that have firm veggies and no meat. I like to keep things like eggs, cucumbers, and avocado out of my jar. I'll add them when I'm ready to eat if I want them.
Try to make homemade dressings so you are not consuming any chemicals.
The size of the jar will determine the servings. I like using wide mouth jars because they are easier to fill, eat from, and clean. Use a pint jar for a lunch/single serving and use a quart jar for large dinner servings or a side salad for a family meal.
Enjoy… ????❤️????
To find out more: LETS CONNECT????
Fabulous50s INSTAGRAM
 Fabulous50s PRIVATE FACEBOOK GROUP
Fabulous50s FACEBOOK
Fabulous50s YOUTUBE
Fabulous50s TWITTER
THANK YOU…
This content is not sponsored and all opinions are 100% honest and what I truly believe. If I LOVE a product first, and there is an affiliate link available…I will use it…I WILL NOT look for a product that pays a commission first, and then do a review…EVER!
Some links are affiliate links. If you click a link and buy something, I may receive a small commission for the sale. It doesn't cost you anything extra and you are free to use the link or not…Its totally up to you… If you do use my links…Thank you so much xxx
#fabulous50s #healthyrecipe #saladinajar
Until the next post. BE FABULOUS!