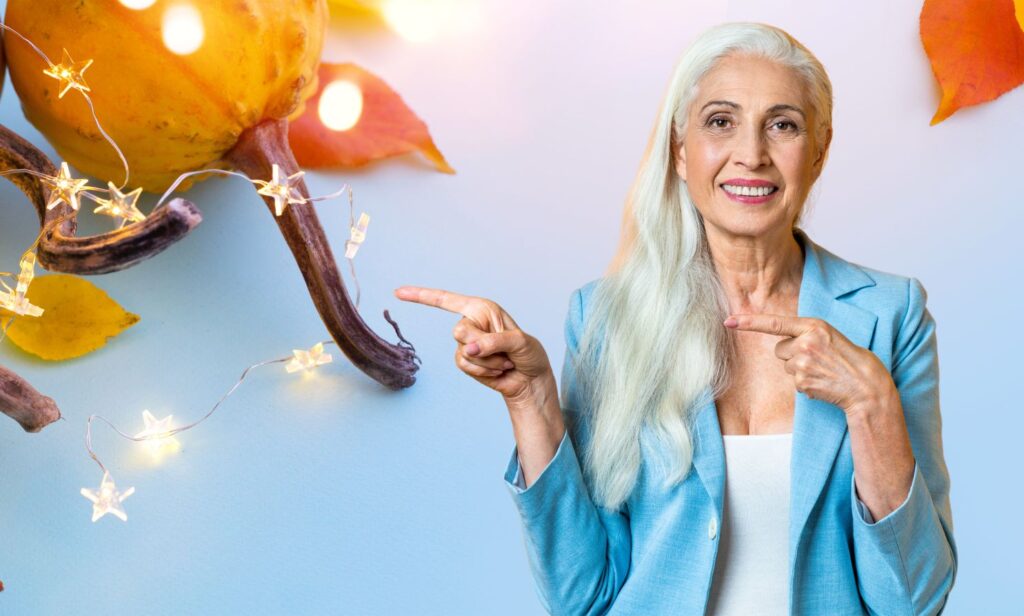 As you journey through the world of fashion, it's easy to feel overwhelmed by the myriad of styles and trends. But, remember, your age is just a number. It doesn't define your style or the clothing choices you make. As a woman over 50, you have the confidence and grace that come with experience.
With Thanksgiving around the corner, you might be looking for the perfect outfit to reflect your unique style and taste.
Here's a guide to help you find the perfect Thanksgiving outfit.
Understanding Your Personal Style
Your personal style is a reflection of who you are. It's unique to you and should make you feel comfortable and confident. Know your body type, preferences, and what makes you feel the best about yourself. Your personal style isn't about following trends; it's about wearing what makes you feel good.
As a woman over 50, your style has likely evolved over the years. However, it's never too late to redefine your style.
Don't be afraid to experiment with new colors, patterns, and styles. The key is to stay true to yourself while keeping an open mind.
READ ALSO: This Fashion Rule Explains What To Wear Over 50!
Dressing for the Occasion: Thanksgiving Dinner
Thanksgiving is not just about the turkey and the pumpkin pie. It's also about spending quality time with loved ones. The atmosphere is usually relaxed and cozy. Therefore, your outfit should reflect this. Choose something stylish and comfy.
For a formal Thanksgiving dinner, choose a dress or pantsuit that looks great. If it's a casual gathering, a cozy sweater with jeans or a stylish tunic with leggings could be your go-to outfit. When planning what to wear, think about the venue, the weather, and the general dress code.
Casual and Comfortable Thanksgiving Outfit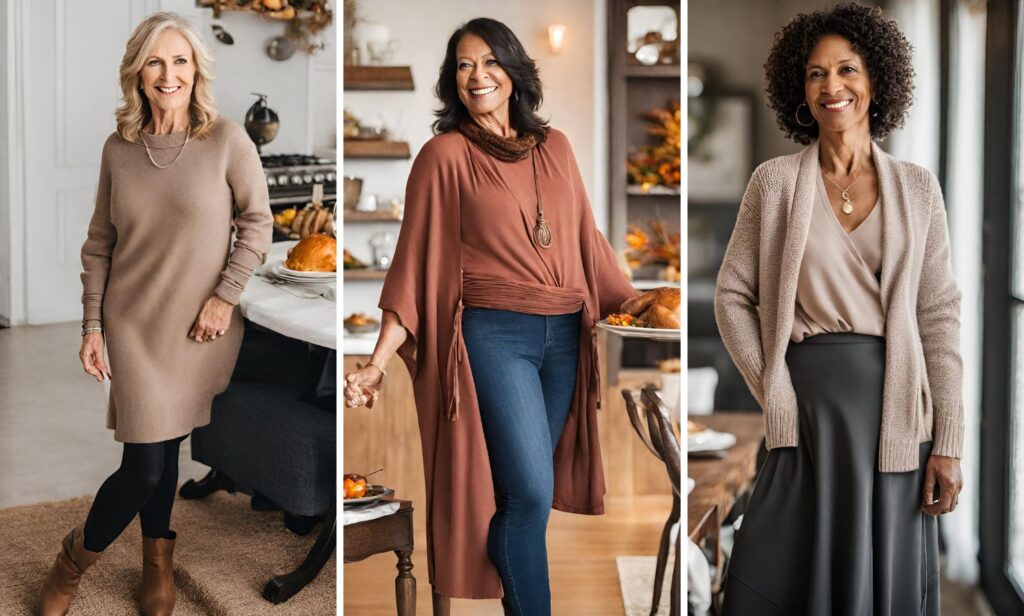 Comfort doesn't have to mean compromising on style. You can find numerous stylish and comfortable Thanksgiving outfit ideas out there. A cashmere sweater paired with tailored pants can be both comfortable and chic.
Another great option is a flowy maxi dress. It's perfect for a relaxed but stylish Thanksgiving dinner. You can also opt for a tunic with jeggings. The tunic can hide any problem areas, while jeggings will provide the comfort of leggings with the look of jeans.
Here are some casual and comfortable Thanksgiving outfit ideas to consider:
Sweater Dress with Leggings: You can go for a cozy sweater dress in fall colors like rust, burgundy, or mustard. Pair with comfortable leggings and ankle boots for a chic yet relaxed look.
Tunic and Skinny Jeans: Choose a long tunic in a festive color or pattern. Pair with dark skinny jeans and stylish flats or low-heeled ankle boots.
Wrap Cardigan and Midi Skirt: Wear a wrap-style cardigan over a fitted top. Match with a flowy midi skirt and knee-high boots for a sophisticated vibe.
READ ALSO: Style Tip Every Woman Should Know | Style Over 50
Elegant and Festive Thanksgiving Outfit Ideas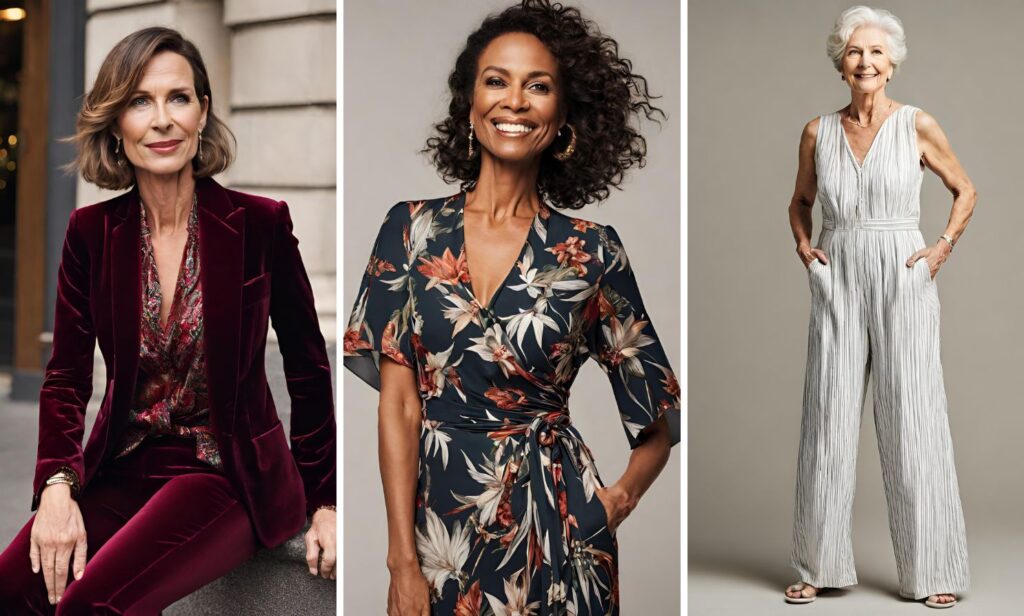 You can showcase your timeless elegance this Thanksgiving holiday through carefully curated outfits. With warm earthy tones that fit the season, a classic cashmere and tweed combination can look very classy.
A chic culottes and turtleneck outfit is modern and comfortable. For evening celebrations, velvet pieces in jewel tones add luxury, while cozy knitwear with statement accessories balances casual and chic. Maxi dresses with delicate florals also complete a chic and comfortable Thanksgiving look.
Your outfit can reflect your unique style and age-related wisdom as you celebrate with loved ones. Whether you choose a fall wrap dress or a maxi dress with a subtle floral pattern, wear clothes that make you feel confident and beautiful.
Celebrate Thanksgiving with grace and sophistication in your outfit, expressing gratitude and timeless style.
Here are some elegant and festive Thanksgiving outfit ideas to consider:
Velvet Blazer with Tailored Pants: Go for a luxurious velvet blazer in jewel tones like emerald or navy. Pair it with tailored pants and a silk blouse for an elegant ensemble.
Wrap Dress: A classic wrap dress is flattering and comfortable. Choose fall-inspired prints like plaid or floral in warm hues.
Wide-Leg Jumpsuit: Go for a wide-leg jumpsuit in a rich color. Add a statement belt and some chunky jewelry to elevate the look.
READ ALSO: 3 Big Fashion Mistakes That Make Your Tummy Look Bigger!
Layered and Cozy Thanksgiving Outfits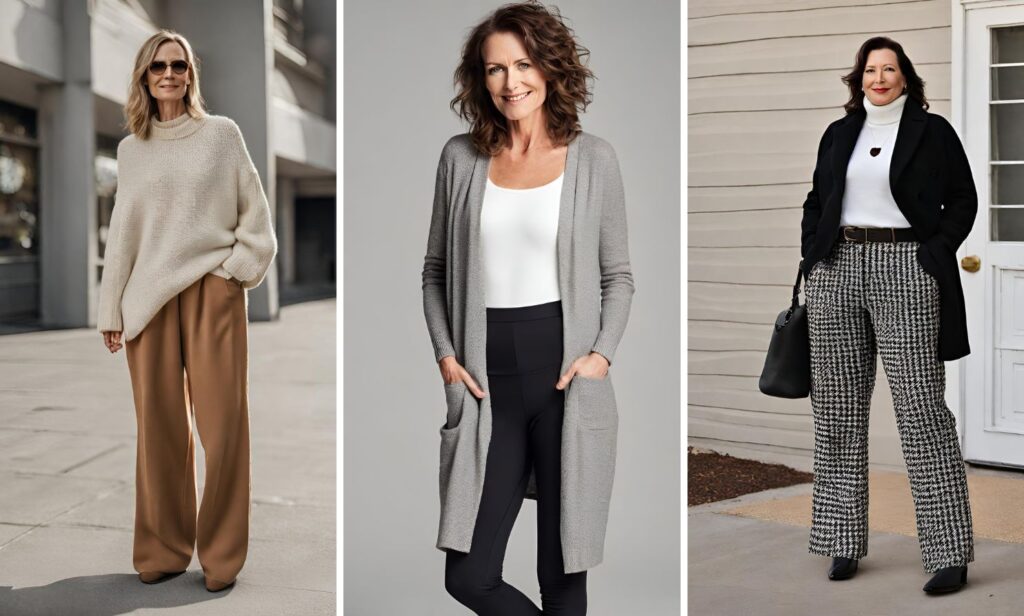 As the crisp autumn air settles in, it's the perfect time to embrace layered and cozy outfits that marry style with comfort. A chunky knit sweater or stylish turtleneck in warm, seasonal colors like deep rust, forest green, or mustard yellow should be your foundation. This cozy knit keeps you warm and is perfect for layering.
For a striking Thanksgiving outfit, layering is key. A tailored blazer or trendy denim jacket can elevate your look. This adds elegance and versatility, letting you adjust to changing temperatures.
For a chic, comfortable base, pair your cozy sweater and outer layer with well-fitted jeans, corduroy pants, or a maxi skirt.
Here are some layered and cozy Thanksgiving outfit ideas to consider:
Oversized Sweater with Wide-Leg Pants: Style an oversized sweater with wide-leg trousers for a relaxed yet fashionable look. Add a long pendant necklace for a touch of sophistication.
Long Cardigan and Leggings: You can layer a long, chunky cardigan over a simple top. Pair with leggings and knee-high boots for a cozy and stylish outfit.
Accessorizing Your Thanksgiving Outfit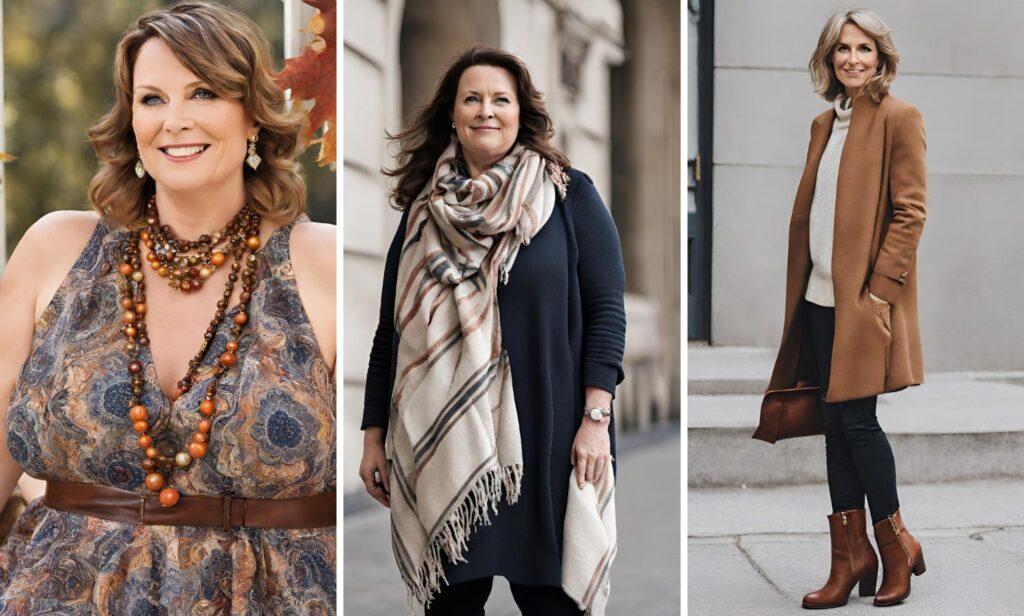 Accessories can make or break your outfit. They add that finishing touch and can elevate a simple outfit to the next level. When it comes to accessorizing your Thanksgiving outfit, less is more. A statement necklace or a pair of chandelier earrings can add a touch of glamour to your outfit.
Don't forget about your footwear. Choose shoes that complement your outfit and are comfortable. You can look elegant in heels or wedges with a dress or skirt. Choose stylish flats or boots for pants or jeans.
Here are some accessory ideas to consider:
Blanket Scarf: Wrap a large, cozy blanket scarf around your shoulders for warmth and style.
Statement Earrings: Elevate any outfit with a pair of bold statement earrings.
Ankle Boots: Choose comfortable and stylish ankle boots to complement your ensemble.
READ ALSO: Dressing For Menopause: How to Dress Stylishly for a Cool and Confident You
Mixing and Matching for Thanksgiving Outfits
You can create endless outfits by mixing and matching. Try mixing tops, bottoms, dresses, jackets, and accessories. This lets you change your look without buying a new outfit every time.
For example, a cashmere sweater can be paired with tailored pants for a formal look or with jeans for a casual look. A maxi dress can be worn with a denim jacket for a laid-back look or with a blazer for a more polished look.
For a seasonal look, use warm, earthy colors like deep reds, oranges, browns, and greens.
Most importantly, your Thanksgiving outfit should make you feel confident and comfortable. These holiday outfit ideas combine style and comfort for a memorable look with family or friends.
Closing Thoughts
This Thanksgiving, remember that the best outfit is the one that makes you feel confident and comfortable. Whether you choose a trendy, classic, or comfortable outfit, make sure it reflects your personal style.
Don't be afraid to experiment with new styles and trends. After all, fashion should be fun and exciting.
There are endless Thanksgiving outfit ideas for women over 50. All you need is a little creativity and an open mind.
So, this Thanksgiving, dress to impress and make a fashion statement that's uniquely YOU.
Happy Thanksgiving!
♡ Love ♡,
Schellea