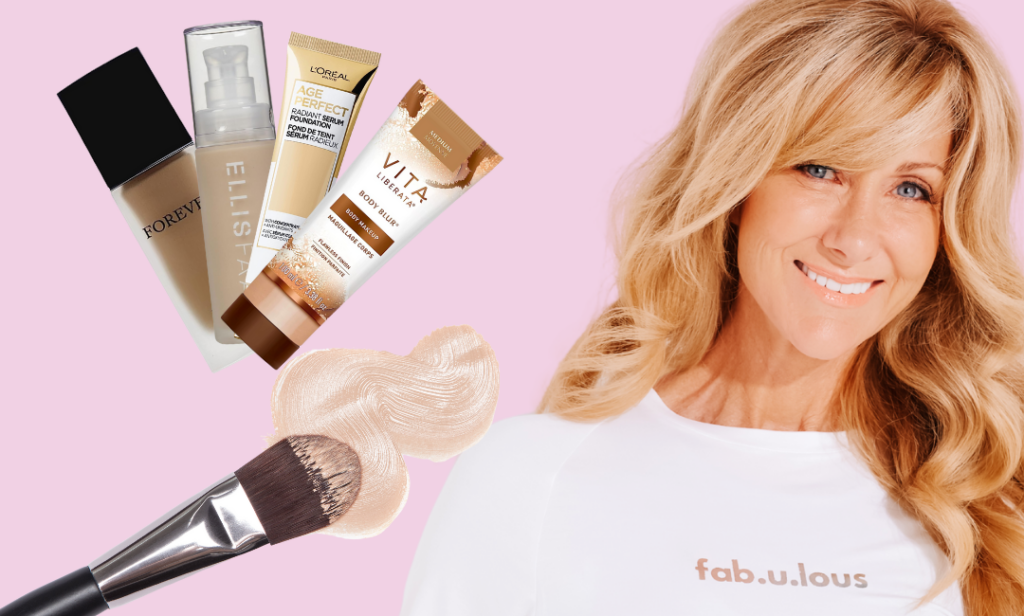 Through years of trial and error I believe I have found the best foundations for women over 50!If there is one makeup product I cannot live without it's foundation! If I was going to desert island and I could only take one thing, it would be foundation. This one product makes the most improvement.
The changes our skin undergoes through the ageing process do not count us out for a flawless finish, however, choosing the right products are essential to create a look that enhances rather than masks your natural beauty.
Foundations are an essential cosmetic product for women over 50 for many reasons. As we age, our skin naturally undergoes changes, including a decrease in natural oils, which can lead to dryness, and an increase in the appearance of fine lines, wrinkles, and age spots.
A good foundation not only evens out skin tone and provides a smooth canvas for other makeup, but it can also deliver essential hydration, sun protection, and even anti-aging ingredients. Many foundations today are multi-functional, acting as a skin treatment and sun protector as well as makeup. Furthermore, the right foundation can help boost confidence by enhancing the natural beauty of mature skin, giving it a youthful, healthy glow.
So, if you're looking for the best foundation for women over 50, here are some of my absolute favourites, and I think you are going to love them too!
Dior's Forever Matte
(BEST MATTE FINISH)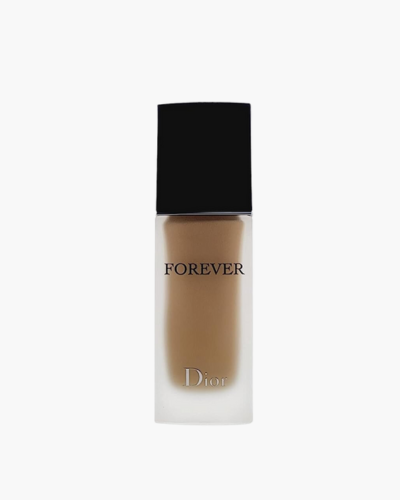 Dior's Forever Matte Foundation is perfect for women who love a matte finish. I'm a dewey girl myself, but this foundation provides an even, matte finish, feels luxuriously lightweight and includes an SPF component. There are a huge number of shades to choose from so finding one that's perfect for you is a breeze. Best of all, this foundation is easily buildable which makes it perfect for everyday looks, glamour moments and everything in between.
*Pro tip* If you have very dry skin and you enjoy a matte finish, make sure to exfoliate your skin twice a week.
Here are my pros and cons to consider when deciding whether to purchase this foundation:
Pros & Cons
Long-Lasting: Stays put throughout the day, making it a great option for busy women who don't have time to constantly touch up their makeup.
Broad Spectrum SPF: It offers broad-spectrum SPF 35 PA+++, which is essential for any age but becomes increasingly important for women over 50 to protect skin from further sun damage.
Wide Shade Range: With a variety of shades available, it's easy to find a match that suits your skin tone.
Matte Finish: The matte finish can help reduce the appearance of oiliness, which can be beneficial if you have an oily skin type.
Buildable Coverage: Medium to full coverage, allowing for flexibility depending on the level of coverage desired. It can cover age spots, rosacea, or uneven skin tone effectively.
May Accentuate Fine Lines: Matte foundations can sometimes settle into and accentuate fine lines and wrinkles.
Potential for Dryness: If you have dry skin, which is more common as we age, the matte finish could potentially exacerbate dryness and make skin look flaky or patchy.
Price Point: Dior's Forever Matte foundation comes with a high-end price tag, which may not fit within everyone's budget.
Requires Proper Skin Prep: To achieve the best results, the skin should be properly moisturized and primed before application. This may require additional products and steps in your beauty routine.
Limited Hydrating Properties: Unlike some foundations that include ingredients for added hydration, this matte foundation does not have significant moisturizing properties, which might not be ideal for aging skin that often needs extra moisture.
Ellis Faas Foundation
(BEST SATIN FINISH)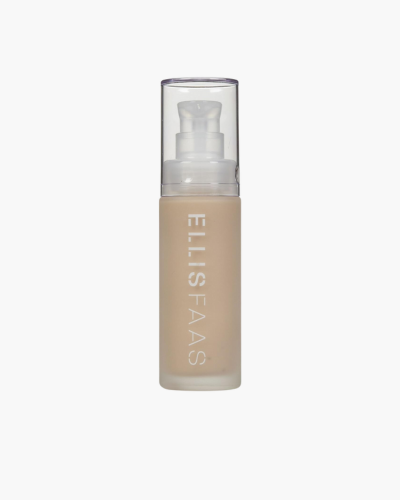 The Ellis Faas Skin Veil Foundation has one of my absolute favourite finishes of a foundation…ever! It leaves the skin feeling fresh and light, almost like wearing nothing at all, and has the perfect medium coverage for everyday looks. This foundation allows the radiance of your skin to shine through without looking cakey. Best of all, Ellis Faas has an impressive range of shades making it easier to find your perfect fit.
*Pro tip* Apply one layer of Ellis Faas to cover the face, and add a second layer of luminous foundation one shade darker, like Vita Liberata Face blur, to the cheek, forehead and chin. This combination provides the perfect glowy, summer look!
Here are my pros and cons to consider when deciding whether to purchase this foundation:
Pros & Cons
Natural Finish: Can smooth over imperfections without looking heavy or cakey, which is ideal for mature skin.
Hydrating Formula: Contains moisturising ingredients, providing much-needed hydration for mature skin, which tends to be drier.
Diverse Shade Range: You're likely to find one that matches your skin tone accurately.
Buildable Coverage: Easily buildable, allowing you to achieve your desired level of coverage, from sheer to medium.
Price: On the higher end of the price scale, which may not be feasible for all budgets.
Packaging: May be tricky to control the amount of product dispensed.
Availability: Ellis Faas products may not be as readily available as other brands, depending on your location.
Longevity: May not last the entire day without a primer, so a touch-up might be required.
IT Cosmetics Your Skin But Better CC+ Cream with SPF 50+
(BEST OVER ALL)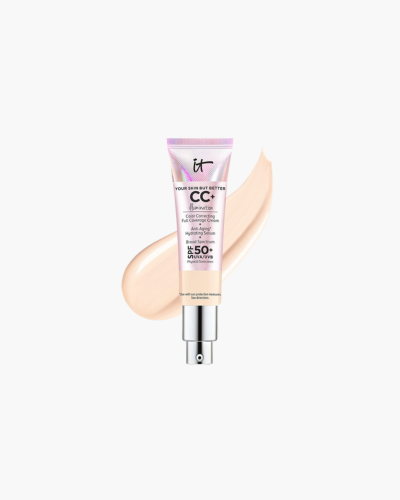 This product is a fan favorite because it's more than just a foundation. The IT Cosmetics Your Skin But Better CC+ Cream not only provides excellent coverage but also offers broad-spectrum SPF 50+ sun protection. It's packed with anti-aging serums and hydrating ingredients like hyaluronic acid and collagen, which help to reduce the appearance of fine lines and wrinkles.
*Pro tip* Add one drop of your favourite face oil and mix with a brush before applying to the face to give you a beautiful, dewey finish.
Here are my pros and cons to consider when deciding whether to purchase this foundation:
Pros & Cons
High SPF: With SPF 50+ broad-spectrum physical sunscreen, this product provides serious protection against harmful UV rays, which is a huge plus for mature skin.
Skincare Benefits: Infused with anti-aging serums, collagen, peptides, and hyaluronic acid, it works double duty as skincare and makeup, nourishing the skin while providing coverage.
Hydrating: This CC cream is very moisturizing, making it great for mature skin that tends to lean towards the drier side.
Good Coverage: Despite being a CC cream, it offers excellent coverage for a wide range of skin concerns, including redness, age spots, and uneven skin tone.
Limited Shade Range: Although they've expanded their shades over the years, IT Cosmetics doesn't offer as broad a range as some other brands, making it more challenging for some individuals to find their perfect match.
Texture: Some users find the formula a bit thick, which may not be to everyone's liking.
Price: It's more expensive compared to other CC creams on the market.
Luminous Finish: While some love the radiant finish, others with oily skin or those who prefer a matte look may find it too shiny.
BareMinerals Original Loose Powder Foundation SPF 15
(BEST POWDER FOUNDATION)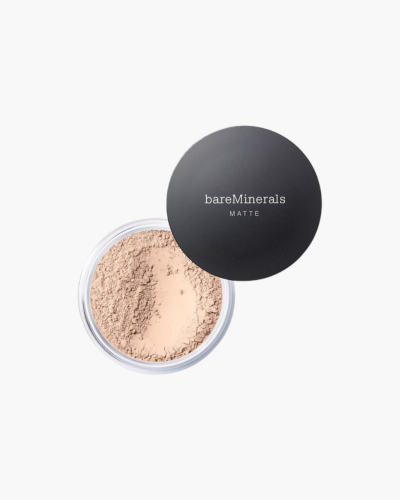 If you're all about going natural and prefer a mineral powder foundation, the BareMinerals Original Foundation is a perfect place to get started. This foundation provides buildable coverage and leaves a natural, luminous finish.
Plus, it contains just five mineral ingredients, reducing the risk of skin irritation.
*Pro tip* If you're a makeup newbie, this is a really great foundation choice for you. Apply a small amount to the face and buff in a circular motion with a brush. If you feel confident, apply a second layer and continue buffing. Unlike a cream foundation, this is very lightweight and you won't notice you are wearing anything.
Here are my pros and cons to consider when deciding whether to purchase this foundation:
Pros & Cons
Natural Ingredients: Being a mineral-based foundation, it's free from harmful chemicals, making it ideal for sensitive or mature skin.
SPF Protection: It offers SPF 15 protection, providing a layer of defense against harmful sun damage which is crucial for all ages, but particularly important for mature skin.
Non-comedogenic: This foundation is non-comedogenic, meaning it won't clog pores, which is a big plus if you have acne-prone or sensitive skin.
Buildable Coverage: The product allows for buildable coverage, so you can customize how much you want to cover.
Application Learning Curve: Applying loose powder foundation requires a different technique compared to liquid or cream foundations, which can be challenging for some users.
Dryness: While it can work for all skin types, it might feel a bit drying on very dry skin or emphasize flaky patches. Using a moisturizer underneath can help.
Coverage: While the coverage is buildable, it might not fully cover more prominent imperfections or discolorations.
Messy: As with all loose powder products, it can get a bit messy during application, so extra care is needed.
Advertisement – Continue Reading Below
Vita Liberata Body Blur/Face Blur
(BEST BODY FOUNDATION)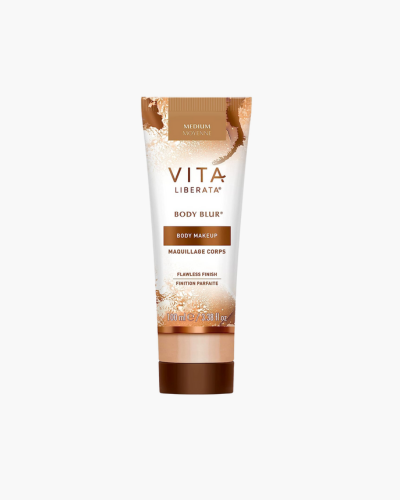 I ditched fake tan in favour of Vita Liberata Body Blur. The body blur phases out sun spots and blemishes, whereas fake tan accentuates imperfections; this is the perfect solution.
As we get older, our skin tends to lose some of its natural radiance, and we start to see signs of aging, right? Now, this is where Body Blur comes into play. It's like your little secret weapon. This product not only hydrates your skin with ingredients like shea butter and aloe vera but also blurs out those little imperfections we sometimes worry about – think age spots or varicose veins.
What's more, it adds an instant bronzy glow, giving your skin a beautiful, youthful look. It's like having a mini spa treatment at home, making your skin feel pampered and look gorgeous. And the best part? It washes off at the end of the day, so you're not stuck with it if you're not in the mood for a tan.
*Pro tip* Combine four parts moisturiser to 1 part Vita Liberata in the palm of your hand, mix together and smooth over your arms and legs. Literally the most perfect cover for your summer body.
Here are my pros and cons to consider when deciding whether to purchase this foundation:
Pros & Cons
Blurring Effect: Body Blur does exactly what its name implies – it blurs imperfections such as age spots, varicose veins, or uneven skin tone, giving the skin a smoother appearance.
Instant Bronzing: It provides an instant tan, which can help add warmth and a youthful glow to mature skin.
Moisturizing: It contains light-reflecting particles and nourishing ingredients like shea butter and aloe vera, helping to hydrate the skin.
Temporary: It's a wash-off body makeup product, providing flexibility for those who don't want a commitment to a long-lasting self-tan.
Transfer: Some users have reported that the product can transfer onto clothing or sheets. It's recommended to let the product dry completely before getting dressed.
Price: Vita Liberata Body Blur is considered a high-end body makeup product, and its price reflects that.
Application: The application requires some skill to ensure an even, streak-free finish.
Shade Range: While the brand offers a few different shades, some users may struggle to find a perfect match for their skin tone.
L'Oréal Paris Age Perfect Radiant Serum Foundation with SPF 50
(BEST ALL-ROUNDER)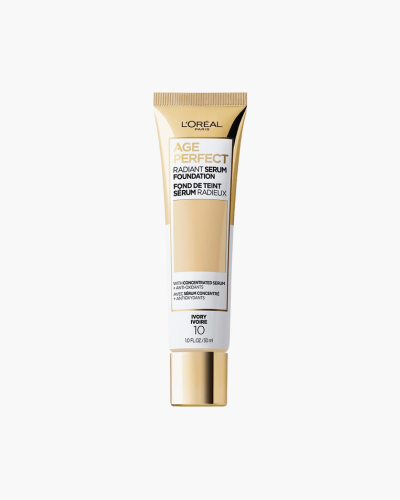 Designed specifically for mature skin, this L'Oréal Paris foundation offers full coverage while feeling lightweight on the skin. The serum-infused formula hydrates the skin and evens out skin tone, leaving a natural, radiant finish. Moreover, it provides broad-spectrum SPF 50 protection, ensuring you're shielded from harmful UV rays.
*Pro tip* If you're on a budget and trying to make a decision start here!
Here are my pros and cons to consider when deciding whether to purchase this foundation:
Pros & Cons
SPF Protection: With SPF 50, this foundation provides significant protection against harmful UV rays, an essential for mature skin.
Radiant Finish: As the name suggests, this product offers a radiant finish that helps to give the skin a more youthful, glowing appearance.
Hydrating Formula: It's infused with a serum, which provides additional hydration to help combat the dryness that can come with age.
Designed for Mature Skin: This foundation is formulated with mature skin in mind, and it aims to not settle into fine lines or wrinkles.
Coverage: While it offers decent coverage, for more prominent skin concerns like significant age spots or hyperpigmentation, a separate concealer may still be necessary.
Shade Range: Some users might find the shade range a bit limited, making it harder to find an exact match.
Longevity: Depending on skin type and weather conditions, longevity might vary. In some cases, a primer or setting powder might be needed to extend wear time.
Dewy Finish: While some people love a radiant, dewy finish, others (especially those with oily skin) may find it too shiny.
YSL Touche Eclat Le Teint foundation
(BEST LUMINOUS FINISH)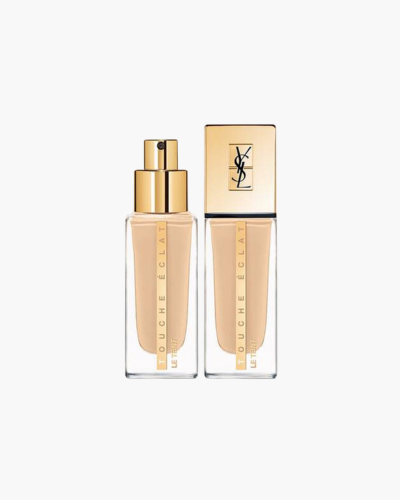 I've been using this for 10 years, and though I've tried 100's of foundations, I've always had a YSL around. The YSL Touche Eclat foundation is a perfect choice for women over 50, offering a radiant and hydrating formula that promotes a youthful glow, delivers a lightweight, skin-like finish, and includes SPF protection, all while maintaining a comfortable all-day wear.
*Pro tip* if you haven't tried this, this is a great place to start if you're wanting to change your foundation.
Here are my pros and cons to consider when deciding whether to purchase this foundation:
Pros & Cons
Radiance-Boosting Formula: Luminous and glow-giving properties, which can help to add radiance to mature skin that can sometimes appear dull.
Hydrating: Hydrating qualities help maintain moisture levels in the skin, making it look plumper and healthier.
Lightweight: Fluid texture that blends easily and doesn't feel heavy on the skin, making it comfortable for all-day wear.
Natural Finish: It offers a natural, skin-like finish that doesn't emphasize lines or wrinkles.
Broad Spectrum SPF: SPF is crucial! This foundation includes broad-spectrum SPF to help protect the skin.
Price: High price point may not be suitable for every budget.
Coverage: If you have age spots, rosacea, or other discolorations you want to cover, this foundation's sheer to medium coverage might not be sufficient.
Shade Range: Finding the perfect match can be a challenge.
Longevity: May not last as long throughout the day, requiring touch-ups.
Fragrance: Fragrance in makeup can sometimes cause irritation or allergic reactions, particularly for sensitive mature skin.
Chanel Les Beige
(BEST DEWY FINISH)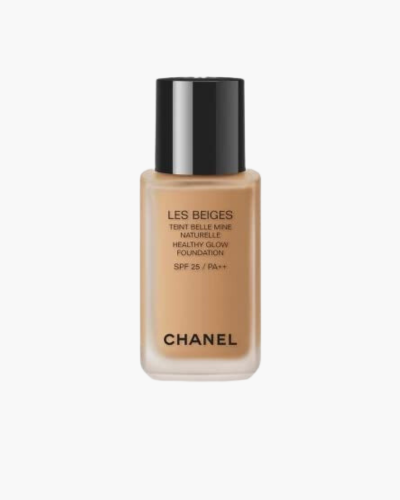 This is my summer go-to foundation. It gives me a healthy glow an offers a natural, skin-enhancing finish with its hydrating formula, providing light to medium coverage and SPF protection, making it an ideal choice for mature skin seeking a radiant, even-toned complexion.
The thing I love about Chanel is they have shades that go from rose to neutral to golden. I choose the golden shade for summer and it makes my face look healthy, hydrated and glowy.
*Pro tip* you can layer this over another inexpensive foundation on your high points (cheeks, forehead) to make it last longer
Here are my pros and cons to consider when deciding whether to purchase this foundation:
Pros & Cons
Natural finish: Gives a natural, "your-skin-but-better" finish which is excellent for mature skin, as it doesn't accentuate wrinkles or lines.
Hydrating formula: Hydrating elements help keep dry, mature skin moisturised and soft.
Light to medium coverage: Light to medium coverage that can cover up age spots and discolorations without looking cakey.
SPF protection: Includes SPF 25 which is crucial to prevent further sun damage.
Variety of shades: Huge variety of shades, making it easier to find a match for your skin tone.
Price: Might not be the best choice for someone who is budget-conscious.
Coverage might not be enough: The light to medium coverage may not be enough for some skin.
Not suitable for oily skin: Might be too rich for those with oily or combination skin, leading to a greasy look or feel.
Fragrance: Fragranced, which might be irritating for some people, particularly those with sensitive skin.
Availability: Sells out frequently due to its popularity.
Advertisement – Continue Reading Below
When choosing a foundation, it's important to consider your skin type and concerns. The key to a beautiful makeup look is a well-maintained skincare routine. So, keep your skin hydrated, use sunscreen regularly, and enjoy the confidence that comes from showing off your beautiful skin. And, don't forget top exfoliate! Try out these foundations and see which one suits your skin the best – because you deserve to look and feel fabulous at any age!
Overall, the best foundation for women over 50 is one that pulls double duty by both providing skin excellent coverage and nourishing the skin with revitalising actives like hyaluronic acid
With so many great options on the market, I'm sure there's a foundation on this list that's perfect for your needs.
♡ Love ♡,
Schellea.
---