Ready to tone your abs and butt without even getting on the floor? This routine fosters a stronger body and improves overall movement patterns. This 15-minute abs and butt routine will completely exhaust those muscles and have you feeling like an Olympian.
The workout is dedicated to you standing tall, sculpting those abs, toning those legs, and embracing the strength of your glorious booty. It targets the abs, legs, glutes, calves, and whole body, giving us strength, endurance, and ageless confidence.
The routine is safe and beginner-friendly. It ensures functional strength, helping you move through life with increased stability and efficiency.
The Concept of Standing Abs and Booty Workout
The standing abs and booty workout routine is designed for women over 50, focusing on strengthening the core and glutes while standing. It's a fantastic, low-impact alternative to traditional floor exercises, perfect for those with joint issues or anyone wanting to mix up their routine.
Standing workouts reduce neck and back stress, unlike sit-ups and squats. They engage your abs and glutes, toning these areas and improving your balance and stability.
The standing abs and booty workout is a fusion of strength training and aerobic exercises. This combination lifts your heart rate and tones your abs and glutes, helping you lose weight. This complete workout is perfect for women over 50 who want to improve their health and fitness.
READ ALSO: 10 Minute Standing Abs Workout With Dumbbell Weights
Benefits of Standing Abs and Booty Workout for Women Over 50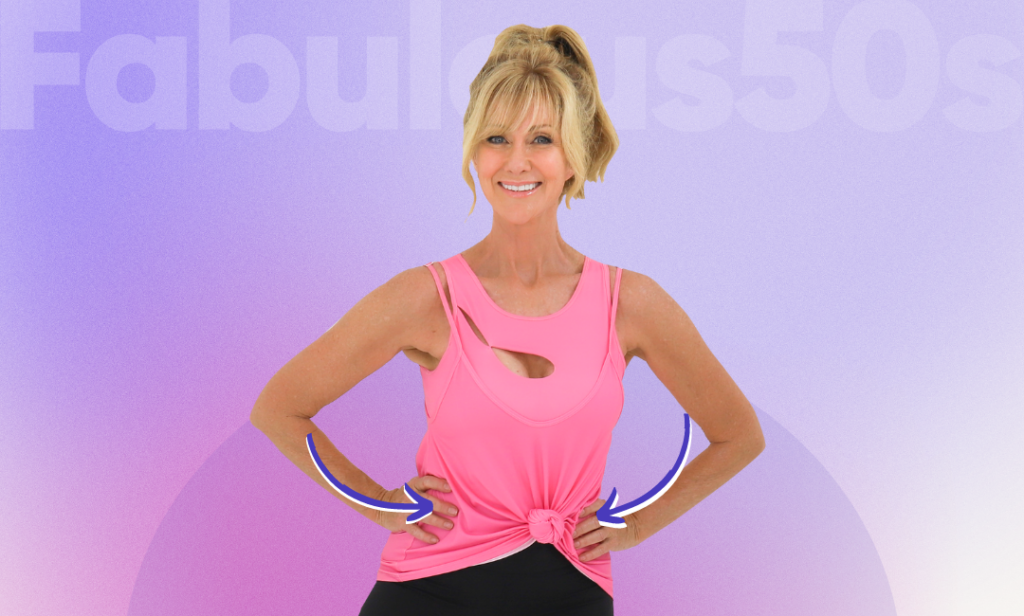 Standing abs and booty workouts for women over 50 strengthen the core and glutes. One of the main advantages is its ability to strengthen your core and glutes, two areas prone to weakness as we age. It promotes better posture, reduces back pain, and improves balance, all of which are crucial for maintaining your independence and quality of life.
Another significant benefit is the potential for weight management and fat loss. This calorie-burning workout helps women over the age of 50 manage their weight. It also helps you maintain lean muscle mass, counteracting the natural muscle loss that occurs with aging.
Moreover, a standing, abs, and booty workout can help improve bone health. Many women over 50 develop osteoporosis, but weight-bearing exercises increase bone density. It also enhances flexibility and mobility, which are essential for maintaining an active lifestyle.
READ ALSO: Use This 10-Minute Standing Abs Workout To Melt That Muffin Top
Tips for Effective Standing Abs and Booty Workout
If you want your standing abs and booty workout to work even better, keep these extra tips in mind. Pay attention to form first, then speed. It is important to do each exercise correctly to avoid hurting yourself and to make sure you are working the right muscles.
In addition, do not forget to use your core during every exercise. Not only does this make the ab workout more effective, but it also makes you more stable and lowers your risk of injury.
Lastly, it is important to be consistent. Aim to perform this workout 3–5 times a week. For the best results, do it along with a healthy diet and enough rest.
You can expect positive changes after consistently doing the Standing Abs and Booty Workout. Your abs and glutes may strengthen, straighten, and move better. You may lose weight or manage it better.
But the benefits go beyond health. Regular exercise improves mood, stress, and sleep. You may feel more energetic and confident and live better.
Closing Thoughts
In conclusion, fitness is a lifelong journey, and age should never be seen as a barrier. The workout is a fantastic way for women over 50 to maintain their health, strength, and vitality. This low-impact, effective, and versatile routine can be done anywhere, anytime.
So, why not give it a try? It is never too late to start exercising and reap its benefits.