Say goodbye to endless sit-ups and crunches because I've got a game-changer for you! It's a quick, 10-minute standing abs workout routine that can be done without any equipment.
Imagine if you could work out your abs while standing. This fabulous routine will not only work your abs, but also the muscles in your lower body that are often ignored. You will be working your core the whole time, so every second is important.
Even though it is only 10 minutes, you will feel it! If you want more of a challenge, you can add weights to the workout to make it more challenging.It is a great way to get a good workout, even when you are busy.
You have no reason not to try it, whether it is first thing in the morning or during a quick break at work. As you move from one move to the next, this workout will work your arms and legs as well as your abs. Plus, it's low impact, making it suitable for those with sore joints.
This 10-minute standing abs workout will test your balance, push your endurance, and, in the end, melt that muffin top away. Every minute is spent getting rid of fat and working on your abs. It is time to become fitter and healthier!
So, are you ready to take on the challenge? This is not just another workout; it is a fitness revolution!
10-Minute Standing Abs Workout
This 10-minute standing abs workout will not only help you get a more toned body, but it will also make you stronger and more confident.
Let's start melting that muffin top right away!
Cable Chops
Cable chops are a great exercise for working the core, especially your obliques. This can help you get a flatter belly. It is a useful move that can help you get stronger and have more stamina.
Remember to keep your abs working the whole time and to keep your form. It is important to remember that your movement should come from turning your torso, not just from pulling your arms across your body.
High March Pull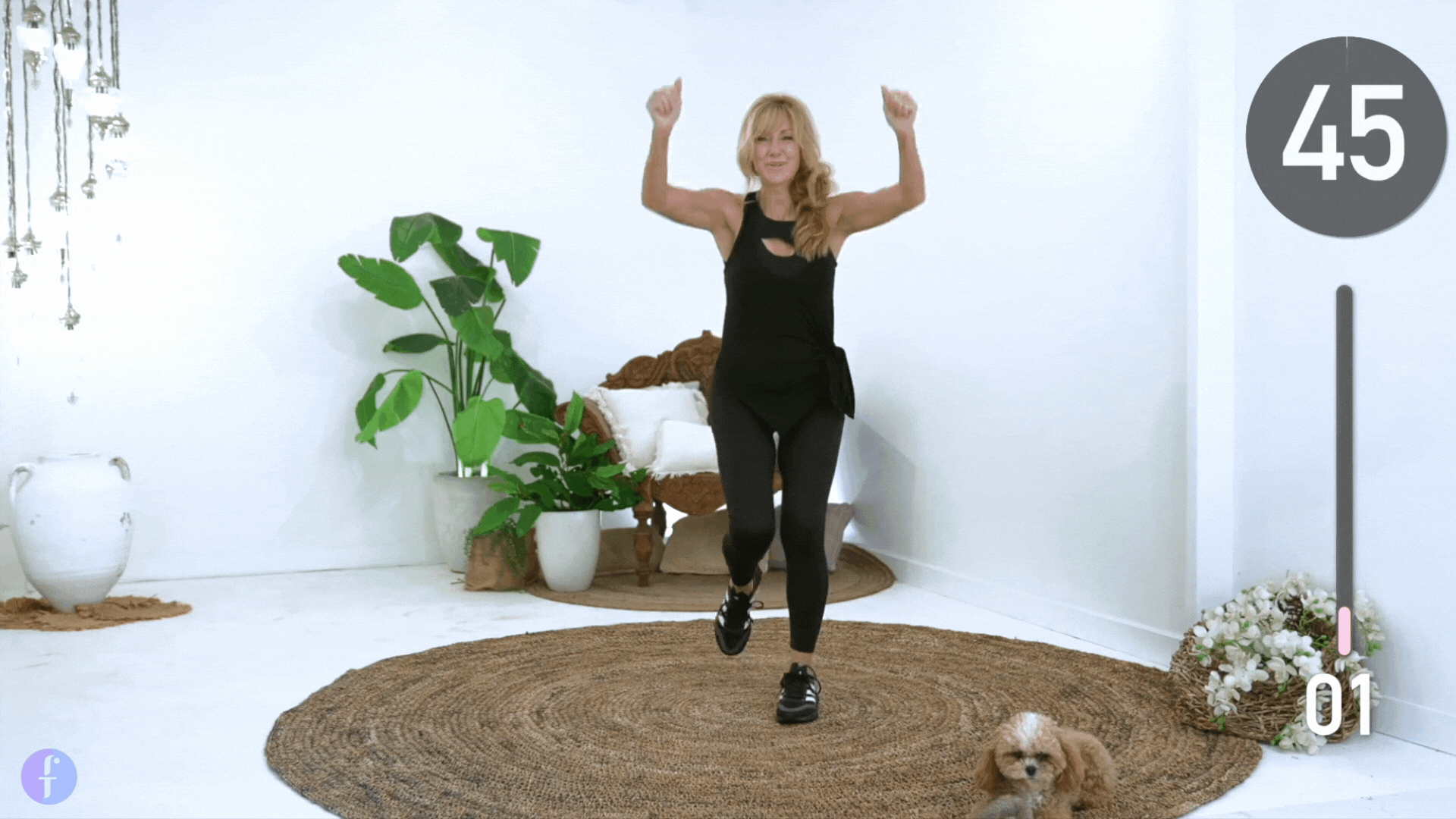 The High March Pull exercise works your abs in different ways, giving you a full workout for the whole area. It keeps the core muscles working all the time.
As you pull your knee up, your abs have to work even harder to keep you steady and in control. This regular activation helps build strength in the abs, which leads to a stronger, more stable core.
As you keep doing the High March Pull exercise, your abs will get stronger and more defined over time. When you pull and lift your legs at the same time, you get a kind of "crunching" effect. This works both the upper and lower abs, making the middle of the body more defined.
READ ALSO: Say Goodbye to Your Muffin Top: Try This Standing Abs Exercise with Weights
Punches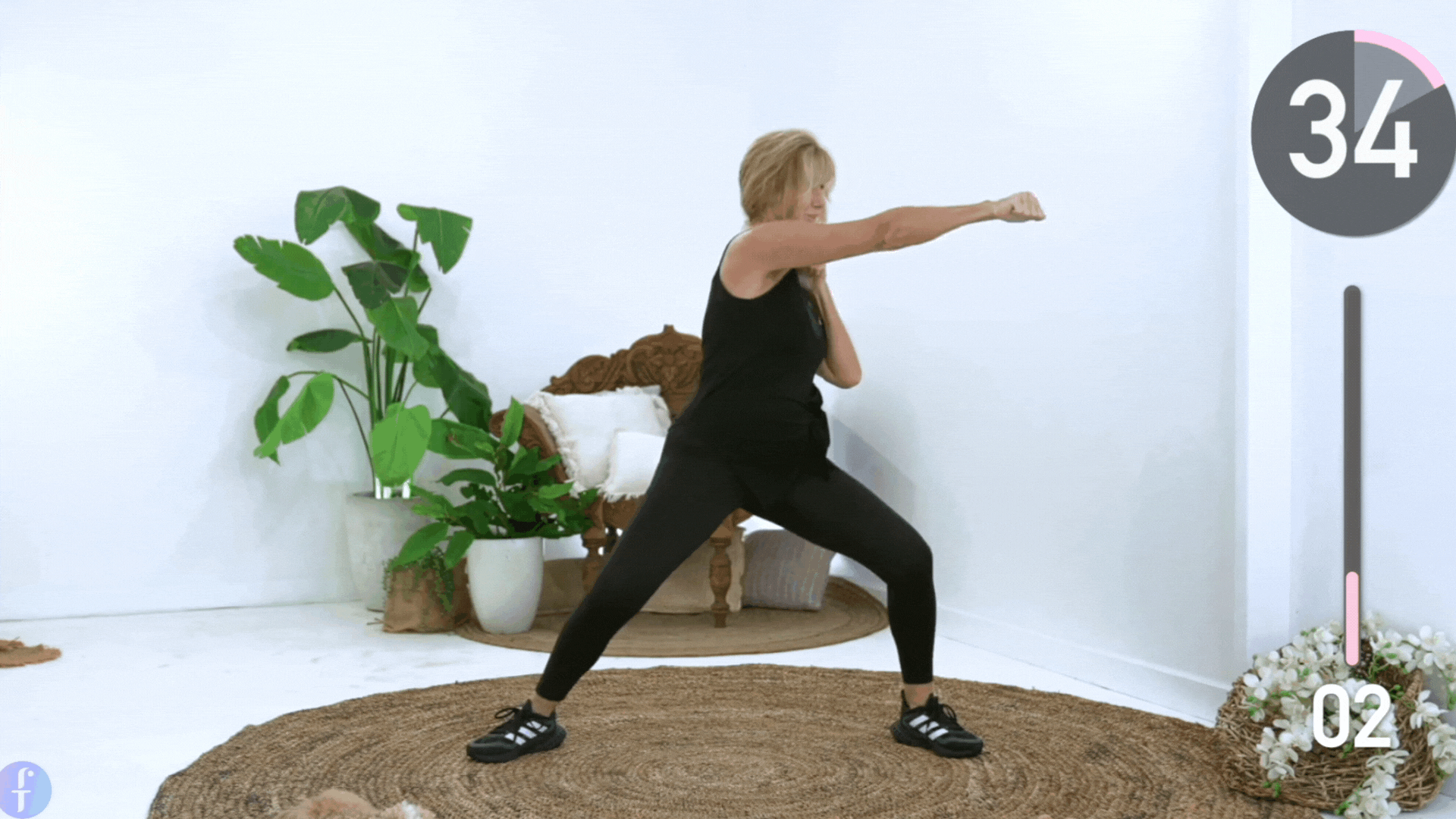 The punch exercise builds core strength, endurance, and coordination. When you punch, you work your core as well as your arms and shoulders. Each punch rotates your torso due to your abs and obliques. This continuous engagement strengthens and tones your abs.
This exercise is also a fantastic calorie-burner. Burning more calories and eating a balanced diet will reduce body fat, including midsection fat. This reveals more defined abs.
Punching strengthens your upper body and abs. Each punch requires core force. If your abs are strong, your punches will have more power. Remember that proper form is key to avoiding injury and getting the most out of any exercise.
Standing Twists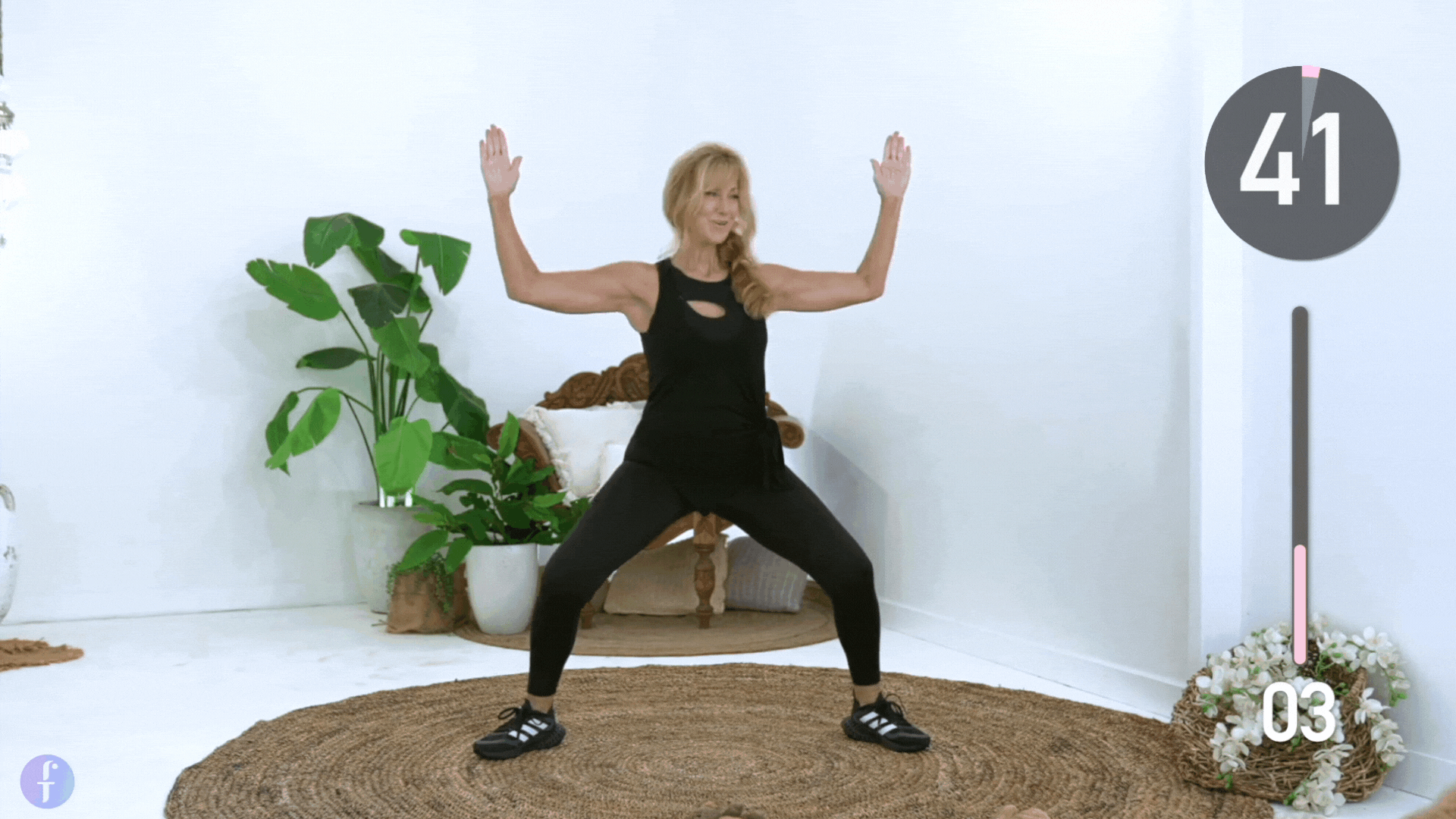 Standing twists, also called torso twists, are a great way to work your abs, especially your obliques.
When you twist, you have to keep using your core muscles. As you turn your torso from side to side, your abs and obliques work to keep the movement under control. Your abdominal muscles get stronger because of how often they are used.
Most ab exercises focus on the "six-pack" muscles, but standing twists focus on the obliques, which are the muscles on the sides of your stomach. This gives you a more well-rounded core workout and can help define and shape your waistline as a whole.
Oblique Twists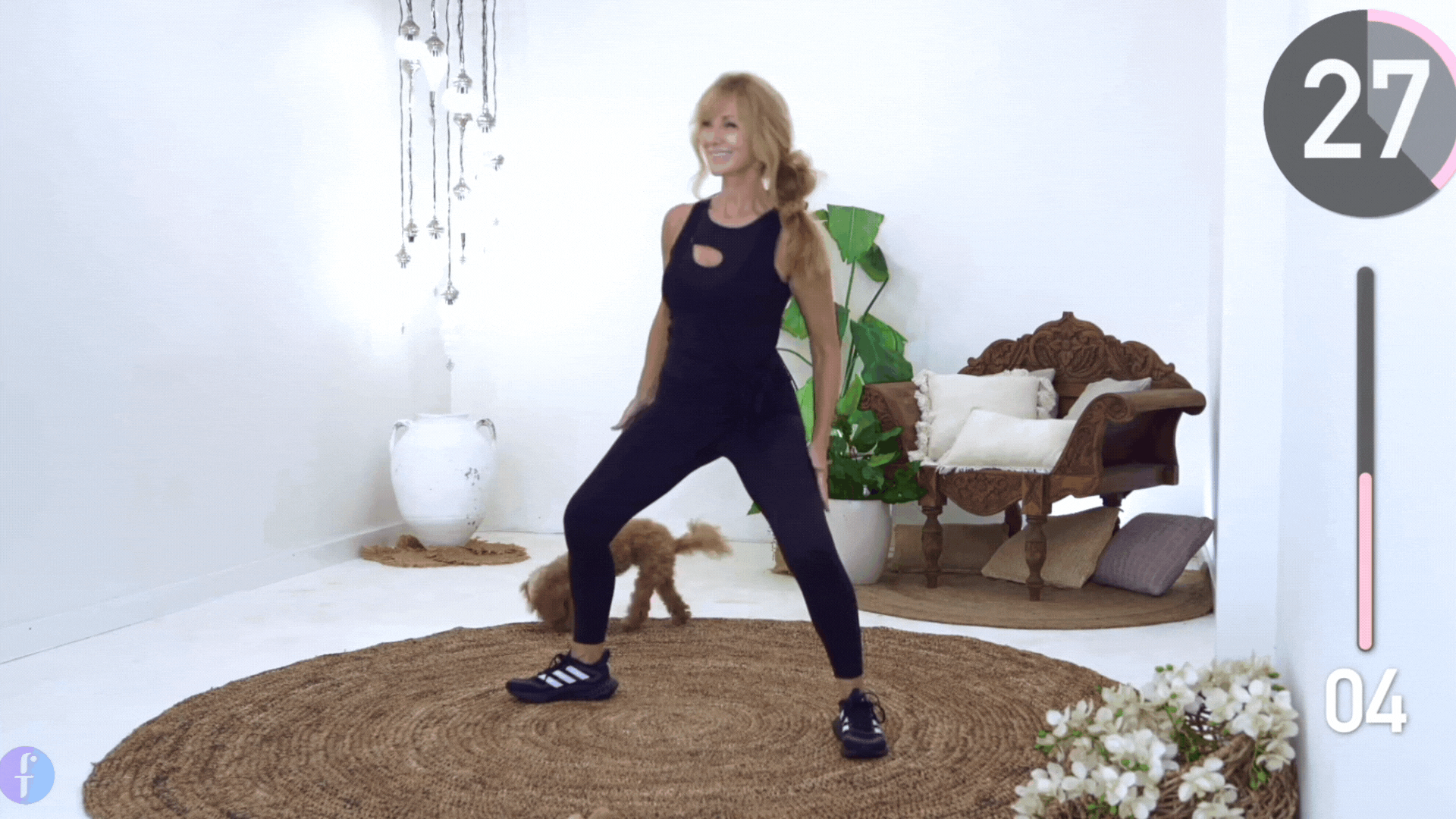 Oblique twists are a great core exercise that work the oblique muscles in particular. This exercise works the oblique muscles, which are on the sides of your stomach. The twisting motion makes the obliques contract and relax, which helps to tone and strengthen them. This makes the waistline more defined and the core stronger as a whole.
When you do oblique twists, your core has to work hard to keep your body stable. This improves your balance and stability, which are both important for having a strong body and moving around every day.
Although the obliques are the main focus, side twists also work the rectus and transversus abdominis. The exercise strengthens and balances your core by working all these muscles.
Right Knee Lift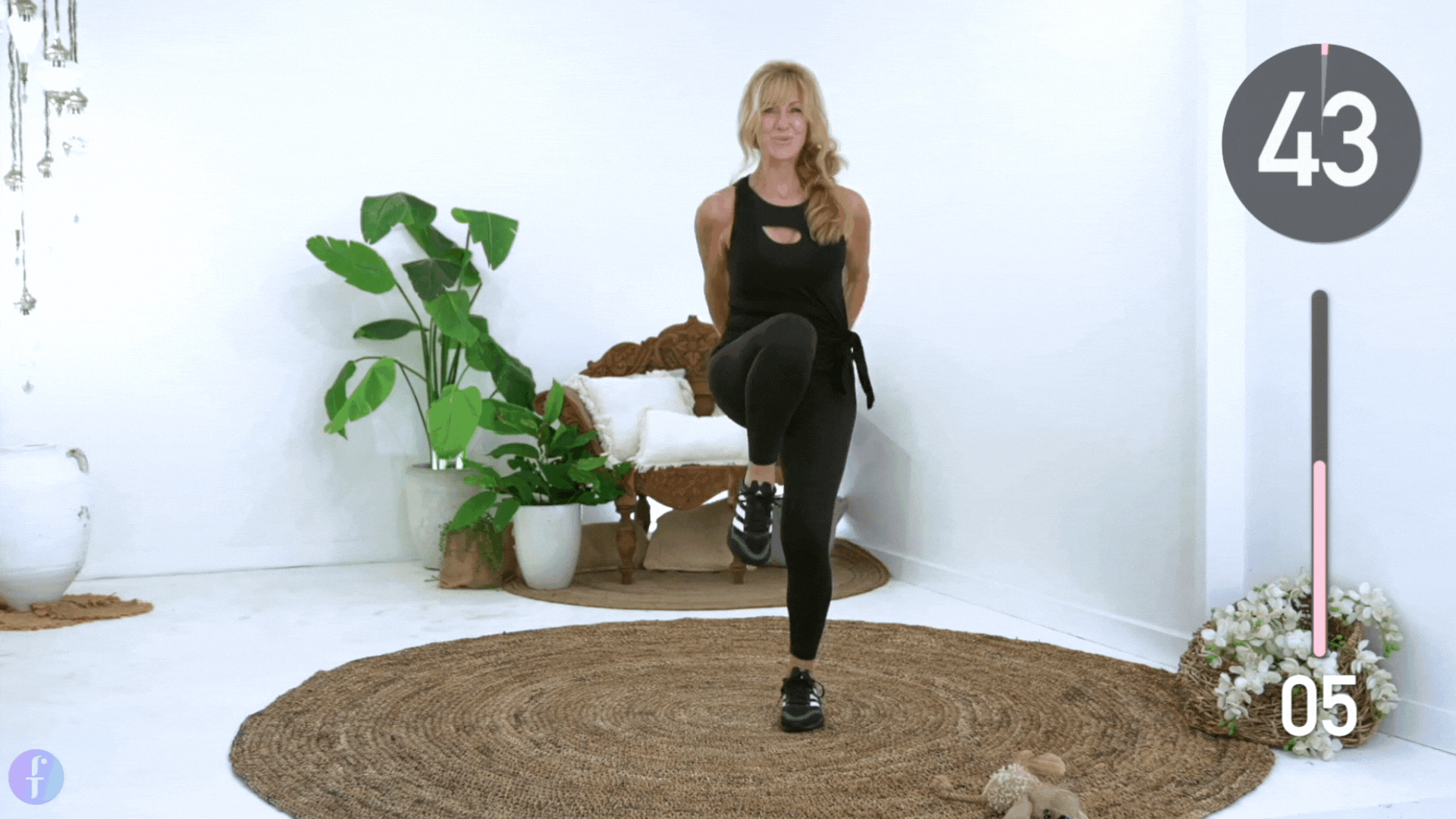 Right Knee Lifts are great for the abs. When you do the right knee lift, your abs have to work to pull your knee upward. This movement effectively tightens the muscles, which over time makes them stronger and more toned.
Knee lifts are especially good for the lower part of your abs, which can be hard to work out on their own. When you lift your knee toward your chest, you use these muscles, which help you build a well-defined and round midsection.
Balance on one leg while lifting the other requires core stability. Your abs and other core muscles stabilize your body during the lift, improving balance and core strength.
READ ALSO: 5 Minute Abs Workout To Reduce Belly Fat Fast
Left Knee Lift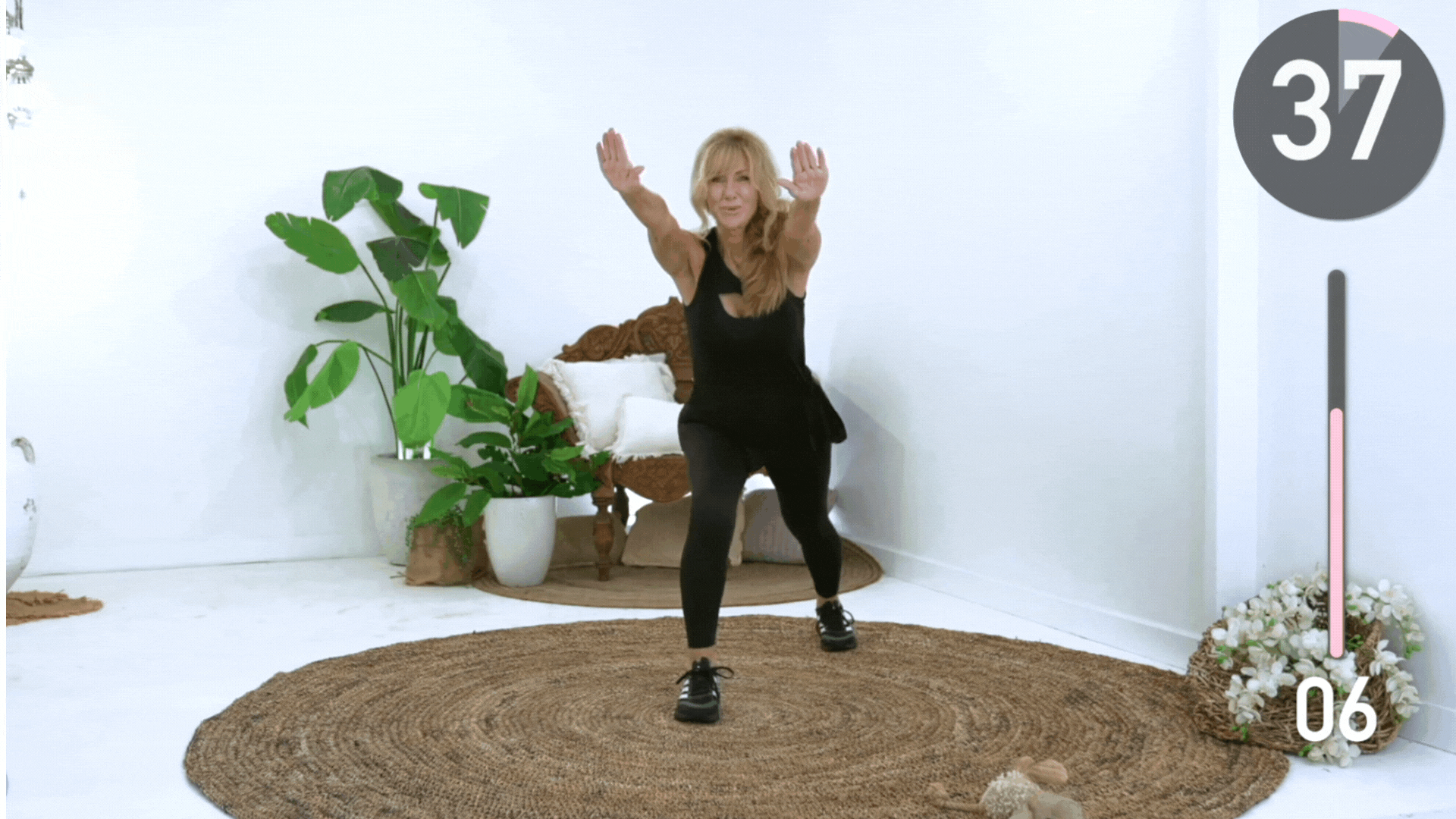 Like the Right Knee Lift, the Left Knee Lift works your core, especially your abs. For the left knee lift, you need to tighten your abs as you pull your knee up. Your abdominal muscles get stronger and more toned as you keep doing this.
Often, it is hard to focus on the lower part of your abs. Knee lifts, on the other hand, are a great way to work these muscles because they require you to lift your knee toward your body.
Lifting your left knee while balancing on your right requires core stability. Your abs and core muscles stabilize your body during this exercise, improving balance and core strength.
Standing Slides (Left)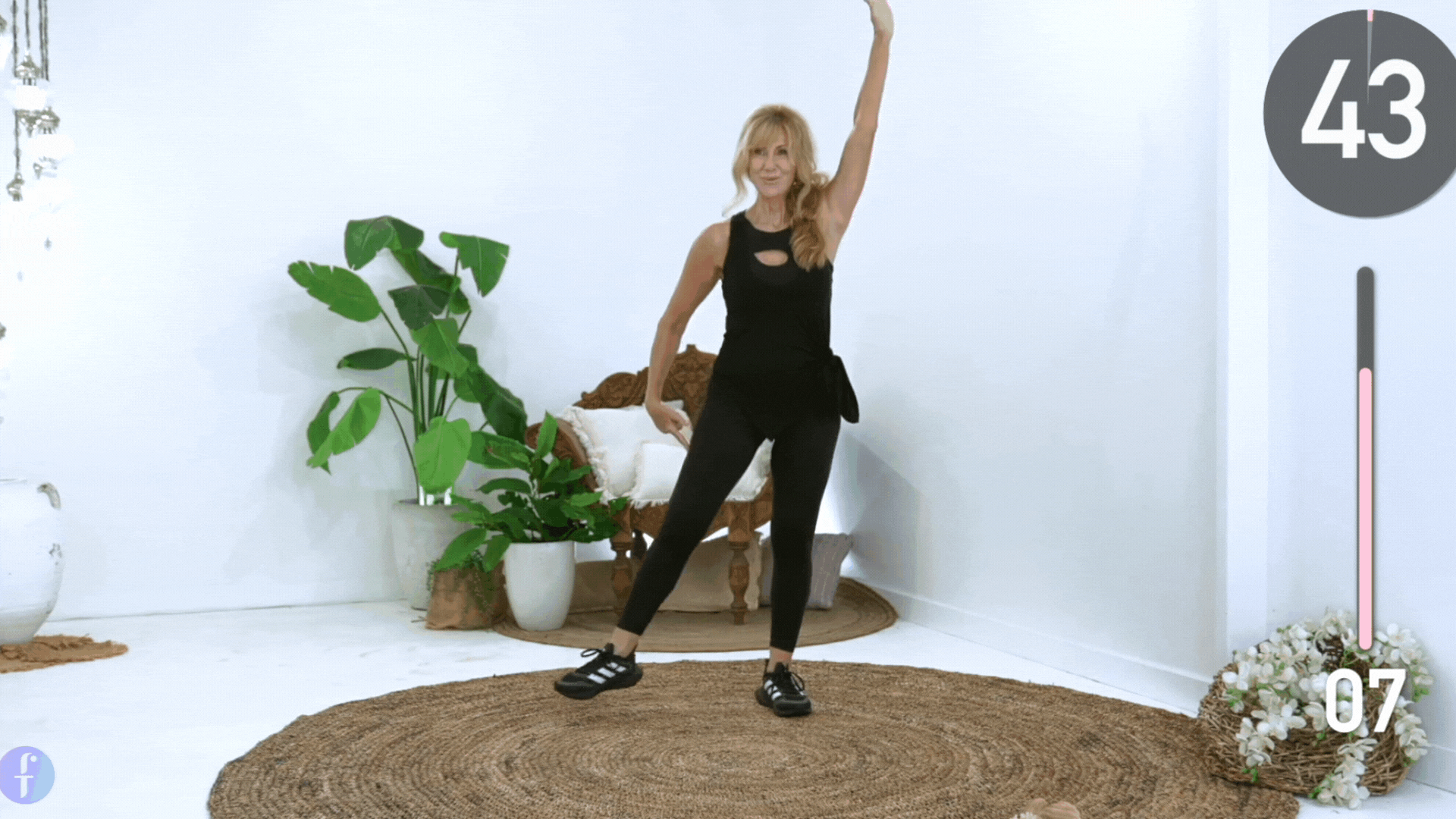 Standing slides, also called standing side bends or side reaches, work your core, especially the obliques. As you move from side to side, you will have to tighten and stretch your obliques. This movement can make these muscles stronger and more defined, which can help give you a more toned waistline.
You can also get more flexible and mobile in your trunk by doing standing slides. The bending motion increases your spine's range of motion and can make your body more flexible as a whole.
Standing Slides (Right)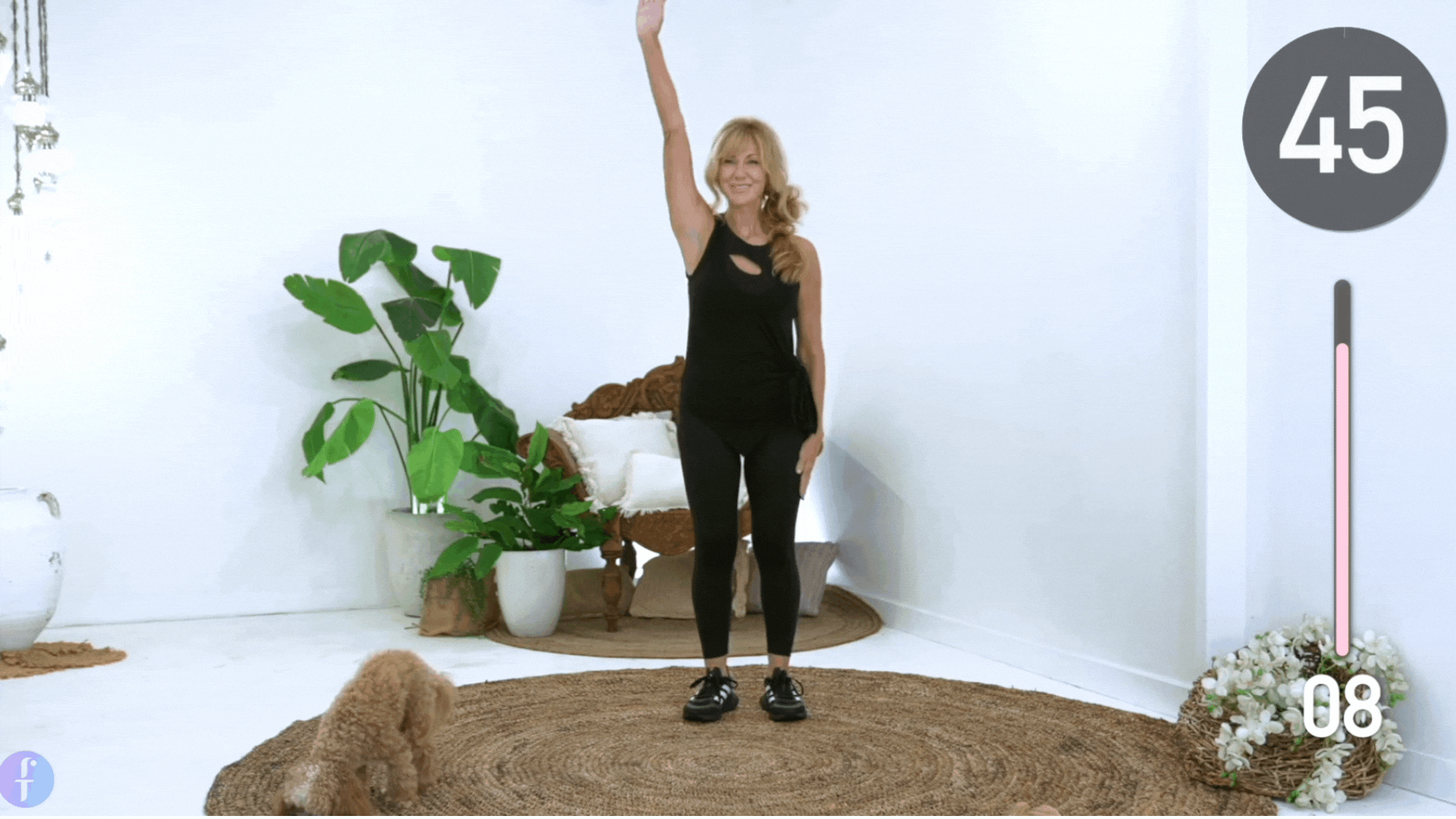 This exercise makes you use your core to keep your body steady as you move, which strengthens your core as a whole. Stability improves balance and coordination, which is useful for daily activities.
When you do exercises like standing slides, which strengthen your core, on a regular basis, your posture can get better. A strong core helps keep the spine in place, keeping the back straight and lowering the risk of back pain or injury.
For the best results, you should always use your core and move in a controlled, precise way.
READ ALSO: Toned Abs Workout For Women | Burn Belly Fat Fast!
Standing Arm Swings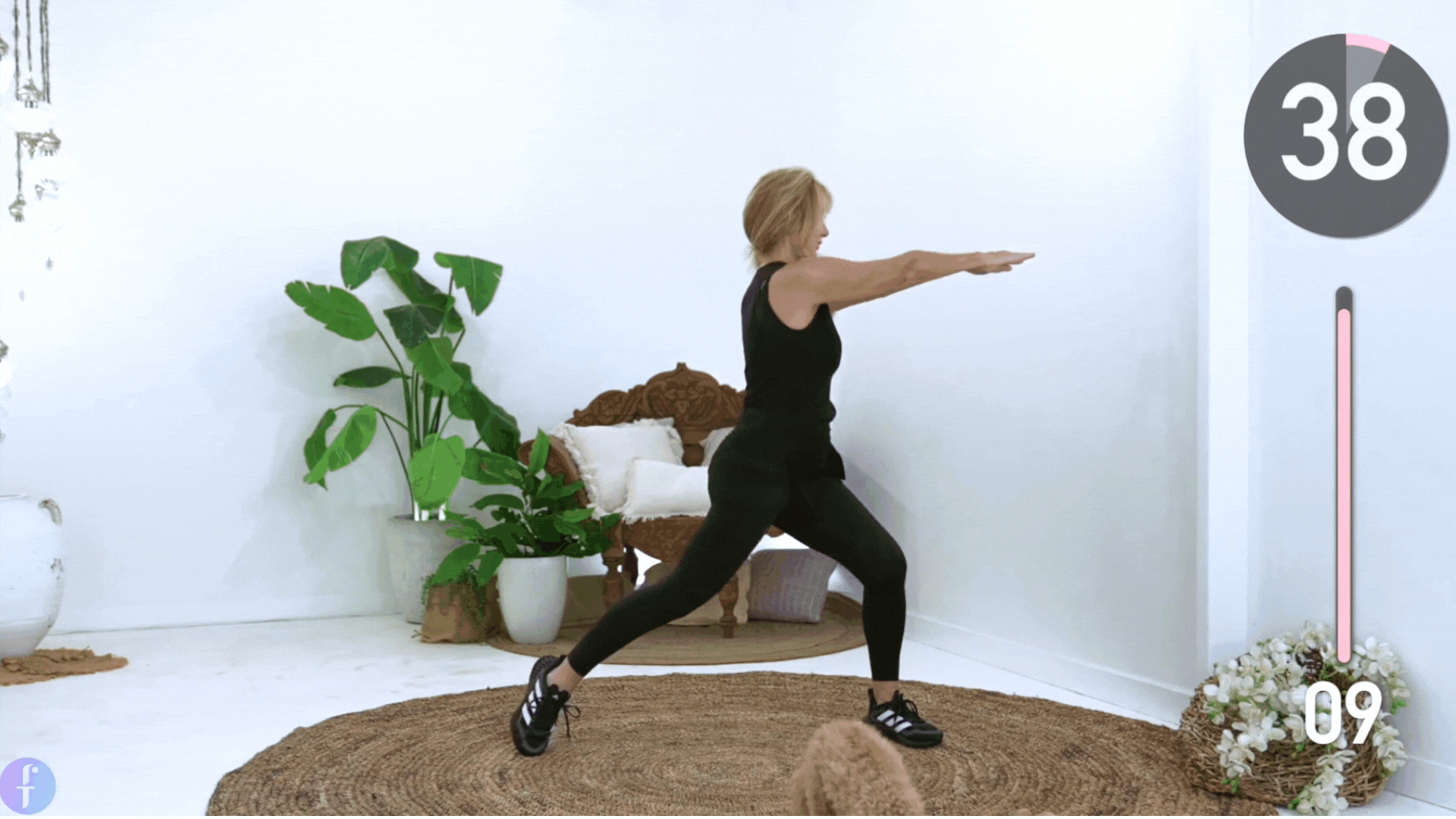 The Standing Arm Swing is a great way to work your core and get stronger in your abs.
When you swing your arms and twist your torso, you use your entire core. Your abs and obliques have to work to control and coordinate the movements, which makes these muscles stronger.
When done with your torso, the twisting part of the exercise really works your obliques. This exercise can help tone and strengthen the muscles on the sides of your stomach that help you turn your body.
This exercise helps you become more stable because your core has to work to keep your balance as you swing and twist. Having better balance is not only helpful in everyday life, but it can also help you do better in exercises.
Frequently Asked Questions on Standing Abs Workout
Q: Are standing abs workouts as effective as floor-based ones?
A. Standing abs workouts are just as effective as floor-based ones. Both types of workouts can work your core muscles and make them stronger. But standing workouts may also help you improve your balance and work out more of your body's muscles, giving you a more complete workout.
Q: Can I do a standing abs workout every day?
A: It is safe to do a standing abs workout every day, but it is usually better to let your muscles rest and heal. You could give your core a break by alternating days when you work on your abs with days when you do other kinds of exercise.
Q: Does working out your abs while standing help you lose weight?
A: Standing abs workouts burn calories and build muscle, helping you lose weight. For effective weight loss, you must also eat well and exercise, including cardio and strength training.
Q: Do standing abs workouts require special equipment?
A. No, most standing abs exercises you can do with body weight. However, hand weights or resistance bands can intensify your workout.
Q: I'm a beginner. Can I start with standing abs?
A: Yes, absolutely! Beginners should try standing abs exercises because they are simple and do not require any equipment. Start with easier exercises and progress to harder ones as you build strength and endurance.
Q: How long does it take for a standing abs workout to show results?
A: This depends on many things, like how fit you were to start with, how hard you work out, what you eat, and your genes. Most of the time, you might start to feel stronger and have more stamina within a few weeks. It may take longer, maybe a few months of consistent exercise and healthy eating, for your body to change in a way that you can see.
Closing Thoughts
If you are tired of that muffin top that just will not go away? If you have tried many sit-ups, crunches, and diet plans but have not seen much improvement. Well, it is time to try something new and effective, this 10-minute standing abs workout!
This standing abs workout is made to work your core muscles from every angle, helping to shape and define your waistline. Even though it only takes a few minutes, it gives your abs a full and intense workout. It is also known that standing exercises use more muscles than traditional floor exercises, which means that more calories are burned.
So you are not only working to get rid of that muffin top, but also to make your body stronger and improve your posture.
Before starting a new workout plan, you should always talk to a doctor or fitness professional to make sure it is right for your health and fitness level.
Let's melt that muffin top away together!
♡ Love ♡,
Schellea