Field Mushroom and Edamame Stirfry
Skip the take-out tonight and try this quick and easy Mushroom and Edamame Stirfry recipe. It'll save you money and you can feel good about what's in it.
I don't think I have ever been so excited to eat a vegetable before. Okay, that might be a slight exaggeration, but this edamame and mushroom stirfry is seriously delicious!
The mushrooms add a nice earthy flavor and the edamame gives it a little protein boost. Plus, it's super simple to make – perfect for a weeknight meal.
So if you're looking for something new and tasty to try, be sure to give this stirfry recipe a go!
Health Benefits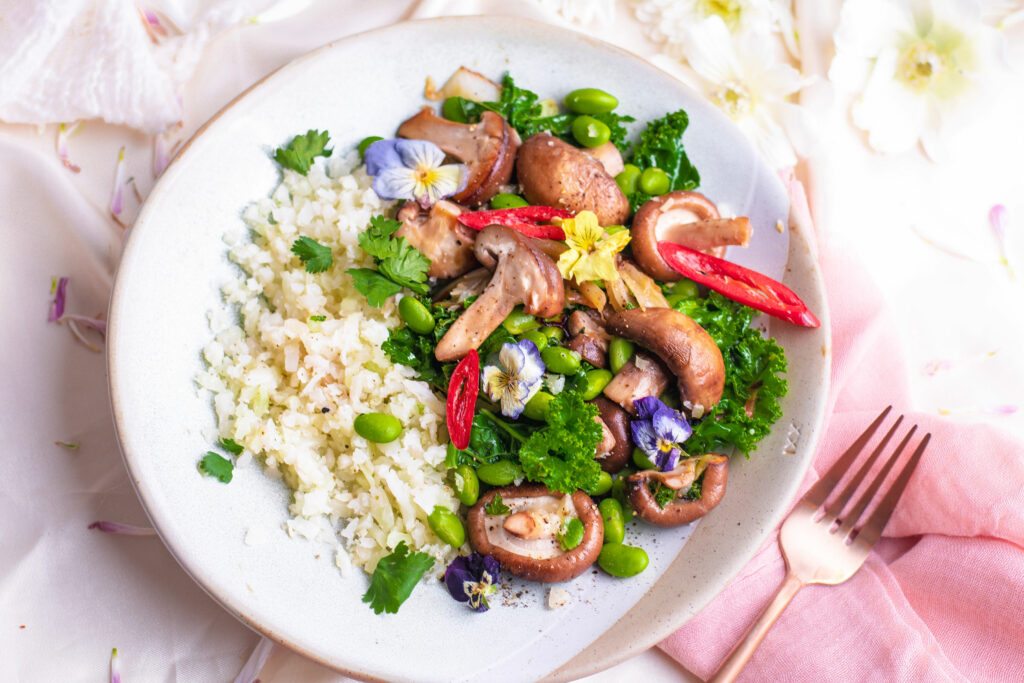 Mushrooms. They're not just for breakfast anymore! In fact, mushrooms offer a number of health benefits that make them perfect for inclusion in your regular diet. From boosting your immune system to reducing inflammation, these little fungi are packed with healthy goodness.
Edamame is simply soybeans that have been harvested before they are ripe. Edamame health benefits are one of the many reasons to love this delicious legume. Loaded with antioxidants, protein, and fiber, edamame is a nutritional powerhouse.
Kale is all the rage right now. And for good reason: kale is among the most nutrient-dense foods on the planet, packing an impressive array of health benefits including its detoxifying properties. So if you're not already eating kale, now is the time to start!
Cauliflower rice might just be the best thing to happen to healthy eating in a long time. You can use it as a substitute for regular rice in any recipe, and it's a great way to get more vegetables into your diet. This superfood is low in carbs and calories, yet high in fiber and nutrients. But cauliflower rice isn't just good for you – it tastes delicious too!
???? Pin it before you forget! Save this recipe to your Healthy Recipes Board on Pinterest!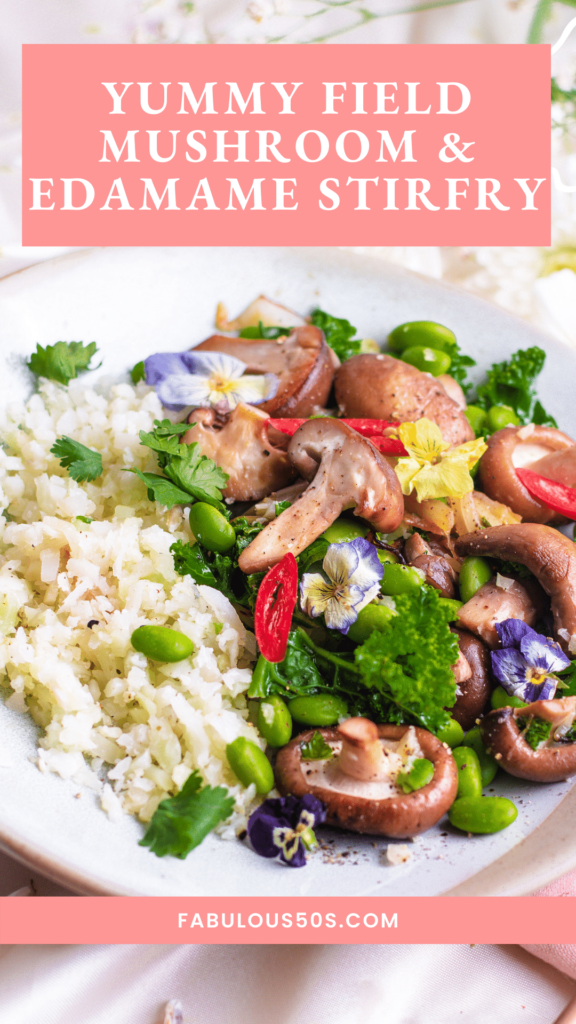 INGREDIENT LIST
3/4 tsp Sesame oil
5 Cremini Mushrooms (sliced)
1/4 Yellow Onion (small, sliced)
1/2 cup Kale Leaves (finely chopped)
1 cup Frozen Edamame (thawed)
1 tbsp Vegetable Broth
1 tbsp Tamari
1 1/2 tsps Ginger (fresh, finely grated)
1 Garlic (clove, minced)
1 cup Cauliflower Rice or you can try my homemade Healthy & Easy Cauliflower Rice Recipe
PREPARATION
Heat the sesame oil in a large pan or skillet over medium-high heat.
Add the mushrooms and onions to the pan and cook for 5 to 8 minutes or until the mushrooms and onions have started to brown.
Add the kale and stir to combine. Continue to cook until kale has wilted. Add in the edamame and cook for 2 to 3 minutes or until the edamame has warmed through.
Meanwhile, in a small bowl combine the vegetable broth, tamari, ginger and garlic.
Add the ginger and garlic sauce to the pan. Stir to combine and cook, stirring often, for 2 to 3 minutes more. Season the stir fry with additional tamari or sea salt if needed.
To serve, divide the cauliflower rice between plates and top with the mushroom and edamame stir fry. Enjoy!
NOTES
LEFTOVERS: Refrigerate in an airtight container for up to four days.
MORE FLAVOR: Add rice vinegar, honey or red pepper flakes to the sauce.
ADDITIONAL TOPPINGS: Asian-style hot sauce or sesame seeds.
NO CAULIFLOWER RICE: Use white rice, brown rice or quinoa instead.
NO KALE: Use spinach or Swiss chard instead.
And that's a wrap on this delicious and nutritious mushroom and edamame stirfry! I hope you enjoy it as much as I do.
If you have any questions or comments, please share them below. I love getting feedback from my fabulous ladies. And be sure to snap a picture of your masterpiece and post it on social media using the hashtag #Fabulous50s so I can see how it turns out. Enjoy!



Click here to visit my YouTube Channel
Get a copy of my Free eBook | Guide To Staying Younger Longer