Finding the perfect outfit for an apple (or circle) body type can be daunting, particularly if we don't quite know what we are looking for. It's comfortable and easy to follow the same dressing patterns we always have; however, we may be missing out on clothing options that will flatter our beautiful bodies and highlight our best features, while diminishing those we'd rather stay hidden.
In this article, I will outline the top styling tips to follow when constructing an outfit for an apple body type, from what to wear up top, down below and the accessories we can add to an outfit accentuate our fabulous shape.
If you're not quite sure if you are an apple body shape, keep reading!
If you think you may be an inverted triangle, an hourglass body shape or another body shape altogether, click here!
WHAT IS AN APPLE BODY-TYPE?
The apple body shape is identifiable by its consistent, uniform silhouette. The hips, shoulders and bust are, for the most part, in line with each other and quiet often the apple body shaped women will have great legs, ankles and feet that draw down and in from the waist. Watch this video for a more in-depth discussion and technique for determining your body type with a few simple measurements.
COLOUR THEORY: DRESSING FOR AN APPLE BODY SHAPE
If we apply colour theory to how we dress in this instance, we know that dark colours minimise, and lighter colours maximise. So, just as an example, if you were to paint a small room white, the room would appear bigger and more spacious, and if you were to do the inverse and paint the same room black, the room would appear smaller and more claustrophobic.
If we can understand this color principal, we can use it to our advantage. Using this principal to dress an apple body shape, I recommend opting for darker colours up top and choosing a lighter colour to accompany down the bottom.
DRESSING UP TOP
As a woman with an apple body shape, the first instinct may be to cover up our fabulous bodies with an item that is loose and flowy, however this can make us look larger than what we are, swallow up our natural shape and create an ill-defined silhouette.
The aim with dressing for an apple body type is to balance the top and bottom half of the body, utilising items that add fullness to the bottom half of the body by adding shape and definition to the midsection.
Look for fitted tops with plunging v-necklines to add interest and shape to your outfit. Keeping clothes fitted above the upper torso, helps define our shape: and avoid wearing anything that adds bulk to the midsection. V-necklines draw the attention away from the midsection, lengthen our torso, add a slimming effect, and add more definition to the shoulders, giving them a wider, fuller appearance.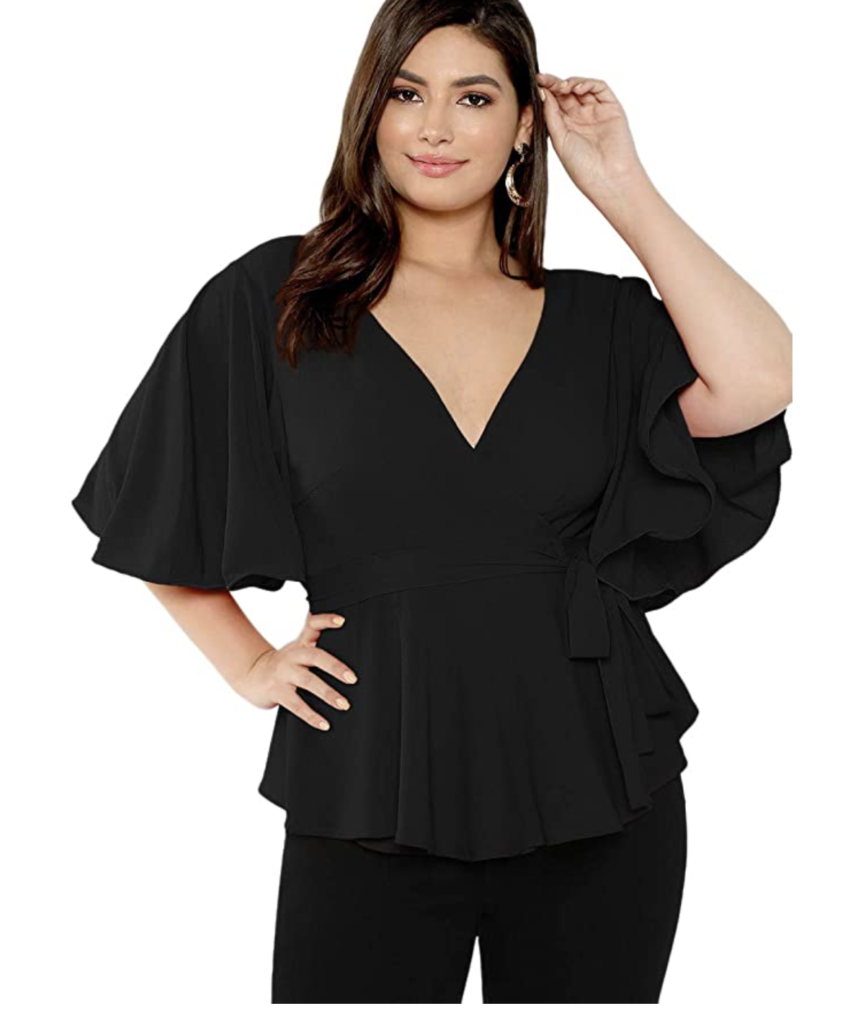 Try to avoid a sleeve hem line that finishes at the widest part off your body, so that's anywhere from the elbow down. It's more flattering for an apple shaped women to choose a top with a mid-length sleeve tapering in at the elbow. What this does is give the sleeve an optical illusion of a tapering-in that emphasises the most narrow part of your arm. Instead, choose a sleeve that gently flows to just above or below the elbow. The flow of the sleeves helps to add shape and definition to the apple woman's silhouette by 'pulling in' the waist, putting everything into perfect proportion.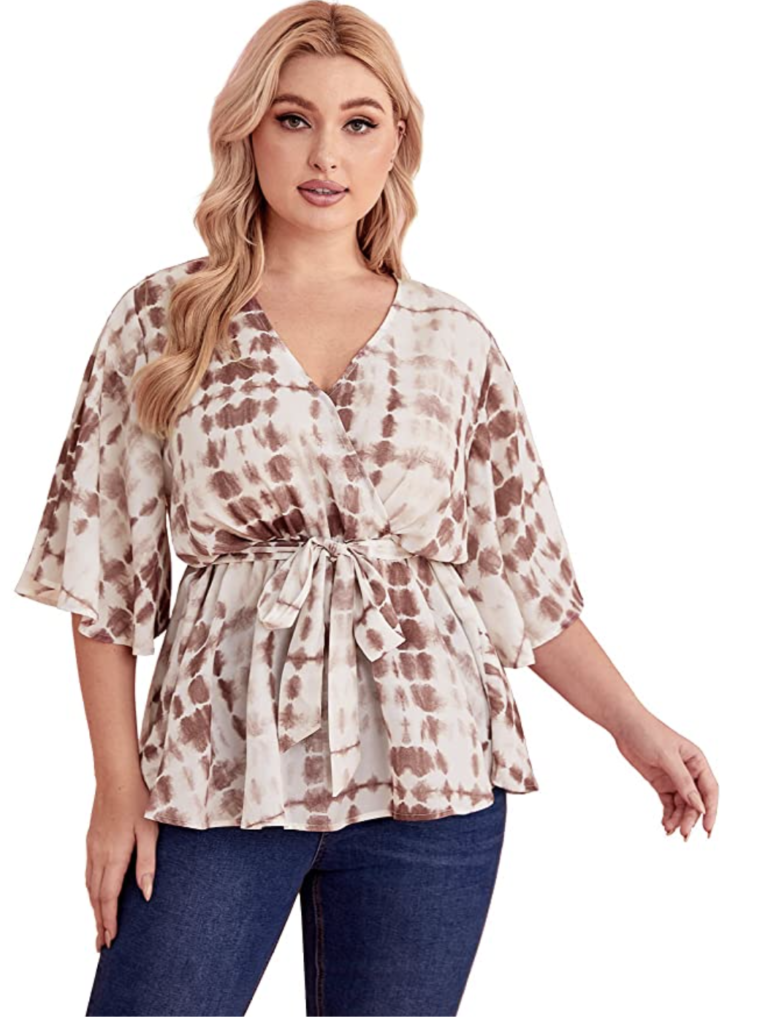 DOWN BELOW
Inversely, for the apple shaped woman we want to be minimising with our bottoms. To add shape and definition to the bottom half of the body, look out for clothing with wide legs (think boot cut jeans) as this help to shape the oftentimes thin legs and wide torso of an apple shaped woman.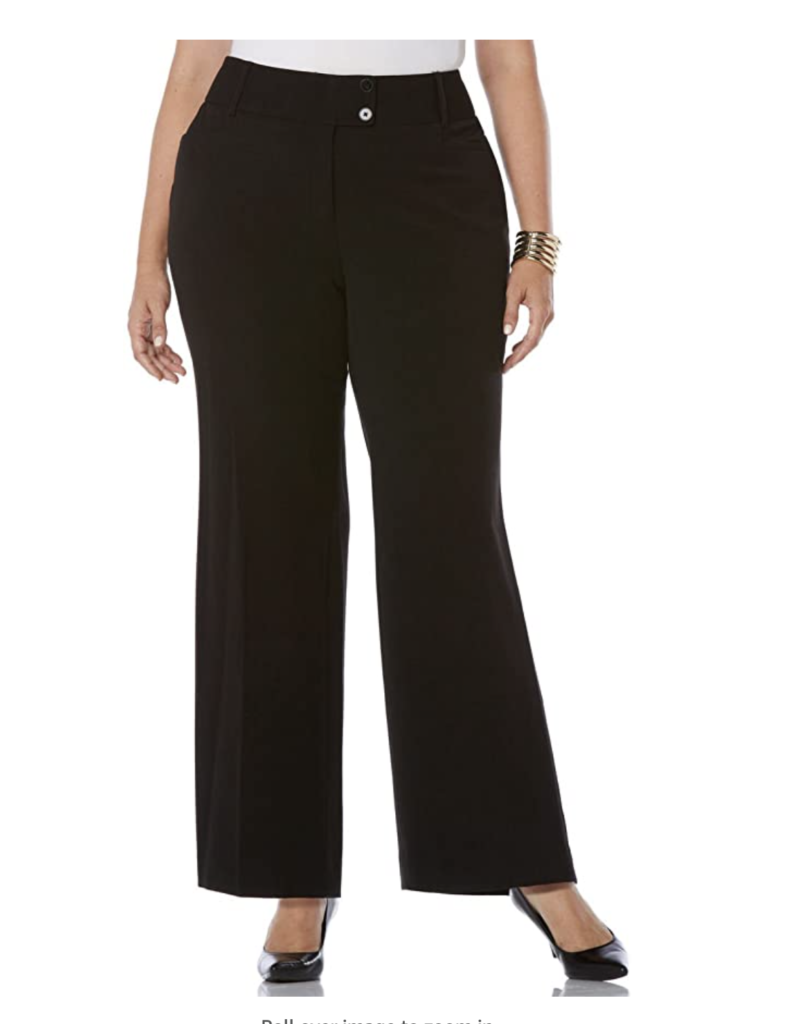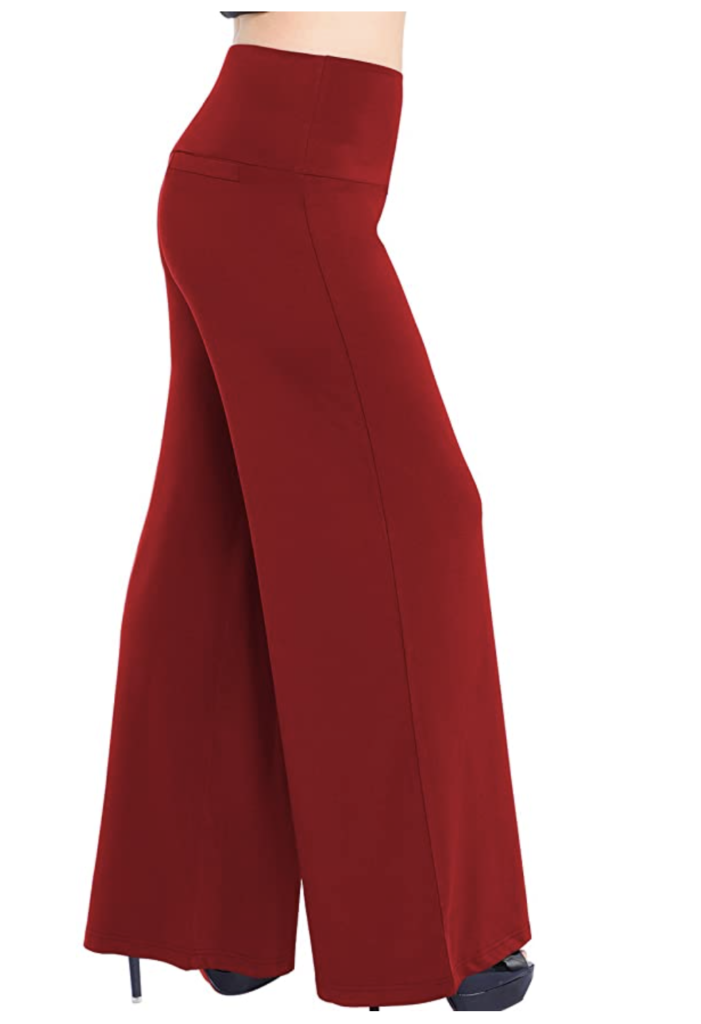 As for skirts and dresses, aim for items that stop just above the knee and gently flow over the midsection without hugging into the body. Dresses and skirts should gently cascade down and out from the hips to give the impression of a sinched waistline, adding fullness and depth to the silhouette.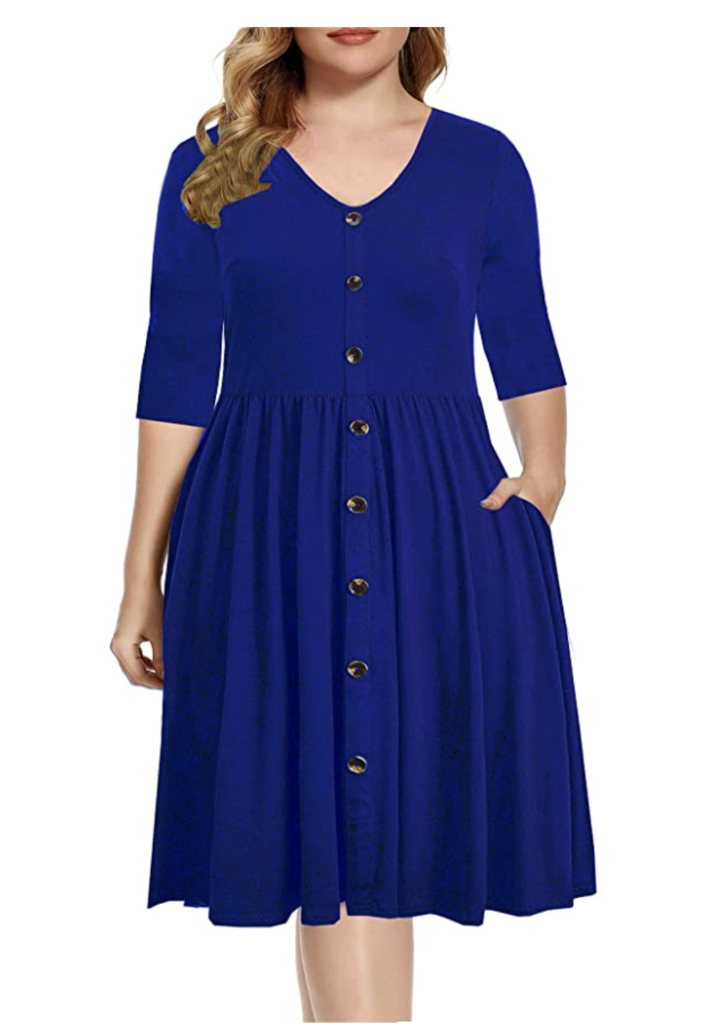 ACCESSORIES
It's all about statement earrings and belts for the apple shaped women, so now is your chance to be bold!
Statement earrings add interest and help draw attention to the neckline and away from the midsection, while a belt worn high (and not around the tummy area) will further cinch in the waist. With your earring selection, you can be as bold and bright as you desire, however a belt selection should be a little more paired back so as not to create too much distraction for the overall outfit. To learn more about how to wear a belt on an apple body type, click here…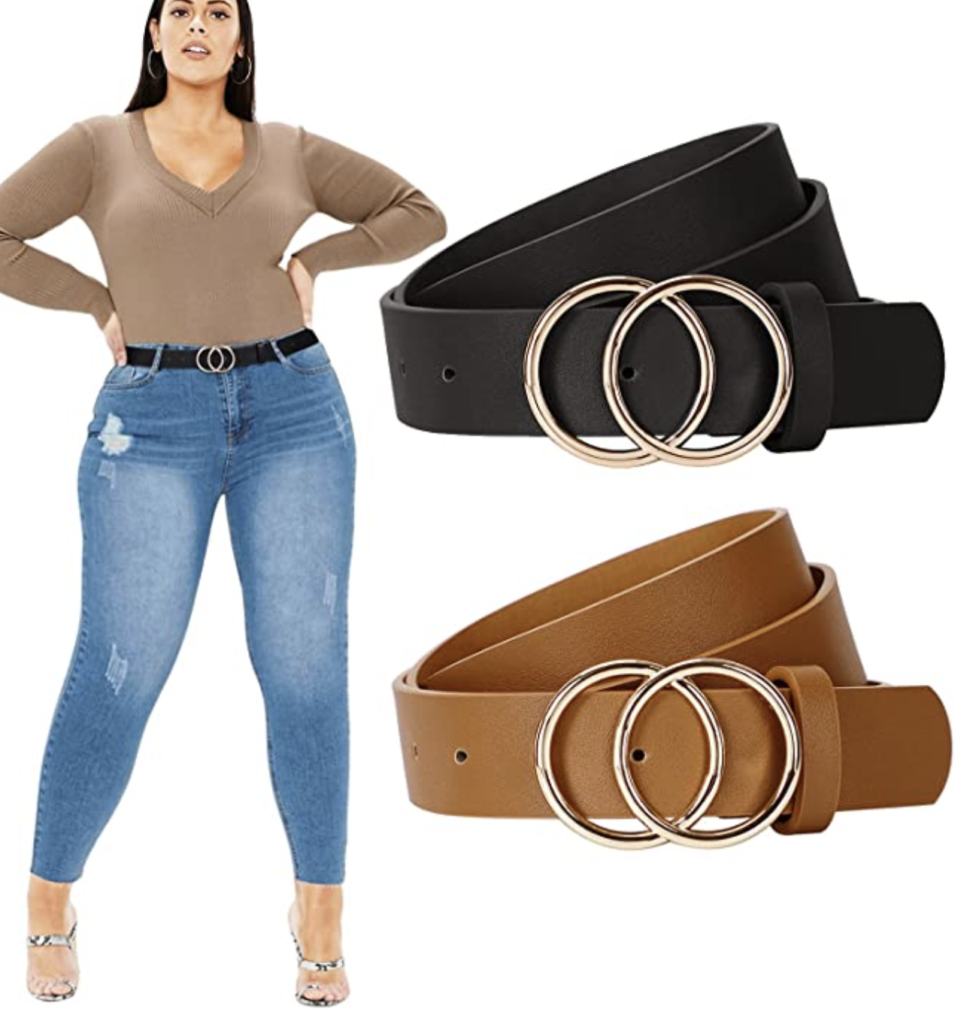 IN CONCLUSION…
The apple body type can be tricky to buy clothing for simply because fashion isn't necessarily geared towards curvy women. But that doesn't mean for one second that the perfect outfit isn't waiting for you at your favourite clothing outlet. If you keep the principles outlined here in mind next time you go shopping, I you will notice everything you try on will fit you just that little bit better. Don't be afraid to show off your curves either, as curves represent femininity. Think about it, men are straight up and down and very angular (in general) and most women are created with curves and softness. A woman's curves are what sets her apart and are something that should be celebrated.
Dressing for the apple shaped body is simple once you know these few little clothing tricks and choosing fabrics to define your frame rather than diminish your figure, paired with items that frame your silhouette, will even out your proportions. Think of soft and feminine up top, to complement the curves of your body, and more structure and freedom to "show off" the lower part of your body…Fabulous legs are what all the other body types wish for!
I would love to hear your thoughts and if you have been able to put these simple rules to good use.