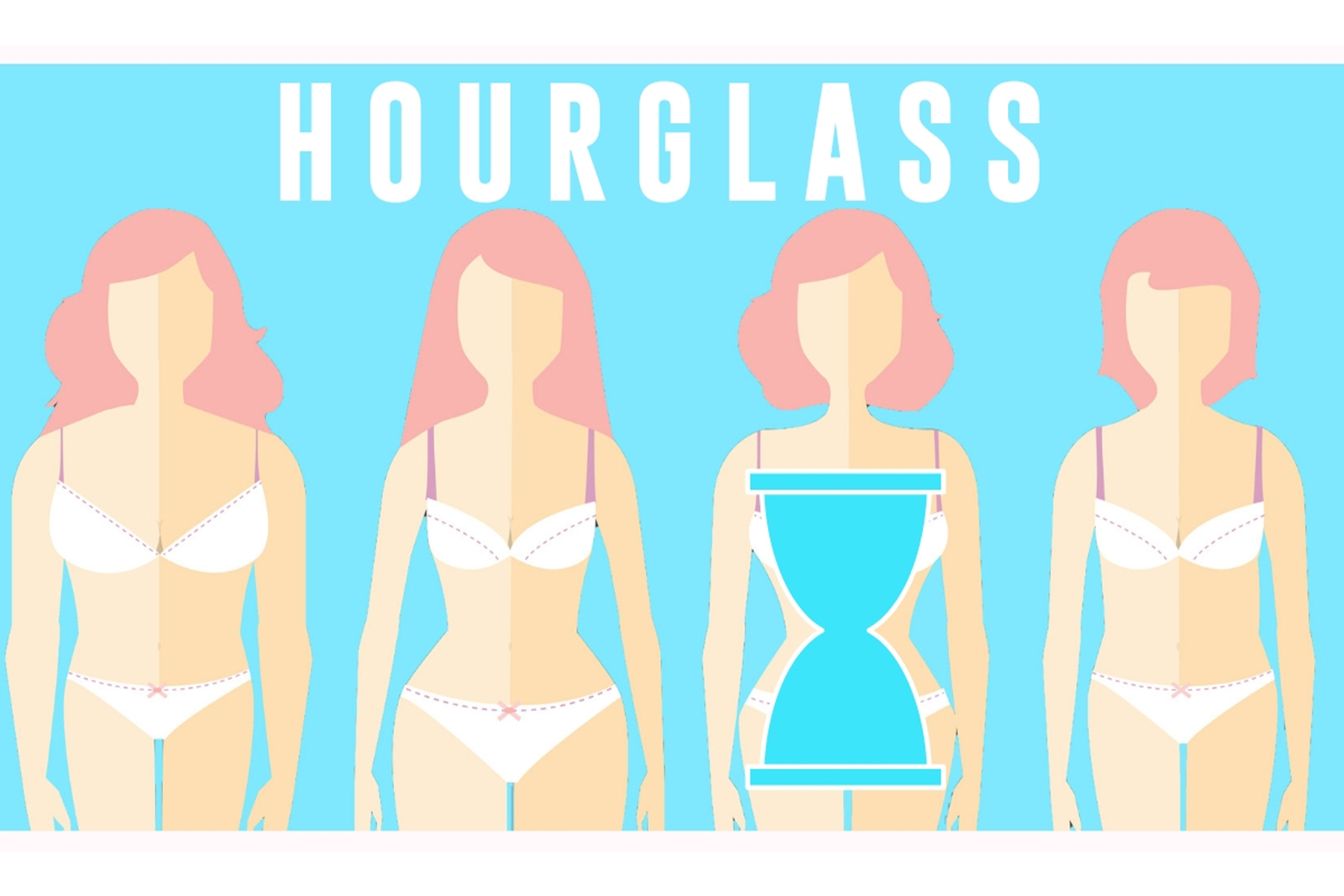 DRESSING FOR AN HOURGLASS BODY TYPE
When we see a covetable piece of clothing traipsing down the runway or sprawled elegantly over the body of a model in a magazine, it's not always an indication that piece of clothing will suit us. There is nothing more disappointing than ordering clothing online only to have it arrive and not look how we envisioned.
When I'm styling an hourglass lady, 98% of the time she will tell me then nothing ever fits properly. This is because most clothing you see in fashion shows or in editorial is worn by models with an inverted triangle body shape, with lines and edges to suit. The clothes seem to hang like they would a on a coatrack, hence the famous likening. While this may suit some, most women are not so specific in their proportions. One of the many things that makes us beautiful is our curves and quite often we don't choose clothing that will complement our undulating figure, instead opting for cover.
There are a set of very easy to follow guidelines that dictate what we should be looking for to fill up our wardrobe. In this article, I am going to discuss the perfect formula for picking clothing to suit an hourglass body shape. The hourglass body is seen as the most feminine out of all the body shapes and it's the most in proportion, with the shoulders and hips at the same width and usually a waist the has a gentle curve in the middle. An hourglass body comes in many sizes, but the proportions always stay the same. If this sounds like you, then keep reading!
When styling for any body-type, the hourglass frame is used as a template. Hips and shoulders in proportion with a curve in the waist. Don't get too caught up in whether you're an hourglass or a pear or an inverted triangle, just remember that the hips and shoulders are the same and the waist is tighter, and you are going to nail it. When dressing, we can alter certain dimensions that don't quite match up.
To start with, let's talk dresses.
THE PERFECT DRESS AND TOP FOR AN HOURGLASS BODY TYPE
In the image below you can see the perfect silhouette of an hourglass body shape, dressed to perfection in a one-piece dress. The shoulders and hips are in equal proportion and the waist has a gentle curve. What makes this dress work is the stretch fabric. When choosing dresses, we need to be aware of the fabric we are opting for as this will ultimately determine the shape of the silhouette. Choosing a flexible fabric will allow the dress to breathe and shape your curves to perfection.
With the addition of a belt, you can further enhance your hourglass silhouette by bringing in the waist even more. This achieved by bringing all the attention to this area.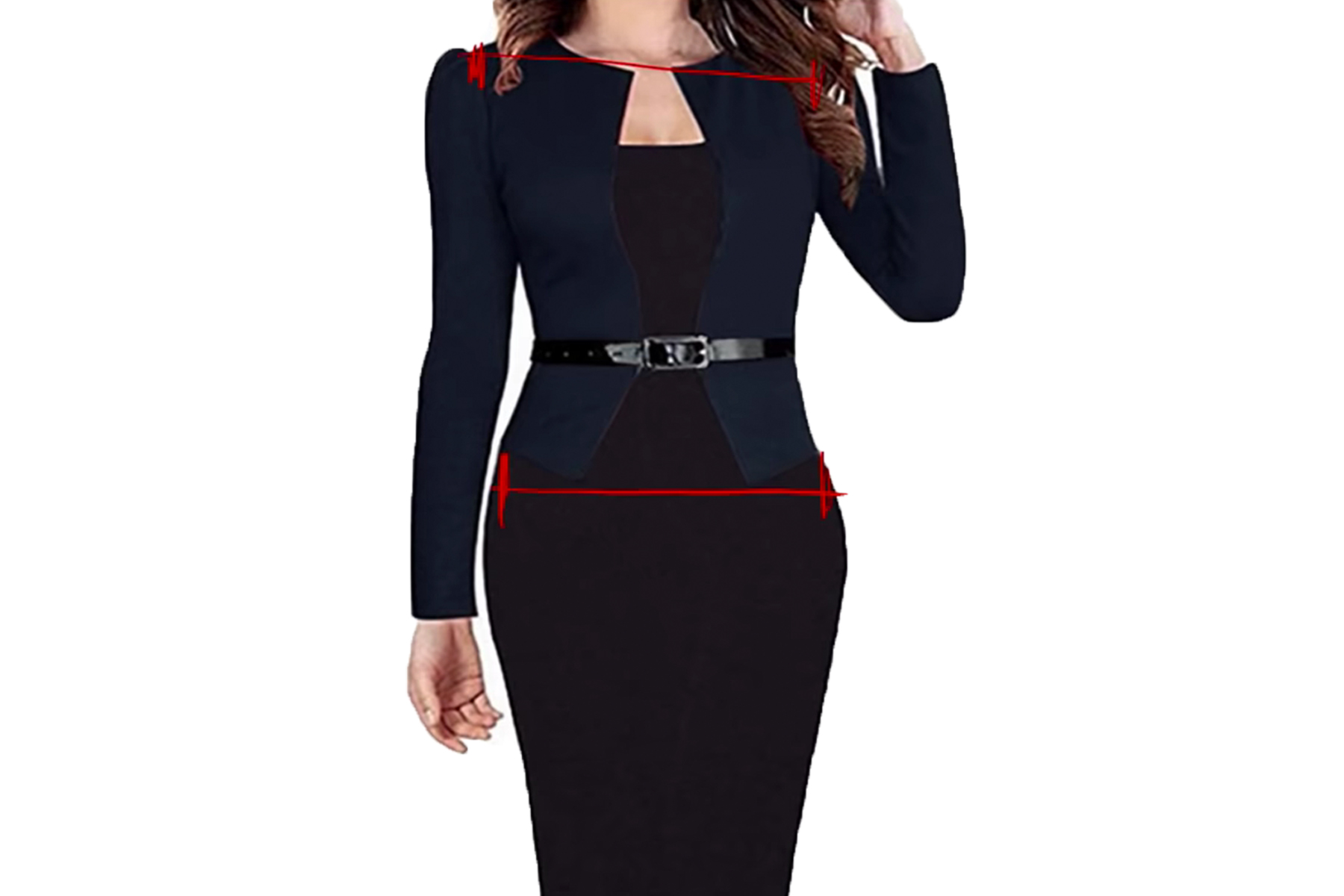 One other thing to be conscious of when choosing dresses and clothing is the neckline. In the image below, you can see the V-neck acts to elongate the body, drawing the eyes down. This subtle choice can make a huge difference, especially if you have a bigger bust. The neckline here provides the illusion of extra length to the body. One of the biggest problem's women with an hourglass body shape face is that nothing seems to fit properly or flatter them. This is because without the definition of a waistline, the hourglass women can look quite boxy, in particular women with a larger bust. You can imagine with the below image that without the definition of the waist, the silhouette would appear quite heavy and boxy. In the below example, the chosen dress is wrap around, the fabric hugs the body and shows off the curves and the detail of the belt enhances the already prominent curve in the waist. All of these elements serve to show off the curves and put them in full display. And this is exactly what you want! Your curves are beautiful and deserve to be shown off.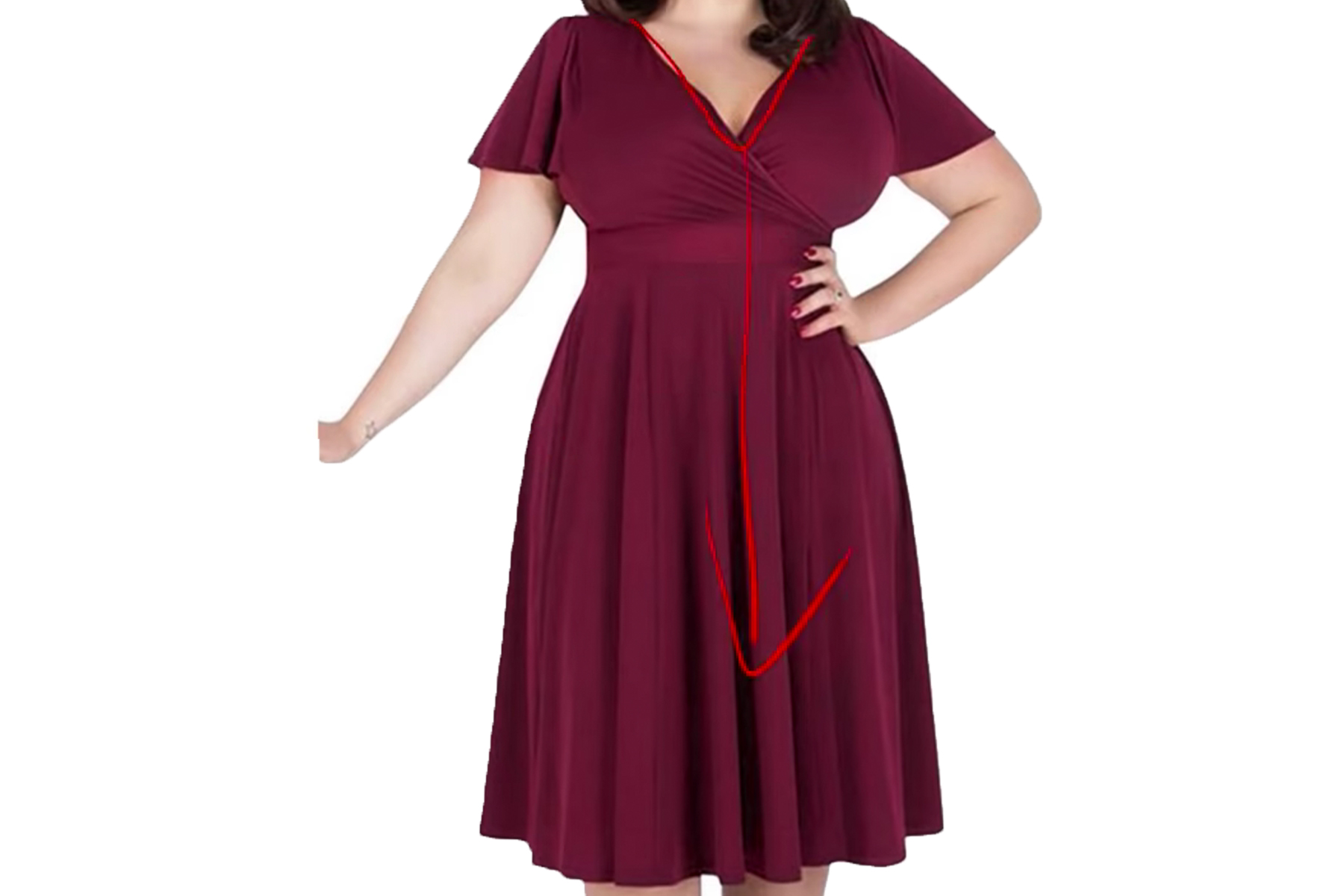 To put things in perspective, in the below example you can see the model is perfectly proportioned, with her shoulders matching her hips. However, the shirt she is wearing is not flattering her body at all. This is because there is no definition of the waist and the neckline cuts her off at the top, giving the illusion that her body is boxy and formless. This can be why it's difficult for women with an hourglass body type to find the perfect outfit, because fashion isn't necessarily designed with this body type in mind. If we can remember to nip in at the sides and wear a deep v to elongate the body, we can always flatter our body type by presenting it in all its glory.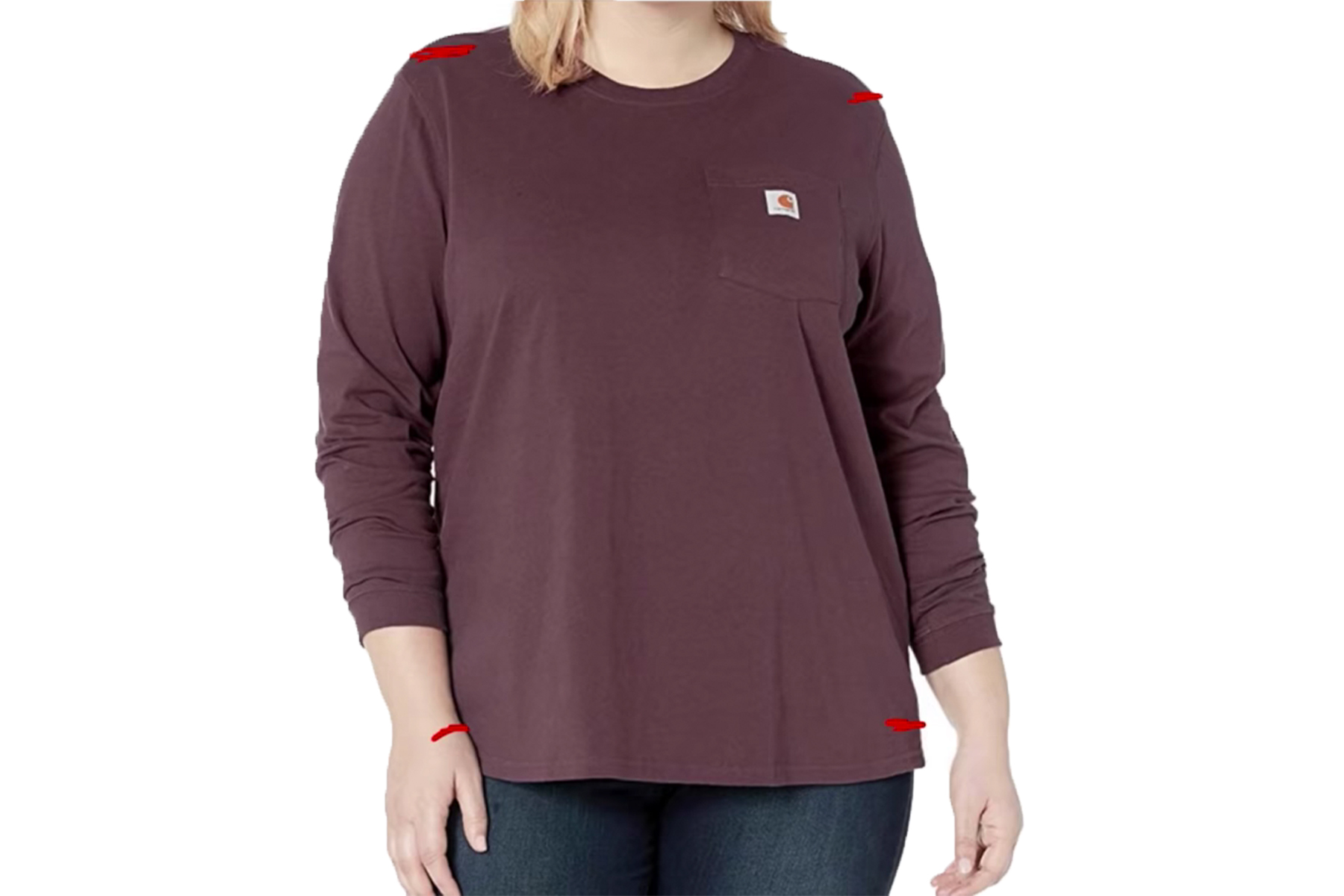 THE PERFECT BOTTOM FOR AN HOURGLASS BODY TYPE
Dressing the bottom half of an hourglass body type can be very tricky, but once you know a couple of super easy tricks, it will be a breeze and you can get it right every time.
Like we do for the top, it's a good rule of thumb to seek out clothing that has stretch in it, because once again, we are aiming to frame your curves instead of hide them away behind a rigid fabric, especially at the waistband which has a tendency to gape with more shaped fabric. In the below example, the model is wearing the perfect example of a skirt which will suit you beautifully. A pencil skirt that is narrow will elongate your body while providing adequate shape around the hips. If you can avoid skirts that hang below your knee, that is ideally what we are looking for. Just above the knee is the sweet spot for an hourglass body type's hem to stop. Any further below the knee will be unflattering.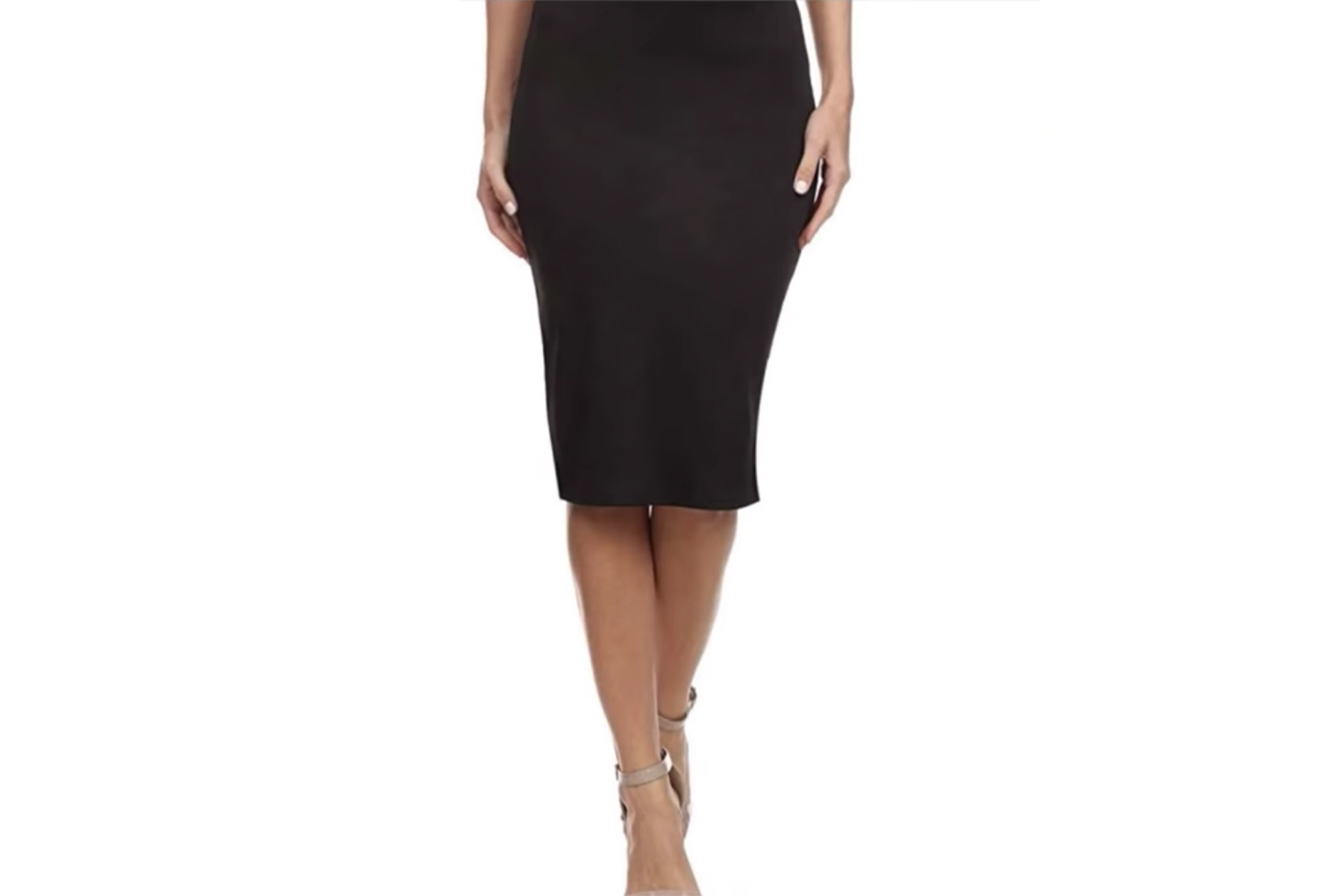 The example below is another perfect example of something to keep an eye out for. The skirt is tight around the waist, supported by a belt which cinches you in, and there is a beautiful flow which will cascade down and shape your hips beautifully for a very fun, feminine look.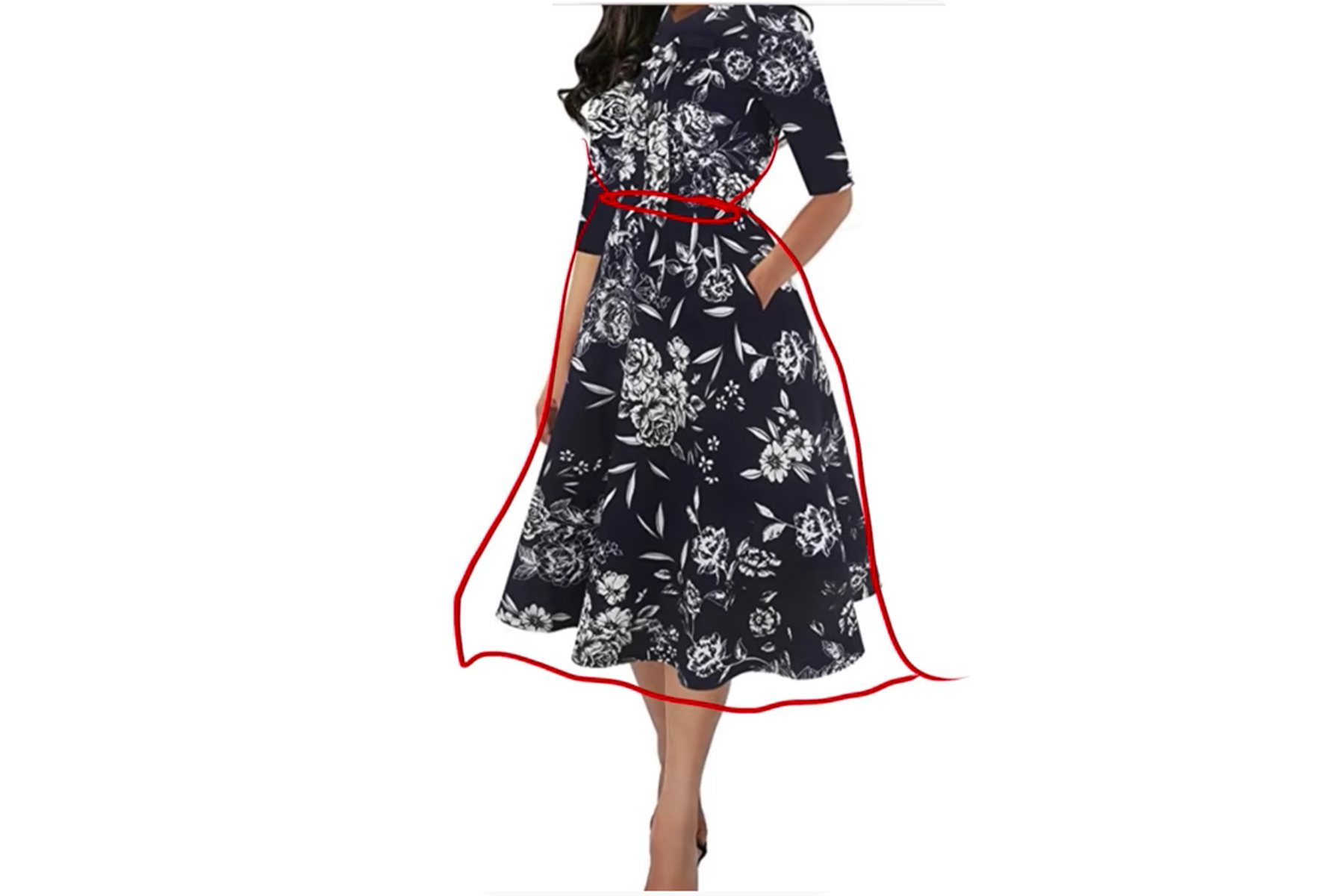 When looking for a pair of jeans, you may be met with constant disappointment as the waistline gapes at the back where it meets your hips. Your jeans selection needs to have a noticeably smaller waist, like in the example below. These jeans were tailor made to suit an hourglass body type. This small difference is easily noticeable once you know what you're looking for. If you hold your jeans up, you be able to instantly see this. The vast majority of jeans that you find while shopping will be straight, so make sure you keep an eye on this.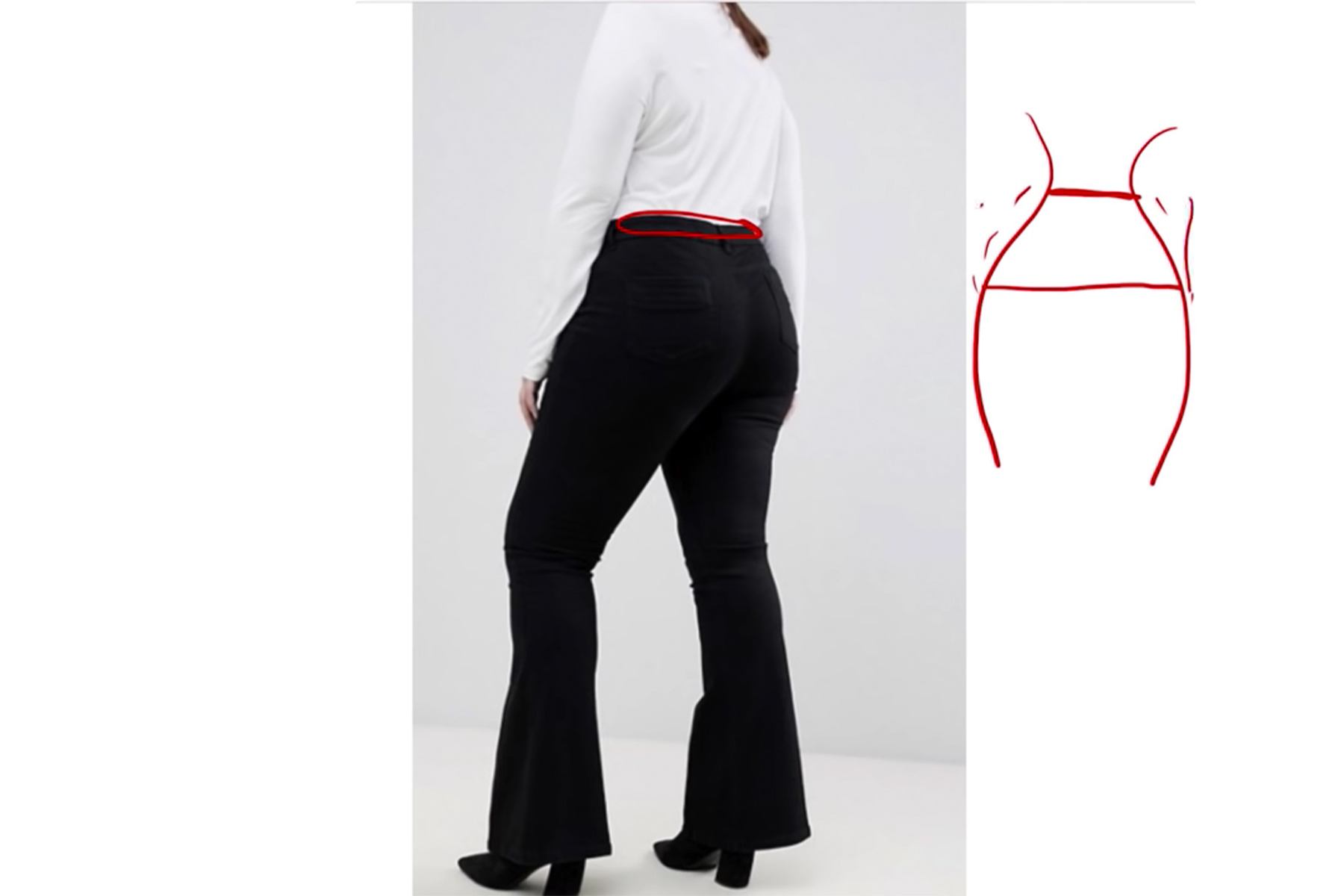 In the below example, you can see the comparison of a straight pair of jeans next to a pair that has a smaller waist. It all comes down to the cut. An hourglass body type should be looking for either a boot cut or skinny jean.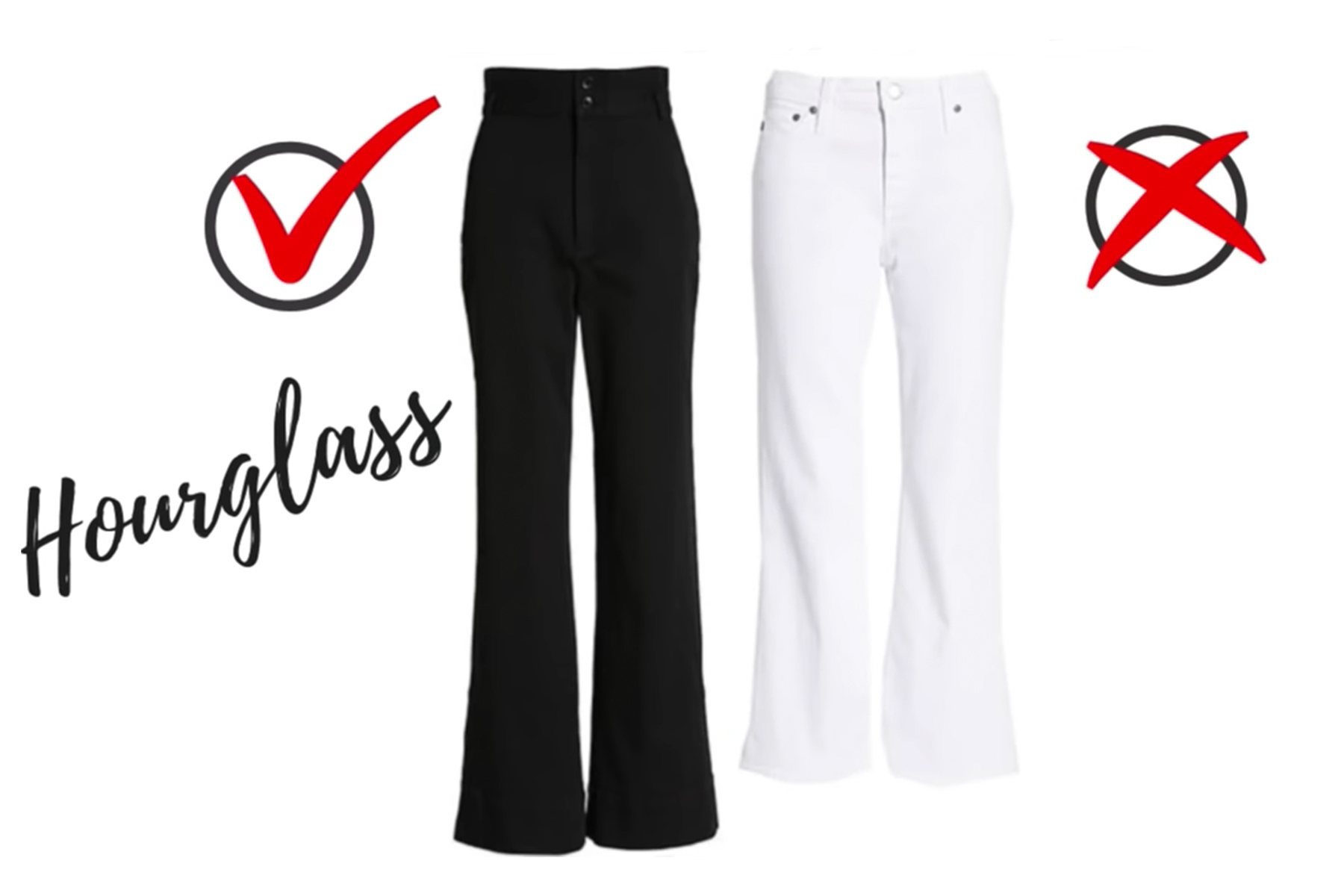 IN CONCLUSION…
The hourglass body type can be tricky to buy clothing for simply because fashion isn't necessarily geared towards curvy women. But that doesn't mean for one second that the perfect outfit isn't waiting for you at your favourite clothing outlet. If you keep the principles outlined here in mind next time you go shopping, I promise everything you try on will fit you beautifully. Don't be afraid to show off your curves either. Choosing a flexible fabric to frame your figure will put you in perfect proportion and will look flattering and feminine. I would love to hear your thoughts and if you have been able to put these simple rules to good use.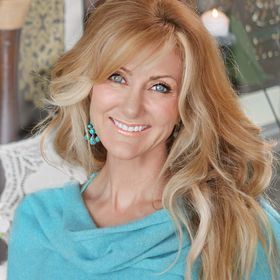 Welcome to Fabulous 50s! My name is Schellea and I'm so glad you're here.
Fabulous 50s is a platform designed to help women over 50 fall in love with themselves. As an energetic 50-something-year-old myself, I truly believe that 50+ can be the best time of our lives! Through Fabulous 50s, I share fashion, beauty, wellness and lifestyle tips to help women get inspired and stay motivated.

Recent Posts
Don't forget to follow me on social media!
I would love to connect with you.
Take a look at my other content for women over 50!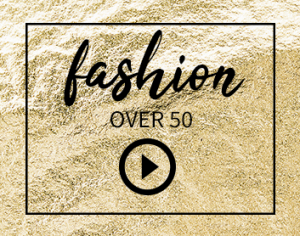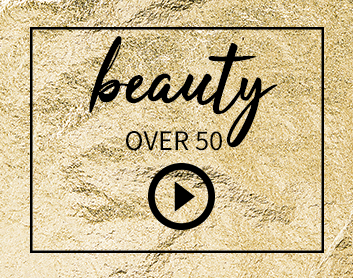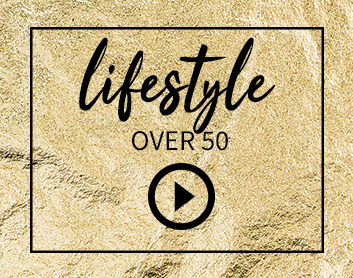 Want to see more from fabulous 50s?
Check out my favourite fashion, beauty and lifestyle products for women over 50!
Join over 3,000 women over 50 on the fabulous 50s Private Facebook Community Group!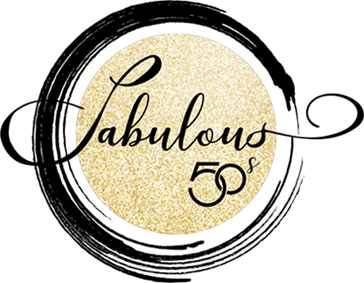 Until Next Time . . . Stay Fabulous!
Do you want fabulous 50s blog posts and videos sent straight to your inbox?

Disclaimer: This content is not sponsored and all opinions are 100% my own. If I LOVE a product first, and there is an affiliate link available, I will use it. However, I will NOT look for a product that pays a commission first, and then do a review…EVER!
Some links are affiliate links. If you click a link and buy something, I may receive a small commission for the sale. It doesn't cost you anything extra and you are free to use the link or not. Its totally up to you. If you do use my links…Thank you so much xxx