Chia Seeds in Coconut Yogurt
If you are looking for ways to eat something healthy that you will truly enjoy, this Overnight Chia Seeds in Coconut Yoghurt Recipe can help you do just that.
All ingredients that you will see in this recipe are some of the healthiest foods on the planet. Plus, this is super delicious and easy to prepare!
Enjoy this creamy and healthy treat anytime – breakfast, dessert or a snack.
And if you're not a fan yet of chia seeds, you might want to give this recipe a try for a huge nutritional punch! You don't have any reason not to add more chia seeds into your diet.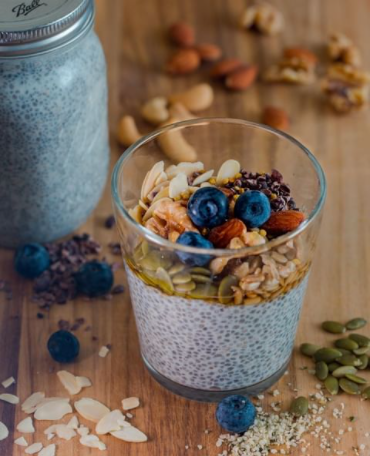 YOU WILL NEED⁠
* 1/2 cup coconut yogurt⁠
* 1/2 cup coconut milk or almond milk⁠
* 2 tablespoons chia seeds⁠
* 1 handful granola⁠
* 1 handful raspberries⁠
* additional nuts for toppings (almonds or pistachio)⁠
⁠
INSTRUCTIONS⁠
1. Mix together the yogurt and milk. Stir in the chia seeds. Cover and set in the refrigerator overnight. It is better if you can stir the mixture once in a while after refrigerating to avoid clumps (after 30 minutes or an hour).
⁠
2. Top with fresh raspberries, granola and nuts before serving! ⁠
⁠
⁠What's your favorite chia recipe?
Click here to visit my YouTube Channel
Get a copy of my Free eBook | Guide To Staying Younger Longer
Click here to join the 30-Day Mindfulness Challenge
Did you like the products in this post? Visit my Shop for My Essential Condiments for women over 50!