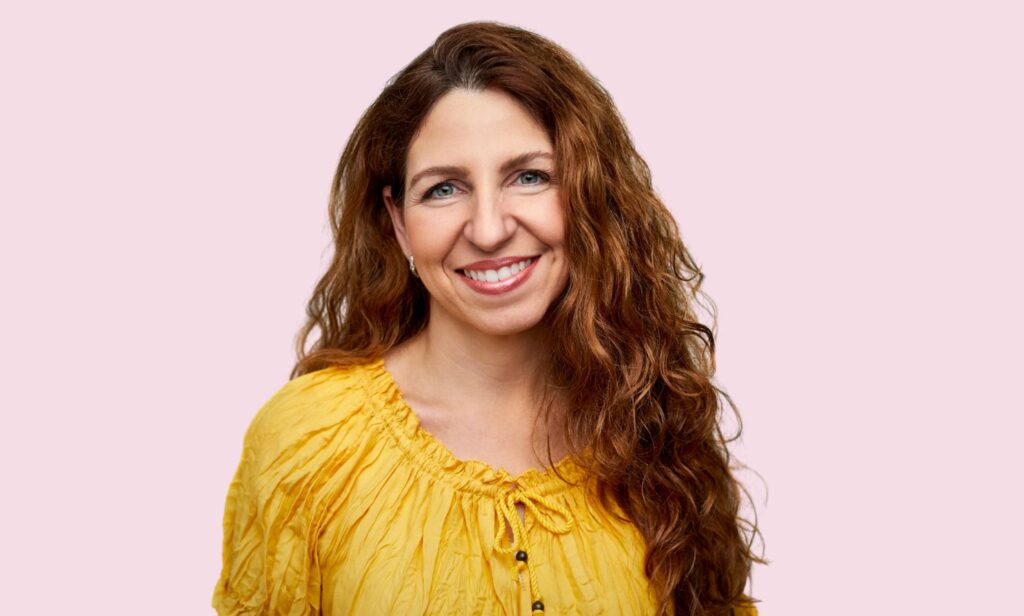 Women over 50, in particular, often experience significant hair growth challenges. The lustrous and vibrant hair of our youth may become thin, brittle, and lackluster, making it a constant source of frustration and concern.
The hair growth cycle also slows down as we age. Hair follicles can stop producing new strands, leading to thinning hair or bald patches—a stark contrast to the thick, voluminous hair we once had. Many factors can contribute to these changes, including hormonal imbalances, stress, and health conditions.
Luckily, there are solutions available to combat these hair growth challenges. One such solution is this super hair growth drink, which could potentially end your hair loss struggles. Let's take a look at it! 
Why Hair Loss Occurs in Women Over 50
Hair loss in women over 50 can be attributed to various causes. One of the primary reasons is the hormonal changes that occur during menopause. The decrease in estrogen and progesterone can lead to hair follicles becoming more sensitive to testosterone, causing hair thinning or loss.
Other factors include nutritional deficiencies, stress, certain medications, and health conditions like thyroid disorders or autoimmune diseases. These can disrupt the hair growth cycle, leading to hair loss.
The symptoms of hair loss can vary from person to person. Some women may experience a gradual thinning of their hair, while others may notice more pronounced hair loss, such as bald patches.
It's important to recognize these symptoms early on so you can take appropriate action.
The Role of Nutrition in Hair Growth For Women Over 50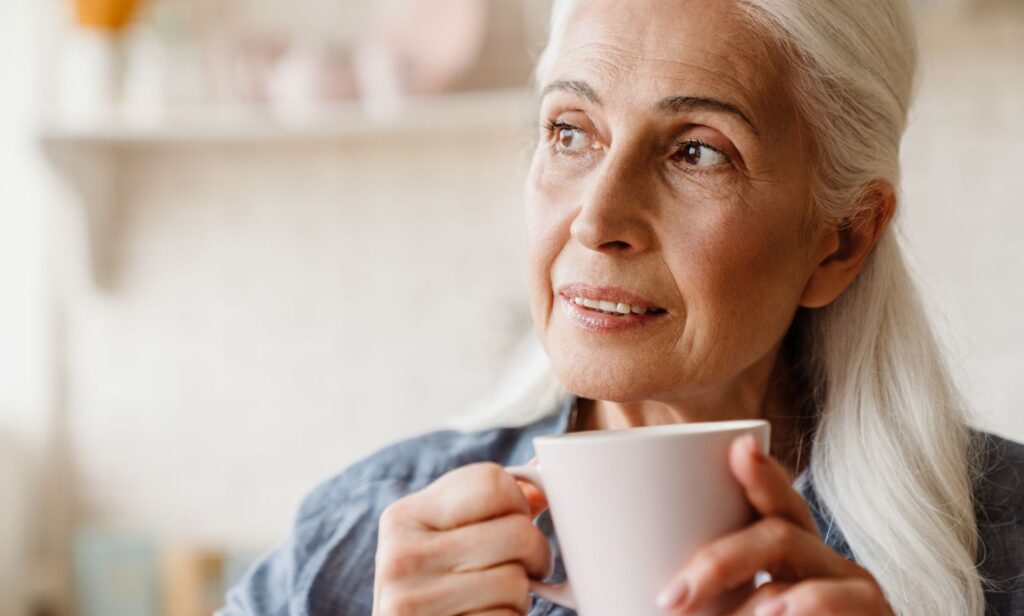 Nutrition plays a crucial role in maintaining healthy hair. As we age, our nutritional needs change, and it's vital to adapt our diets to these changes to promote hair growth.
Protein, for instance, is a key nutrient for hair growth. Hair follicles are made of a protein called keratin, and a lack of dietary protein can lead to hair loss. Similarly, vitamins like A, C, D, and E, along with minerals like iron and zinc, are essential for hair health.
However, it's not always easy to get all these nutrients from our daily diet. This is where the super drink comes into play.
This hair growth drink is a blend of powerful ingredients known for their hair-boosting properties. It contains nettle tea, coriander seeds, methi (fenugreek) Seeds and fennel seeds.
The hair growth drink, when consumed regularly, provides your body with essential nutrients that support hair growth. It's a simple, natural, and effective way to combat hair loss and promote healthier, stronger hair.
Each brings to the table a unique blend of properties that not only combat hair loss but also promote overall hair health. Let's get into the nitty-gritty.
The Magic Hair Growth Drink Ingredients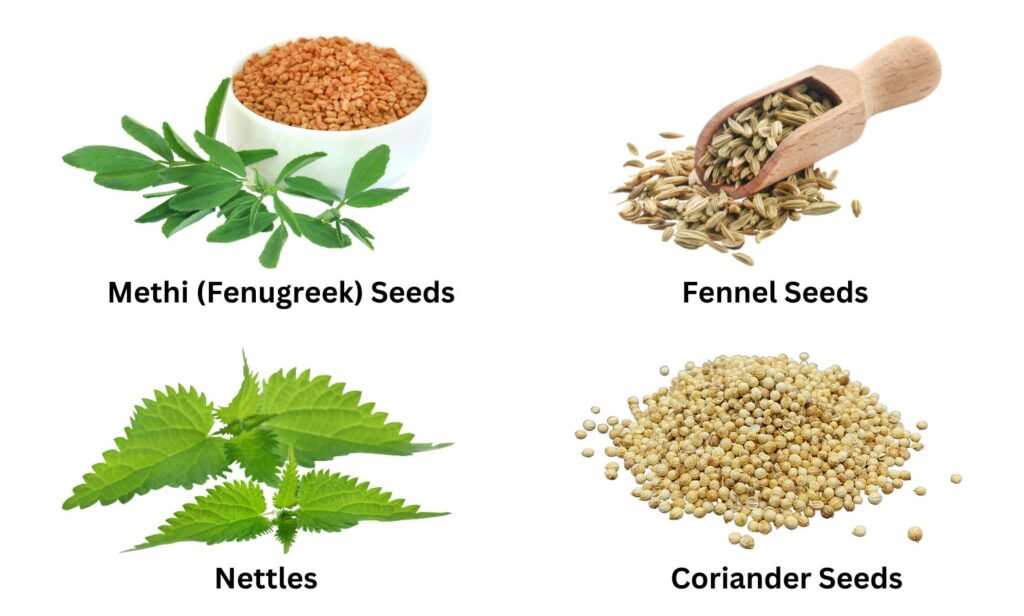 Nettle Tea: Nettles, often brushed aside as mere weeds, are packed with essential nutrients like iron, magnesium, and zinc. These help reduce hair loss and foster hair growth. Nettle tea also helps remove toxins from the body, leading to a healthier scalp.
Coriander Seeds: Rich in vitamins and antioxidants, these seeds stimulate the hair follicles, leading to better hair growth. They also combat dryness and dandruff, ensuring your scalp remains healthy.
Methi (Fenugreek) Seeds: Methi seeds have been the secret weapon in grandma's hair care arsenal for ages! They're rich in proteins, nicotinic acid, and lecithin, all of which strengthen hair and combat thinning.
Fennel Seeds: Packed with vitamins and antioxidants, fennel seeds not only promote hair growth but also help in strengthening hair from the roots.
READ ALSO: Why Long Hair Is the New Norm for Women Over 50
Preparing the Super Drink for Hair Growth
Ingredients:
1 tablespoon Nettle Tea leaves
1 teaspoon Coriander seeds
1 teaspoon Methi (Fenugreek) seeds
1 teaspoon Fennel seeds
Instructions:
Start Fresh: Begin by ensuring your ingredients are fresh and free from any contaminants. Remember, the purer the ingredients, the better the results!
Boil the Base: In a pot, bring about 3 cups of water to a boil.
Add the Goodness: Once the water is boiling, add in the nettle tea leaves, coriander seeds, methi seeds, and fennel seeds.
Simmer and Infuse: Let the mixture simmer on low heat for about 10 minutes. This ensures that the water absorbs all the nutrients and goodness from the ingredients.
Strain and Serve: After simmering, take the pot off the heat and allow it to cool for a bit. Strain the drink into a cup, and voila! Your super drink is ready.
Enjoy: Sip this warm, aromatic hair growth drink and let the magic begin!
READ ALSO: How Women Over 50 Can Seamlessly Transition to Gray Hair
Tips:
If the taste feels a bit too strong for you, add a spoonful of honey for some natural sweetness.
Consistency is key! Try incorporating this hair growth drink into your daily routine for the best results.
Closing Thoughts
Hair loss struggles can take a toll not just on our appearance but also on our confidence. While there's no one-size-fits-all solution, nature, with its vast array of remedies, often offers solace. This super hair growth drink is my ode to nature's magic, a blend that has brought a glimmer of hope to my hair care journey.
To everyone out there grappling with hair loss, here's a toast to new beginnings and the promise of better hair days!
Remember, every strand tells a story, and with a little help from nature, yours can be one of resilience and radiance.