Falafel Salad with Tahini Sauce
Salads are the perfect way to make a healthy meal without much effort. But that doesn't mean they have to be boring!
For this recipe, we're going to skip the usual – That means… No lettuce, tomatoes, cheese and the typical dressing.
This falafel salad is anything but dull. Tons of flavor and texture make it a winner in my list.
The best part? It's super healthy and easy to make – perfect for busy days. Whether you're in the mood for something light and healthy or hearty and satisfying, this falafel salad is sure to hit the spot.
What is Falafel?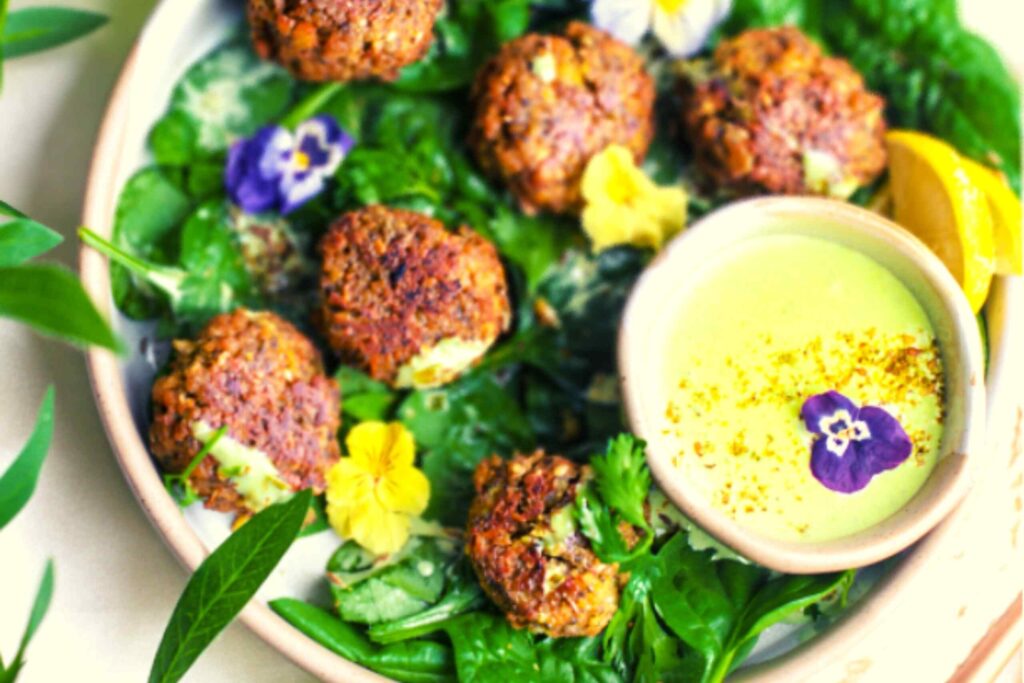 Falafel has been a popular dish for centuries, and it's no wonder why!
This traditional Mediterranean food is shaped to form small balls, cooked deep-fried and usually made from ground chickpeas but some variants contain broad beans or fava beans.
I know, I know. You're thinking "But I don't like fried food!"
That's why I'm excited to share this recipe with you—it has a healthy twist that makes it extra tasty. It's baked, not fried! This falafel salad is packed with flavor and nutrients, and takes just a few minutes to prepare. I hope you enjoy it as much as I do.
INGREDIENT LIST
61 grams Oats (quick or traditional)
396 grams Lentils (cooked, drained and rinsed)
2 Garlic (cloves, minced)
3 grams Sea Salt
122 grams Parsley (divided)
1 Lemon Juiced and divided)
30 milliliters Extra Virgin Olive Oil (divided)
60 grams Tahini
59 milliliters Water
120 grams Baby Spinach (or mixed greens)
PREPARATION
Preheat the oven to 420°F (216°C) and line a baking sheet with parchment paper.
Place your oats in a food processor and pulse into a fine powder. Ensure your lentils are very dry. Excess liquid will make the batter harder to work with. Add lentils, garlic, sea salt, half of the parsley, half of the lemon juice and half the olive oil. Pulse until well combined. Form the batter into small patties or balls and transfer them to the baking sheet. Bake in the oven for 20 to 25 minutes.
Meanwhile, rinse out the food processor container and dry it well. Then combine the remaining parsley, lemon juice and olive. Add the tahini water and season with sea salt. Blend until smooth. Taste and adjust lemon juice and sea salt to taste.
Plate the baby spinach. Serve the baked falafels over top and drizzle with tahini dressing. Enjoy!
NOTES
SPEED IT UP: Skip making the tahini sauce and serve with hummus instead
The falafel salad is the perfect meal for any time of day. It's healthy, filling, and tasty – what more could you ask for? Be sure to try out this recipe and let me know what you think! And if you loved it as much as I do, share this blog post with your friends so they can enjoy it too.

???? Don't forget to PIN this to your Healthy Recipes Board on Pinterest!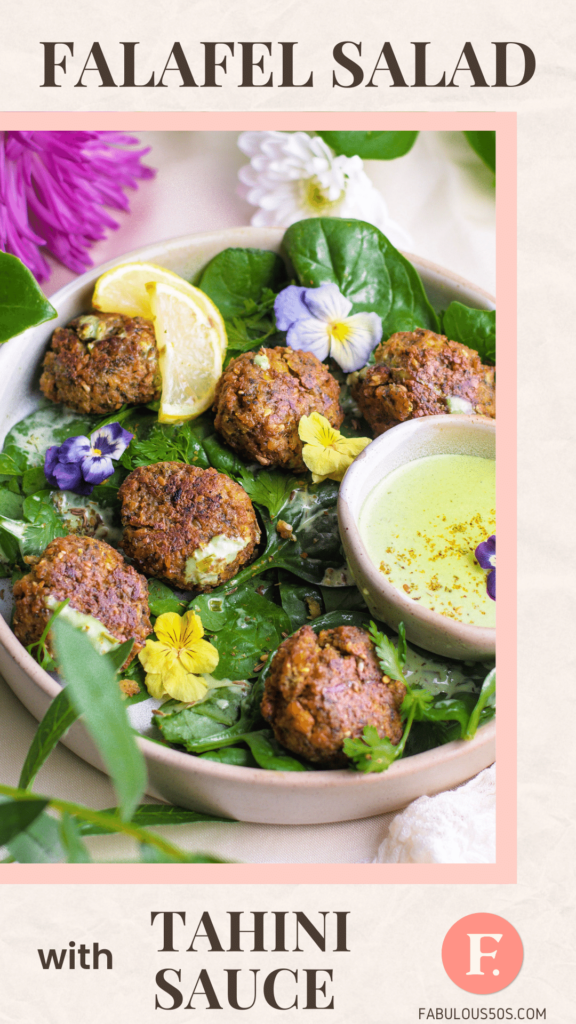 Click here to visit my YouTube Channel
Get a copy of my Free eBook | Guide To Staying Younger Longer