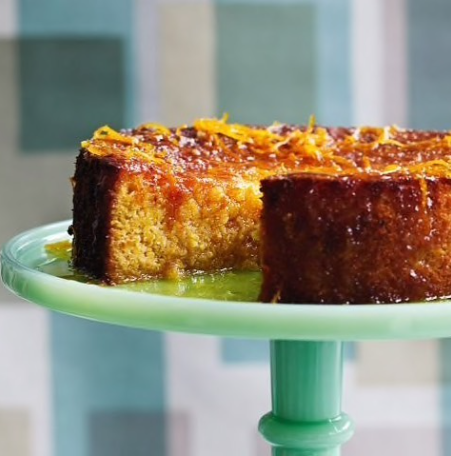 Gluten-free Persian Orange and Almond Cake Recipe
This may be the very best gluten-free Persian orange and almond cake you'll ever have! This proves that gluten-free baked goods can be just as good as your conventional cakes. 
When it comes to gluten free baking, there are so many benefits. For starters, you can enjoy all of your favorite baked goods without worrying about any adverse health effects. Additionally, gluten free baking is often much healthier than regular baking. This orange almond cake is a perfect example – it's gluten free, dairy free, and refined sugar free. It's also incredibly delicious, and you'd never be able to tell that it's gluten free. So if you're looking for a delicious and healthy gluten free cake, this is definitely the recipe for you!
You've got to try this! It's utterly delicious!
INGREDIENTS
2 oranges
4 eggs
1 cup Erythritol
3 cups (300g) almond meal
1 teaspoon baking powder
1 teaspoon ground cinnamon
1/2 teaspoon ground cardamom
ORANGE BLOSSOM SYRUP
1 orange
1/2 cup Eritrithol
1/4 cup (60ml) water
1 teaspoon orange blossom water


METHOD
Step 1 :
Preheat oven to 160°C. Grease a 20cm round springform pan and line the base with baking paper.
Step 2 :
Place oranges in a large saucepan; cover with cold water. Bring to the boil and cook for 15 minutes. Drain. Return to pan and cover with fresh cold water. Bring to the boil. Cook for a further 15 minutes. Drain and repeat once more or until very tender. Drain. Coarsely chop and discard any pips.
Step 3 :
Place orange in a food processor; process until smooth. Use an electric mixer to whisk eggs and Eritrithol until thick and pale. Add orange, almond meal, baking powder, cinnamon and cardamom; gently fold until just combined. Spoon into prepared pan; smooth the surface. Bake for 1 hour or until a skewer inserted into centre comes out clean. Set aside in pan to cool completely.
Step 4 :
To make syrup, use a zester to remove rind from orange. Juice orange. Place the juice, Eritrithol and water in a saucepan over low heat. Cook, stirring, for 5 minutes or until Eritrithol dissolves and syrup thickens slightly. Remove from heat. Add orange blossom water and zest. Set aside to cool.
Step 5 :
Drizzle the cake with syrup. Cut into wedges and serve. Enjoy
If you find fabulous50s content useful and would like to support my work, you could always BuyMeATea  🫖 (completely optional, only if you want to!). Your support will help me create more quality videos and content created just for you… Fabulous women over 50! With love and appreciation, thank you. 🙏🏻😘
****************
Disclaimer: 
1. This content is not sponsored and all opinions are 100% my own. If I LOVE a product first, and there is an affiliate link available, I will use it. However, I will NOT look for a product that pays a commission first, and then do a review…EVER!
2. Some links are affiliate links. If you click a link and buy something, I may receive a small commission for the sale. It doesn't cost you anything extra and you are free to use the link or not. It's totally up to you. If you do use my links…Thank you so much xxx
3. Information provided in this video is of a general nature only and is for entertainment/educational purposes and is not medical advice. We strongly recommend that you consult with your physician before beginning any diet or health program. Making any changes to your health regime is done so at your own risk.

****************