Oatmeal is a classic breakfast food, but it can be a little bland and boring on its own. This recipe for oatmeal with strawberries is the perfect way to add some flavor and excitement to your morning routine.
The sweetness of the strawberries pairs perfectly with the creamy oats, and the addition of cinnamon gives it a delicious kick.
This quick and easy oatmeal recipe is perfect for those mornings when you're in a hurry. It takes only minutes to prepare and will leave you feeling satisfied and ready to take on the day ahead.
With this recipe, you can have a filling, healthy breakfast that will give you energy and satisfaction for several hours!
Healthy Recipe: Oatmeal with Strawberries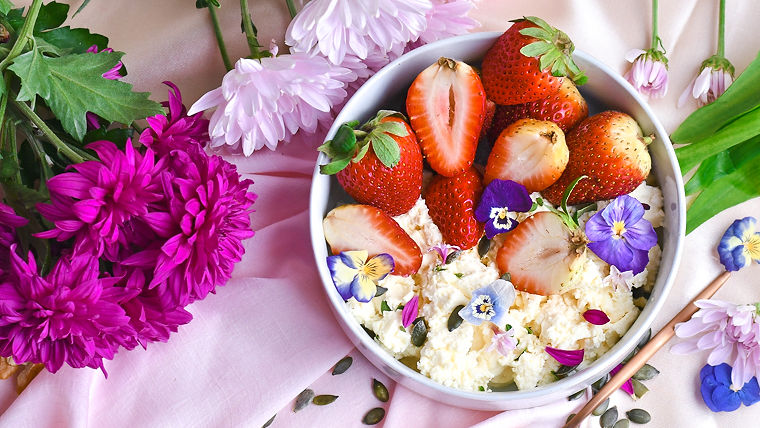 Oatmeal and strawberries combine to create a filling and flavorful breakfast that is delicious and healthy. This recipe is simple to prepare and adaptable to your preferences by changing the toppings or sweeteners.
Whether you're looking for a quick and simple breakfast option or you want to change up your morning routine, this recipe for strawberry-topped oatmeal is sure to be a hit.
So why not give this recipe a try tomorrow morning? You may be surprised at just how tasty it is!
Health Benefits: Oatmeal with Strawberries
Oats are one of the oldest grains known to man. They were first cultivated by the ancient Egyptians, who used them as food and medicine. Today, we still use oats as a staple grain in our diets because of their high nutritional value.
It is often touted as a healthy breakfast food, but what exactly are the health benefits of oatmeal?
First of all, oatmeal is a whole grain, which means it contains all the essential nutrients that your body needs to function properly. Not just for weight control, it help relieve constipation and is a good source of antioxidants and can help to protect against cancer.
In addition, oats contain a unique type of fiber called beta-glucan, which has been shown to boost immune function and is associated with heart health benefits.
Oatmeal has a lot of protein, and vitamins and minerals like magnesium, phosphorus, and zinc. 
Strawberries, on the other hand, are a great addition to any breakfast because they are full of vitamin C and antioxidants.
If you're looking for a nutritious way to start your day, look no further than a bowl of oatmeal.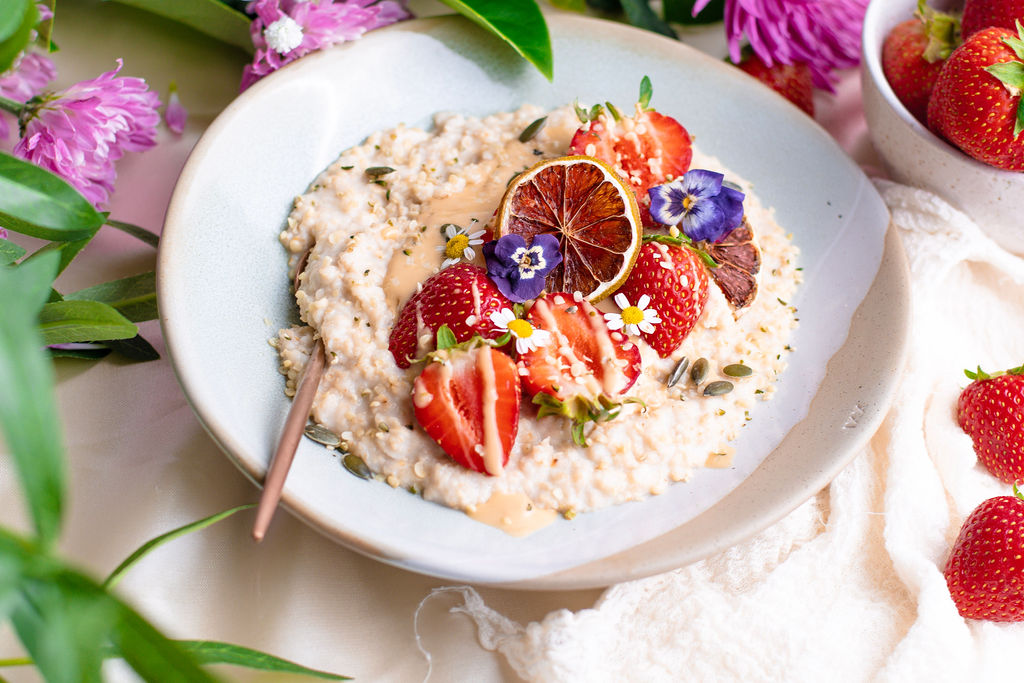 Ingredient list
Preparation
Add the oats, water and egg whites to a small pot over medium heat, stirring continuously. Cook for two to three minutes or until fluffy and cooked through.
Transfer to a bowl and top with sunflower seed butter, hemp seeds and strawberries. Enjoy!
Notes
Leftovers: Refrigerate in an airtight container for up to three days.
More Flavour: Add cinnamon, nutmeg, vanilla extract and/or a pinch of sea salt.
Additional Toppings: Maple syrup, honey, bee pollen, crushed nuts, jam, chopped fruit, shredded coconut or chia seeds.
Make it Vegan: Omit the egg whites.
No Sunflower Seed butter? Use almond butter, tahini, pumpkin seed butter or peanut butter instead.

If you're looking for a new way to start your day, why not give this recipe a try? Let me know how you like it in the comments below. And if you're looking for more recipes ideas, be sure to check out Fabulous 50s Healthy Recipes!

???? Don't forget to SAVE this to your Healthy Recipes Board on Pinterest!