When it comes to abs workout, there's a lot of misinformation out there. For starters, it's not just about sit-ups and six-packs, there's so much more to it than that.
And as a women over 50, we really need to be cautious of the workout routine were going to follow. If others are doing one thousand sit-ups in a day to get toned abs – we don't need to do the same. In fact, that can actually make things worse by causing strain on our necks and our back.
There are actually so many options to choose whatever fitness level you're at.
Furthermore, the ultimate goal of doing ab exercises as we age is to build core strength because it is from our core that we control all of our movement, balance, and stability, as well as keeping our back strong and safe.
u003cstrongu003eWe're not focusing on a six-pack; instead, we're focusing on strength, structure, and vitality.u003c/strongu003e
Abs Workout for Women – What You Need to Know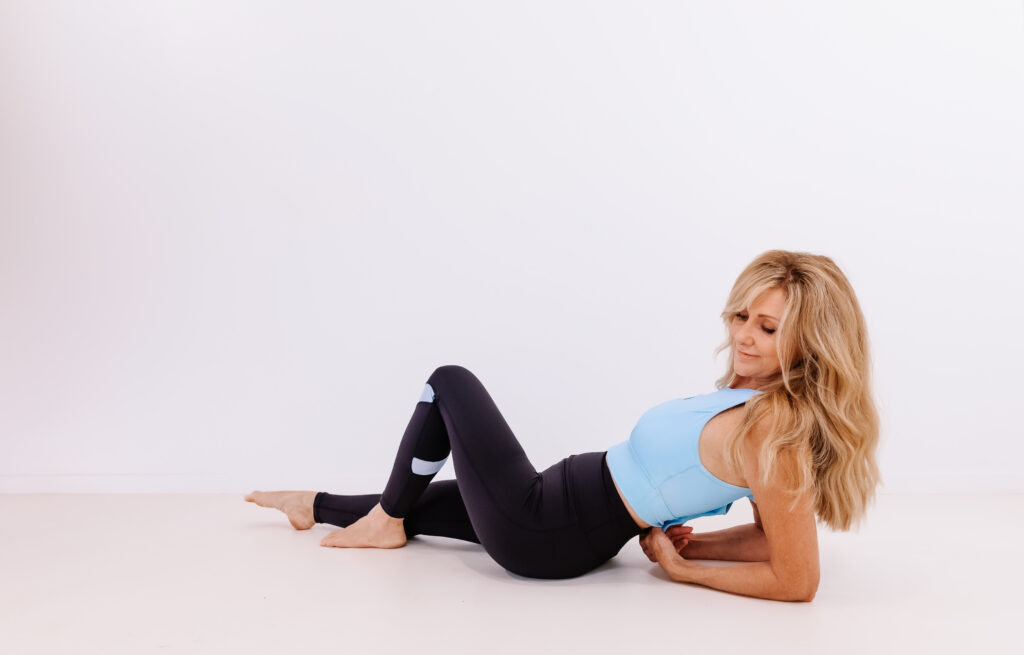 What are some of the best workouts for women over 50 who want to get their abs in shape? Some great ab exercises are shown below that are challenging but doe-able, and gentle on your back and neck.
This workout is focused on our lower abs (that's between your belly button  and your pubic bone) and our obliques. You're going to love it!
Do each exercise for 45 seconds with a 15 second rest in between.  Try this for seven days in a row and notice that your abs are stronger and firmer.
???? Don't forget to download your Free Workout Journal at the bottom of this page.
Abs Workout for Women Focused on Lower Abs and Obliques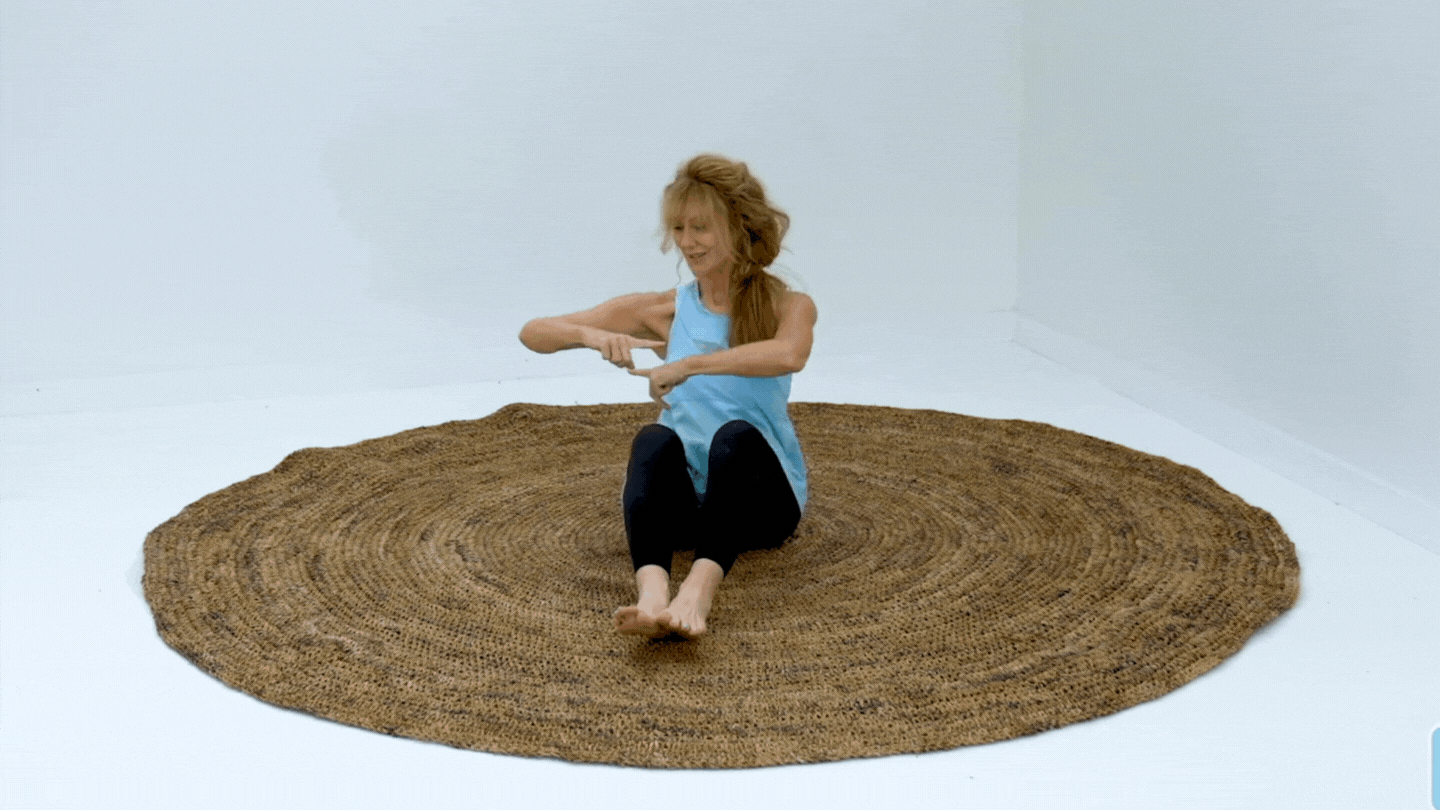 First, locate your lower abs between your belly button and pubic bone, and as you twist, focus on the pubic bone going in one direction and your belly button going in the opposite direction. Sense the "wringing out" of your muscles as you do the movement. Focus on this and twist with purpose.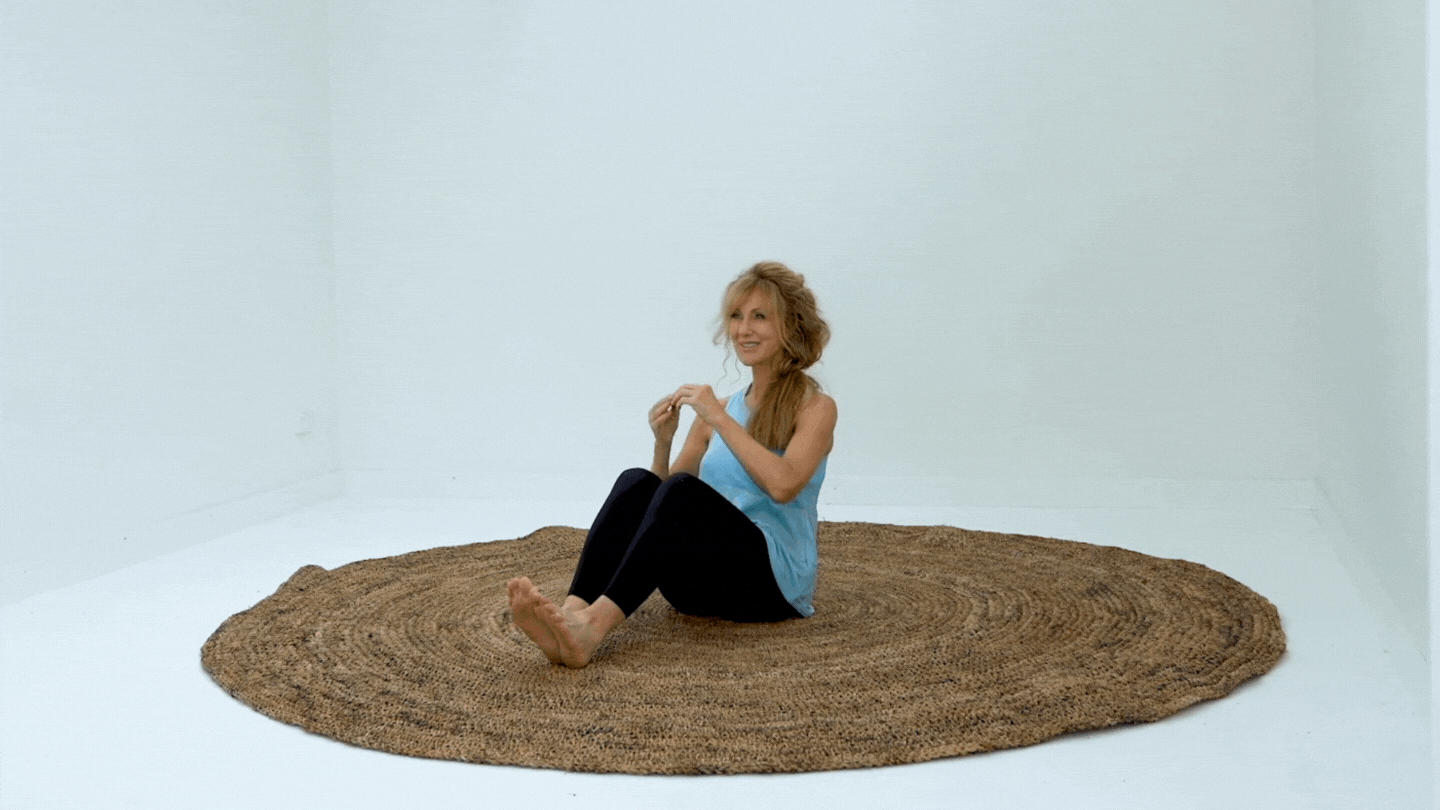 Sit back a little and raise your feet on the ground (optional). Maintain core stability and extend your arm across your body. Hold your core in tight and perform 8 twists; stop; repeat.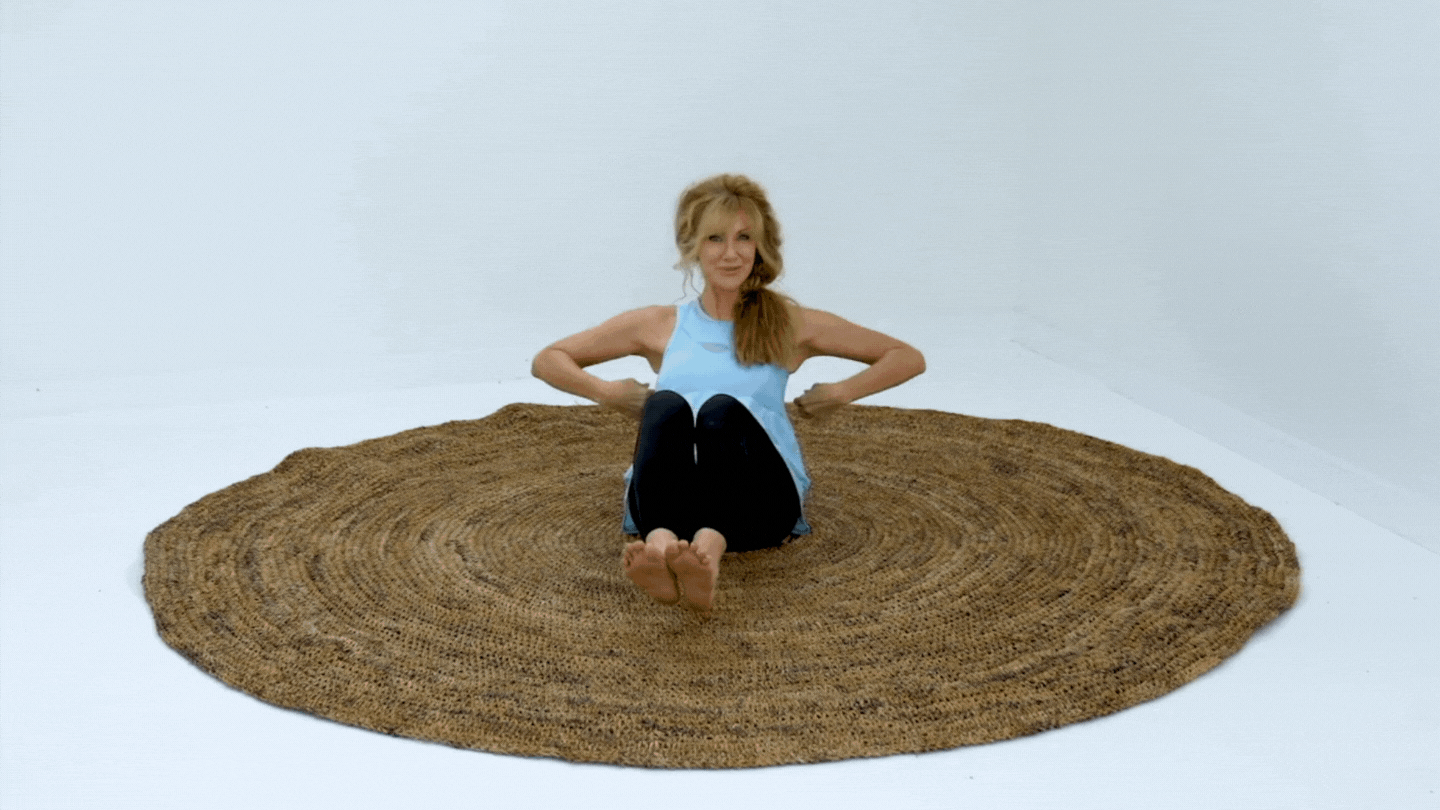 Lean back and stabilize your core, then start punching upwards. This is challenging, so pace yourself and take small rests when needed. Raising your heels off the ground makes this ab exercise more challenging, so, if you can, try alternating between raised heels and on the ground.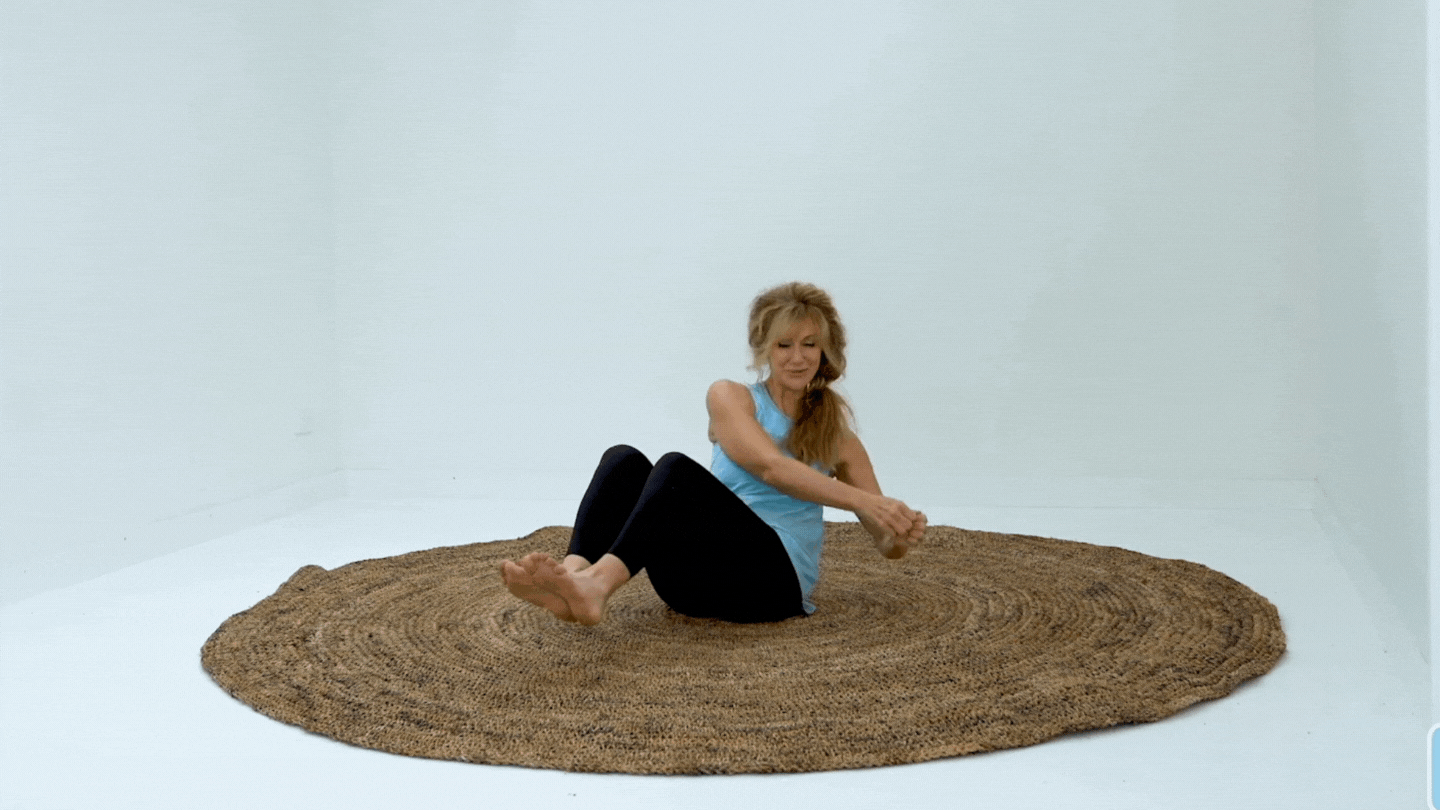 Lean back slightly, engage the core, and use your abdominal muscles to facilitate a twist. Pretend you're holding a ball and moving it from side to side. Maintain your focus, concentrate on your lower abs, and engage your core.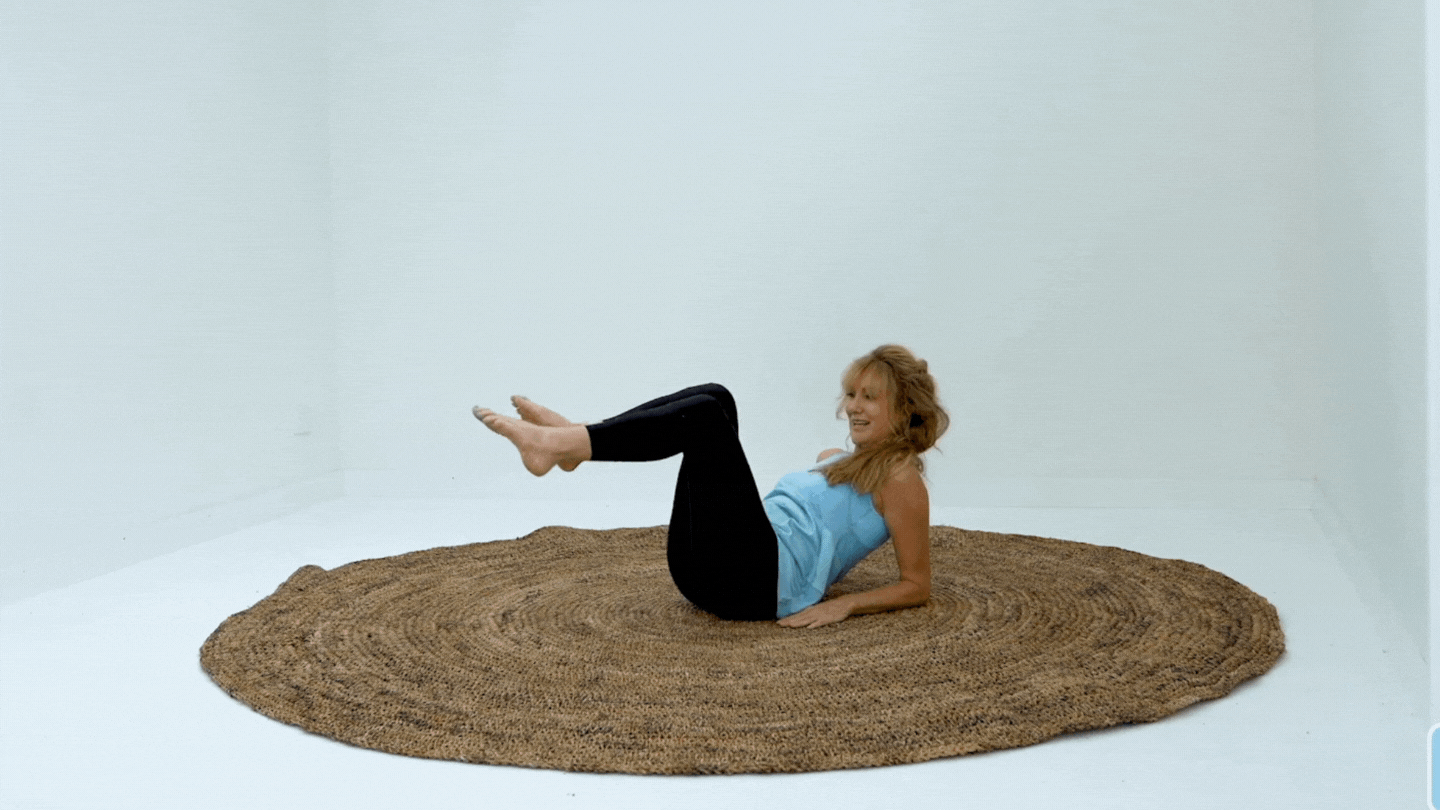 Lean back on your elbows, bring your knees up to 90 degrees and use your abdominal muscles to lower each leg. Make your movement  slow and on purpose and make sure you're not  arching your back and your neck is relaxed.
This Abs workout can be done daily for 7 days. Once complete, you can include this sequence in your weekly workout schedule (2 or 3 times per week)
Happy exercising xx
More from Fabulous 50s…
Before doing this workout, it's best to warm-up your body with this pre-workout routine :
➡️ 5 Minute Low Impact WARM UP For Women Over 50 | Beginner Friendly!
And if you don't want to do these abs exercises alone, I invite you to workout with me. It's challenging but very DOABLE! Click the link below, I'll see you there!
➡️ 5 Minute ABS WORKOUT To Reduce Belly Fat Fast
For more tips on how to lose that stubborn belly fat over the age of 50, I think you will really enjoy this video…
Conclusion
Some of us see toned abs as the Holy Grail of fitness. And while there's no denying that a sculpted stomach is impressive, there are actually many benefits of an ab workout that go beyond aesthetics especially for us Women Over 50.
So, next time that you're doing any abs exercises, remember to focus on quality over quantity; don't sacrifice good form in order to do more reps. And last but not least, have fun—working out should be enjoyable, not a chore!
PS: I created a Free Fitness Journal – 5 of the Best Abs Workout for Women Over 5o , get it below and share it with someone who may also benefit from doing this workout.
Gain a love for exercise and join over 1 million others today! ????
Fabulous50s Workouts are designed with you in mind. They are meant to be a challenge, with the aim of improving your overall strength but they are very doable.
We don't need to be athletes now we're over 50, but we do need to do some form of physical activity every single day. Aim to be 1% better than you were yesterday and you are a success.
Now, let's celebrate YOU and enjoy the process!
✅ Join the Private Group -> Fabulous 50s Challenge Group
✅ Access the FREE Workout Plans here -> Fabulous 50 Fitness Challenge