Christmas is in the air, and this is evident by the brisk air you are breathing, the cosy chill that rocks you to sleep at night, the festively decorated stores all around you, and of course, the Christmas carols that are filling the air!
It's that time of year when you set out to cook the best meals you can for your friends and loved ones.
You certainly have a wide selection of tantalising and intriguing recipes to select from for your Christmas feasts, but you might not know which to try.
That's why we've decided to share our favourite Christmas recipes to give this year's holiday feast a delicious twist.
With all of our Christmas recipes, including stuffed turkey, mince pies, and peppermint fudge, you can eat, drink, and be merry this holiday, no matter what feast you're cooking.
Stuffed Turkey Breast with Baked Vegetables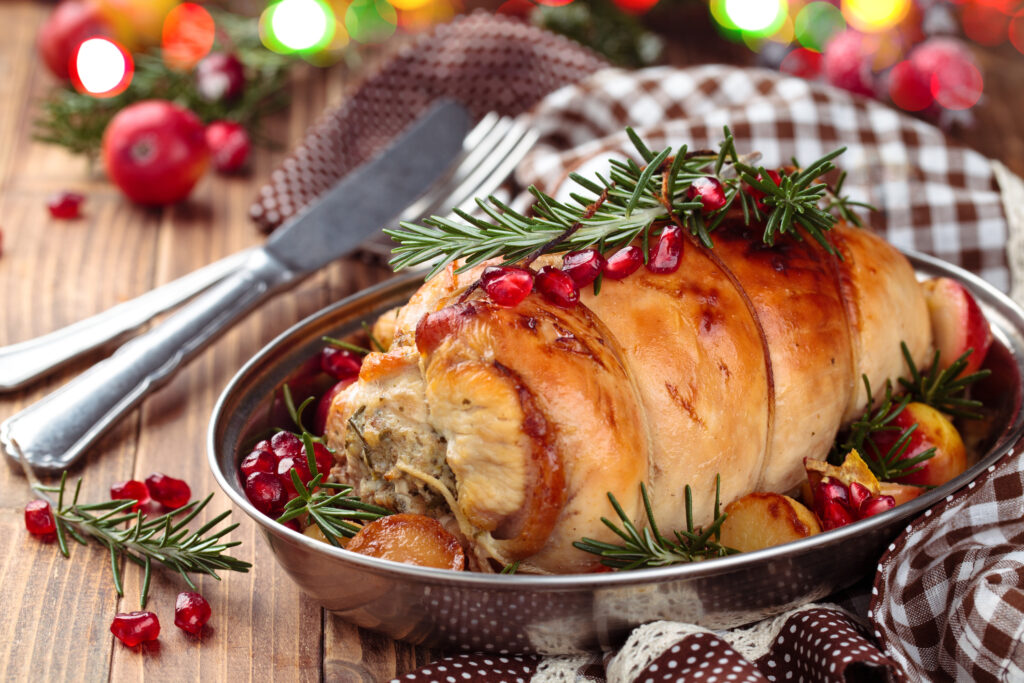 This turkey and veggie meal is nothing short of amazeballs! The act of combining all the ingredients is art.
To make this dish, you will need a turkey breast, a selection of your favourite vegetables, and some stuffing of your choice.
You can swap the red potatoes with any potatoes you like. Not only is it easier to cook, but it is also much more suitable for Christmas dinner.
Bacon-Wrapped Turkey Breast Stuffed with Spinach and Feta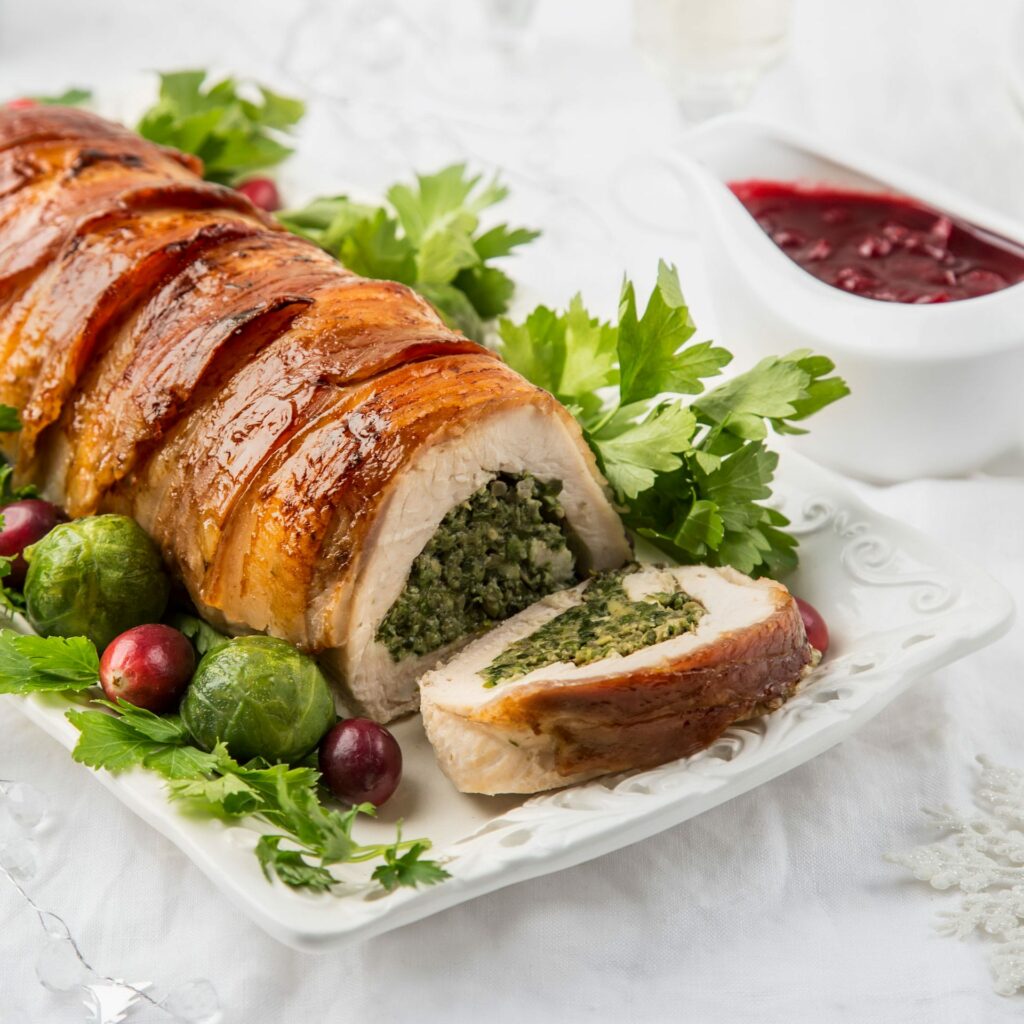 This Christmas dish is a delicious and flavorful variation on the classic stuffed turkey breast.
You'll need a turkey breast, some fresh spinach, some feta cheese, and a package of bacon to make this dish. The bacon and turkey combination gives the dish a distinctive and delicious flavour.
Its variety of ingredients enhances flavour even further. Keep any leftovers for a delicious meal the following day.
Baked Pork Ribs with Apples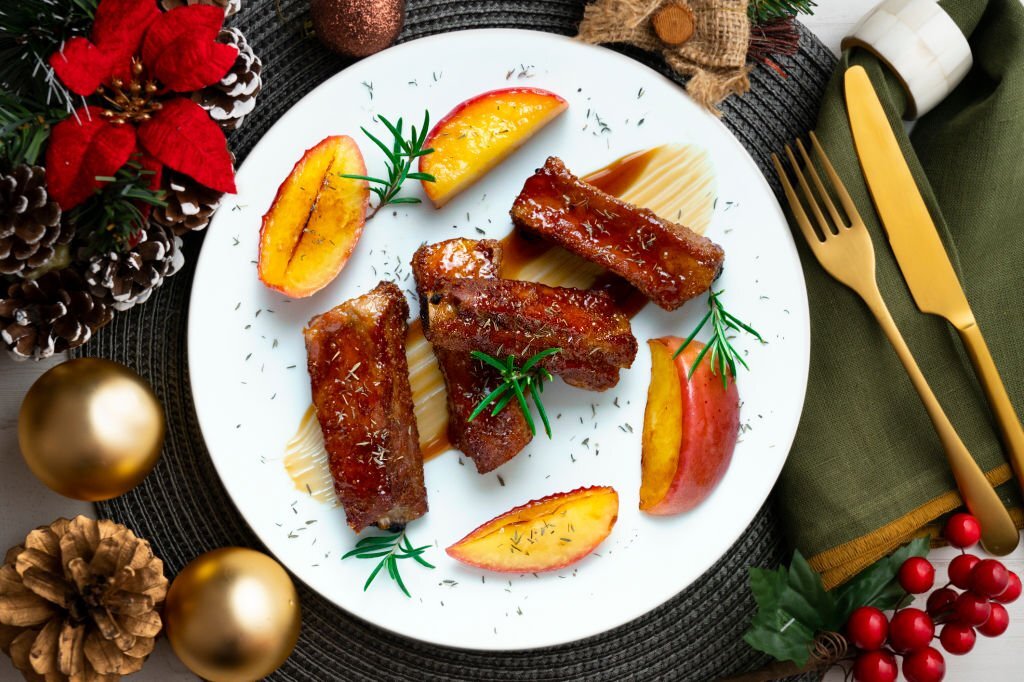 Whoever thought that fruits don't make an impressive addition to baked meat has never tasted this recipe!
You'll need a rack of pork ribs, some apples, and your choice of seasonings and spices to create this flavorful Christmas dish.
Be sure to include it at your Christmas dinner.
Pumpkin Cinnamon Rolls with Cheese Frosting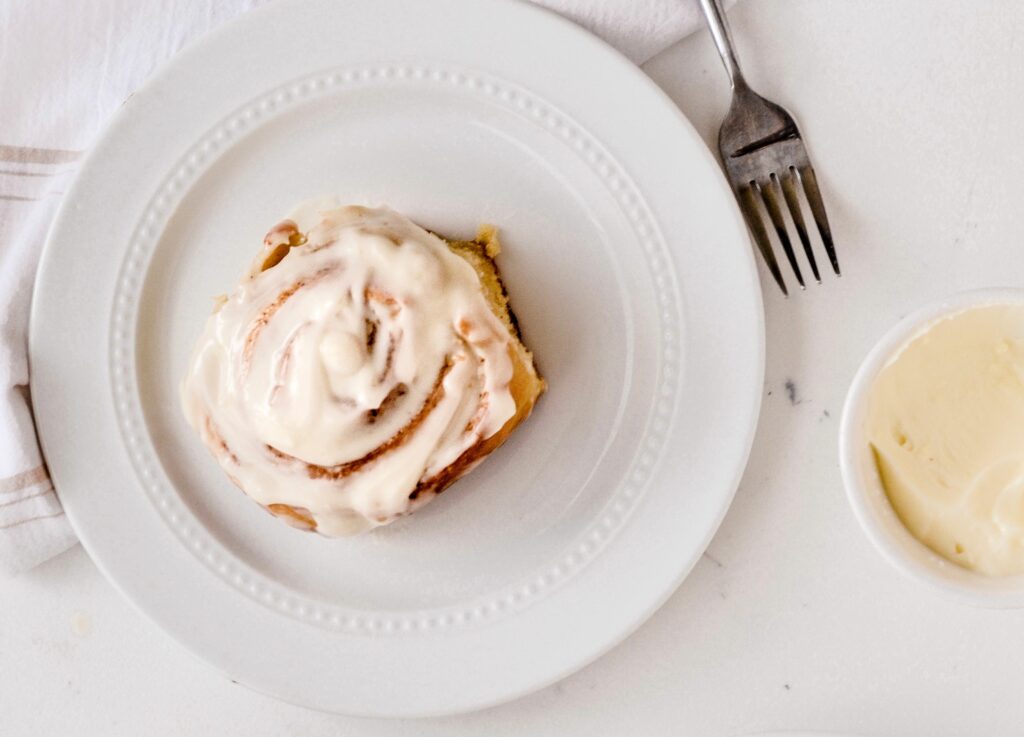 Everyone is aware that pumpkin is a fall food, but the idea is to transform pumpkin into the star of your Christmas dinner.
Don't let the lengthy cooking time turn you off—the flavour is worth every minute.
Smoked Salmon Canapes With Avocado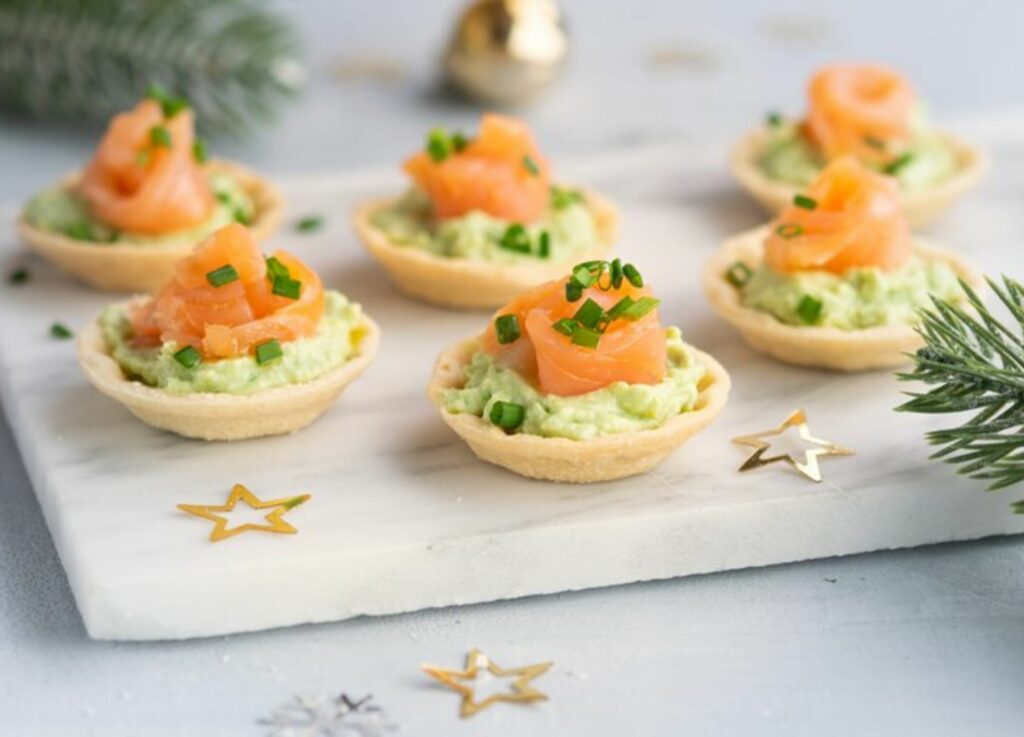 This flavorful Arabian-themed potato salad is what you need to light up your Christmas dinners!
It's a healthy dish combining the natural sweetness of roasted sweet potatoes with a variety of fresh ingredients, including herbs, greens, and vegetables.
This dish is a grazing board with a mix of sweet, salty, and savoury ingredients. Over time, it eventually became a staple Christmas appetisers.
Roasted Sweet Potato Salad
This appetising combo is a delight to try out! This salmon avocado salad is a flavorful and nutritious recipe. It's incredibly easy to prepare.
Both salmon and avocado lovers at your table will be pleased with this delicious dish.
Traditional Homemade Beetroot Soup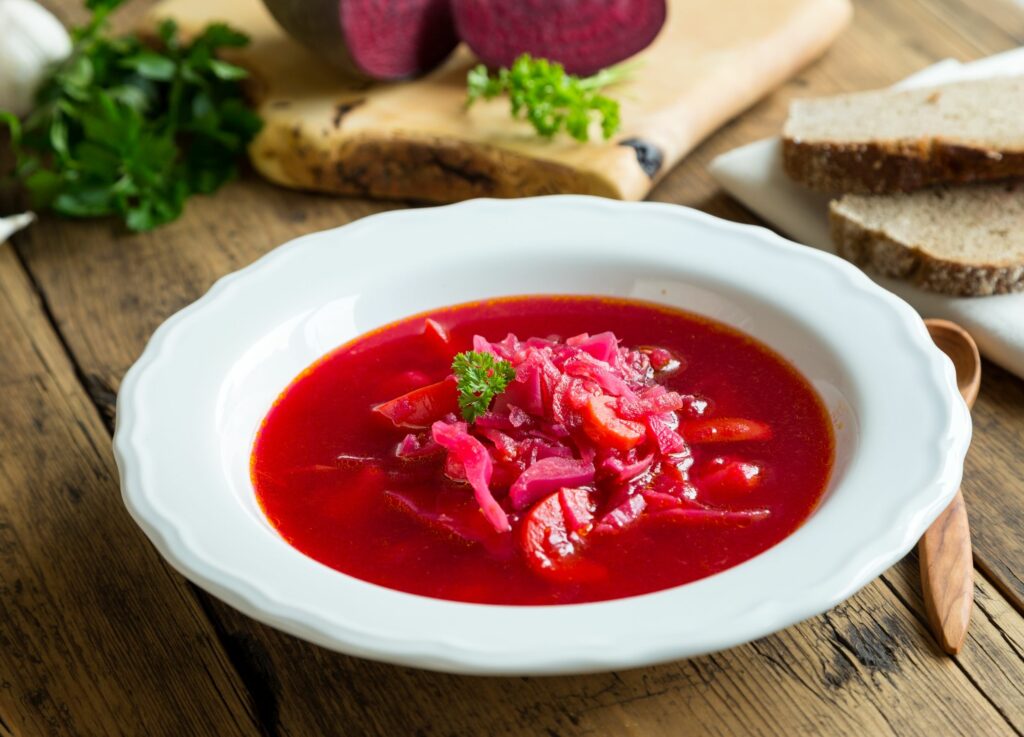 If you have never been a lover of beetroot, this recipe will gladly change your mind!
A hearty and delicious dish, the beetroot soup is ideal for a chilly Christmas day. This dish is an Eastern European classic soup that is also referred to as borscht.
It has a signature deep red colour and tastes as good as it looks.
Pistachio and Dark Chocolate Dipped Mandarin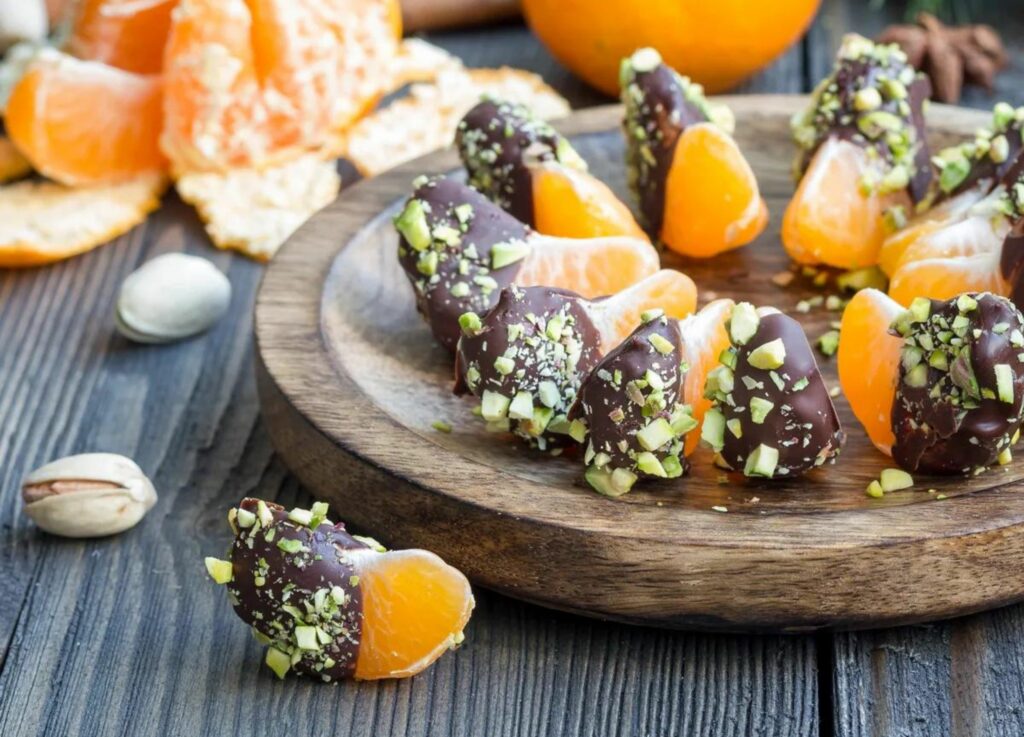 With just a few ingredients, this dessert dish will be sitting pretty on your Christmas dinner table in no time!
It only requires three ingredients and can be prepared in advance. With just one bite, everyone will be in the holiday spirit.
Pesto Potato Salad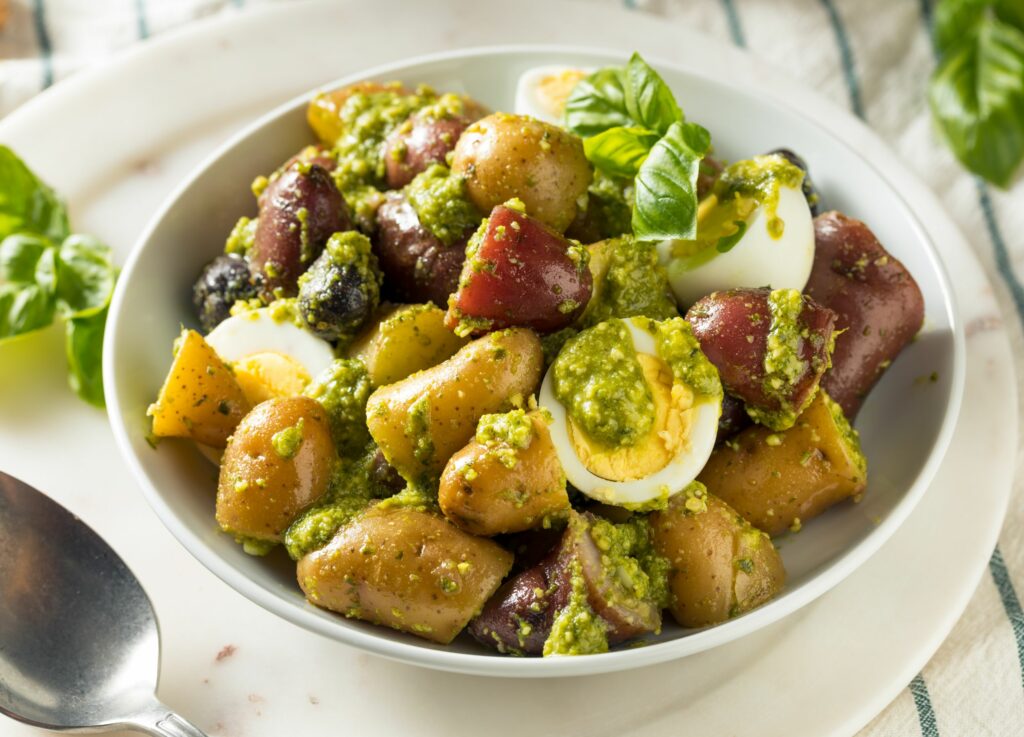 This lemony, creamy, and delightful salad is best as a side dish for your family's Christmas dinner. Swap the vegan parmesan and mayonnaise with your desired regular cheese and it is all set!
This traditional potato salad incorporates the flavours of pesto sauce, which is made from pine nuts, olive oil, basil, and garlic.
Although it is frequently used in Italian food, you can try it this holiday season. It adds a tasty and energising twist to a traditional dish.
Spinach Roll with Smoked Salmon and Cream Cheese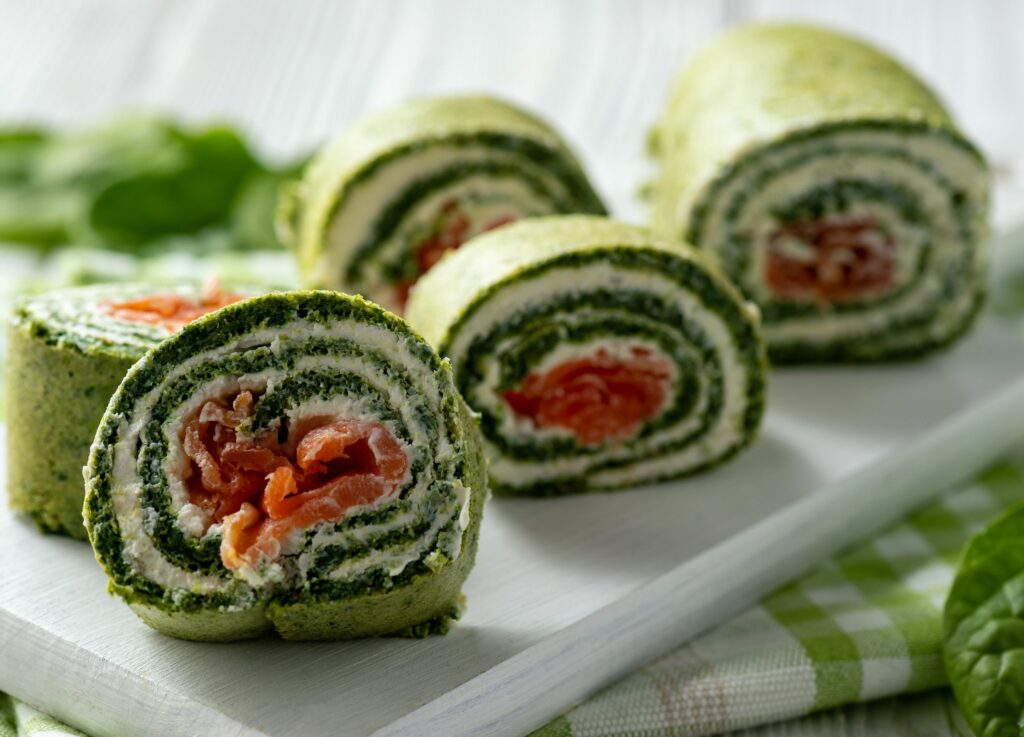 Starting with a quick spinach cake, a creamy filling, and smoked salmon, this vibrant and delectable appetiser is prepared. It is simple and quick to prepare, suitable for any occasion, and it can be done in advance.
You must try these roll up bites for your Christmas party. They look beautiful on a festive table and have a wonderful flavour.
Additionally, they make a delicious Christmas morning breakfast treat.
Chicken Fajitas With Grilled Peppers and Onions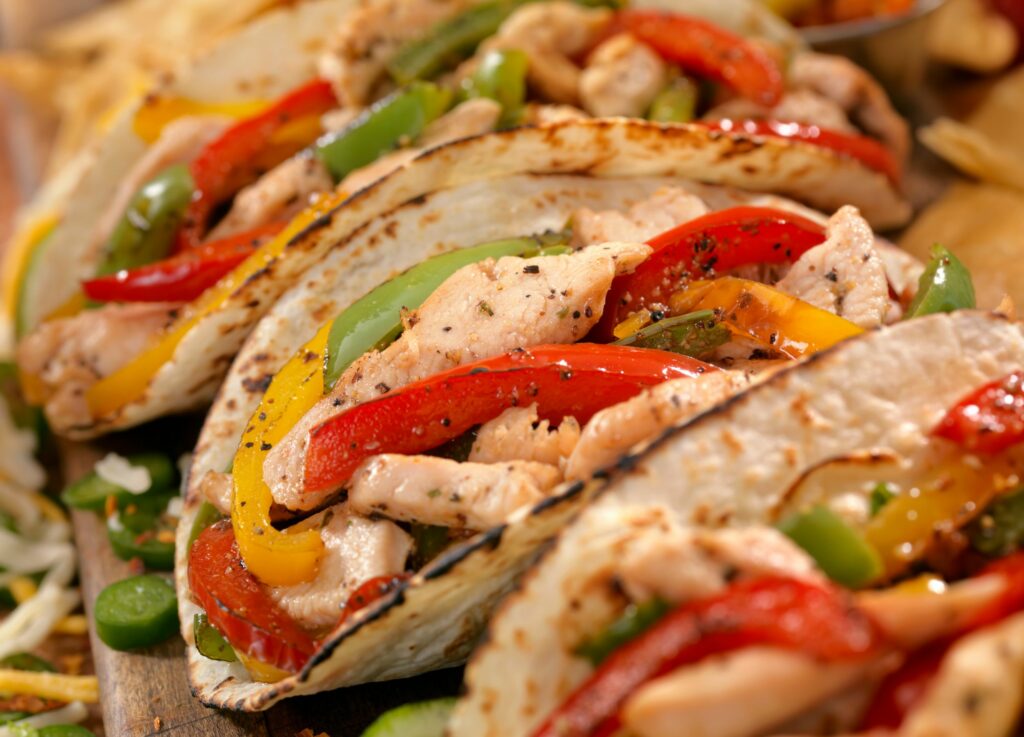 It is definitely going to be "Love at First Taste" between you and this fabulous delicacy!
For Christmas dinner, chicken fajitas are a festive option!
The chicken is made tasty and tender with a short marinade. You can serve it straight from the pan for a simple Christmas tradition with the family.
You're going to love this flavorful meal made with onions and three different colored bell peppers.
Stuffed Turkey Breast Roll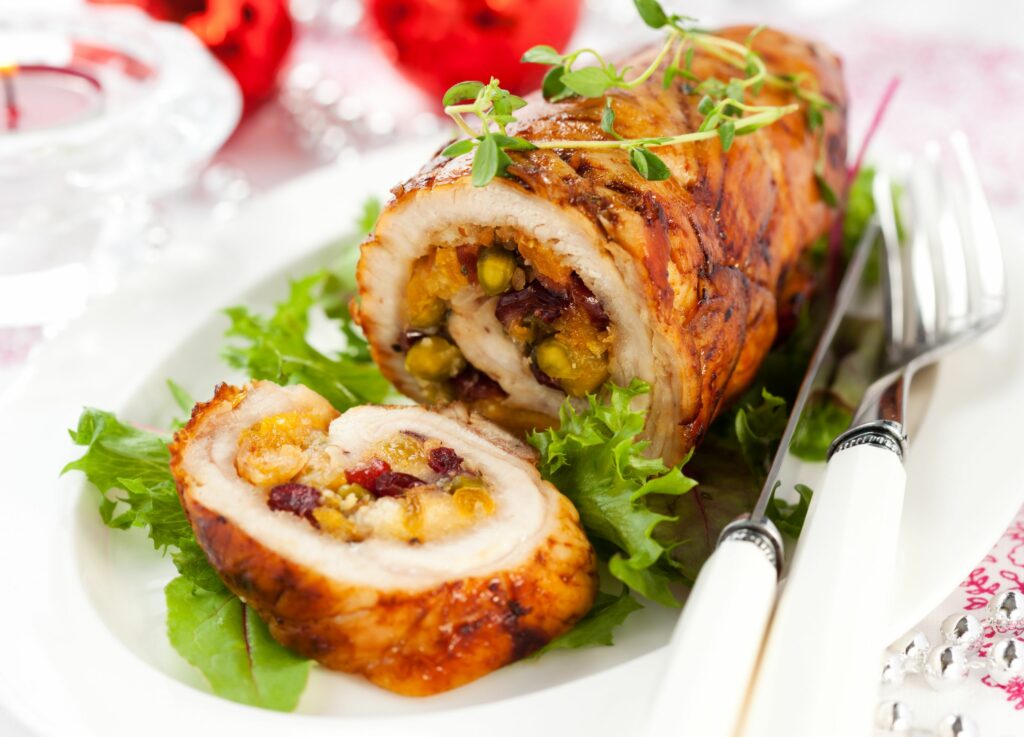 Nothing else can substitute for your regular Christmas turkey dish other than this delicacy!
It's an excellent holiday turkey recipe that you can prepare ahead of time.
No one will be able to resist the taste of a roast turkey, so this recipe can quickly become a Christmas tradition for your family.
It's an excellent way to spruce up your turkey! You will love the filling of cream cheese, spinach, herbs, and bacon that is stuffed inside of the juicy, tender, and roast turkey breast.
Whole Roasted Chicken With Potatoes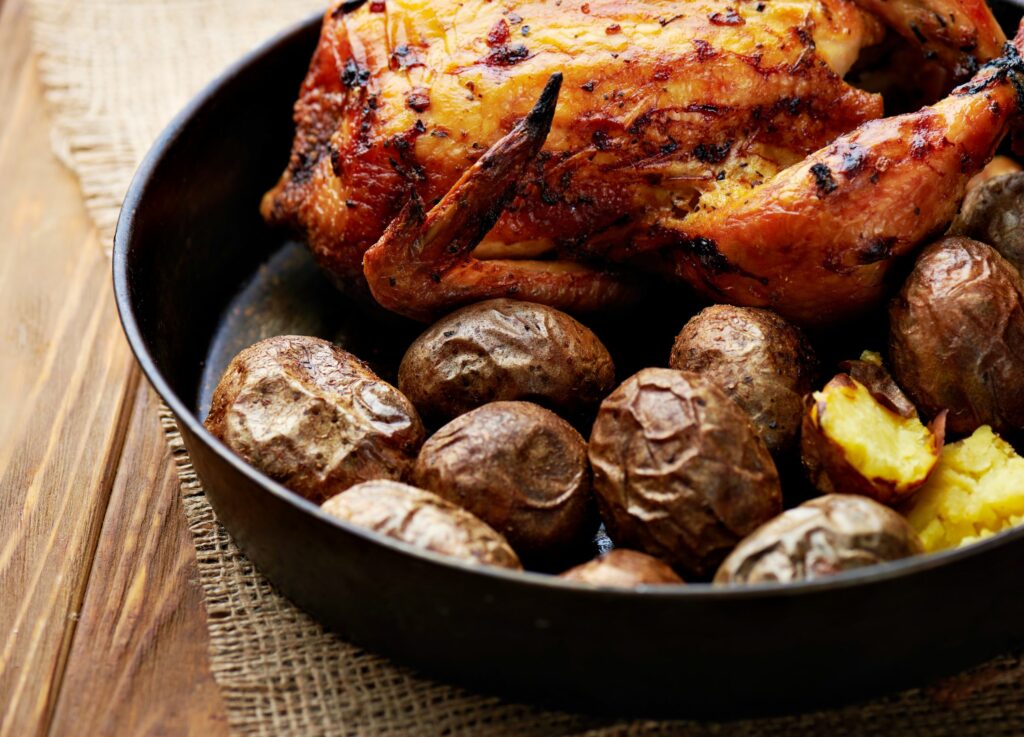 We know that you have always enjoyed Christmas dinner with a plate of roasted turkey sitting regally in the middle of the dining table, but we want to switch things up a bit.
Anyone up for some roasted chicken?
Chicken, Pork, and Pistachio Terrine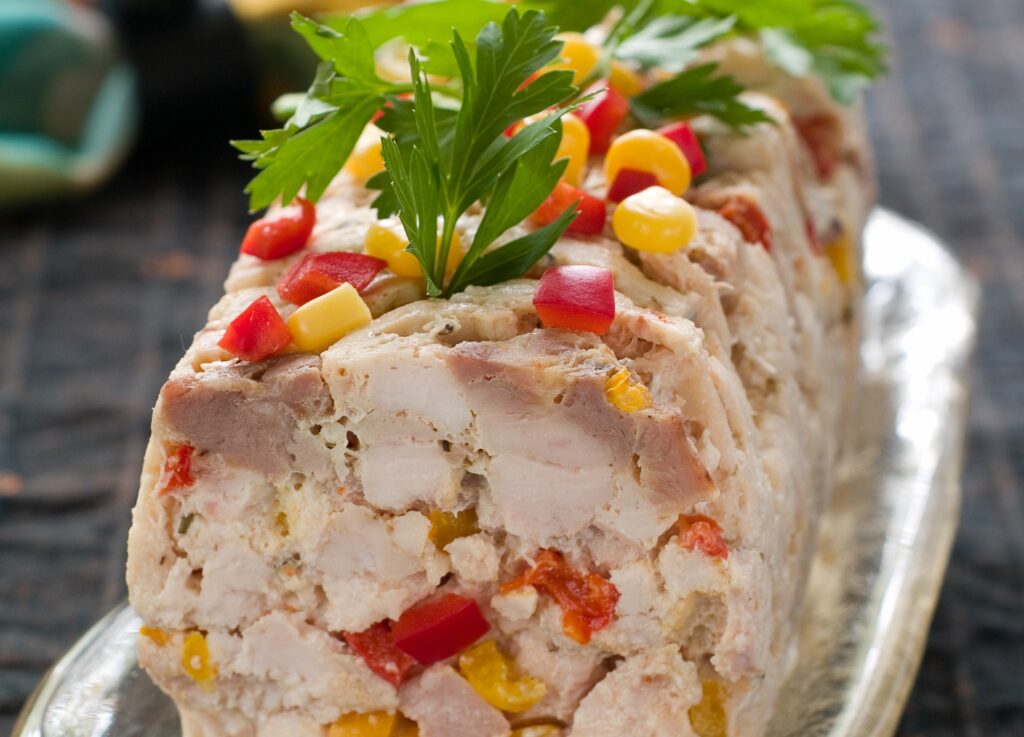 Once you can get your pork belly minced and pistachios shelled beforehand, this chicken, pork and pistachio terrine is a walk on water delicacy!
This terrine recipe makes a delicious starter for Christmas Day because it is wrapped in streaky bacon and decorated with cranberries and pistachios.
The best way to share this dish is with a crunchy salad, though it may require some preparation in advance.
Quinoa and Walnut Stuffed Peppers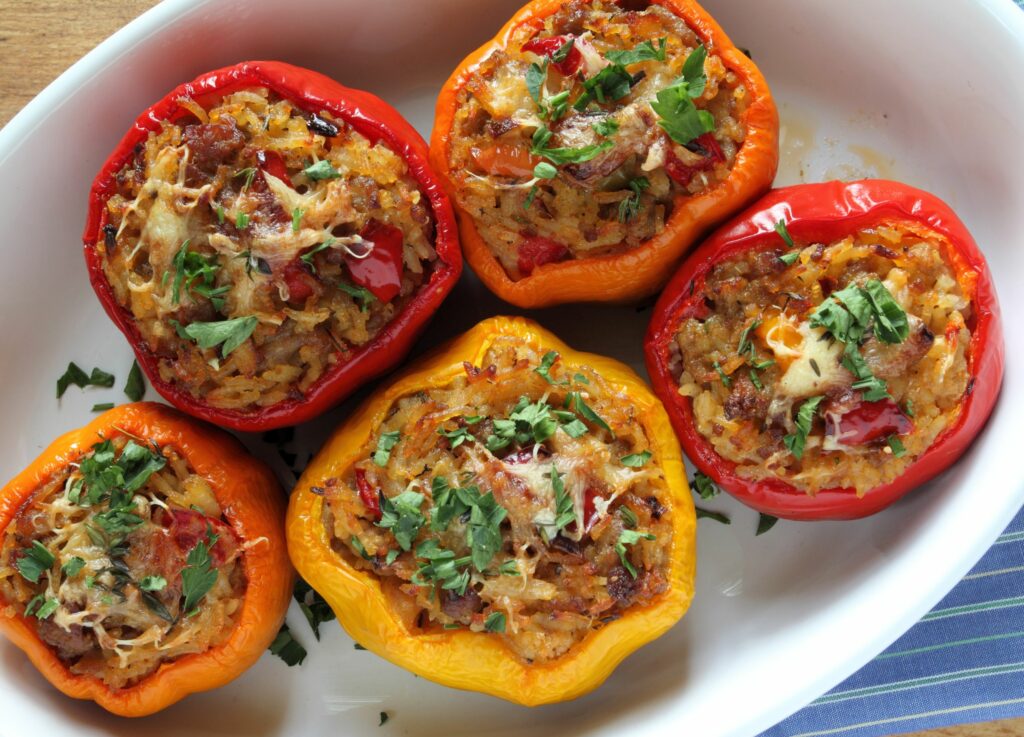 Christmas dinner won't be the same without the presence of stuffed peppers on the menu list. Trust me, this version is a wowser!
This vegetarian dish's star ingredients are walnuts and nutty-tasting quinoa.
As a side dish or as a standalone lunch dish, stuffed peppers are excellent.
The variety of textures—juicy pepper, tender quinoa, salty walnuts, and oozy melted cheese—really makes for a satisfying culinary experience.
Potato Dauphinoise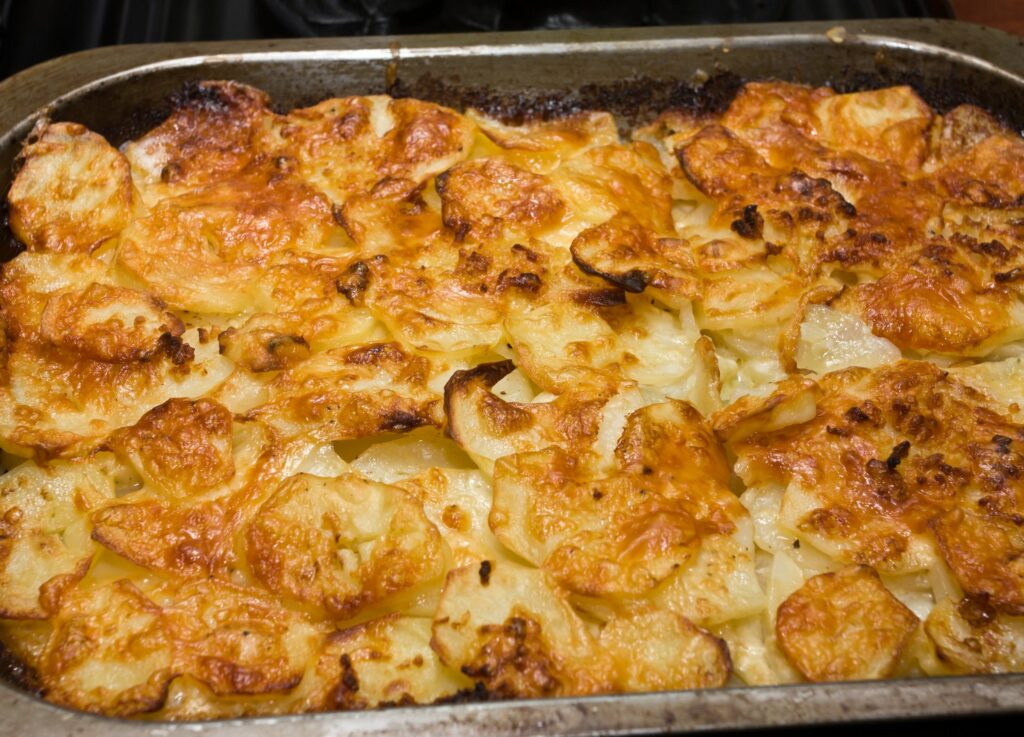 This creamy and cheese casserole is the real deal! You can swap the Gruyère cheese if you can't find it.
The thin potato slices are slowly cooked in the oven with cream and garlic.
On your Christmas dinner table, serve this traditional French dish with roasted beef tenderloin. It is simple yet decadent.
You can make dauphinoise potatoes from scratch quickly and easily with some preparation.
Chicken and Matzo Ball Soup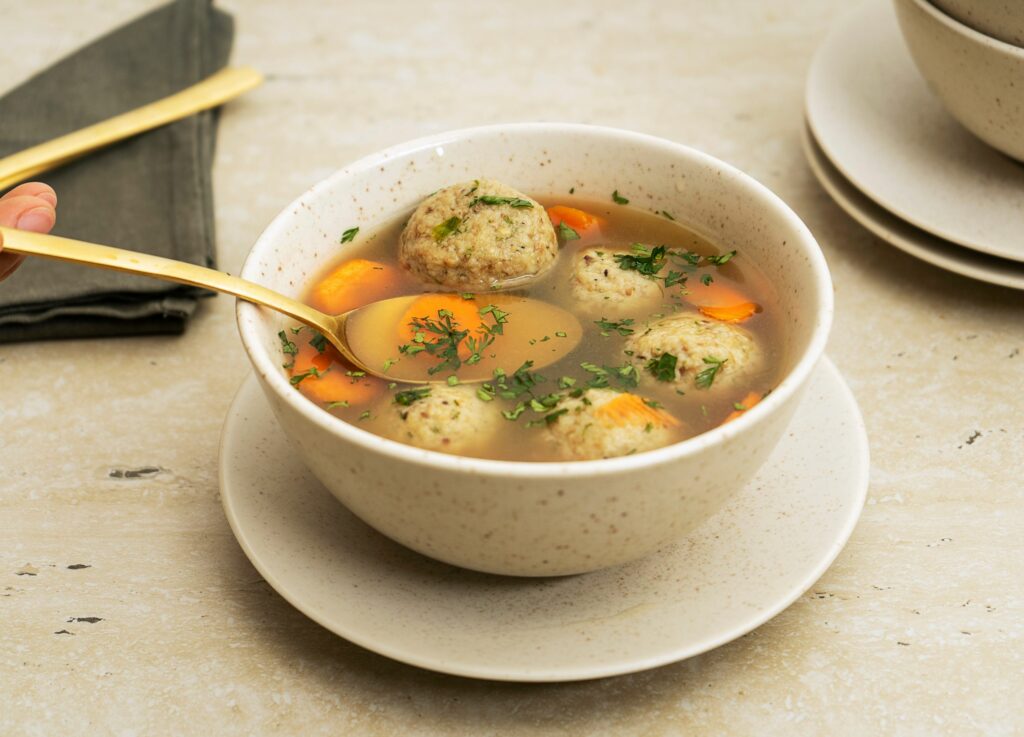 This traditional Jewish soup is deliciously tempting. Just a taste and you're hooked for a lifetime!
Matzo ball soup, also known as Jewish penicillin, is the perfect Christmas comfort food that you need.
This dish will take centre stage on your Christmas table, regardless of how tasty other dishes look!
A warm, delicious-smelling matzo ball is impossible to resist.
Homemade Peppermint Fudge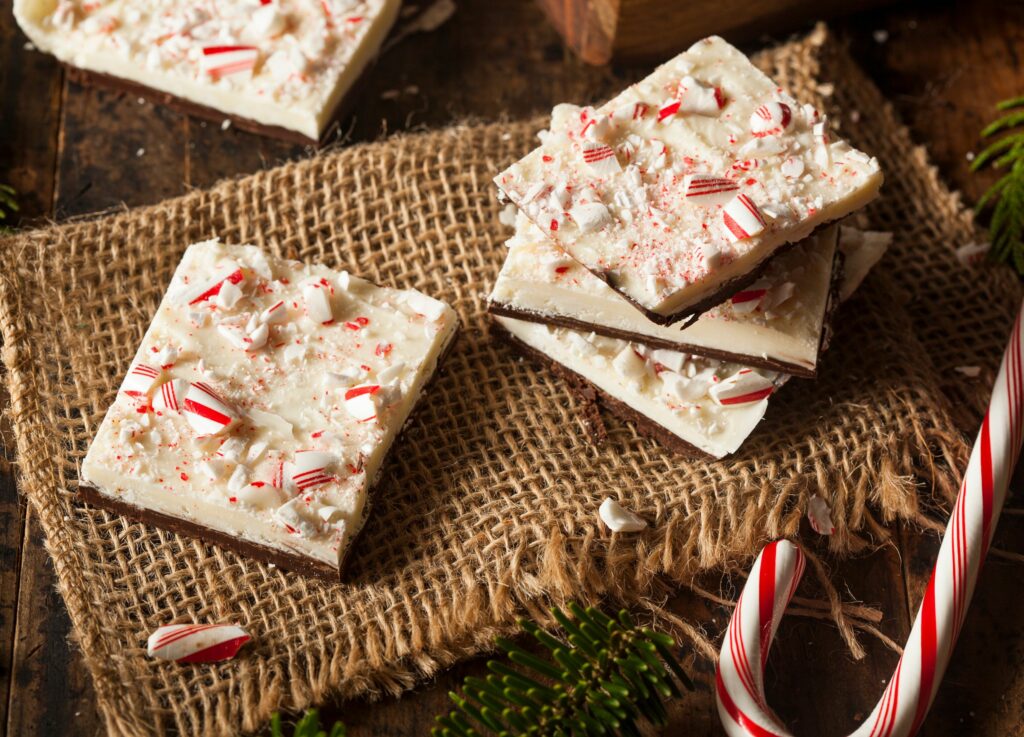 Adding any toppings of your choosing, this easy to make peppermint fudge is one of the best Christmas desserts you can make for you and your loved ones!
The two layers of decadent fudge in this simple, five-ingredient peppermint fudge are bursting with peppermint flavour.
For Christmas, it's the perfect treat you need!
This holiday season, will  you include this homemade peppermint fudge on your list of Christmas recipes?
Caviar and Crème Fraîche Tartlets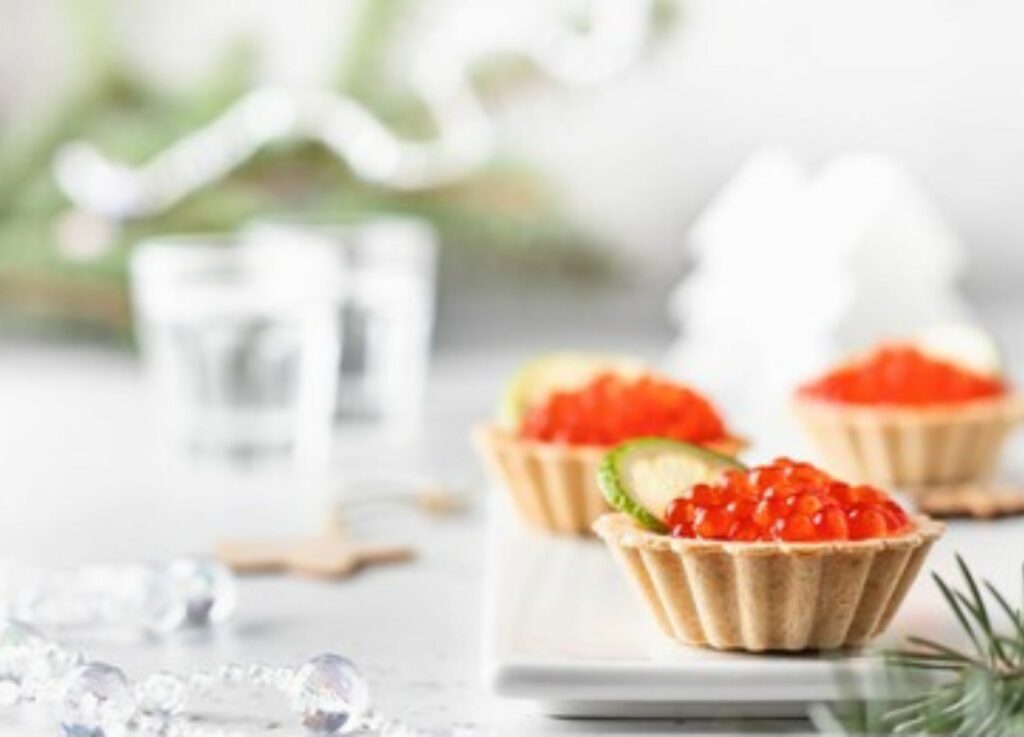 Just the Christmas recipe you need!
Creme fraiche is the ideal ingredient for your Christmas dinner table if you want to add something tasty and decadent.
This rich, flavorful, and nutritious French sauce is made from double cream that has been soured with buttermilk.
Puff Pastry Pinwheels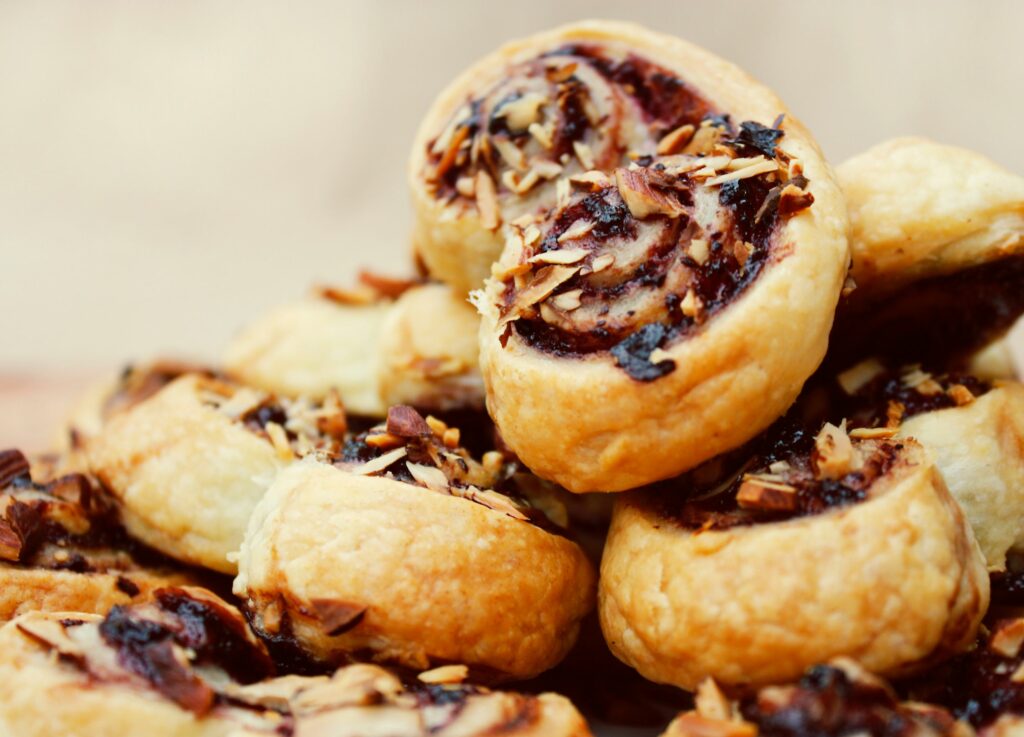 Round and round, your delicious pinwheels will go!!
Puff pastry pinwheels are perfect for a Christmas family gathering!
There are a plethora of fillings-savoury ingredients that work well with puff pastry.
Puff pastry pinwheels are a delectable addition to any appetiser buffet.
Would you include this puff pastry pinwheels on your list of Christmas recipes to try this holiday season?
Christmas Mince Pies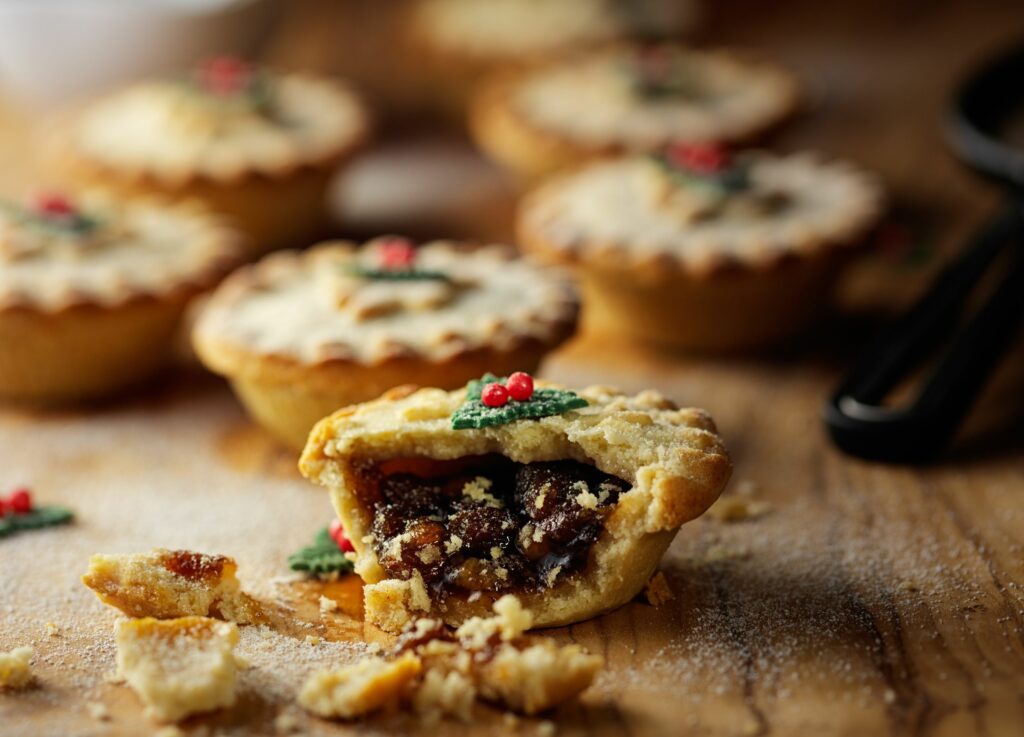 We all know there is no Christmas eating without Christmas Mince pies!
These delicious combinations of meat and fruits are traditional snacks used to celebrate the birth of our little baby Jesus!
White Chocolate Coconut Truffles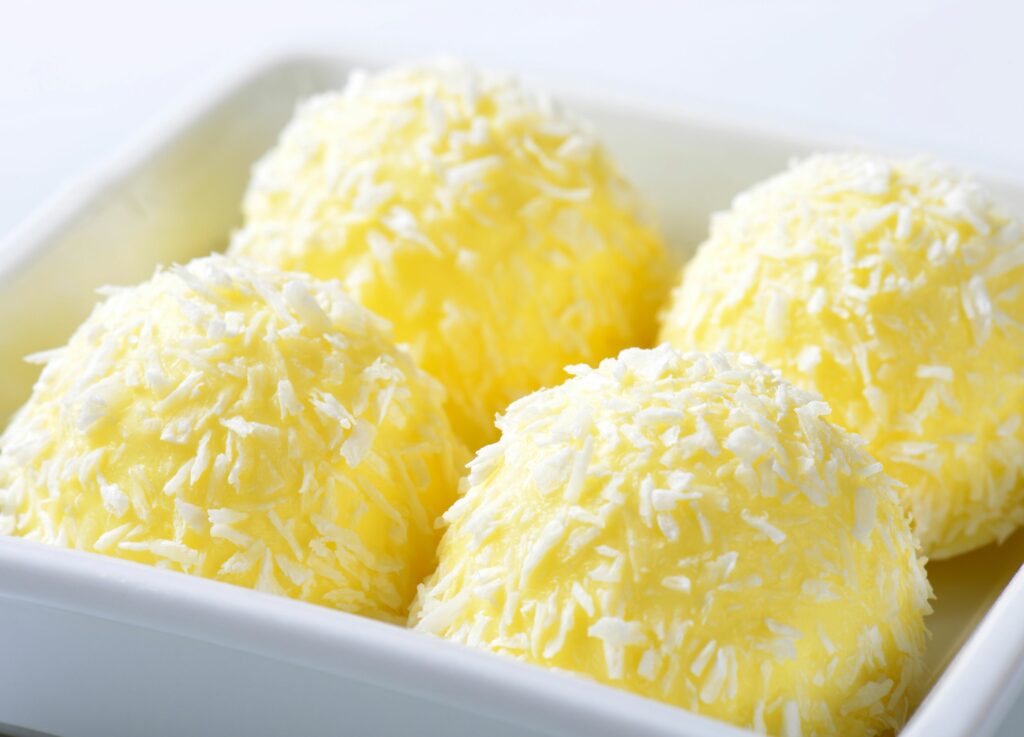 Just with three ingredients and a few easy steps, you could have these decadent and delicious coconut flavoured sweethearts melting away in your mouth.
The rich, creamy white chocolate coconut truffles are a treat. They are made of chocolate, butter, and cream, then rolled in coconut.
Raspberry Jam Shortbread Cookies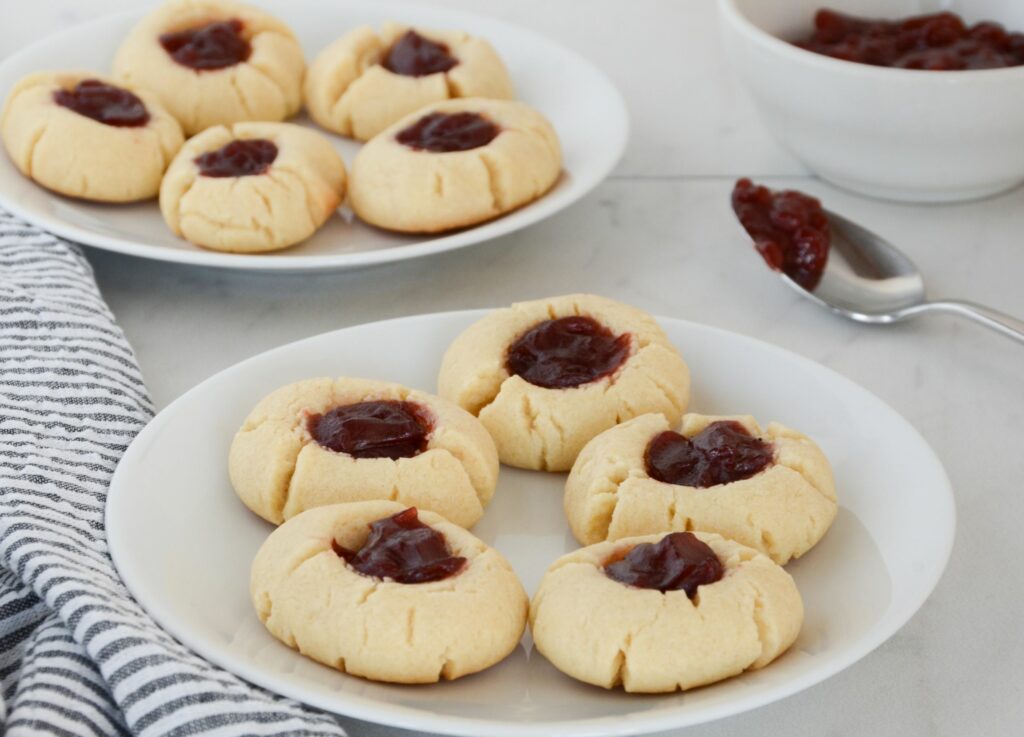 With the presence of the raspberry jam, you are about to enjoy the best shortbread cookies ever!!
These shortbread thumbprint cookies have a delicious almond glaze on top and are filled with seedless raspberry jam that peeks through the cutout.
The perfect cookie for the Christmas season, they have a very festive look.
Garlic Mashed Potatoes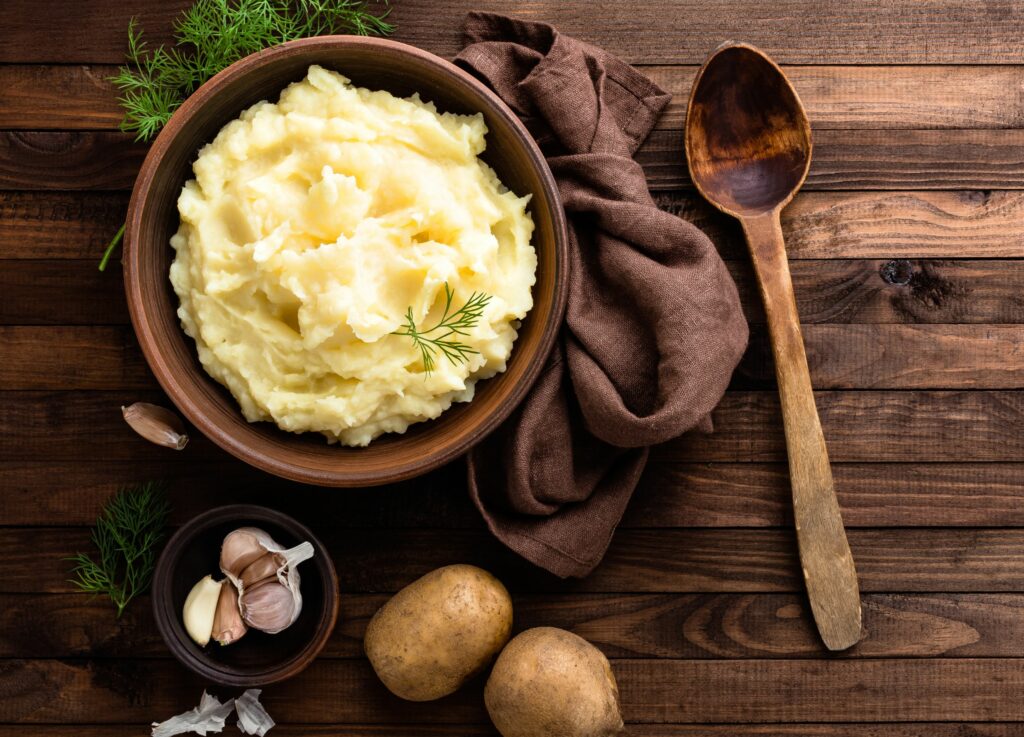 Either with Russet or Yukon Gold potatoes, this delicacy is ready to serve in a few minutes!!
It's a good idea to occasionally switch up the traditional potato dish! Try these creamy, buttery, and garlicky mashed potatoes for your Christmas lunch or dinner, and everyone will love it.
Everyone at the table will be asking for the potatoes over and over again.
Roasted Brussels Sprouts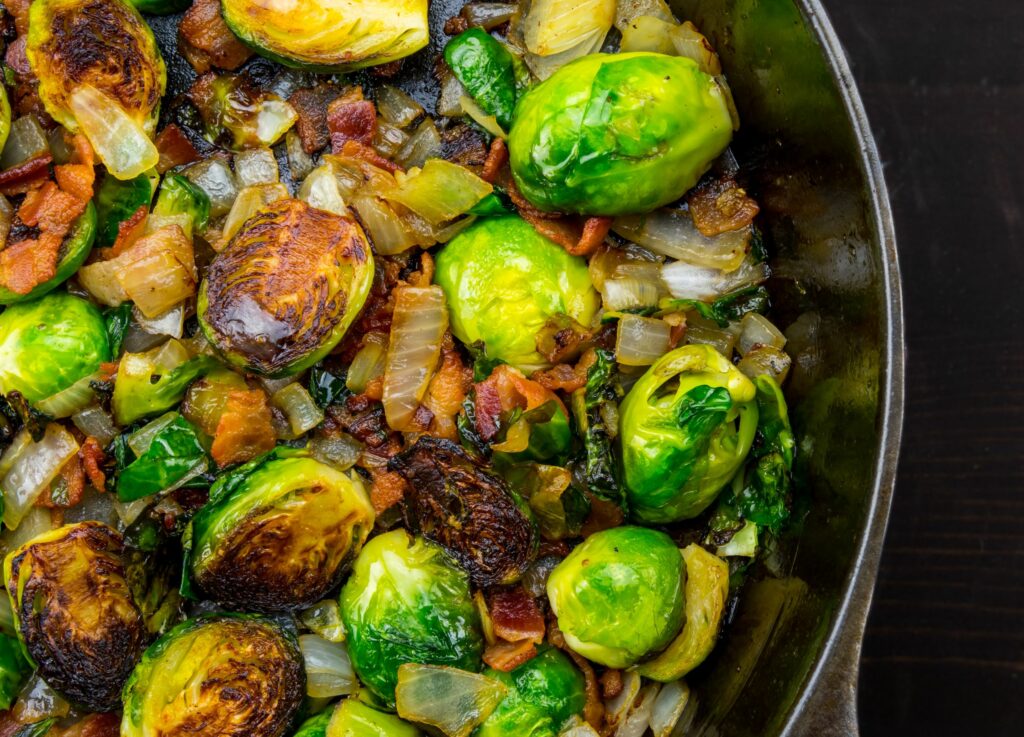 This Christmas recipe is unlike any you have ever had before!!
These roasted Brussels sprouts are crispy, and richly caramelised.
You won't be shocked if you start munching on these delicious morsels right off the baking sheet like they're candy.
On your list of Christmas recipes to try this year, would you include this dish?
Green Bean Casserole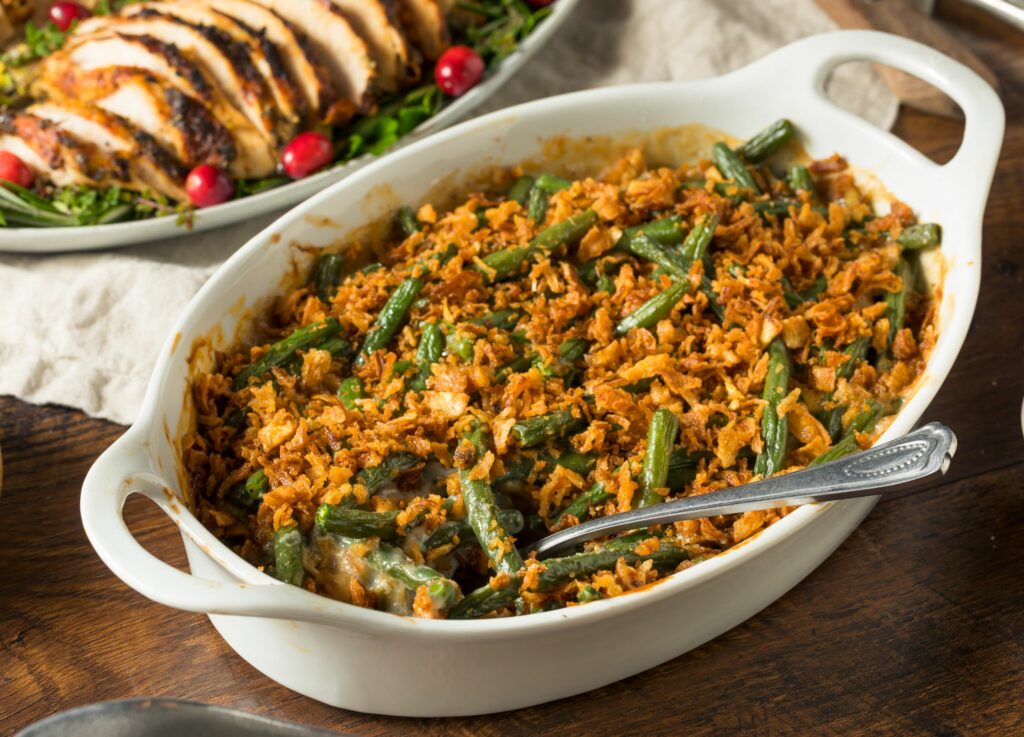 This Christmas recipe is unlike any you have ever had before!!
These roasted Brussels sprouts are crispy, and richly caramelised.
You won't be shocked if you start munching on these delicious morsels right off the baking sheet like they're candy.
On your list of Christmas recipes to try this year, would you include this dish?
Parmesan Cauliflower Bites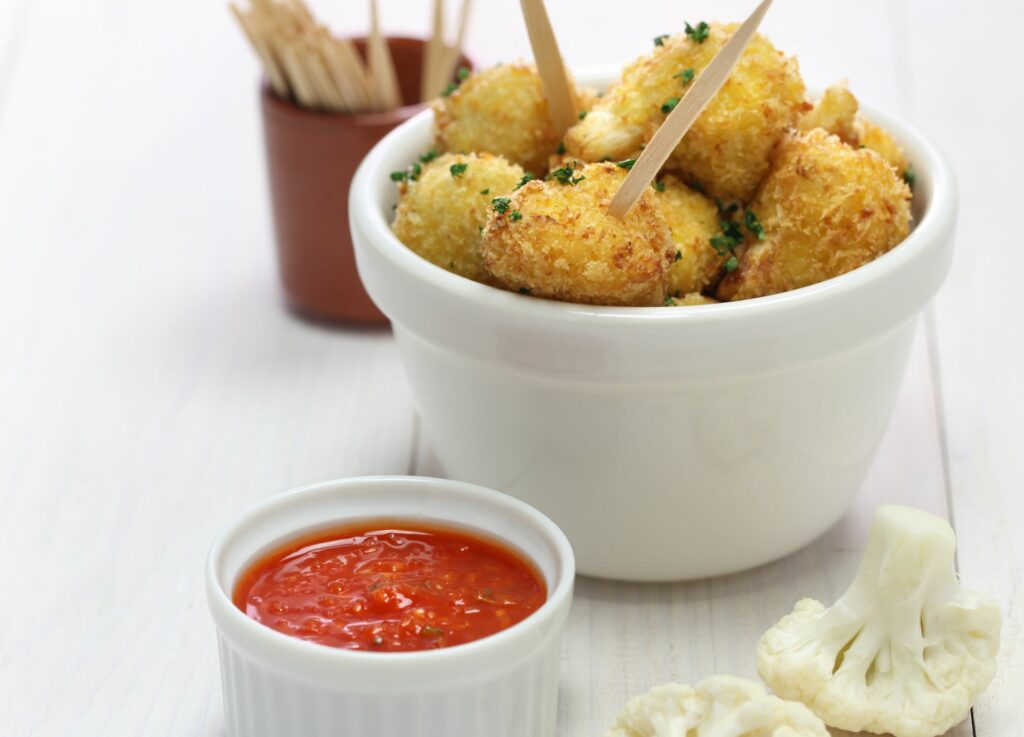 This low carb Christmas delish is one of our favorite Christmas recipes that you won't be able to resist.
It's healthy and it's one sure way to keep your diet in check.
Substitute the panko bread crumbs for your regular Bread crumbs and anticipate magic to happen in your mouth!
We hope you love our favorite Christmas recipes!
We can assure you that these Christmas recipes will satisfy everyone at the table, and  liven up the festive atmosphere.
Thanks to everyone on our team, we are able to share our incredibly delectable Christmas recipes with you to help you get in the holiday spirit
So this year, give these easy Christmas recipes a shot and enjoy spending time in the kitchen creating delicious meals for your loved ones.
Turn up some holiday music, and start whipping up some festive dishes with our Christmas recipes!
Happy holidays everyone!
For some healthy recipes, check out our wide range of ideas for your physical and mental well-being.