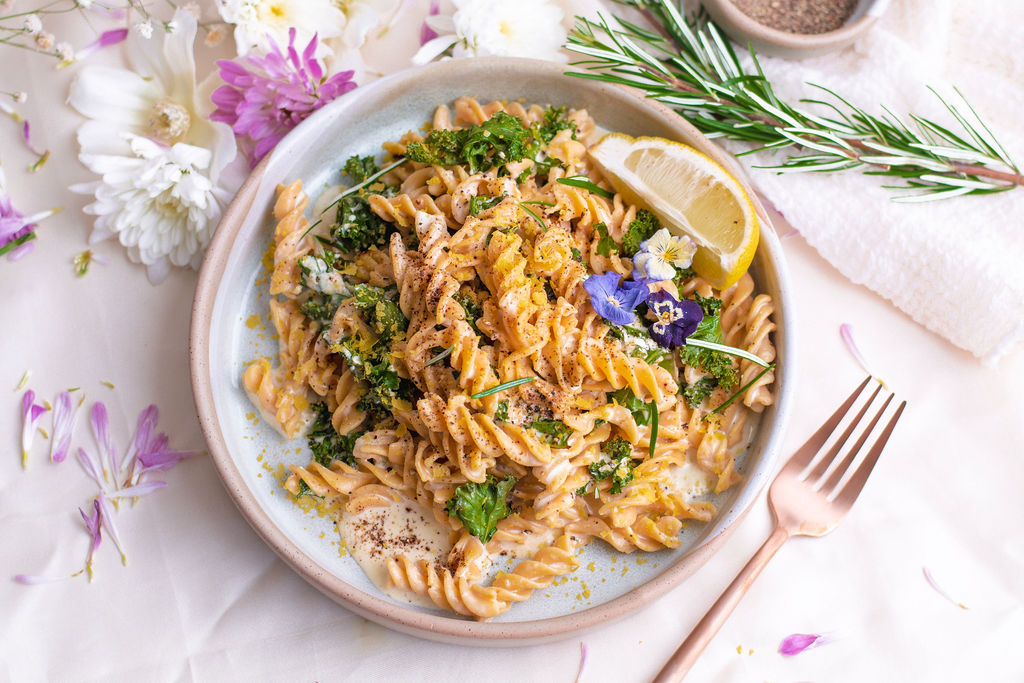 I know what you're thinking. 'Hummus is a dip, not a pasta sauce.' And you are absolutely right. But that doesn't mean that hummus can't be the star of a delicious pasta dish. This creamy hummus pasta recipe is incredibly easy to make, and it's perfect for a quick weekday meal. 
But what about the Health Benefits?
Research has linked hummus and its ingredients to a variety of health benefits. It naturally regulates sugar, provides fiber for gut health, can help lower cholesterol, and more.
This makes it an excellent choice for anyone looking to improve their general wellness or prevent chronic illness in later life!
How to Make Homemade Hummus
This is a super simple recipe, it only takes minutes. Place all of the following ingredients into your food processor, give them one quick blend until they're completely mixed together.
And if you prefer a ready-made hummus, check this from Amazon >>> .
Now, time to cook the pasta. Let's get started!
PREPARATION
Bring a large pot of salted water to a boil and cook the chickpea pasta according to package directions. During the last two minutes, add the frozen edamame and reserve some of the pasta water. Drain and rinse with cold water. Set aside.
In the same pot over medium heat, add the oil followed by the tomatoes, arugula and lemon juice and heat through. Add the pasta and edamame into the pot and stir in the hummus. Add the pasta water one small splash at a time and stir until your desired consistency is reached. Divide onto plates and top with everything bagel seasoning, salt, and pepper. Enjoy!
NOTES
LEFTOVERS: Refrigerate in an airtight container for up to three days.

SERVING SIZE: One serving is approximately one cup of pasta.

ADDITIONAL TOPPINGS:  Top with chopped parsley and a drizzle of olive oil.
So there you have it, a delicious and nutritious way to enjoy your pasta. And if you'll host a party, it's the perfect dish that is not only easy to make but will also have your guests asking for the recipe.
I hope you'll give this humus pasta recipe a try soon! And if you do, be sure to let me know how it goes by sharing a photo on Instagram or Facebook with the hashtag #Fabulous50sHealthyRecipes. I can't wait to see what you cook up.  ❤️🌸
If you find fabulous50s content useful and would like to support my work, you could always BuyMeATea  🫖 (completely optional, only if you want to!). Your support will help me create more quality videos and content created just for you… Fabulous women over 50! With love and appreciation, thank you. 🙏🏻😘
****************
Disclaimer:
1. This content is not sponsored and all opinions are 100% my own. If I LOVE a product first, and there is an affiliate link available, I will use it. However, I will NOT look for a product that pays a commission first, and then do a review…EVER!
2. Some links are affiliate links. If you click a link and buy something, I may receive a small commission for the sale. It doesn't cost you anything extra and you are free to use the link or not. It's totally up to you. If you do use my links…Thank you so much xxx
3. Information provided in this blog post is of a general nature only and is for entertainment/educational purposes and is not medical advice. We strongly recommend that you consult with your physician before beginning any diet or health program. Making any changes to your health regime is done so at your own risk.

****************