We know that age is just a number when it comes to staying fit and fabulous, and who says you can't have toned arms over 50? Losing arm fat and toning your upper arms after the age of 50 may seem like a daunting task, but it doesn't have to be.
Many women over 50 notice a clear change in how their muscles feel and look. It's not just a figment of your imagination! As we get into our middle years, research shows that our muscle tone naturally goes down and we gain more body fat. This shift can be attributed to the hormonal changes occurring in the body.
The way you live can also play a role, like if you have a desk job and do not move around much or if your kids move out and give you more free time. When we turn 50, we have a new kind of freedom over how we spend our days. But it is important to find creative ways to make regular exercise and movement a part of our daily lives.
So, whether you want to rock that sleeveless dress or simply wish for stronger arms to keep up with your grandchildren, here are some tips to help you lose arm fat and tone your upper arms over 50.
How to Lose Arm Fat Fitness Tips
Many women over 50 complain that their upper arms are "flabby" or they have "more skin" than they'd like. Think about it, the muscle tone is gone! Where did it go? The answer for most of us is:
We simply stopped using and feeding our muscles
spent very little time thinking about muscle health and rejuvenation
and kind-of gave up!
Most of the changes in the way your arms look happen on their own, but the good news is that there are exercises you can do to tone and strengthen them.
Muscle is an important part of our bodies, so the key is to help it grow and stay strong through exercise and a well-balanced diet high in high-quality protein. The perk? Stronger muscles help burn fat more efficiently.
It is important to realize that you can not just lose fat in one place (spot-reducing fat is impossible). That is, you can not exercise your arms to get rid of fat only in your arms.
But you can use techniques that help you lose fat all over your body, which will affect your arms, and focus on arm-specific muscle-building exercises to make them look firmer and more sculpted.
Here are some of the best fitness tips to help you feel confident wearing tank tops and sleeveless clothes all year long:
Dumbbell Workout for Upper Arms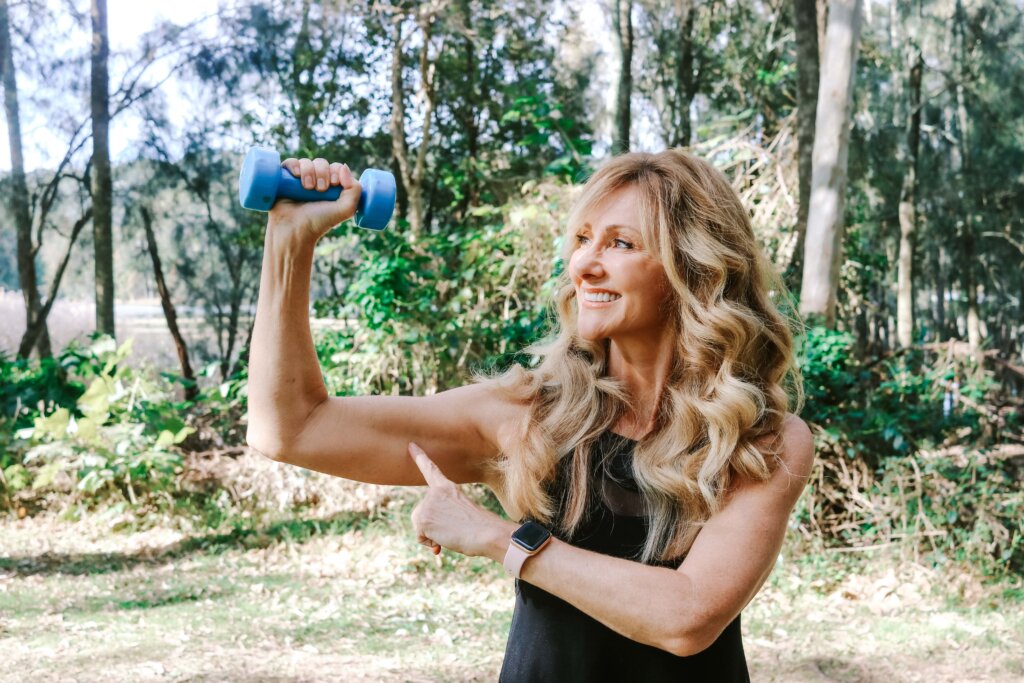 Dumbbell exercises focus on the triceps, biceps, and shoulders. With regular practice, you'll see results in weeks, strengthening and toning your arms without relying heavily on cardio or interval training.
Using weights in your workout (safely of course) is your best way to lose weight and keep it off.
For this workout, just grab a set of dumbbells that match your strength. Beginners can start with 1- or 2-pound weights, while those accustomed to lifting might opt for 5 or 10 pounds.
**TIP: Use a weight that is challenging after 10 reps. If you find it too easy, you will need to increase the weight to gain maximum benefit. If it is way too hard for you, stop and reduce.
Front Arm Raises
Hold your dumbbells in your hands, palms down, dumbbells at your thighs. Then, one at a time, raise each dumbbell until it is parallel to your shoulder.
Repeat with the other arm. Do 20 of these on each side, and then take a break. Repeat this pattern 3 times for each side.
Shoulder Presses
Hold the dumbbells at shoulder height with bent elbows and turn them so they're perpendicular to your shoulders. Press the dumbbells upward, straightening your arms.
Slowly bring them back to the start. Do this 20 times, rest for 30 seconds, and aim for 3 sets. This targets both your triceps and shoulders.
Overhead Tricep Extension
Slowly bend your elbows and lower the weight behind your head. Remember to keep your body upright and your core engaged. The weight should follow the path of your spine.
Then, at the lowest point, straighten your elbows and extend the weight back overhead. Hold the fully extended position for a moment, then repeat. Keep the movement slow and controlled.
READ ALSO: 10 Best Toned Arm Workouts for Women Over 50
Fat Reducing Workout
A "fat reducing" workout typically involves a combination of cardiovascular exercises and strength training to create a calorie deficit, which in turn can lead to fat loss.
In addition to building the muscles in your arms, to get rid of upper arm fat, you can work on reducing body fat overall.
Scientists know that the best way to do this isn't steady-state cardio workouts but high-intensity intervals (or HIIT).
For a HIIT workout, check out some of the HIIT below:
Is Protein the Key to Fat Loss?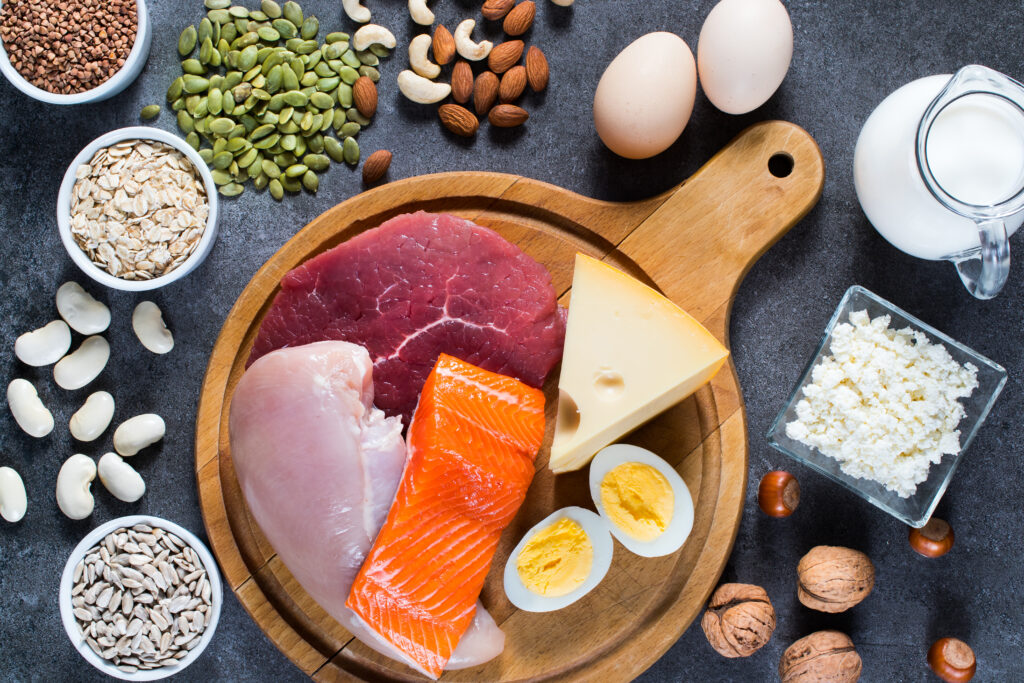 Is protein the magical key to fat loss? High-protein diets can help you lose fat because they affect your appetite, how much energy you take in, and how fast your metabolism works.
Have you ever noticed that eating a lot of protein, like a chicken breast, makes you feel full? That is how protein helps you feel less hungry.
Proteins are composed of amino acids, which are essential for cell growth and maintenance. While the recommended daily protein intake varies, older women aiming for weight loss and longevity might consider 1 gram of protein per pound of body weight.
As awesome as protein is, it's not a magic potion. Eating more protein while also feasting on cookies and chips won't make those extra calories disappear. Balance is key!
So, protein is very important and a big help when it comes to losing fat, but it is only one piece of the puzzle.
Remember that it is always about the big picture: eating good food with enough protein, getting enough sleep, and doing some fun exercises and weight training.
READ ALSO: How Much Protein Should I have A Day Women Over 50?
How to easily Add More Protein into Your Diet – Quick and Easy!
Whey protein is the best on the market for absorption and efficiency, however always make sure that you buy a clean source with one to three ingredients…All the rest is bad for you, and if you prefer sweetness, you are better to add yourself at home.
Hydrolysed collagen is perfect to add to your tea or coffee during the day as it is tasteless and stirs in clear.
Its a great idea to take a protein bar with you when you're out and about to snack on instead of bread and sugar.
My Top Picks for Protein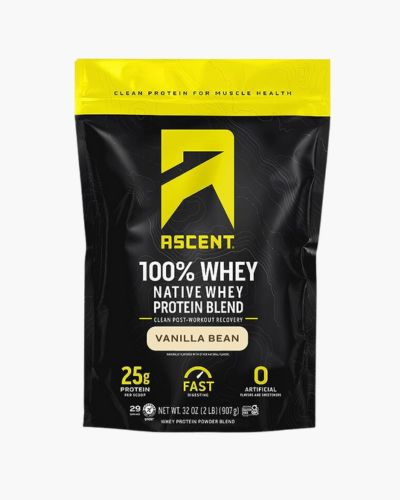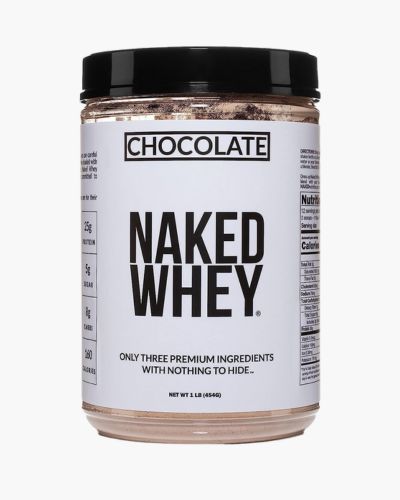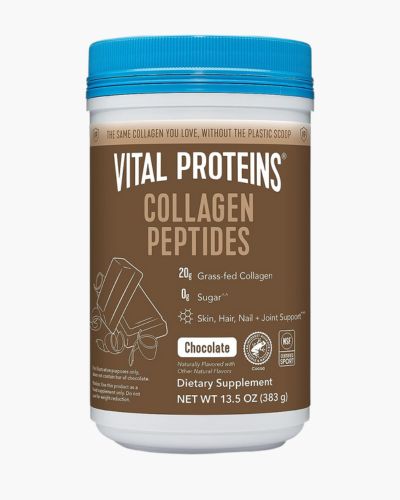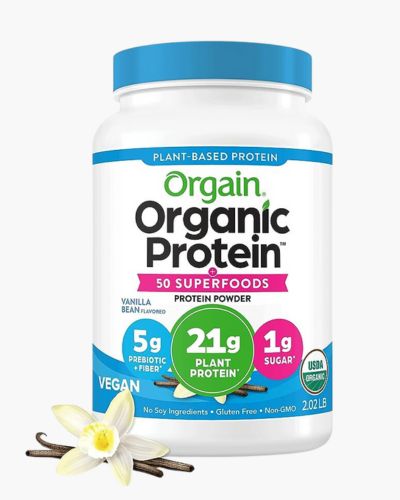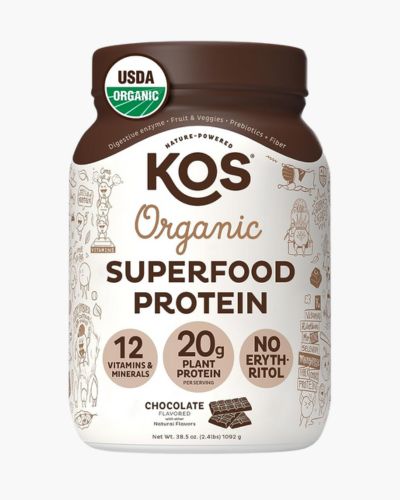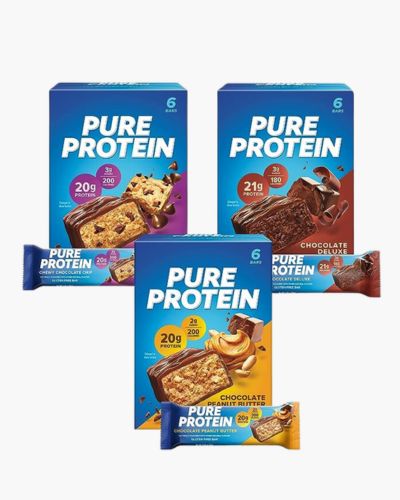 ---
I have gathered lots of tried and true fitness tips that can help tighten up parts of you that you feel you want to work on, from your legs to your abs to your glutes and thighs.
If you really want to get motivated to get fit, lose arm fat and burn fat off of your body this year (so you can enjoy smaller triceps, belly, and more), consider completing my 14-day fitness challenge — to get your body ready for summer.
In just 2 weeks of prioritizing your well-being, you can enhance your energy and fitness. By dedicating time and effort daily, you'll reaffirm your worth and dedication to self-care.
Click here to visit my YouTube Channel
What's your favourite way to get moving? I'd love to hear about your favourite arm workouts or overall tone-up routines in the comment below.