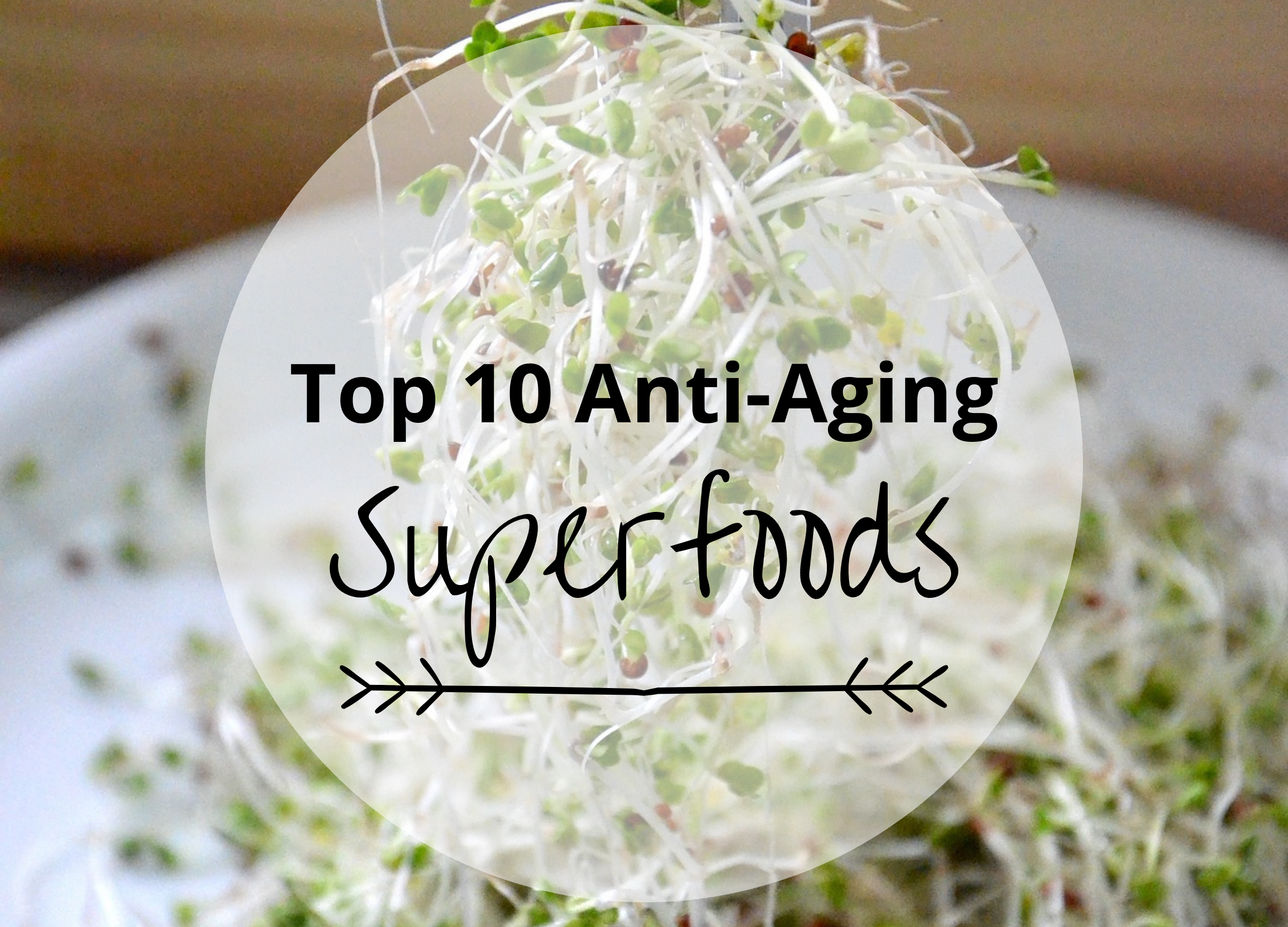 TOP 10 ANTI-AGING SUPERFOODS
FOR WOMEN OVER 50
Have you ever considered the benefits of anti-aging foods?
There are so many wonderful things about aging. Life experience, wisdom, rediscovering who we are…these are all beautiful gifts. However, the physical effects of aging aren't as pleasant. Thinning hair, wrinkly skin…you know what I mean.
WHY ANTI-AGING FOODS?
Many of us women over 50 frantically search for pills and medications that will reverse these symptoms of aging. While there is a place for certain vitamins and supplements in your daily routine, filling our bodies with the chemicals found in most medications can actually do us more harm than good.
That's why I am so passionate about the transformative powers of anti-aging foods. When we eat these age-defying superfoods, we feel the benefits from the inside out. That means that instead of just treating the symptoms of aging, we are actually treating the cause!
The top 10 anti-aging foods in this list are delicious and help to prevent (and even reverse) aging in a myriad of ways…
TOP 10 ANTI-AGING FOODS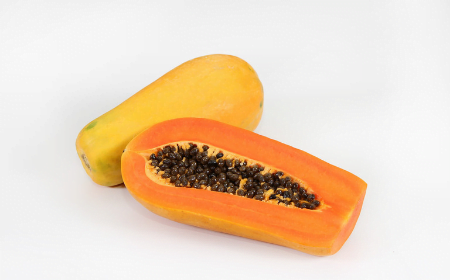 10. PAPAYA
If you're a fan of anti-aging fruits, then you'll love #10 on my list. Papaya is delicious and can help improve your quality of life as you age. This is because it contains…
Vitamin C: Most of us know vitamin C as the vitamin that helps boost our immune system. While this is true, it also helps to maintain collagen levels. This means that vitamin C helps our skin stay plump, firm, and wrinkle-free.
Potassium: Did you know that potassium helps keep our skin moisturized? When our skin is well-hydrated, it is less likely to dry, flake, and wrinkle.
Vitamin A: Like vitamin C, vitamin A also helps to increase collagen levels in our skin. By eating papaya, our skin gets a double dose of collagen!
Papain: Papain, an enzyme found in papaya fruit, is one of the most powerful natural anti-inflammatories. This enzyme is also one of the best kept anti-aging secrets. Papain fights free radical damage, which helps to prevents the onset of wrinkles, and internal inflammation. Inflammation speeds up the aging process and can cause chronic pain, illnesses and general poor health.
Water: Papaya is made up of a high percentage of water, which means that it keeps you well hydrated. When you're hydrated on the inside, it will help your skin age slower on the outside.
Special tip! If you rub papaya on flakey skin or skin tag, a couple of times a day…It will quickly disappear.
I love to eat papaya plain for breakfast, a snack, or dessert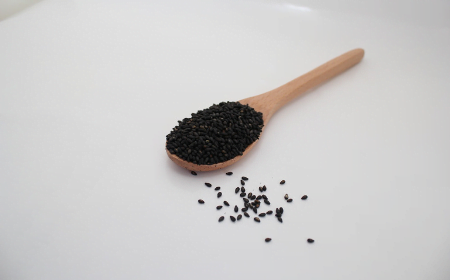 9. BLACK SESAME SEEDS
Black sesame seeds are a food that I only discovered later in life- but I'm so glad that I did! I had eaten regular sesame seeds a few times- especially in Asian foods- but had never heard of black sesame seeds. White sesame seeds are healthy, but black sesame seeds are much more potent anti-aging effects.
So, what's so special about black sesame seeds? They contain…
Antioxidants and phytochemicals: These ingredients have a long list of anti-aging benefits. They prevent against cancer, free radical damage, wrinkles and high cholesterol levels.
Copper: I had never thought of the health benefits of copper! Have you? As it turns out, copper is a powerful anti-inflammatory. As I mentioned earlier, anti-inflammatories play a crucial role in preventing signs of aging both internally and externally.
Melanin-producing compounds: These compounds help stimulate the production of melanin. What does this do? It helps prevent greying hair! Yep, that's right. You could trade in your box of hair dye for black sesame seeds! After all, anti-aging foods don't just help the skin and body.
Minerals: This anti-aging food has minerals like calcium and magnesium that strengthen bones. As we age, our bones tend to get brittle. Additionally, we heal much slower as we get older. That's why minerals like these are so important in anti-aging foods.
When it comes to aging, sesame seeds are an affordable, delicious and versatile superfood. If you're wondering how to eat black sesame seeds, there are so many options: sprinkle them over your salad, put them in chicken coating, mix them into bread recipes, make them into sauces…the list could go on!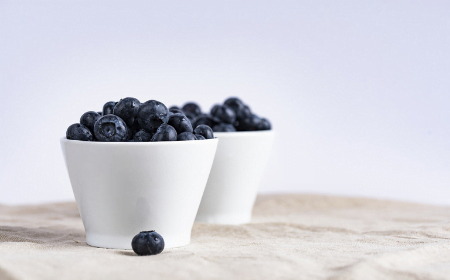 8. BLUEBERRIES
Who doesn't love some sweet blueberries? They are one of my favorite fruits, personally. I've eaten blueberries since I was young, but I only recently became aware of their amazing anti-aging benefits. Blueberries help prevent aging because of their…
Vitamin C: Vitamin C is a powerhouse when it comes to maintaining collagen production. When we think of vitamin C, citrus fruits are typically the first to come to mind. However, just one cup of blueberries contains 24% of the recommended daily intake of vitamin C.
Antioxidants: Did you know that blueberries contain more antioxidants than any other fruit or vegetable? Most of the antioxidants in blueberries are called flavonoids. In fact, the most prevalent type is anthocyanins. Anthocyanins are known to prevent free radical damage, fight inflammation, maintain collagen levels, keep blood vessels healthy, improve brain function and memory and prevent heart disease. If that wasn't enough, the antioxidants in blueberries also prevent oxidative DNA damage. Oxidative DNA damage is a natural part of the aging process that is responsible for the decline in our mental and physical health. Blueberries slow this process down. This means that they literally slow down aging! Even though they're #8 on the list, there's no arguing the anti-aging effects of blueberries.
There are so many different ways to enjoy this anti-aging food. You can add blueberries into yogurt, oatmeal, baked goods, smoothies and so much more. What's your favorite way to eat them?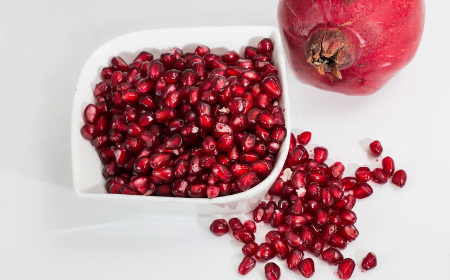 7. POMEGRANATE SEEDS
For the past few years, pomegranate seeds have become popular in the anti aging world . While they've been around for years, scientists have recently discovered that they are truly an anti-aging superfood. Here's why:
Vitamin C: The vitamin C found in pomegranate seeds help to keep skin plump, soft, hydrated, firm and wrinkle-free.
Ellagic acid: Ellagic acid helps to protect from free radical damage. Free radicals attack our cells and cause us to age quicker.
Punicalagin: You may not be able to pronounce it, but punicalagin is a powerful anti-aging ingredient. Punicalagin is a unique compound because it actually increases collagen production. Many other substances help to stabilize collagen production, but this compound actually makes more of it. Collagen is responsible for keeping our skin plump and full.
Antioxidants: Like blueberries, pomegranate also contains the antioxidant called anthocyanins. Anthocyanins do everything I listed above and they help protect against sun damage.
Pomegranate seeds can be eaten alone or added to things like salads, oatmeal, and yogurt. I love to have them for a mid-afternoon snack!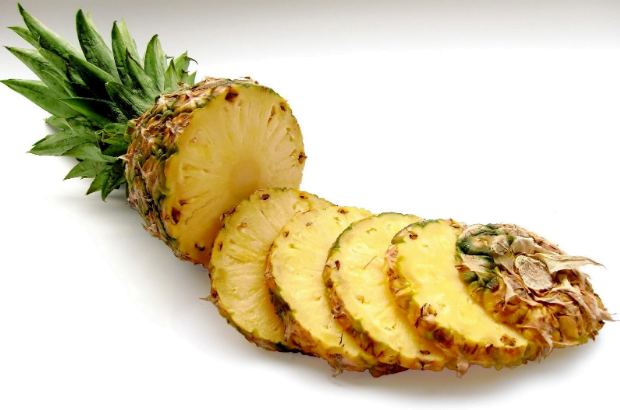 6. PINEAPPLE
Pineapple is rarely listed in anti-aging food lineups. However, it has some incredible anti-aging properties.
Pineapple contains…
Bromelain: Bromelain is an enzyme that acts as a powerful anti-inflammatory. In fact, bromelain is oftentimes prescribed to reduce swelling and redness after surgeries. Inflammation in the skin can make us look much older than we are.
Manganese: This mineral activates an enzyme called prolidase, which helps to form collagen. As we age, the amount of collagen in our skin naturally deceases, which leaves us with thin and saggy skin. Manganese can both prevent and help reverse this problem.
Water: Pineapples are 85% water. That means that they help you stay hydrated, which we all know is crucial for healthy skin. The more hydrated your skin is, the less dry and wrinkled it will become.
Pineapple is delicious when added to smoothies, yogurt, and fruit salads. You can also snack on it by itself!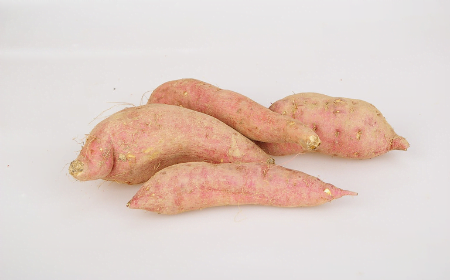 5. SWEET POTATO
Sweet potatoes are an incredible anti-aging food. They have long been toted as a health food- and for good reason! Not only are they a tasty alternative to starchy white potatoes, but they are packed full of vitamins and nutrients like…
Beta-carotene: Beta-carotene is found in most orange fruits and vegetables. It is a great source of vitamin A, which helps to control oil production, normalize pigmentation and increase collagen production. In short, vitamin A is arguably one of the best anti-aging ingredients you can find.
Vitamin C: Vitamin C helps your skin stay plump and firm.
Potassium and pantothenic acid: These ingredients are fabulous moisturizers. As we age, it's even more important that our skin stays well moisturized. During menopause, lack of estrogen can cause both dry and oily skin. Potassium and pantothenic acid are anti-aging ingredients that help both of these conditions!
Folate: Women of all ages are recommended to take folate. Pregnant women take folate to prevent birth defects. Women over 50 take folate to help improve brain function.
Sweet potatoes are an anti-aging food that can be eaten baked, mashed, fried and mixed into casseroles.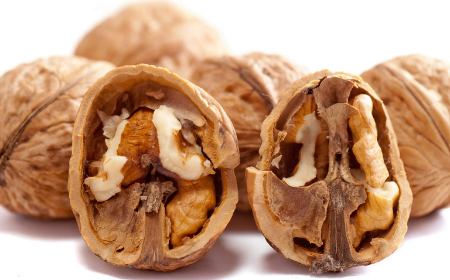 4. WALNUTS
Walnuts don't get enough praise. Oftentimes, health magazines claim that they're "unhealthy" because they're high in fats. But this is precisely what makes them such a fantastic anti-aging food! In fact we now know that high fat foods like walnuts are essential for healthy brain function.They contain…
Omega-3 fatty acids: Everyone needs enough omega-3s in their diet. These fatty acids have been known to improve brain function, increase good cholesterol levels, reduce inflammation and produce collagen. In short, omega-3s help prevent dementia, keep your body healthy and keep your skin youthful.
Phytochemicals: The phytochemicals found in walnuts are called polyunsaturated fats. These compounds help to prevent wrinkles and reduce risk of heart disease.
Walnuts can be eaten by themselves or sprinkled onto salads and desserts. I love pairing this anti-aging food with something sweet like fruit. The savory flavor of the walnuts really complement sweet fruit.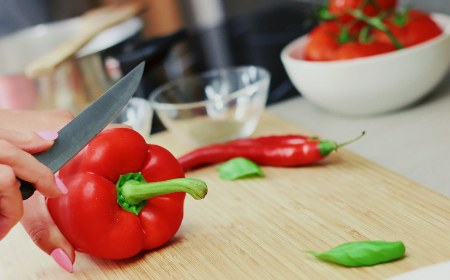 3. RED CAPSICUM (BELL PEPPER)
Red capsicum- or bell pepper as it's called in the states- is an underrated anti-aging food. It contains two anti-aging super-ingredients that can make a world of difference to your body:
Vitamin C: Who doesn't want plump, firm and resilient skin well into their 50's? Vitamin C will give you just that.
Carotenoids: Carotenoids are a type of antioxidant that prevent inflammation and environmental toxins, slow aging and improve vision.
By adding red capsicum into your daily diet, you can get the skin of your dreams! Plus, improved vision and slowed signs of aging never hurt anyone!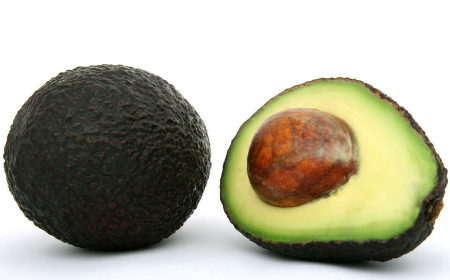 2. AVOCADO
I adore avocado. In fact, I love it so much that I've written about it on the blog before. It is one of the best foods to eat if you want moisturized and blemish-free skin. However, it's also a powerful anti-aging food. Here's why:
Carotenoids: The main type of caroteinoids found in avocado is called lutein. Lutein prevents UV skin damage and macular degeneration- a disease that causes loss of vision.
Boron: Boron is a mineral known to improve bone density, coordination and brain function. In fact, it's so potent that athletes oftentimes take it to enhance their performance.
Chlorophyll: This is the antioxidant that gives avocado- and other green fruits and vegetables- their lovely color. But it does much more than that. Chlorophyll is known to prevent free radical damage. Free radical damage quickens the aging process. So by eating an avocado a day, you will age slower!
Omega-3: These fatty acids reduce inflammation, improve brain function, increase collagen production and so much more. They are one of the best anti-aging ingredients.
Avocado can be eaten plain, but I prefer it on my toast, salads or mixed into guacamole. However, there are many creative recipes you can try by adding this creamy anti-aging food to smoothies and puddings. If you've ever added avocado to a drink or beverage, let me know in the comments!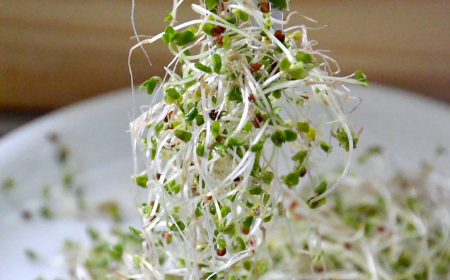 1. BROCCOLI SPROUTS
If you've been following my blog or YouTube for a while, then you will know that I am obsessed with broccoli sprouts. They are hands down the best anti-aging food in the world. And it's all thanks to one ingredient: sulforaphane.
Broccoli sprouts have more sulforaphane than any other food.
Sulforaphane is a compound found in many cruciferous vegetables. This miracle ingredient can…
Reduce inflammation
Increase brain function
Prevent cancer
Lower blood pressure
Reduce the risk of heart disease
Prevent heart attacks
Block environmental toxins
Boost energy
Can you see now why I adore broccoli sprouts?
Broccoli sprouts are an anti-aging food that I eat every single day. In fact, I grow them myself! Not only are they healthy, but they're affordable, too. If you want to learn more about how to grow broccoli sprouts, you can watch my video below.
However, there is one thing you must know about broccoli sprouts. In order to get the benefits from the sulforaphane, you must chew them! That is how the compound is released.
Pro Tip: Freeze your broccoli sprouts to make them even more potent!
ANTI-AGING FOODS ARE A MUST IN YOUR DIET!
I hope you liked this list of the top ten anti-aging foods. By incorporating just a few of these foods into your diet, you are guaranteed to see results fast. Let me know in the comments below: What is your favorite anti-aging food?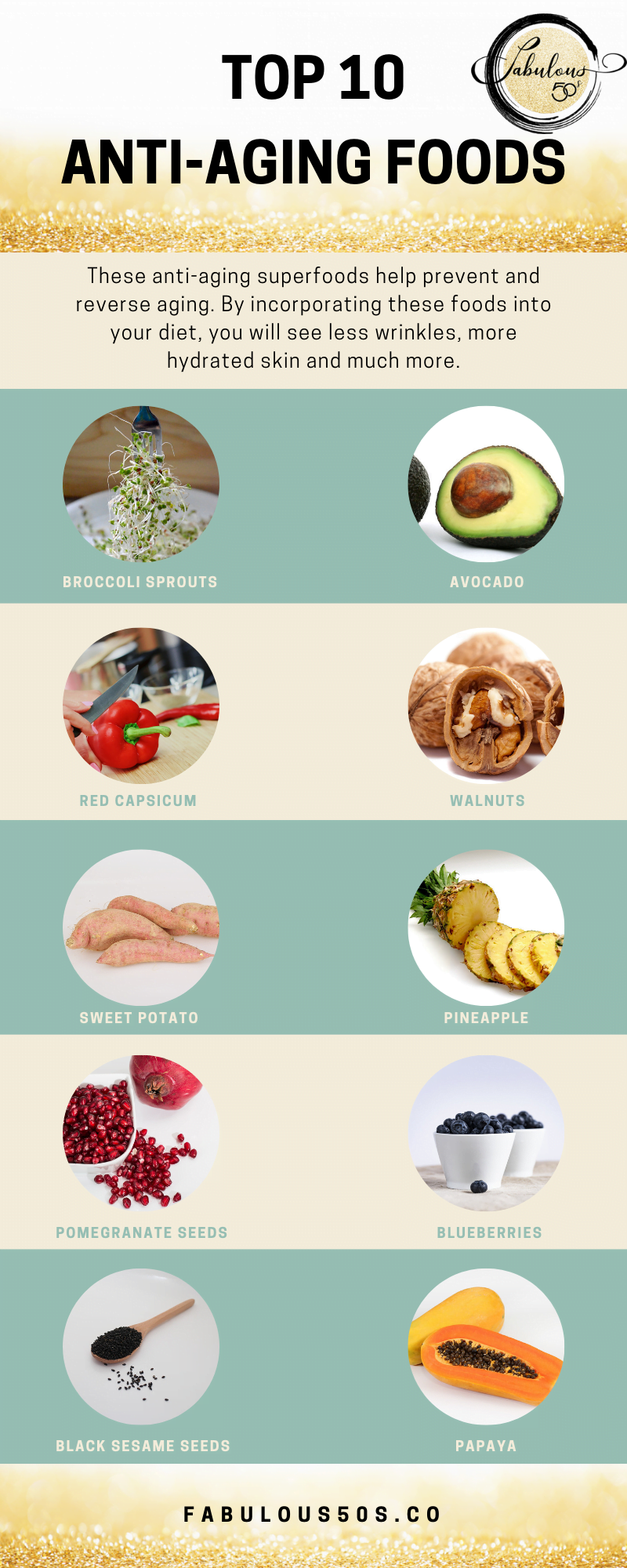 Check out my favourite fashion, beauty and lifestyle products for women over 50!
Join over 3,000 women over 50 on the fabulous 50s Private Facebook Community Group!