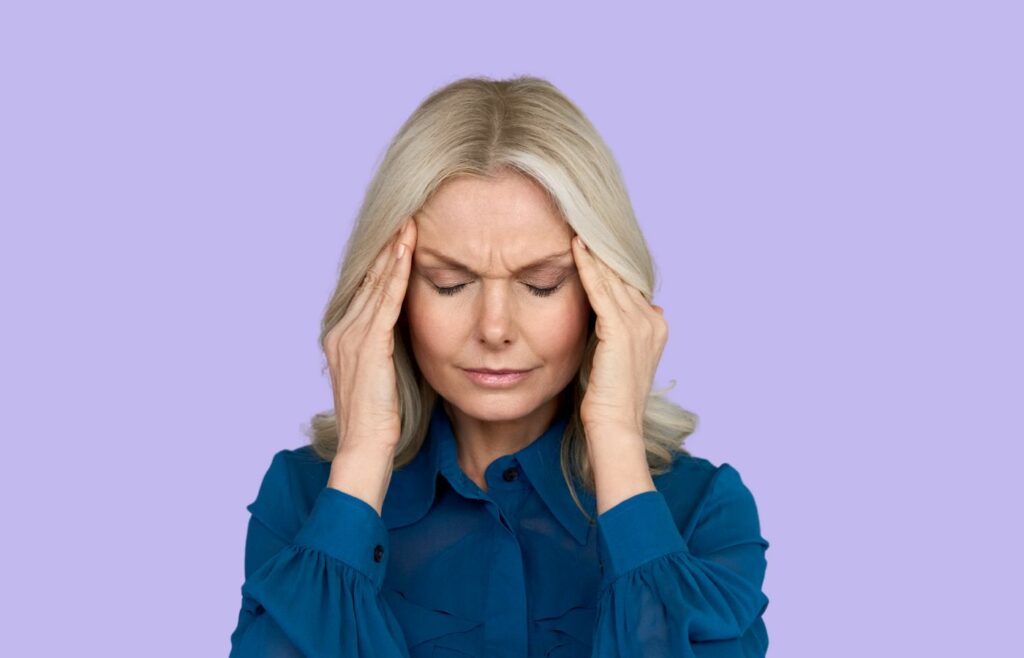 Menopause is natural, but it can cause depression. Women are more likely to experience depressive symptoms during perimenopause and early postmenopause, according to research. Due to hormonal changes and physical and emotional changes during menopause, this risk may increase.
Based on our recent survey on ????Menopause Myths????- What Women Really Think!, approximately 68% of women reported experiencing depression during this transitional phase. This significant finding highlights the prevalence of depression among women going through menopause.
Furthermore, the survey data indicates that women over the age of 50 are particularly susceptible to experiencing depressive symptoms. It also showed that menopause's emotional challenges require more awareness and support for women.
Depression during menopause goes beyond "feeling blue" or mood swings. It's a serious mental illness that can affect your life, relationships, and well-being. It's important to see a doctor if you think you're depressed during menopause.
When you understand the link between menopause and depression, you can manage your mental health and get the help you need during this difficult time.
Today, I'm going to share what I know about menopause and depression, including causes, symptoms, and treatment tips.
Symptoms of Depression During Menopause
Depression during menopause can show up in different ways, so it's important to know what to look for. During menopause, some of the most common signs of depression are:
Feelings of sadness or emptiness that don't go away
Loss of interest or pleasure in things you once enjoyed
Changes in weight or appetite
Sleep problems, like not being able to sleep or sleeping too much
Tiredness or not enough energy
Trouble staying focused, making decisions, or remembering things
Feelings of guilt, not being good enough, or being unable to help
Irritability or restlessness
Physical symptoms, like headaches or stomach problems, with no clear cause
Thoughts of death or suicide
If you have any of these symptoms, talk to your doctor. They can help you diagnose depression and choose the right treatment.
READ ALSO: Everything You Should Know About Perimenopause
Causes of Depression in Menopausal Women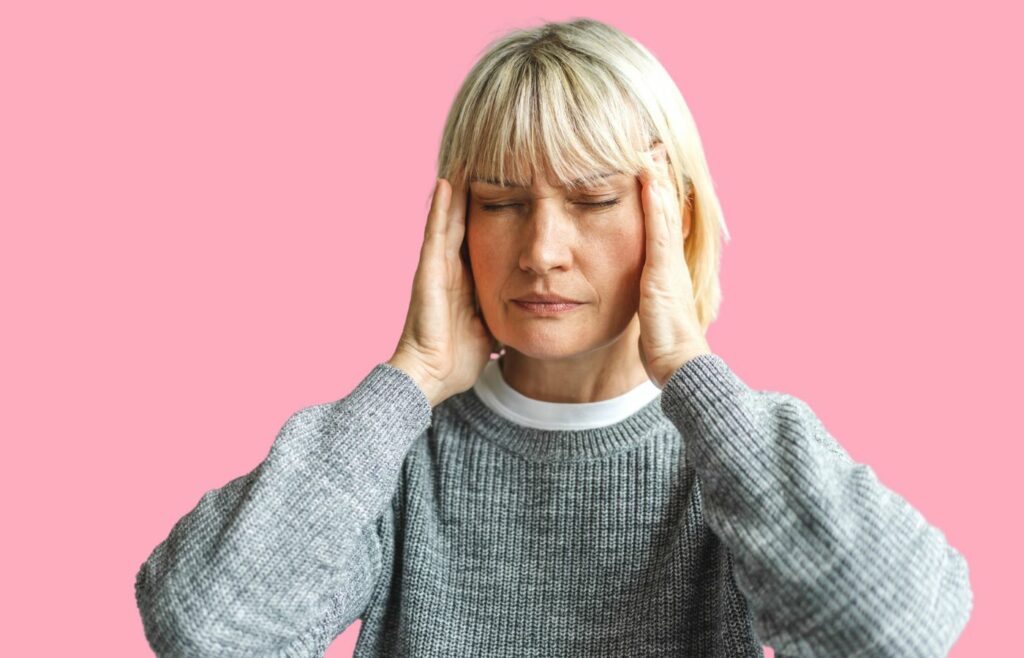 There are several factors that may contribute to the development of depression during menopause. Some of the most common causes include:
Hormonal Changes and Their Impact on Mental Health
Your hormone levels fluctuate during menopause, lowering estrogen and progesterone.
Many body functions depend on estrogen. Estrogen loss alters brain chemistry and mood-regulating neurotransmitters like serotonin. This can cause mood swings, anxiety, and irritability. Changes in hormones can disrupt the brain's delicate chemical balance, affecting emotional health.
Menopause can cause trouble sleeping and insomnia. The drop in estrogen could be causing these sleep problems. When you don't get enough sleep, your mood, irritability, ability to focus, memory, and mental health can all be affected.
During menopause, some women have "menopausal brain fog" or "menopausal memory lapses." These changes could make it harder to remember things, focus, and do more than one thing at once. These cognitive changes may be caused by hormonal changes, sleep disturbances, and other menopausal symptoms. Most of the time, these changes are mild and don't last long.
Due to changes in hormones and symptoms, mood disorders may get worse during menopause. During this stage, women may be more prone to depression and anxiety. Physical symptoms, sleep disturbances, and mood and cognition changes can affect a woman's quality of life. It's common to feel frustrated, out of control, and unwell.
Women going through menopause should be aware of and deal with the emotional and mental changes that come with this change. Menopause-related mental health issues can be managed with help from doctors, support groups, or counseling.
READ ALSO: How to Lessen the Psychological Effects of Menopause for Over 50
Non-Hormonal Factors Contributing to Depression
In addition to changes in hormones, there are other things that can cause depression during menopause that have nothing to do with hormones. These things could be:
A history of depression or anxiety
Mental health problems that are caused by genes
Stressful life events, such as losing a loved one, getting divorced, or losing a job
Chronic pain or health problems
Poor sleep due to menopause symptoms, such as hot flashes and night sweats
Aging and menopause-related weight gain can make people worry about how they look.
You can take control of your mental health and alleviate symptoms of menopause depression by learning about the various factors that contribute to this condition. 
READ ALSO: How You Can Find Balance During Menopause Over 50
Coping with Menopause-Related Depression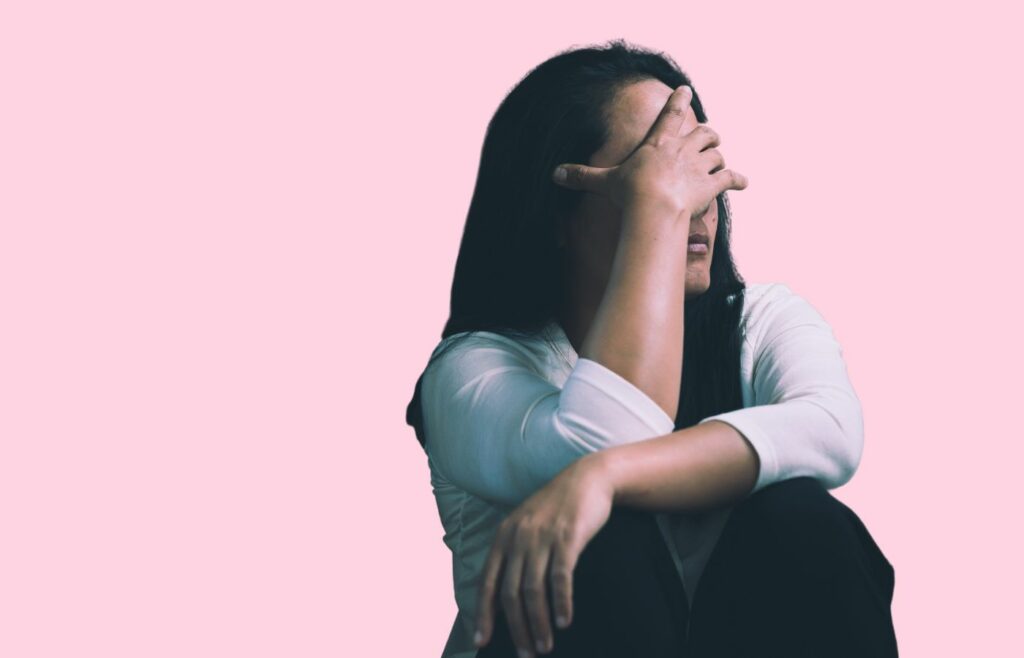 If you're depressed during menopause, there are several ways to manage your symptoms and improve your mental health:
Stay active: Exercise boosts mood and relieves depression symptoms. To stay motivated, aim for 30 minutes of moderate-intensity exercise most days.
Eat a balanced diet: A diet rich in fruits, vegetables, whole grains, lean protein, and healthy fats can help you manage menopause.
Get enough sleep: Establish a bedtime routine, make your bedroom comfortable, and avoid caffeine and nicotine before bed.
Practice relaxation techniques: Deep breathing, meditation, and yoga can reduce stress and promote calm and well-being.
Stay connected: Talk to friends, family, or support groups about your feelings and experiences. Menopause can be easier with social support.
Seek professional help: If you're struggling with menopause depression, seek help from a healthcare professional.
Treatment Options for Depression During Menopause
There are several ways to deal with depression during menopause, including:
Psychotherapy
Psychotherapy, which is also called "talk therapy," can help you figure out how to deal with depression by helping you explore your feelings and come up with ways to deal with them. Cognitive-behavioral therapy (CBT) and interpersonal therapy (IPT) are two types of psychotherapy that have been shown to be effective at treating depression.
Medication
Antidepressants like selective serotonin reuptake inhibitors (SSRIs) and serotonin-norepinephrine reuptake inhibitors (SNRIs) can help regulate mood and relieve depression symptoms.
Hormone therapy
Hormone therapy, also known as hormone replacement therapy (HRT) or menopausal hormone therapy (MHT), is a medical treatment that uses hormones to supplement or replace the hormones naturally produced by the body.
In some cases, a doctor may suggest hormone therapy to help relieve depression caused by changes in hormones during menopause. Hormone therapy can use estrogen alone or estrogen and progesterone together. These hormones can be given in different ways, such as pills, patches, gels, creams, or vaginal preparations.
But hormone therapy has some risks, so it's important to talk to your doctor about it to see if it's right for you. Since it's usually only given for a short time, it needs to be checked on and followed up on regularly. Before choosing hormone therapy, it's important to get a thorough evaluation and think about other treatments or changes to your lifestyle.
Alternative therapies
Alternative treatments for depression, such as acupuncture, massage, or herbal supplements, may help some women feel better. But you need to talk to your doctor before trying any alternative treatments to make sure they are safe and effective.
Closing Thoughts
Menopause is a normal transition in a woman's life, but it is not without its emotional toll. Understanding the signs and symptoms of menopause-related depression is crucial.
The best way to combat the negative effects of menopause on your mental health is to educate yourself on the many factors that contribute to it.
If you're struggling with depression during menopause, reaching out for emotional support and considering your treatment options can make a world of difference.
Always keep in mind that I'm rooting for you, and there are several resources to help you get through this.