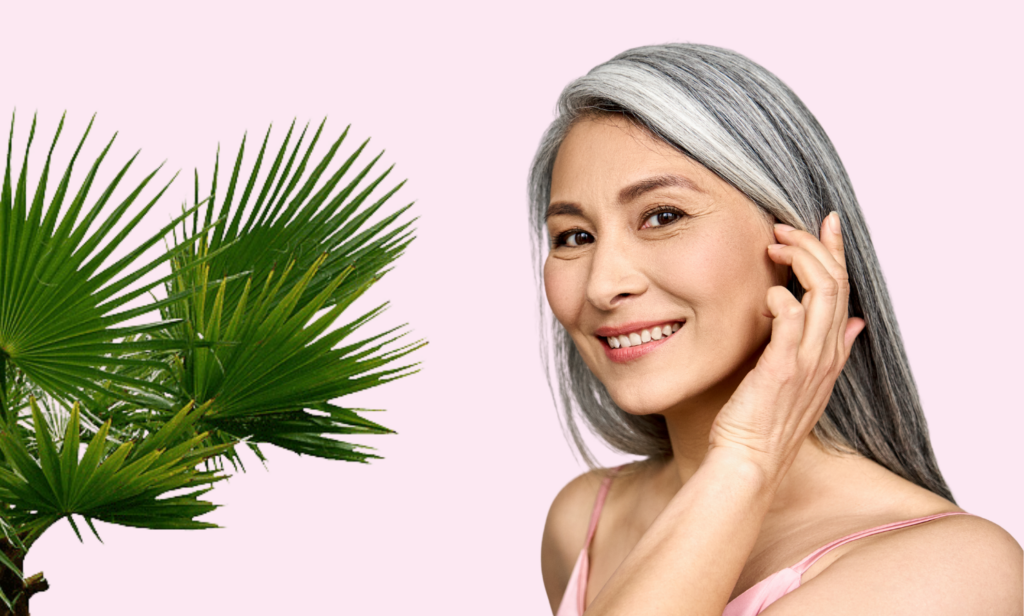 During menopause, many women experience hair loss, which can be upsetting. Fortunately, there are several treatments available to manage hair loss during menopause, and one of them is saw palmetto.
Hair loss is a common issue that affects both men and women. Due to changes in hormones, women are more likely to lose their hair during menopause.
Menopausal hair loss can show up in many ways, such as thinning hair, hair breaking, or bald spots. It can cause a woman a lot of stress and hurt her sense of self-worth and confidence.
Today, I'll be sharing everything I know about saw palmetto, including its benefits for menopausal hair loss.
Causes of menopausal hair loss
Menopause causes significant hormonal changes, which are primarily to blame for the hair loss that many women experience during this time.
One of the main reasons for hair loss during menopause is the decrease in estrogen and progesterone levels. These hormones are very important for hair growth because they help hair grow faster and stay on the scalp for longer. During menopause, their levels decrease, which slows hair growth and makes it more likely that strands will fall out.
On the other hand, when estrogen and progesterone levels decrease, androgens, a type of male hormone that all women have in smaller amounts, can increase. When there are more androgens in the body, the hair on the scalp can thin or even fall out. Sometimes, these hormones can also make hair grow in places you do not want it to, like the face.
Apart from changes in hormones, the natural aging process can also cause hair loss during menopause. As we get older, our hair grows more slowly and our hair follicles can get damaged, which makes our hair thinner and less strong.
Stress is also a major cause of hair loss. The time when a woman goes through menopause is often a stressful time for her. High levels of stress can cause hair follicles to go into a resting phase, which stops them from making new hair at a normal rate.
Changes in diet during menopause can cause nutritional deficiencies, like a lack of iron or vitamin B12, which are both important for keeping hair healthy. If you do not get enough of these nutrients, hair loss can happen.
Lastly, some health problems, like thyroid problems or polycystic ovary syndrome (PCOS), can make hair loss worse during menopause.
Given all of these possible reasons, it is very important for a woman who is losing a lot of hair during menopause to talk to a doctor. They can help find out what is going on and suggest the best way to treat it.
READ ALSO: Female Hair Loss: What Is It And How Can We Stop It?
What is Saw Palmetto?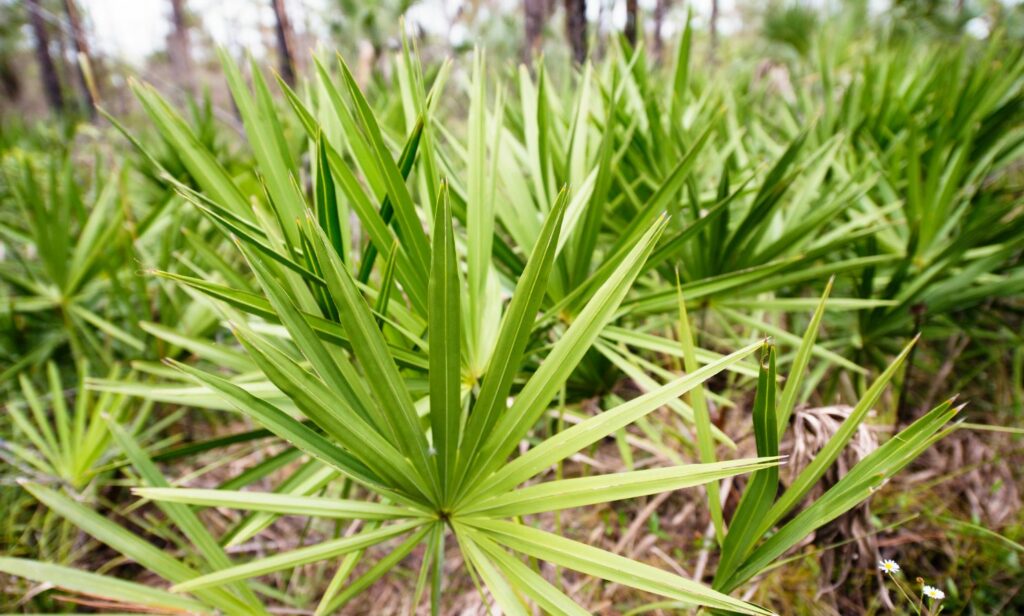 Saw palmetto is a plant that grows in the southeastern part of the United States. Native Americans have used it for hundreds of years to treat a variety of medical problems, including hair loss.
The science behind it is truly amazing. Saw Palmettos blocks 5-alpha-reductase, which converts testosterone into DHT, a hormone linked to hair loss. Doing this could slow down or stop hair loss. Imagine a natural way to keep your hair looking full and lush, even when you are going through menopause.
Even though the research is still very new, several human studies have shown that both taking Saw Palmetto by mouth and putting it on the skin can help grow back some hair. Saw palmetto is a plant extract that can be taken as a supplement or put on the skin.
Clinical studies have shown that it can help stop hair loss. It does this by stopping the action of androgens, which are hormones that are usually associated with men and cause hair loss in men. This means that it could be especially helpful during menopause.
Saw Palmetto's anti-inflammatory properties also soothe the scalp and reduce dandruff, promoting hair growth. In addition, Saw Palmetto has been used for centuries to support prostate health, bladder function, and hormone balance during menopause.
For menopausal hair loss, the recommended amount of saw palmetto is 160 mg twice a day. You can also choose a supplement that has about 300 mg of Saw Palmetto extract per dose to make it work better. It is important to stick to the recommended dose and not go over it, because doing so can be bad for your health.
Saw palmetto comes in capsules, tablets, and liquid extracts, among other things. It is important to choose a reputable brand and make sure that the product is standardized to have at least 85–95% fatty acids and sterols.
---
Product Recommendations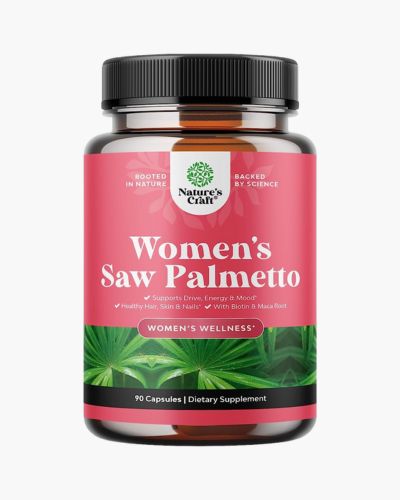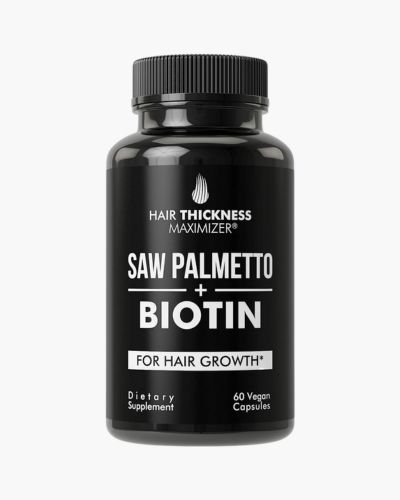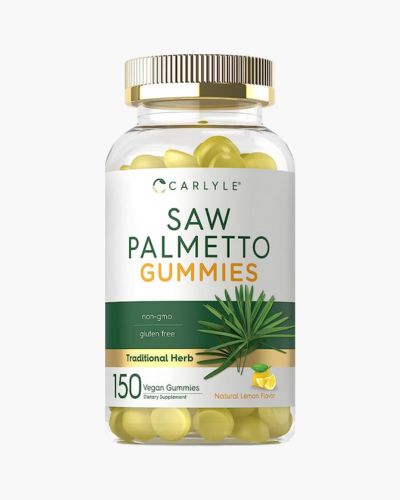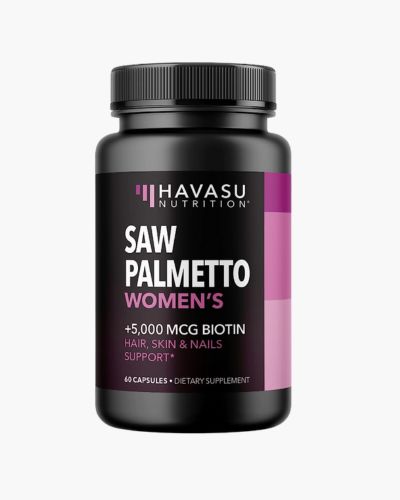 ---
Saw Palmetto vs Other Hair loss Treatments
Saw palmetto is a natural treatment for hair loss that most people think is safe. Unlike other treatments for hair loss, such as minoxidil and finasteride, saw palmetto has no known side effects. It is also cheaper than other treatments and easy to get without a prescription. But it is important to know that saw palmetto might not work for everyone and might take longer than other treatments to show results.
Saw palmetto is generally thought to be safe, and no known bad effects have been linked to it. But some people may have mild stomach problems like feeling sick, throwing up, or having diarrhea. If you have any bad effects, stop taking it and talk to a doctor or nurse.
READ ALSO: Do Hair Loss Supplements Work For Women Over 50?
Other Natural Remedies for Menopausal Hair Loss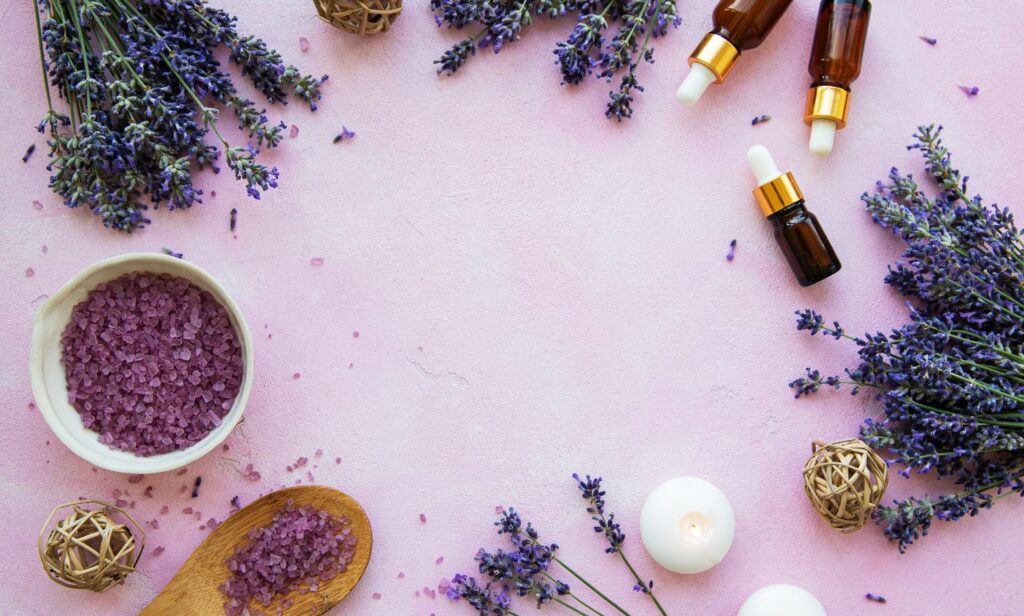 Aside from saw palmetto, there are other natural remedies that can help with hair loss during menopause. These include:
1. Biotin
Biotin is an important B vitamin that helps hair grow. It is found in foods such as eggs, nuts, and whole grains. Biotin supplements can also help hair grow and stop it from falling out.
2. Zinc
Zinc is an important mineral that helps hair grow and repair itself. It can be found in oysters, beef, and spinach, among other things. Taking a zinc supplement can also help keep hair from falling out.
3. Essential oils
Lavender, rosemary, and peppermint are all essential oils that can help hair grow and stop hair loss. Add a few drops to shampoo or massage them into the scalp to use them topically.
Closing Thoughts
Saw palmetto is not your average plant. It has a lot of benefits, and one of them seems to be that it might help with hair loss during menopause. This plant that no one knows about could be the answer we have all been looking for.
Even better is how easy it is to add saw palmetto to your daily routine. It comes in the form of supplements, teas, and even oils that you put on your skin. It is like having a personal remedy for hair loss right at your fingertips!
While we are excited about this natural solution, it is important to remember that everyone reacts differently to treatments. Miracles work differently for different people. Always consult a doctor before starting a new regimen.
Is Saw Palmetto the best treatment for menopausal hair loss? While more research is needed to prove its efficacy, early results are promising! We may be on to something revolutionary.
A natural, accessible treatment for menopausal hair loss?
Now that's something to get excited about!
♡ Love ♡,
Schellea
---
All products featured on Fabulous50s are independently selected by Schellea and our editors. However, when you buy something through our retail links, we may earn an affiliate commission.