As you may have noticed, the makeup trends in 2021 are shifting towards effortless makeup techniques. This mainly includes dewy skin, untamed brows, and a natural no-makeup makeup look.
Like most of us, you must be looking forward to getting out more once the pandemic is over. If so, this is the right time to get yourself acquainted with the top makeup trends for 2021 for mature skin.
Following the new effortless and natural makeup trends, we have come up with the top 5 makeup trends for mature skin you'd love to try in 2021. So read on!
Though we all know that aging comes with some brilliant privileges e.g. wisdom and experience, it also comes with a need for extra care for our skin and body. As we mature, our skin changes and with that change comes a need to update our lifestyle, including our makeup application methods.
Before we dig deep into the top makeup trends of 2021, let's have a quick overview of why you need special attention for mature skin makeup?
With the advancement of age, the natural oils of the skin start to deplete, which causes fine lines and wrinkles.
The hormonal changes also result in the skin becoming dry.
If not taken care of, our skin is likely to look dull and create an unhealthy complexion.
It may seem difficult to keep up with modern beauty trends, trying to adapt to keep up with what's popular. To help you take the guesswork out of your makeup routine, these are the top makeup trends to help your mature skin achieve a fresher, brighter, and effortless look of 2021.
USE A LIGHT FOUNDATION
We'll start with our foundation as this is the first step in any good makeup routine.
Choosing the right foundation is of prime importance. A weak foundation will topple your otherwise painstakingly applied makeup, leading to mid-day malfunctions. For mature skin, a lighter foundation is a great place to start your makeup routine as it will allow the skin to breathe and will have a much lower chance of 'caking'.
Even if coverage is your number 1 concern, the key here is less is more. Besides, you can always add layers to achieve the coverage you desire for your skin.
Why avoid heavy coverage?
A heavy coat of foundation will make wrinkles and lines look and feel more prominent, exposing skin imperfections such as pores, fine lines, and wrinkles. To avoid this, opt for a foundation that is;
Lightweight
Water-based
Oil-free
Mature skin tends to be a little drier so you should also be using a hydrating base to maintain surface hydration. Applying a moisturiser before your foundation will help promote a healthier complexion and allow the foundation layer to sit more evenly. Check out these foundation application tips and techniques to make sure you are applying your foundation in a way that minimises and disguises wrinkles and fine lines.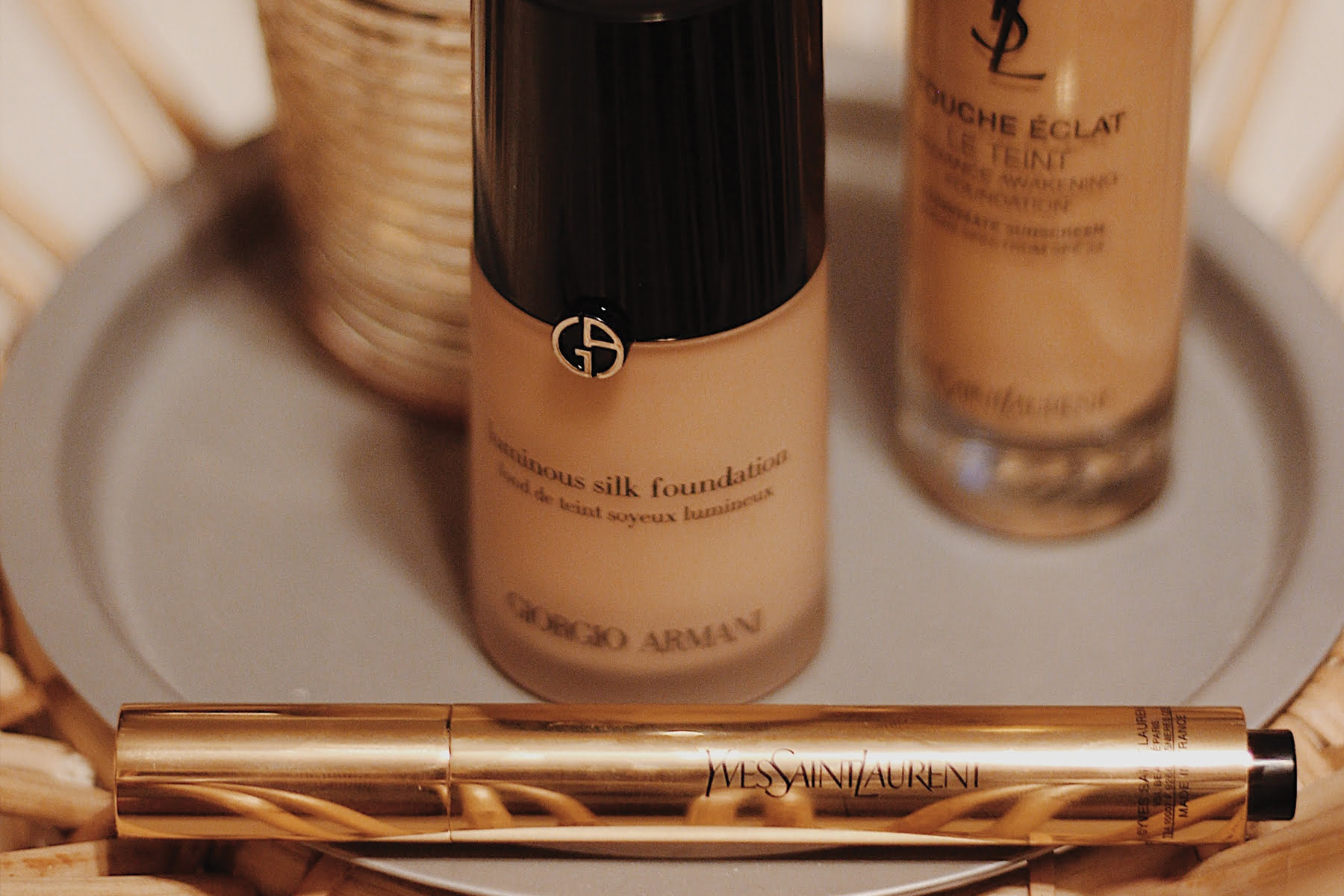 GIVE YOUR EYES A NATURAL LIFT
Mature skin has a naturally decreased supply of collagen which is responsible for keeping the skin taught and supple. The opposite of taught and supple is of course loose and droopy, which is not ideal. One particular area that is affected is the delicate skin just above the eye, which has a habit of hanging over the eyelid creating a hooded eye. This poses a new problem for makeup application and many of our tried-and-true makeup techniques for masking a slight skin problem will work to no avail.
It's all about adapting and introducing new makeup application techniques to help us overcome these issues. One such technique is the mini-eye lift using just an eyeliner and a strategically placed line. Whether you apply makeup on daily basis or you are a beginner, check out this eyeliner tutorial for mature eyes, to achieve an instant lift for mature eyes!
https://www.youtuhttps://www.youtube.com/watch?v=CLypZYLIGZY&ab_channel=fabulous50sbe.com/watch?v=XHOmBV4js_E
USE A CREAM BLUSH FOR A GORGEOUS GLOW
Highlight, blush, and contour play an important role in everyday makeup, and as we mature these elements becoming increasingly important.
As our skin barrier naturally deteriorates, surface hydration is lost, and fine lines and wrinkles become more and more apparent. While we can take steps to mitigate the effects of ageing, using a cream blush in our makeup routine will help dimmish the signs of age instantaneously.
Additionally, the way you apply your blush plays a big role as well. Makeup experts have come up with ingenious techniques of makeup for mature skin by the application of blush that promotes a brighter and more youthful look. The idea is to avoid caking up your skin but rather highlight the features that would give you a youthful look. There is a great variety of cream blushes available online for you to choose from. Pick the one that suits you best and regain your lost radiance and rosy glow on your face. Check out this video to make sure you are applying your cheek makeup the right way.
Here are some popular names:
USE AN ALL NATURAL, AT HOME FACE MASK!
In today's world we are spoiled for choice when it comes to skincare. With offerings ranging from 100's of dollars to more accessible options like The Ordinary, high quality skincare is now something everyone can partake in, no matter the budget.
Modern skincare has been built around the effectiveness of ancient skincare traditions, all with a generally diluted and synthetic variation as the final product. Vitamin A can be derived from milk, for example, however milk doesn't sit well for months on end in a tiny jar on your bathroom sink.
An at home skincare fix is an excellent way to inexpensively and naturally cater to our ageing skin with very similar results.
Something you can do today to treat you and your skin is mixing up an at home face mask!
Here are two widely used and easy-to-make face masks with natural ingredients you probably already have lying around!
Turmeric + curd
Turmeric is a natural root that strengthens the skin's natural beauty and the lactic acid of the curd provides anti-aging properties.
Preparation and application: Add a pinch of turmeric in a spoonful of curd. Apply on the face after mixing well. Let it sit for 10 minutes before rinsing off.
Honey + cocoa powder
Honey will smoothen the skin giving a wonderful natural glow. The cocoa powder will give your skin many healthy nutrients.
Preparation and application: Mix honey and cocoa powder 1 teaspoon each with few drops of milk to acquire a good thick consistency. Apply on face for around 15 minutes and rinse off.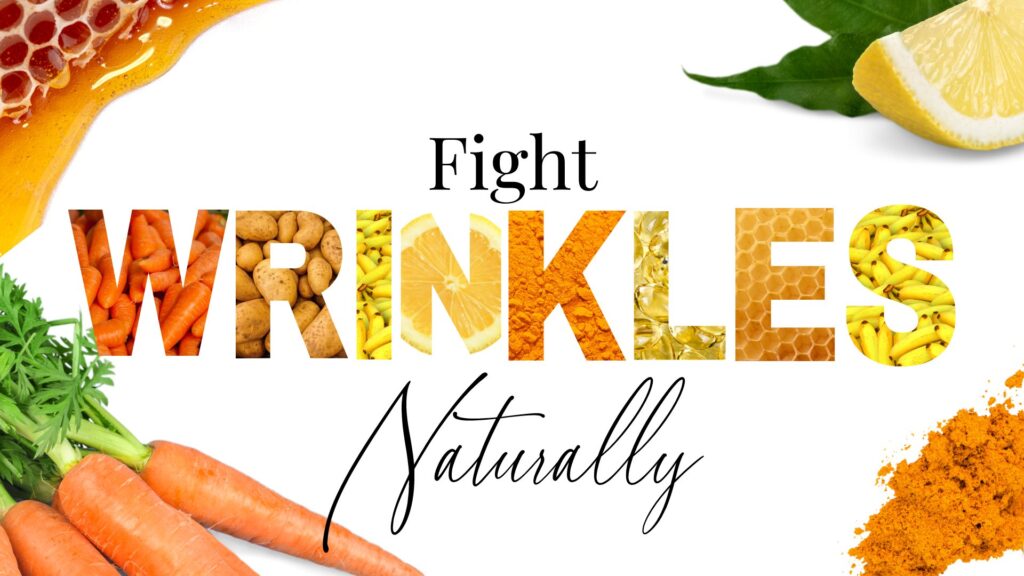 USE A FACE POWDER
I most cases, our face is not perfectly symmetrical meaning some features we would like to diminish stand out while others we would like to showcase are less prominent. Luckily for us there is a way to rectify this using makeup.
Applying our makeup in just the right way can have illusory effects on our visage and help us to achieve perfect facial proportions. To do this, we're going to be focussing on our T region.
So, what is a T region?
As the name suggests, our forehead, nose, and chin make up a T-shaped region of our face, called the T-region. A light dusting of your regular face powder in this T region of your face helps to create a soft glow in this area for an effortless look that is anti-ageing and revivifying. Applying your face powder here also lowers the appearance of wrinkles and lines
If you aren't currently using a face powder, selecting one can be a difficult task. Check out this link to choose the best face powders for mature skin.
Once you've picked your powder, it's time to put it to work through a fine dusting. Buff a bit of powder in your T-region. Not only will it help highlight your T region but will also keep your T-zone matt which is perfect for those with oily T-region.
Remember, for mature skin makeup, the covering of wrinkles, pores, and fine lines is important without causing creases or an overly coated look.
By following these top 5 makeup trends for mature skin, you can bring a perfect balance to your skin that shows off your beautiful face and give you a rejuvenating and youthful look!