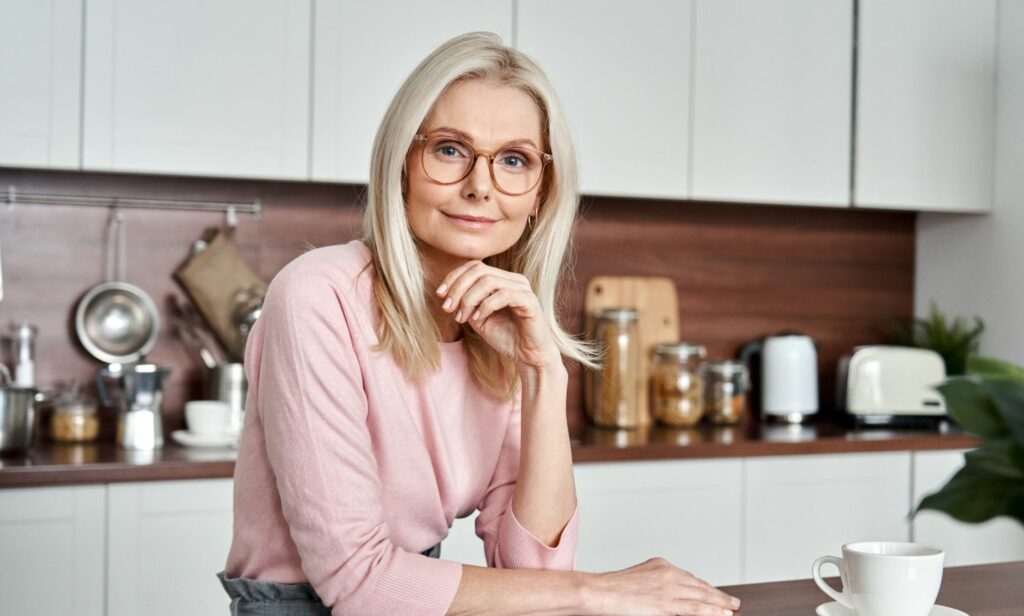 So, you have decided it is time to put your health first and you are ready to start a weight loss journey. Good job! But have you thought about how important it is to set up your kitchen for weight loss success?
The kitchen is the heart of your home. It is where you make all of your meals and snacks. It is a place where what you eat can either help or hurt your efforts to lose weight.
So, it is important to make sure your kitchen is set up in a way that makes eating healthy easy and fun.
Today, we will talk about how you can transform your kitchen into a place that supports your weight loss goals. These tips will help you on your journey, whether you are just starting out or looking for ways to make more progress.
Why Set Up Your Kitchen for Weight Loss?
What makes the kitchen setup so important for weight loss? The answer lies in the idea that "if you can not see it, you cannot remember it."
People are more likely to eat foods that are easy to see and get to, according to research. So, if you keep unhealthy snacks and meals in your kitchen, you are more likely to eat them.
On the other hand, if the healthy foods you keep in your fridge or pantry are the first things you see when you open them, you are more likely to choose them when you are hungry.
A well-organized kitchen can also make it easier and less stressful to prepare meals. It is easy to make healthy meals when you know where everything is and have all the tools you need on hand.
Lastly, a kitchen that is set up to help you lose weight can help you start and keep healthy eating habits. It is a constant, visible reminder of your commitment to your health and well-being.
Steps to Organizing Your Kitchen For Weight Loss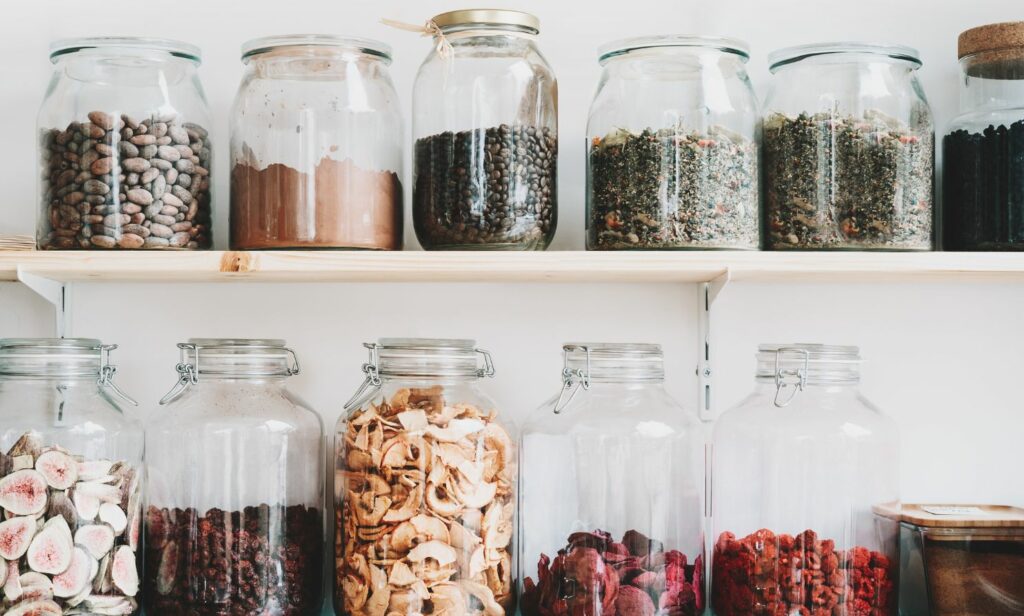 Setting up your kitchen so you can lose weight does not just mean cleaning and decluttering. It is all about making it convenient to eat well and encouraging a culture of healthful eating.
The first step is to get rid of all the junk food in your kitchen. Swap them out for healthier options that support your weight loss objectives.
The next step is to set up your kitchen in a way that makes eating healthily an easy option. For example, keep fruits and vegetables in your fridge in clear containers at eye level. Store whole grains, beans, and other healthy staples in clear jars in your pantry.
How you store your food can also be a big part of your plan to lose weight. If you keep healthier foods at eye level in your fridge or pantry, you are more likely to grab them when you are hungry. 
Lastly, make sure that your kitchen is a nice place to spend time. You could do things like install bright lights, clear off your countertops, and decorate with things that bring you joy.
READ ALSO: Decluttering After 50: Tips To Help You Stay Organized
Essential Kitchen Tools For Healthy Eating
A well-stocked kitchen can make cooking healthy meals easier and more fun. Here are some important tools you should consider:
A Good Set of Knives: A sharp, good-quality knife can make preparing food safer and faster.
Food processor: This handy tool can help you make everything from homemade hummus to fresh salsa.
Blender: Perfect for making smoothies, pureed soups, and more.
Steamer Basket: Steaming is a healthy way to cook vegetables, fish, and other foods with little fat.
Measuring Cups and Spoons: These are essential for portion control, which is key for weight loss.
Recommended Healthy Food Items For Women Over 50
What you eat is just as important as how much you eat when you are trying to lose weight. Here are some healthy foods that you might want to keep on hand:
Lean Proteins: These will keep you feeling full and help maintain your muscle mass. Chicken breast, turkey, fish, eggs, tofu, and low-fat dairy are all good examples.
Whole grains: They are high in fiber, which can help you feel full and control your hunger. Brown rice, quinoa, whole-grain bread, and oats are all examples of such foods.
Fruits and vegetables: These are low in calories and high in vitamins, minerals, and fiber.
Healthy Fats: Foods with healthy fats, like avocados, nuts, seeds, and olive oil, can help you feel full and improve your health as a whole.
Smart Grocery Shopping Tips For Weight Loss
Smart shopping can make a big difference in your efforts to lose weight. Here are some tips:
Make a List and Stick to it. A list can help you avoid buying things on a whim.
Shop around the corners of the store. This is where you will usually find fresh produce, lean proteins, and dairy products.
Read the labels. Look for products with short lists of ingredients and avoid those that have a lot of sugar or fats that are bad for you.
READ ALSO: 8 Reasons To Start Meal Planning Today 
Healthy Meal Prep Ideas for Women Over 50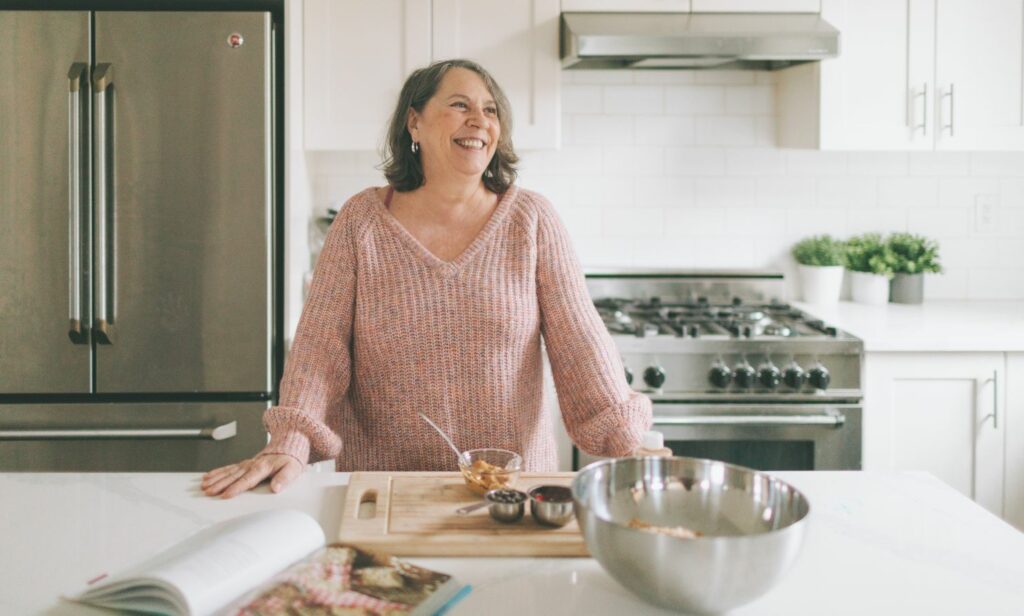 Meal prep is the process of planning, preparing, and organizing meals (or parts of meals) in advance. It is a good way to save time, get a better handle on your diet, stick to a certain diet plan, or avoid having to think about what to cook every day.
Meal prep can save you time and make healthy eating easier. Here are some ideas:
Batch Cooking
This involves preparing a specific meal in large quantities, then dividing it up into individual portions that can be stored in the refrigerator or freezer.
You can prepare meals ready to heat and eat throughout the week. Batch cooking makes sure you eat well-balanced meals regularly. You can save money on batch cooking by buying your ingredients in bulk.
How to Do It:
Choose meals that freeze and reheat well, like soups, stews, or casseroles.
Use portioned containers to separate meals. Label containers with dates and meal names.
Food safety is important, so let food cool down before putting it in the fridge, and do not leave it out for long periods of time.
Prep the ingredients ahead of time
Instead of making whole meals, you can make parts of them. This includes things like chopping vegetables, marinating meat, and getting grains ready to cook.
You can mix and match different parts to make different meals. When you have all the ingredients ready, cooking takes less time on busy nights.
How to Do It:
Use clear containers to store chopped vegetables so you can see what you have.
Cook grains (like quinoa, rice, or pasta) ahead of time.
Add flavor and reduce cooking time by marinating proteins.
Plan Your Meals
This means making a plan for your meals for the week, taking into account things like dietary needs, personal preferences, and time constraints.
When you plan your meals, you do not have to worry every day about "what is for dinner?" It helps you keep your diet goals in mind. With a plan, you can shop quickly and avoid buying things you do not need.
How to Do It:
Make a weekly meal plan. Consider themed nights like "Meatless Monday" or "Taco Tuesday" for ideas.
Create a grocery list based on your plan to ensure you buy all the necessary ingredients in one trip.
Change plans as needed; if an emergency arises, swap meal days or have backup meal options.
Additional Tips for Successful Meal Prep
Start Small: If you are new to meal prep, start with just a few meals or ingredients.
Invest in good containers. Airtight, leak-proof containers of different sizes can make it easier and more organized to store your prepared food.
Safety first. Make sure food is stored at safe temperatures and eaten within the recommended timeframes.
Mix things up by switching recipes every week or every two weeks to keep meals from getting boring.
Remember, the goal of meal prep is to make your life easier and your dietary choices more consistent. It's flexible, so find an approach that fits best with your lifestyle!
Closing Thoughts
Setting up your kitchen for weight loss success is not a one-time job. It is a change in lifestyle that requires ongoing effort.
But with the right plans, you can turn your kitchen into a place that helps you lose weight and live a healthier, happier life.
The journey to losing weight starts right in your kitchen. How you set up and use this space can have a big effect on what you eat and how healthy you are overall.
So, ladies, let us start this journey together and make our kitchens places that make it easier to make healthier choices and lose weight.
Remember that losing weight is a journey, not a destination. Celebrate any progress, no matter how small, and do not forget to enjoy the process.
After all, there is more to healthy living than just losing weight. It is all about feeling good, having energy, and enjoying life to the fullest.