Lentil Salad Recipe – Easy to prepare and full of flavor.
Is grilling vegetables one of your favorite things? If so, this salad is for you!
This lentil salad recipe is healthy and filling and an easy to make meal.
The lentils taste great, while the grilled vegetables add a smoky flavor to the salad. You just might be surprised at how delicious they are – and how good they are for you!
What Beans are Lentils
Lentils are a type of bean, and like all beans, they are a great source of protein and fiber. They come in a variety of colors, including green, brown, and red, and they have a slightly nutty flavor.
Lentils are often used in soups and stews, but they can also be added to salads or simply cooked and served as a side dish. Because they cook quickly and don't require pre-soaking, lentils are a convenient and healthy addition to any meal.
Are Lentils Healthy
There are many reasons to love lentils. Not only are they delicious and versatile, but they're also packed with nutrients that can benefit your health in a number of ways.
For starters, lentils are an excellent source of fiber and may even help to reduce cholesterol levels, and stabilizing blood sugar levels. It's an ideal food for those watching their weight and aiming to lose belly fat.
They have also been linked to a reduced risk of heart disease and cancer.
Plus, lentils are rich with anti-aging Zinc, good for overall skin health.
So next time you're looking for a healthy and delicious way to add some extra nutrition to your diet, make sure to give lentils a try.
???? Pin it before you forget! Save this recipe to your Healthy Recipes Board on Pinterest!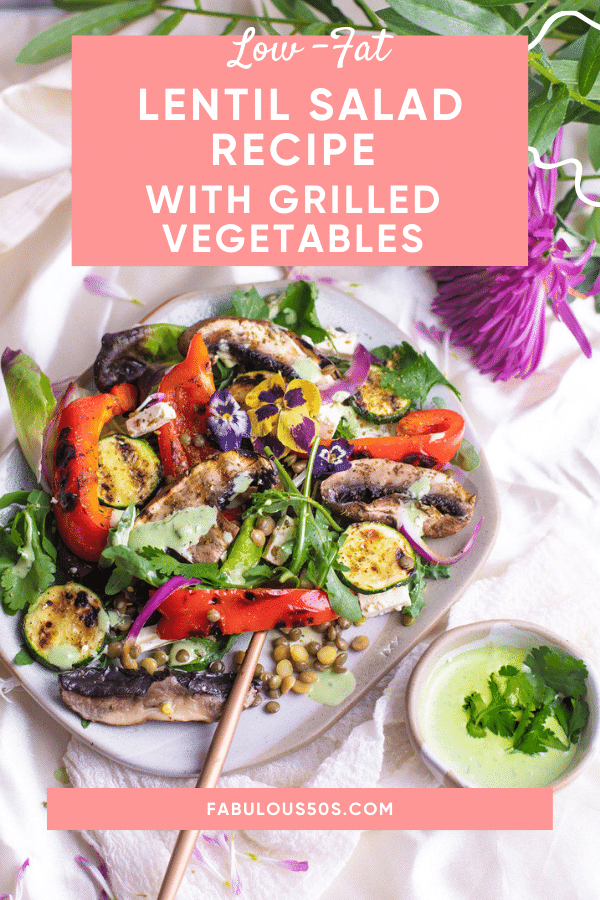 How to Make Lentil Salad
INGREDIENT LIST
1 Red Bell Pepper (cored and sliced)
1/2 cup Red Onion (coarsley chopped)
1 Zucchini (sliced into rounds)
1 cup Portobello Mushroom (sliced)
1 1/2 tsps Extra Virgin Olive Oil
Sea Salt & Black Pepper (to taste)
2 tbsps Cashews
1/2 Lemon juiced
1 1/2 tsps Tamari
1/2 cup Parsley
1 tbsp Water
1 1/2 tsps Red Wine Vinegar
4 cups Mixed Greens
1 cup Lentils (cooked, drained and rinsed)
1/4 cup Feta Cheese (crumbled)
PREPARATION
Preheat grill to medium-high.
Add red peppers, onion, zucchini and mushrooms to a large bowl. Toss with extra virgin olive oil then season with sea salt and black pepper to taste. Transfer to a grilling basket and place on the grill. Toss occasionally for 10 to 15 minutes or until veggies are slightly charred.
Meanwhile, prepare the green cashew dressing by combining cashews, lemon juice, tamari, parsley and water in a blender or food processor. Blend very well until smooth. Set aside.
Remove veggies from the grill and toss in red wine vinegar.
Place mixed greens in a large salad bowl. Spread the lentils and grilled veggies over top. Drizzle with desired amount of green cashew dressing and top with crumbled feta. Toss well before serving. Enjoy!
NOTES
NO LENTILS: Use chickpeas or black beans instead.
VEGAN: Omit the cheese and top with toasted cashews instead.
SAVE TIME: Chop all vegetables in advance and store in the fridge until ready to grill.
LEFTOVERS: Store in the fridge up to 3 days. Repurpose into grilled veggie wraps with hummus.
If you're in the mood for a light, healthy, and tasty salad, this Low-fat Lentil Salad Recipe with Grilled Vegetables is perfect. The smoky flavor of the grilled vegetables pairs perfectly with the earthy lentils, making for a delicious and satisfying meal.
So fire up that grill and give this recipe a try! And be sure to let me know how you like it in the comments below!
PS: If you love lentils, you may also try this Delicious Falafel Salad with Tahini Sauce.
If you find fabulous50s content useful and would like to support my work, you could always BuyMeATea ???? (completely optional, only if you want to!). Your support will help me create more quality videos and content created just for you… Fabulous women over 50! With love and appreciation, thank you. ????????????
Click here to visit my YouTube Channel
Get a copy of my Free eBook | Guide To Staying Younger Longer
Click here to join the 30-Day Mindfulness Challenge
****************
Disclaimer:
1. This content is not sponsored and all opinions are 100% my own. If I LOVE a product first, and there is an affiliate link available, I will use it. However, I will NOT look for a product that pays a commission first, and then do a review…EVER!
2. Some links are affiliate links. If you click a link and buy something, I may receive a small commission for the sale. It doesn't cost you anything extra and you are free to use the link or not. It's totally up to you. If you do use my links…Thank you so much xxx
3. Information provided in this blog post is of a general nature only and is for entertainment/educational purposes and is not medical advice. We strongly recommend that you consult with your physician before beginning any diet or health program. Making any changes to your health regime is done so at your own risk.

****************