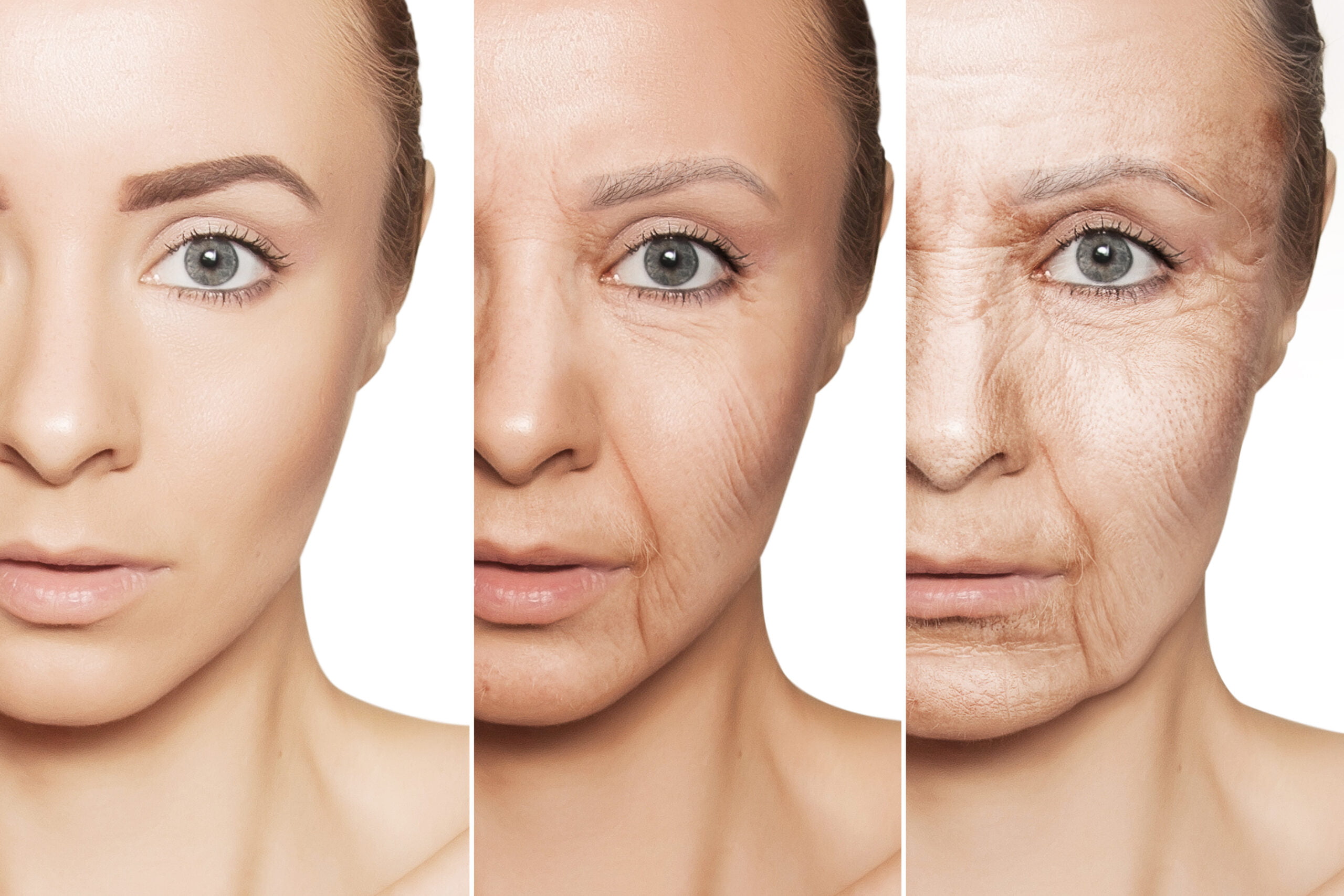 Anti Aging Skincare Guide for Mature Skin Over 50 with Skin Care Expert Will Fennell.
Are you in need of some anti aging skincare tips? I know I am! As a woman over 50 with mature skin, I've been noticing the texture of my skin slowly change, but I wasn't sure what to do about it. However, I can now confidently say that I have acquired quite a bit of knowledge about how to care for my skin. Earlier this month, I was lucky enough to sit down with skincare expert Will Fennell. Will is a skincare therapist and has been featured on the television shows Aussie Queer Eye and 10 Years Younger in 10 days. He has owned his own salon for 24 years and has been working as a trainer with German skincare brand Biodroga for two decades. Will told me  everything I need to know, step by step, on how to keep my skin looking amazing over the age of 50. Today, I want to share with you everything that I have learned! Here are some of the best anti aging skincare tips that Will gave:
Will pointed out the importance of understanding how mature skin differs from younger skin. He said, "the structure of the skin has changed, the amount of oil it produces has changed and therefore it's not retaining as much moisture. So you really need to look at it differently than how you did when you were in your 30's and 40's. You need to be looking at it in a way that is gentle, but still using powerful anti-aging ingredients."
Aside from lack of moisture, mature skins also become much more thin and crepey. The lack of density in the skin is responsible for moisture loss, which means that your skin can't rejuvenate itself alone. As will says, "you need to provide ingredients that your skin would normally naturally have on the surface or within the skin. Then, the skin can be able to heal itself and regenerate itself from the inside, as well."
Keep Your Skincare Routine Simple
Will warns against the dangers of overcomplicating skincare. You could end up with skin irritation and pain. While correcting the skin and using active ingredients is very important, Will notes that, "the most important thing you could do is maintaining the barrier of the skin – so making sure the skin has enough oil and moisture to protect itself. If you can maintain the barrier of the skin, and that's for all skin types from oily to dry, you can make sure the skin is happy." Simplicity and consistency are key for great skin.
All About The Skin Barrier
 "If your skin is red, dry, irritated – if it's not radiant – it's not happy. How to help that is by making sure you are providing enough oil and moisture. All of your moisture comes from your moisturizing cream, so it's important to make sure you have a good barrier cream. The skin is an amazing organ; it can actually heal and repair itself if we just make sure that that barrier is intact."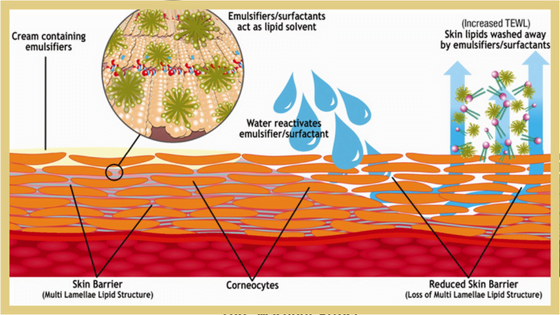 Before you treat your skin in any way, you need to first have your skin's barrier intact. If you go straight into harsh treatments like lasering or needling, your skin will only get irritated. However, as you age, your skin's natural barrier disintegrates because not enough oils are produced, meaning moisture is not retained. That's why, as a woman over 50, the #1 anti aging secret is to keep your skin's barrier in great shape!
The Importance Of Barrier Cream
Will points out that we have the most transdermal moisture loss – when moisture escapes from the outside layer of the skin- while we sleep at night. A barrier cream can provide moisture and lock that moisture in when we need it the most. If you want to know how to find the best barrier cream, Will says to opt for creams that deal with dehydration and moisture loss. Some of the most important ingredients in a barrier cream are hyaluronic acid, ceramide and precious oils because this combination can mimic our skin's natural barrier. The problem is that this barrier gets broken down both by age and bad habit.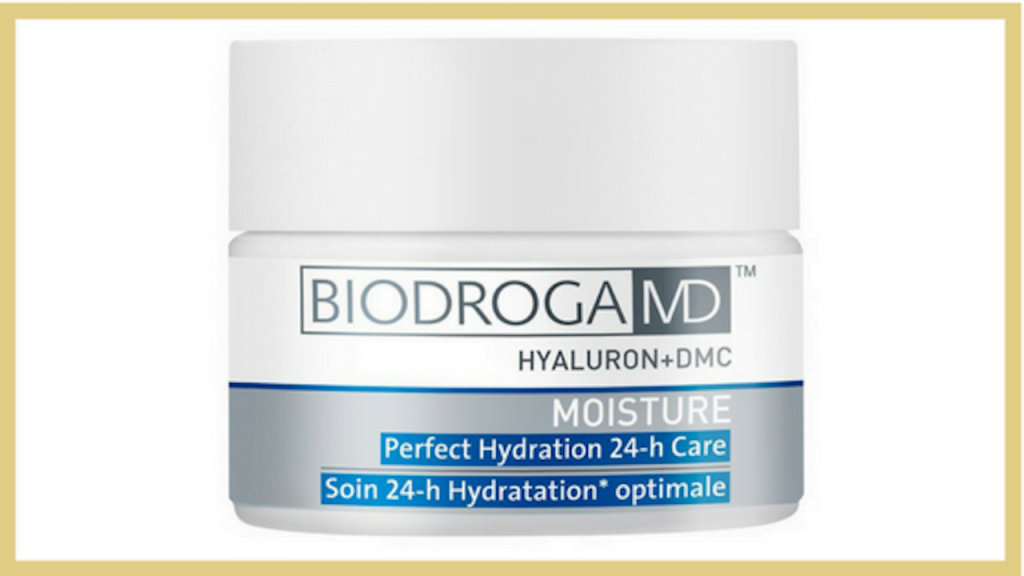 Anti Aging Skincare Guide For Mature Skin: Stage 1
For those new to anti aging skincare routines, Will stresses the importance of keeping your routine simple. However, he also says that more intense products can be added on slowly over time. There are 3 stages to an anti aging skincare routine for beginners. Each stage is very explicit and only last for a few months each. Here is stage 1: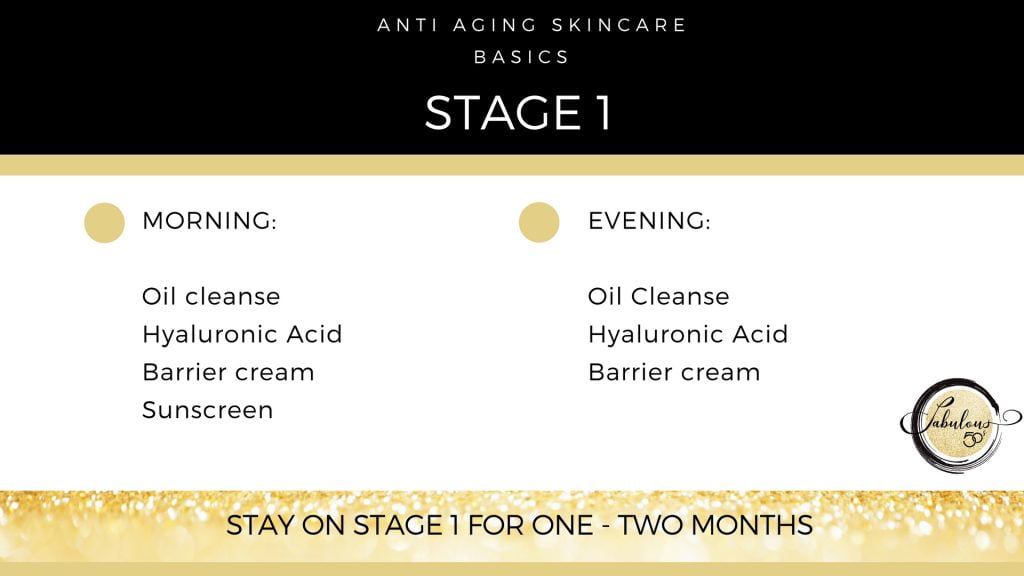 Step 1: Cleanse: "I love cleansing oils because I think that a cleansing oil cleans the skin beautifully without drying the skin," Will says.
Step 2: Serum: "If you're going to have a serum at the beginning of your routine- in the morning and the evening- you should work with hydrating serums. Work with high and low molecular, hyaluronic acid hydrating serums- really moisturizing," notes Will.
Step 3: Barrier Cream: "This would be your first month or two, getting your skin really prepared and then you can start using vitamin A, vitamin C, powerful peptides and the acids."
It's also crucial to remember to apply sunscreen in the mornings, after completing your skincare guide for mature skin.
Anti Aging Skincare Guide For Mature Skin: Stage 2
Stage 2 is essentially the same as Stage 1. However, now is when you can begin introducing actives, if you'd like. The second step of this routine involves the application of a vitamin C serum, with hyaluronic acid and ascorbic acid.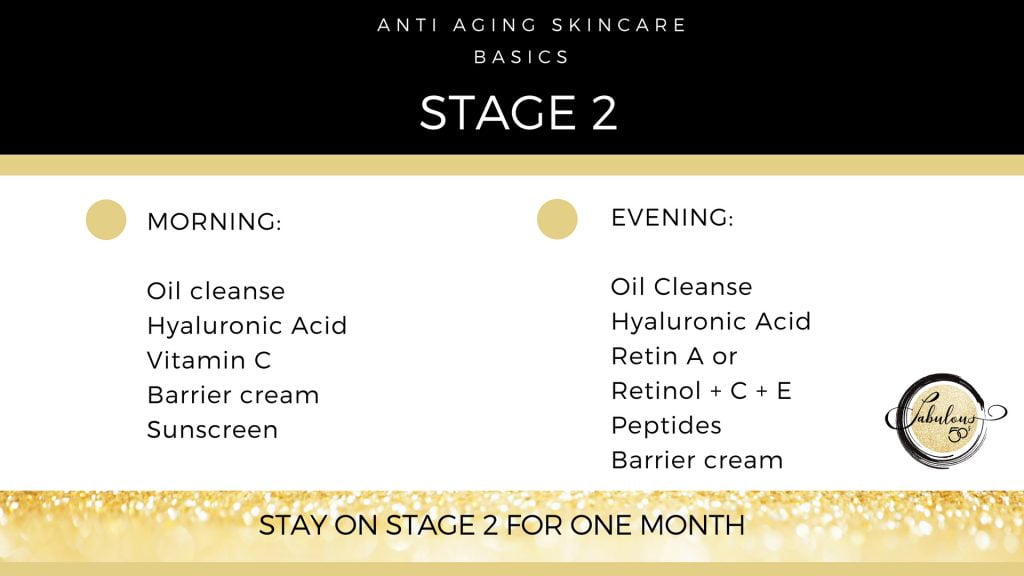 Step 1: Cleanse: "With mature skins, stay away from anything that foams because you don't want to be removing any of those precious oils that your skin normally has. Some people have naturally very oily skin and their natural instinct is to use foam and remove it.  A cleansing oil, gently cleansing fluid or a cleansing water can be used- but stay away from things that foam," recommends Will.
Step 2: Serum: Will says, "Vitamin A, vitamin C and vitamin E should be used and work very well together. These three tend to recharge each other. They work much better together as an antioxidant."
Step 3: Peptides added into your serum: Will absolutely raves about the restorative powers of peptides! He says, "Peptides are like little personal trainers for your skin. We have these amazing cells in our skin that produce collagen and collagen fills out the skin. Peptides tell the cells to produce more collagen and elastin. They're wonderful- I love them!"
Step 4: Barrier cream
After staying on this routine for at least one month, you'll be ready to move on to stage 3!
Anti Aging Skincare Guide For Mature Skin: Stage 3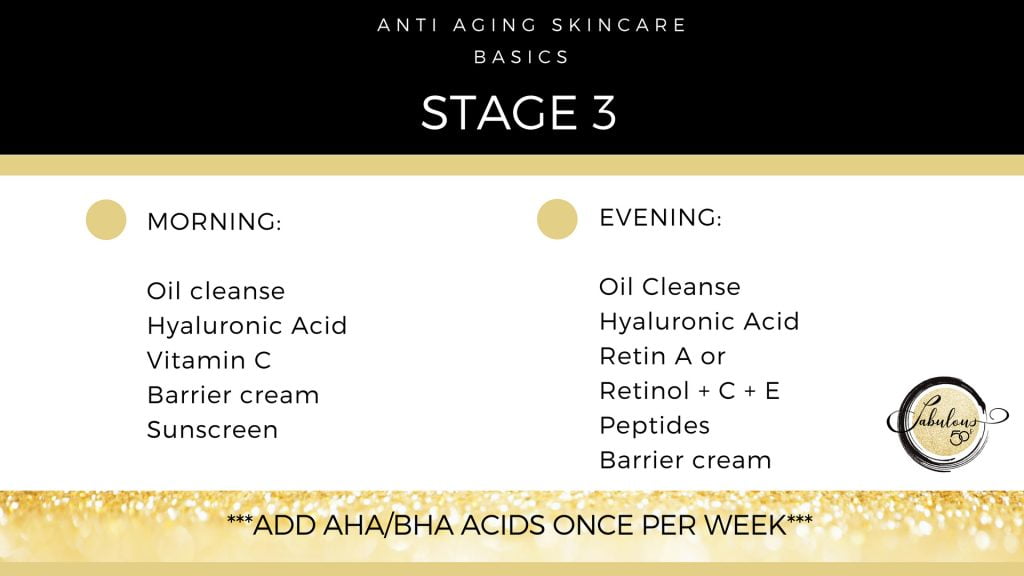 Stage 3 of your anti aging skincare routine is essentially the same as stage 2, but you can apply alpha-hydroxy acids or beta-hydroxy acids once per week. However, avoid applying these active ingredients to your face more than once per week! When you are using all of the other active ingredients in stage 2, using acids multiple times per week would simply burn your skin and cause you to over exfoliate. But what does that mean? Will says, "Imagine that your skin is a garden. If you came along with a fire-blower and blew away all of the grass and plants, it would just be bare and burnt. That's what acids do. By nature, they burn the surface of the skin. If you were to use that 3-4 times per week, that garden would never repair. If you used it once, but then gave the garden the water, the fertilizer…the garden would grow back."
The Appearance Of Red Capillaries
During the interview, I mentioned to Will that it seems like many women are doing too much when it comes to skincare. Very few of us keep our anti aging skincare routine simple! However, by doing too much for our skincare routine can cause, irritation, dryness and visible red capillaries. Luckily there is a cure if you feel as though you're gone too far and capillaries are taking over! "With little capillaries, it's that the blood has rushed to them and they have expanded, but not restricted. They remain dilated and then they become visible to the eye. It's a normal thing for the capillaries to expand, but what we want them to then do is constrict. With skincare, we can make sure that they do that. With barrier repairment, it all comes down to the health of the skin. If the skin's health is intact, it will naturally know what to do," says Will.
"The first thing to understand is that the skin doesn't understand anything to do with brand names. So your skin doesn't know if you're using A, B or C," Will says. Ingredients are far more important than brand name when it comes to skincare. You should always check the back of a product's box before making a purchase!
The Top 10 Skincare Ingredients
Will shared with me his top 10 list of anti aging skincare products: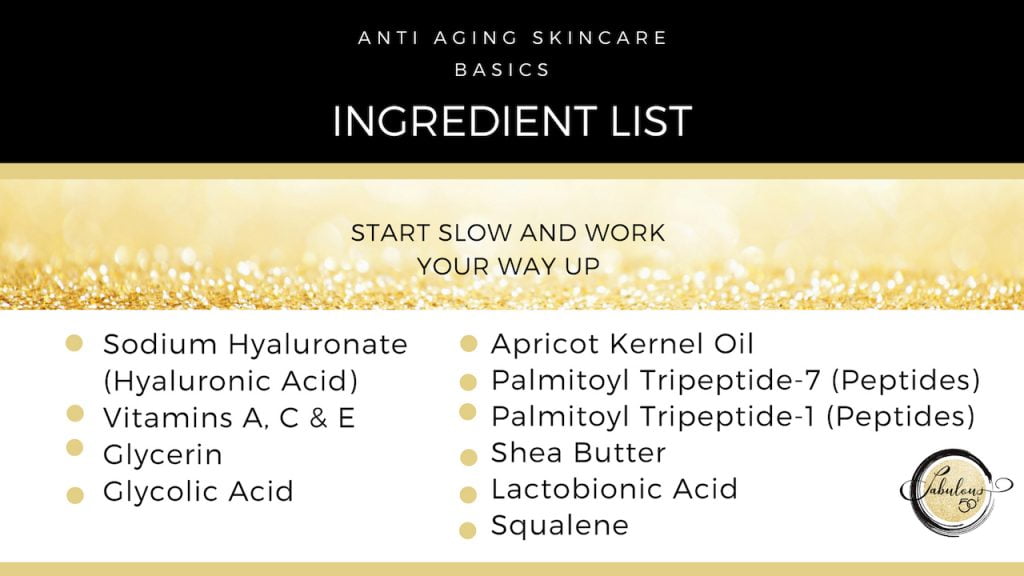 Will concluded his interview with me by stressing the importance of these ingredients in your anti aging skincare products. His last bit of advice to women over 50 in regards to skin care, "If you look for these 10 ingredients in your skincare, you can't go wrong!"
Visit Wills Store – Le Skin Bar
Shop Products Online Here:
CLEANSING OILS:
Biodroga cleansing oil  (Le Skin Bar)   (Amazon)
Palmers Cocoa Butter Skin Therapy Cleansing Oil  (Amazon)
TATCHA 1-Step Camellia Cleansing Oil (Sephora)   (Amazon)
HYALURONIC ACID:
Biodroga Intensive Moisture – packed with Hyaluronic acid (Le Skin Bar)
Multi Molecular Hyaluronic Complex 30ml by NIOD  (Beauty Bay)   (Amazon)
The Ordinary Hyaluronic Acid 2% + B5   (Skin Store)    (Amazon)
VITAMIN A/C/E + PEPTIDES ALL IN ONE SERUM:
Biodroga MD Anti-Ox Anti-Age Serum (Wills pick -You can use this one serum and receive all the benefits mentioned in stage 2)
(Le Skin Bar)   (Amazon)
VITAMIN C:
Skinceuticals C E Ferulic  (Amazon)
Cosmetic Skin Solutions Vitamin C+E Serum  (Amazon)
BARRIER CREAM:
Biodroga Intense Moisture/Barrier cream (Le Skin Bar)     (Amazon)
Epionce Medical Barrier Cream  (Skin Store)    (Amazon)
L'Oréal Revitalift Cicacream Anti-Wrinkle + Skin Barrier Repair  (Ulta)   (Amazon)
PEPTIDE SERUM:
The Ordinary Buffet peptide serum  (Amazon)
NIOD Copper Amino Isolate Serum 1.00% 1.0 oz (Amazon)  0.5oz (Amazon)
VITAMIN A – RETINOLS
The Ordinary Granactive Retinoid 2% in Squalane  (Amazon)
Differin, Adapalene Gel 0.1%, Acne Treatment  (iherb)   (Amazon)
WEEKLY AHA/BHA:
Biodroga AHA facial exfoliator (Le Skin Bar)   (Amazon)
The Ordinary AHA 30% + BHA 2% Peeling Solution  (Amazon)   (Cult Beauty)
SUNSCREEN:
Colorescience Sunforgettable Mineral SPF 30 Sunscreen Brush  (Amazon)   (My favourite because you can wear it over the top of your foundation)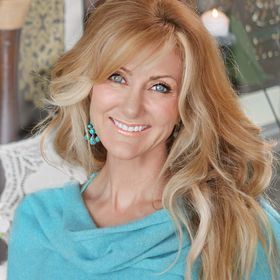 Welcome to Fabulous 50s! My name is Schellea and I'm so glad you're here.
Fabulous 50s is a platform designed to help women over 50 fall in love with themselves. As an energetic 50-something-year-old myself, I truly believe that 50+ can be the best time of our lives! Through Fabulous 50s, I share fashion, beauty, wellness and lifestyle tips to help women get inspired and stay motivated.

Don't forget to follow me on social media!
I would love to connect with you.
Take a look at my other content for women over 50!
Want to see more from fabulous 50s?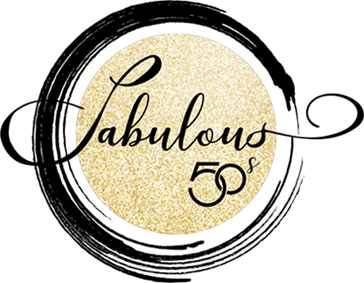 Until Next Time . . . Stay Fabulous!
Do you want fabulous 50s blog posts and videos sent straight to your inbox?
Disclaimer: This content is not sponsored and all opinions are 100% my own. If I LOVE a product first, and there is an affiliate link available, I will use it. However, I will NOT look for a product that pays a commission first, and then do a review…EVER!
Some links are affiliate links. If you click a link and buy something, I may receive a small commission for the sale. It doesn't cost you anything extra and you are free to use the link or not. Its totally up to you. If you do use my links…Thank you so much xxx