Most women over 50 have problems with belly fat because menopause makes our stomachs bigger. As we get older, our bodies change, and there are times when we just don't want to flaunt our bellies.
Fashion should make you feel good. However, let's face it: occasionally, what we see in the media and on the catwalk can make us feel a little… less than our best.
Thus, we sometimes feel self-conscious about our belly and prefer to dress in a way that conceals it.
But that doesn't mean you have to break the bank or spend hours scouring the internet for the perfect dress. I've done the work for you!
Style Tips to Help You Feel Good and Look Great
Here are style tips and dresses to hide belly fat; they will sure to flatter your figure and make you feel fabulous.
Style Tip #1 : Wear an A-line Top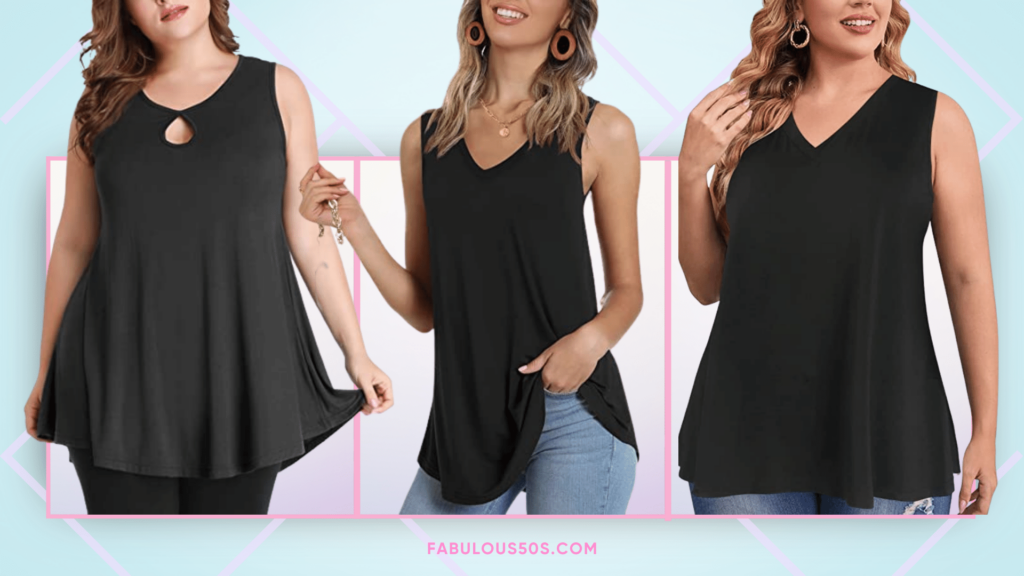 This style of clothing will skim your belly rather than cling to it. It's more fitted up top, and then just under the bust, it flares out a little bit.
When you're shopping for an A-line, look for that semi-circle shape cut in the bias when you fold it in half.
The flared silhouette helps to hide any unwanted bulges, creating a much more flattering look. And as a result, you'll look sleek and chic instead of bloated and uncomfortable.
Style Tip #2 : Add definition to your underbust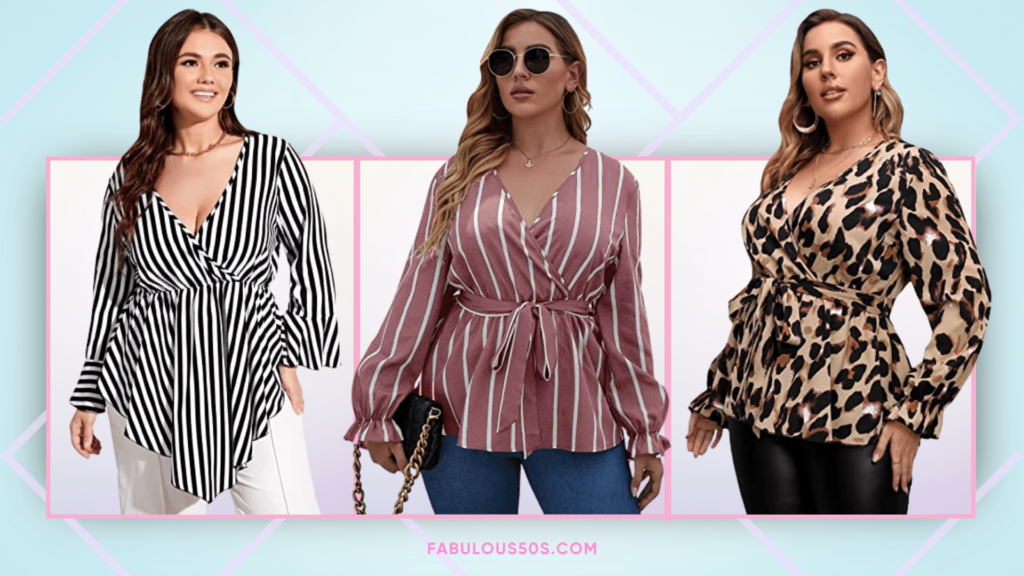 This is a popular fashion trick you can use to help divert attention away from your belly and create the illusion of a slimmer silhouette.
If just under your bust is the smallest part, that's where you add something. You can add a belt to give definition to your smaller bits or wear a belted top (like the images above).
Wearing tops that are slightly fitted at the bust and flowy at the waist, this will help to create the illusion of an hourglass figure and make your tummy appear smaller in comparison.
Another trick is to choose tops and dresses with vertical stripes or other patterns that elongate the body.
By drawing the eyes up and down, these styles can help create the illusion of a slim, streamlined figure.
Style Tip #3 : Layer two tops on top of each other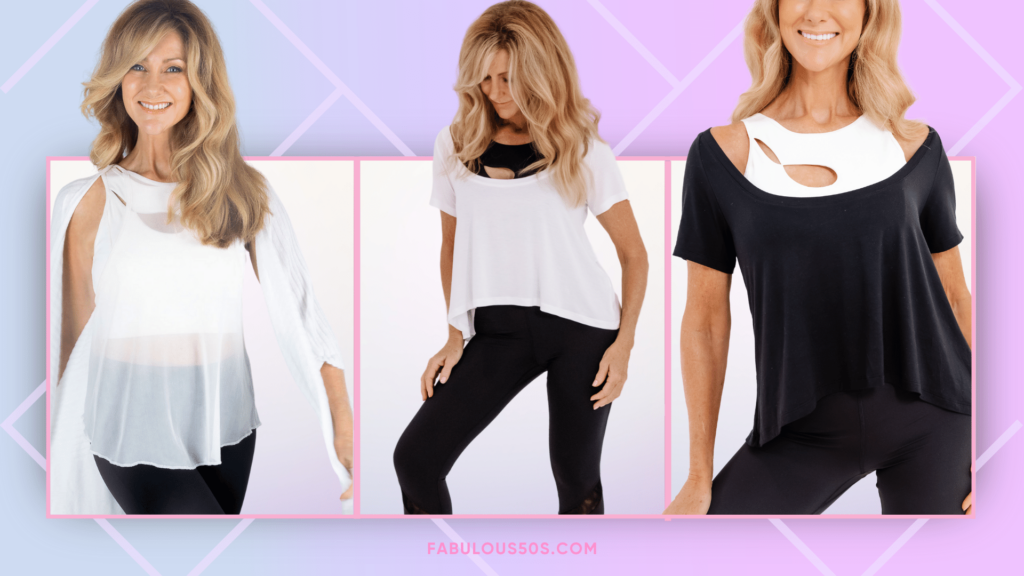 One of my favorite tricks is to layering two tops on top of each other with different hemlines.
This style is a great way to hide your stomach area because it will draw the eye away from your belly, and makes you look put together without trying too hard.
The top shirt should be long enough to cover your belly, while the bottom shirt can be shorter.
It's a great way to show off your personal style. Plus, you can mix and match different tops to create new looks – it's a win-win! It's a really fun way to experiment with fashion!
Sign Up for Fabulous50s Activewear Collection Email Updates

Style Tip #4 : High-waisted jeans are a girl's best friend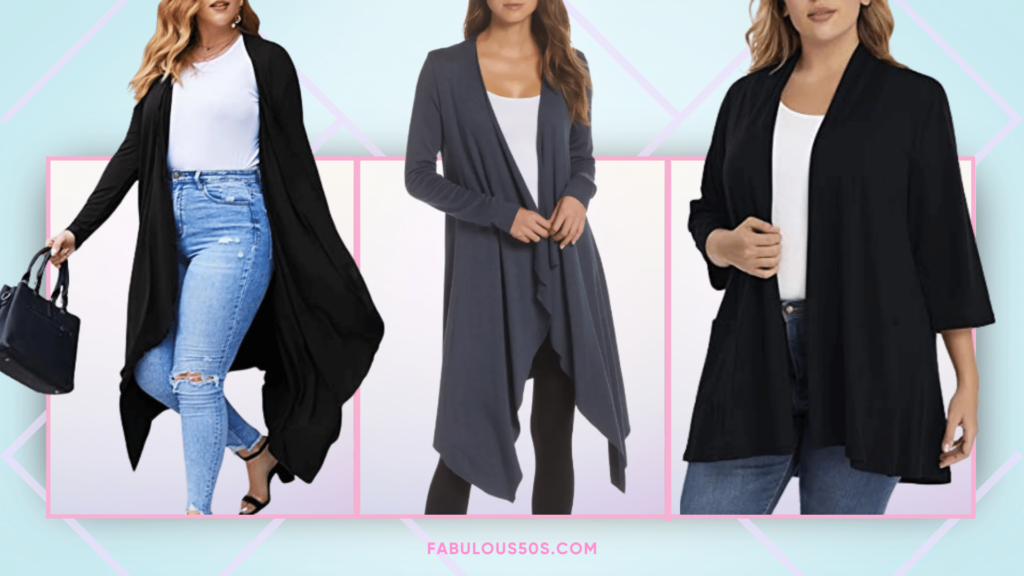 High-waisted jeans are all the rage these days, and it's no wonder why. They've got the power to tuck in your tummy, hold in your love handles, and give you the illusion of a waistline. Plus, they make your legs look miles long.
What's not to love?
Opt for a pair that comes up just a tiny bit past your belly button, where the curve of your hips comes in. With this silhouette, you'll be sure to look chic and stylish in your high-waisted jeans.
READ ALSO: Lose Belly Fat Sitting Down | AB WORKOUT For Women Over 50!
Style Tip #5 : Add an outerwear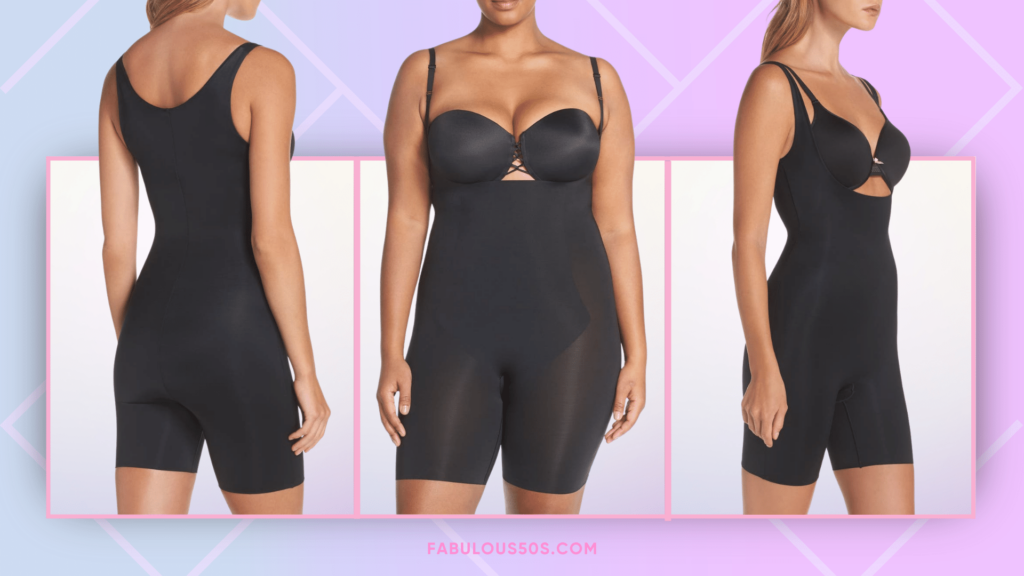 Not only does outerwear like cardigans, vests, or long tops provide an extra layer of warmth, but it can also be used to create the illusion of flow that we're looking for.
It's not going to particularly hide and cover your tummy but it's going to add interest and softness to the rest of your look.
And the best part is that you don't have to sacrifice style for comfort. With a little bit of creativity, outerwear can help you look pulled together and feel confident, even when you're not feeling your best.
Style Tip #6 : Invest in shapewear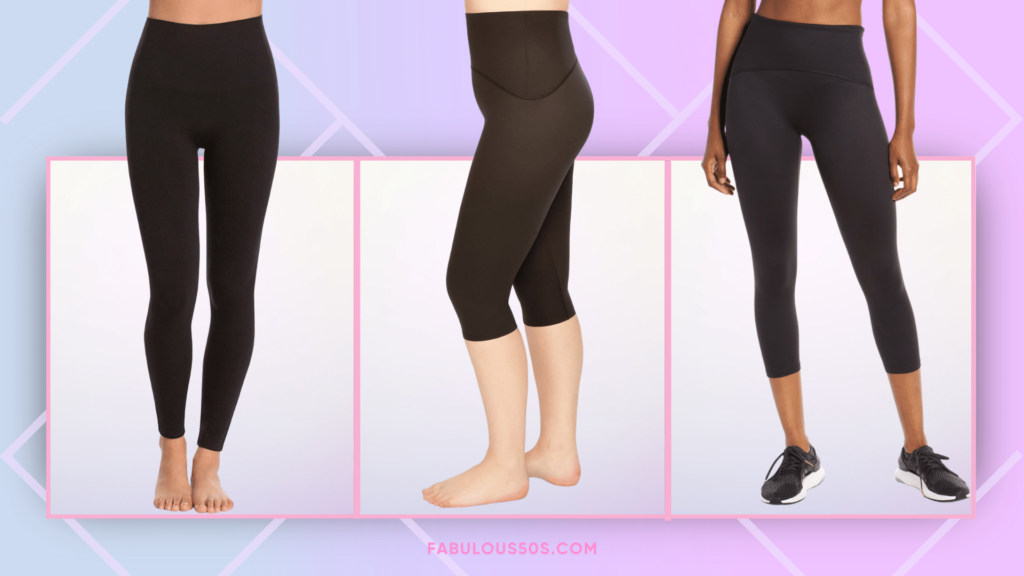 While some people may view shapewear as a necessary evil, I believe that it can be a fun and empowering addition to any wardrobe.
Not only does it help to hide away any unwanted lumps or bumps, but it can also give you the confidence to rock a tight dress. And let's be honest, who doesn't love feeling a little extra pulled together?
But if you're looking to invest in some shapewear, there are a few things you should keep in mind. First, make sure you buy the right size for you.
Otherwise, you'll end up with even more bulges and lumps. You have to be really super cautious of where it finishes up in your underbust and where it finishes on your leg. You've got to try these things on.
Put your outfit on top of it and if you're seeing lumps, go and try a different size or a different style.
I like Spanx the best because, for me, they just work; they're so well designed, and they really make a big difference in everything I'm wearing.
READ ALSO: How To Lose Belly Fat Over 50
Style Tip #7 : Spanx workout wear
Looking to hide your belly while working out? Spanx has got you covered – literally. Spanx's workout wear is designed with compression fabric that smooths and flattens your stomach, giving you the confidence to rock your workout.
The snug material instantly makes you feel slimmer and more toned. And because it's from Spanx, you know the fit will be impeccable. No matter what size you are, you can get a pair of these.
And because they're designed to slim and smooth your silhouette, you'll look great even if you don't break a sweat.
I've mentioned Spanx twice, but this is definitely not a sponsored post. I just love their material, and this was my go-to workout wear before I created my own collection.
READ ALSO: 5 Minute ABS WORKOUT To Reduce Belly Fat Fast
My Most Important Tip!
Everyone needs some fashion perspective from time to time, and there's nothing wrong with looking good as long as it's true to who WE ARE!!!
But the most important tip I can give to disguise your belly fat is… be present!
So when you're with other people, smile, think about what they're telling you, ask questions, be interested, and focus on how you think you are making them feel when you're that present with them and giving them all that energy. I bet you they're not even going to notice your belly.
They're not going to notice anything about you except how you made them feel!
Shop for Dresses to Hide Belly Fat
If you liked the products in this post, be sure to check out my shop for more of My Favorite Outfits to Hide Belly Fat!
I've curated a selection of stylish and flattering clothing specifically designed to help women over 50 hide their belly fat.
Whether you're looking for a new dress to wear to your next holiday party or some comfortable leggings to lounge around in, I've got you covered. Be sure to visit my shop today!