There are so many anti-ageing skincare routines that it's impossible to sort through the results. Add confusion about where products fit into a routine and their purpose, and you have a recipe for frustration and confusion.
Skincare brand, The Ordinary is one such company whose products inevitably end up on these lists, and for good reason. For a fraction of the price of some other major skincare labels, you are getting an extremely good product.
The Ordinary has developed a range of '1-ingredient' formulations that have been designed for us to pick and choose our ultimate routine. The only downside is the lack of instruction. We are, for the most part, on our own to figure it out.
It's never quite as simple, either, as picking out a moisturiser and a cleanser. Labels like matrixyl and amino acids can be tricky to decipher without some prior knowledge.
To demystify some of this confusion for you, this is the actual anti-ageing skincare routine I use, exclusively with The Ordinary products.
I have noticed amazing results and can't wait to share them with you!
I'm going to break down what each product does as well as where they should fit into your routine and why. If you would like glowing, youthful skin for just under $60, read on!
WATCH HERE: The Ordinary: My Anti-Aging Skincare Routine Over 50

Cleanser
First step in your skincare routine should be to cleanse. Cleansing helps clear away dirt and oil build up and makes sure we have all of our makeup removed properly.
Building out your skincare routine on top of an unstable foundation will ensure that each product will not work to it's full potential.
The Ordinary have a fantastic oil cleanser which is perfect for any skin type as it's gentle and non-stripping, however you can use any old cleanser that you are happy with.
Morning Routine
Your morning anti-ageing skincare routine using The Ordinary products will remain the same every day of the week, so there's no need to worry about changing it up on certain days.
1. Buffet + Copper
The first serum in your lineup should be Buffet + Copper. The Buffet serum from The Ordinary is a slightly tongue-in-cheek reference to a buffet style offering for skincare.
Buffet has been designed to target multiple signs of ageing all at once including fine lines and wrinkles. This serum helps to refresh dull skin and offers some really great hydration boosters.
2. Matrixyl
After you've cleansed and Buffet'ed the next step will be at use a peptide serum. Peptides are naturally occurring in the skin and form the building blocks of proteins, the most common of which is collagen.
As we age, our collagen production lessens so it's important we are topping it up. Matrixyl from the Ordinary is a high strength peptide formulation which will do exactly that.
The major benefit here is a reduction in fine lines and wrinkles and a youthful plump of the skin.
3. Amino Acids
After Matrixyl comes The Ordinary's Amino Acid compound which is designed to provide skin barrier protection and boosted hydration.
This formulation mimics the amino acids (proteins) in our skins natural moisturising factors so they are more easily absorbed and utilised.
For ageing skin, we can never get too much moisture, and while this won't replace your moisturiser it will provide a fantastic moisture barrier to improve skin elasticity and plumpness.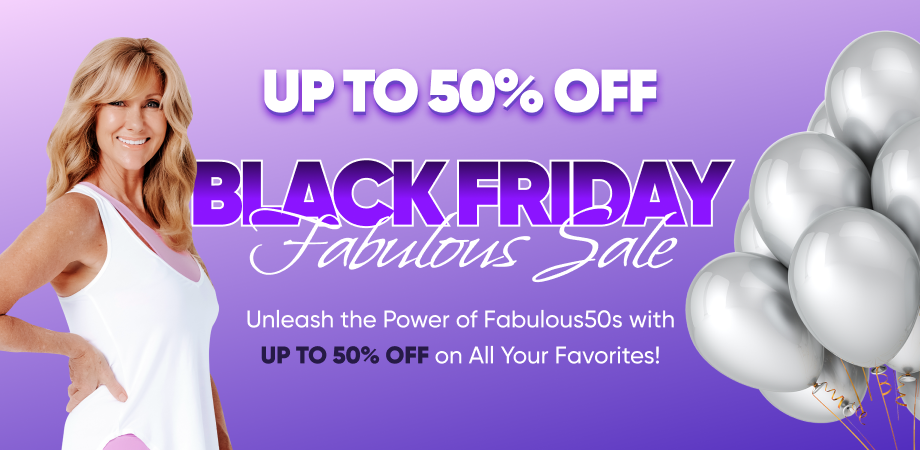 4. Vitamin C
For convenience, I am going to just call The Ordinary's Ascorbyl Tetraisopalmitate Solution 20% in Vitamin F vitamin C.
This particular derivative of vitamin C has been formulated as an oil for an overall higher concentration. Being an antioxidant, vitamin C goes on the skin to protect it at a cellular level from environmental harassers like UV rays and air pollution.
Vitamin C's true benefit comes from its brightening effects, and its ability to boost collagen production which in turn diminishes fine lines and wrinkles. Vitamin C is one of the most beneficial anti-ageing products you can buy and is essential in any skincare line-up.
5. Moisturiser
The second to last step in your morning routine will be a moisturiser. A moisturiser acts to lock in all of the previous steps of your routine, provide skin barrier support and of course to moisturise the skin.
'The Ordinary's Natural Moisturising Factors will most closely mimic your skins NMF for easy absorption and is formulated with Hyaluronic Acid for an added moisture boost.
6. SPF
Finally, an SPF should be applied to protect our skin from UVA/UVB rays which are detrimental to ageing skin. Always look for an SPF of at least 50+ and I really like XX for daily use as it's lightweight and wears very well.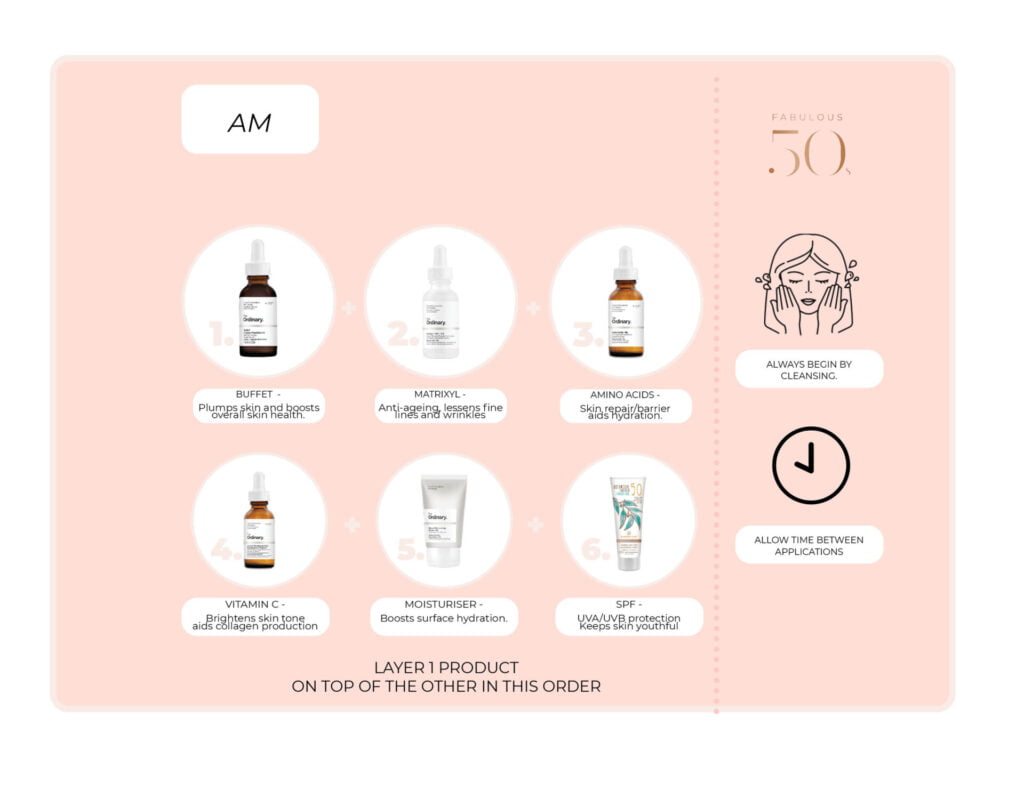 Night Time ( Tue, Thur & Sat)
Our nightly anti-ageing skincare routine will change up slightly depending on the day of the week, however for the most part we will be using the same core products we have been using in the AM.
1. Cleanse
Cleansing at night is just as important (if not more so) as cleansing in the morning as we are removing the days grime build up.
If you are exercising every day as well, cleansing is doubly important as the bacteria in our sweat can cause unwanted blemishes and even breakouts!
2. Glycolic Acid
This toning solution from The Ordinary will genty exfoliate to help target lacklustre skin and bring our skin tone and texture back up to scratch.
Exfoliating is an important step in an anti-ageing skincare routine as it helps remove dead skin cells to bring the fresh, new skin up to the surface.
Exfoliating more than 3 times a week can actually be harmful though, which is why we only use these 3 times a week. As this is a chemical exfoliant, it is suitable for sensitive skin, however, if irritation occurs stop use immediately.
3. Amino Acids
After we exfoliate, apply The Ordinary's Amino Acid formulation for night-time barrier support.
READ ALSO: Anti Aging Skincare Guide For Mature Women Over 50
4. Natural Moisturising factors
As a final step, lock in all of the benefits of the previous steps with a moisturiser.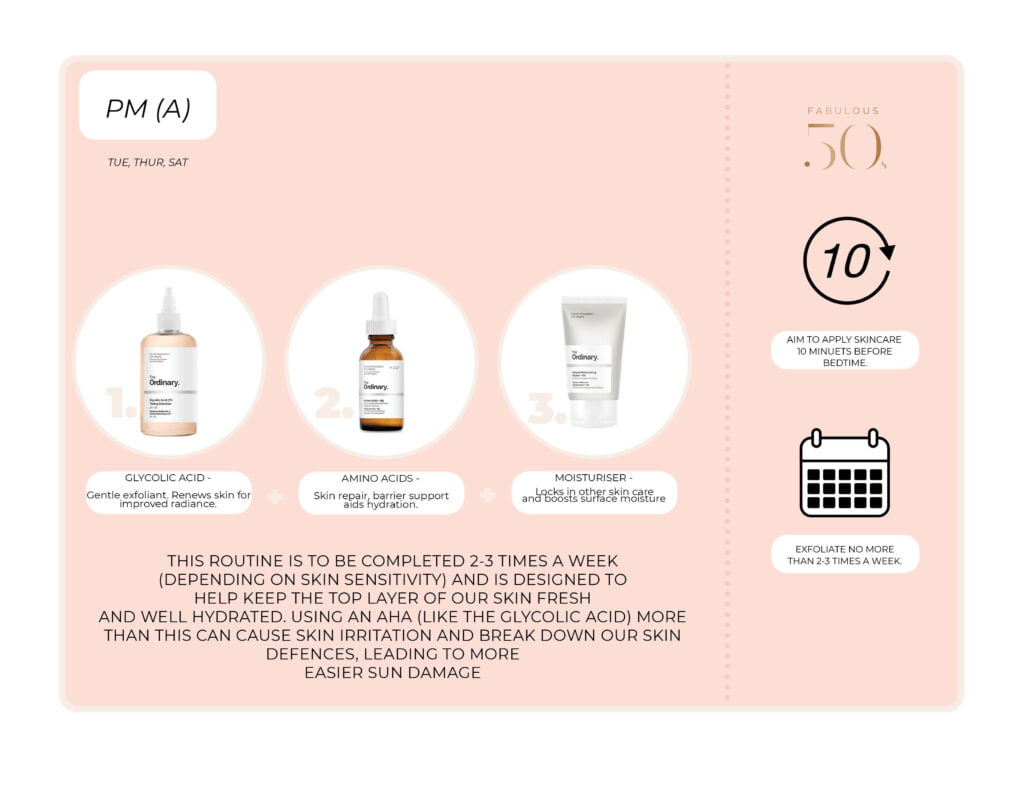 Night Time ( Mon, Wed, Fri & Sun)
Our night-time routine for every other day of the week is very similar to our morning routine, with one key difference.
1. Matrixyl
First step is getting some peptides back into your skin. A twice daily application of Matrixyl will boost the efficacy and delivery of the peptides. You cannot over-use this product.
2. Amino Acids
After peptides comes Amino Acids, just the same as we apply in the morning.
READ ALSO: Skin Care Treatment For Wrinkles: How To Look Younger Using Retin-A!
3. Retinoid
Where our night-time routine differs from our morning routine is with a retinoid. The Ordinary's retinoid is a derivative of vitamin A, another antioxidant with massive anti-ageing benefits.
Vitamin A acts to boost skin cell turnover, meaning you have newer skin sooner. This leads to a reduction in fine lines and wrinkles and can help flatten out hyperpigmentation for a more even skin tone.
A retinoid can make the skin quite sensitive though, so if you notice irritation, stop use immediately.
4. Natural Moisturizing Factors
The final step, of course, is to lock all of that goodness in with moisturiser.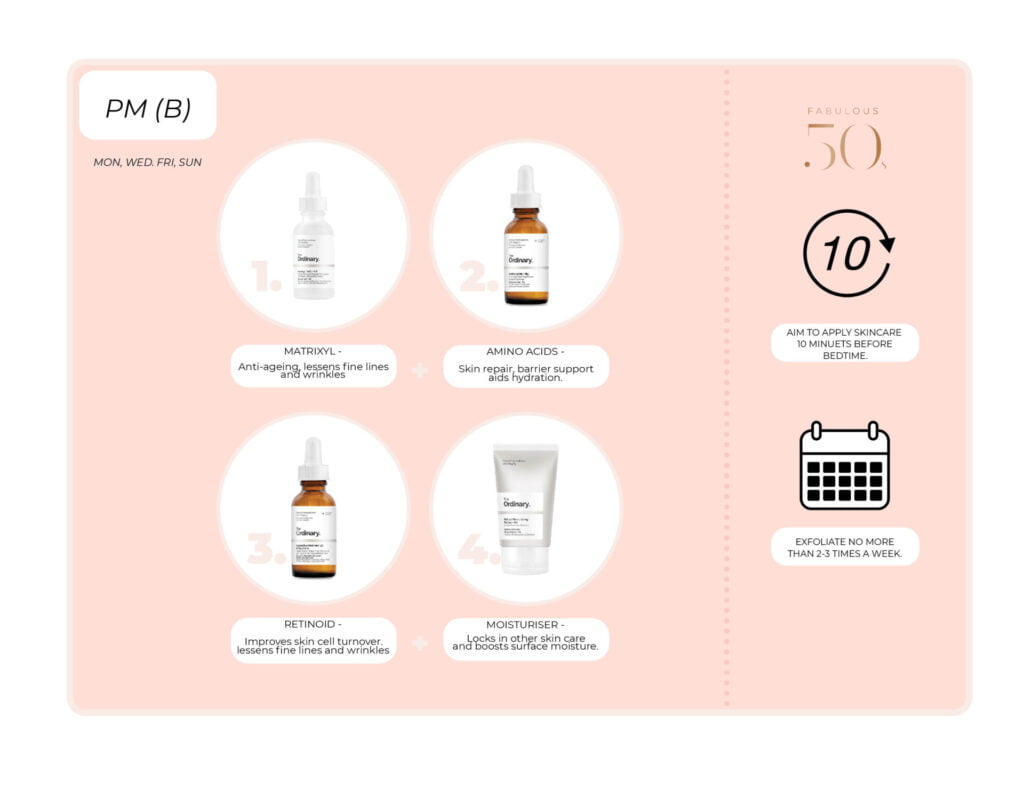 Closing Thoughts…
There are a million and one ways to pair The Ordinary products and even more anti-ageing routines. If you find something that is working for you, stick with it!
This anti-ageing skincare routine is what has been working for me and even after only a few days on this regimen, I noticed some big differences.
The main function of using this assortment of skincare is to offer our skin some next level hydration and repair, smoothing out fine lines and wrinkles and plumping up the skin.
You can also cherry-pick this anti-ageing skincare routine for only you're the products that you need or will be beneficial in your existing routine. Have so much fun experimenting and let me know in the comments if you have tried any of these products!