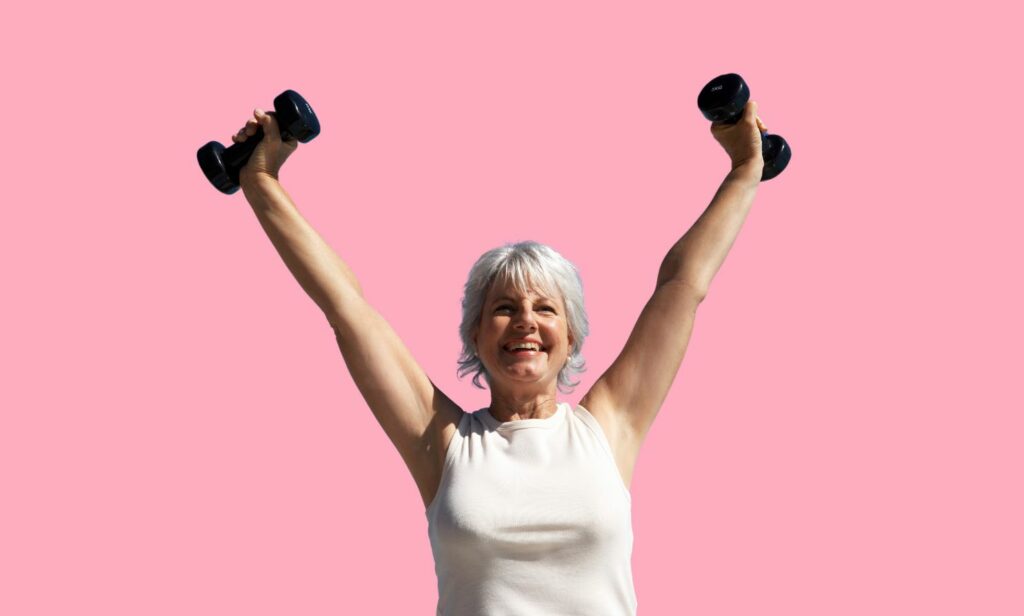 As you enter your 50s, it becomes more and more important to stay in shape. At this point in life, it is important for your health and well-being that you do strength exercises on a regular basis.
Strength exercises help improve muscle mass, bone density, and metabolism, all of which can decrease with age. They also improve balance and lower the risk of falling, which is a common worry for people in their 50s.
You can stay fit, active, and independent as you get older if you do strength exercises regularly.
Let's take a look at some regular strength exercises you can do in your 50s to stay fit.
Benefits of Regular Strength Exercises
Women in their 50s can benefit in many ways from doing strength exercises regularly.
First, it helps build muscle mass and strength and prevents sarcopenia, which is the loss of muscle mass that comes with getting older.
Regular strength training also makes bones stronger and less likely to break or get osteoporosis. Strength exercises also speed up the metabolism, which helps with weight management and keeps visceral fat from building up.
This is especially important because the metabolic rate tends to slow down as people get older.
Strength training also helps improve balance and coordination, which lowers the chance of falling and getting hurt. It also makes joints more stable, which can make arthritis and other joint problems less painful. 
Strength training also improves posture, reducing back pain and other musculoskeletal issues.
Finally, regular strength training improves mental health and brain function.
The Best Strength Exercises For Women Over 50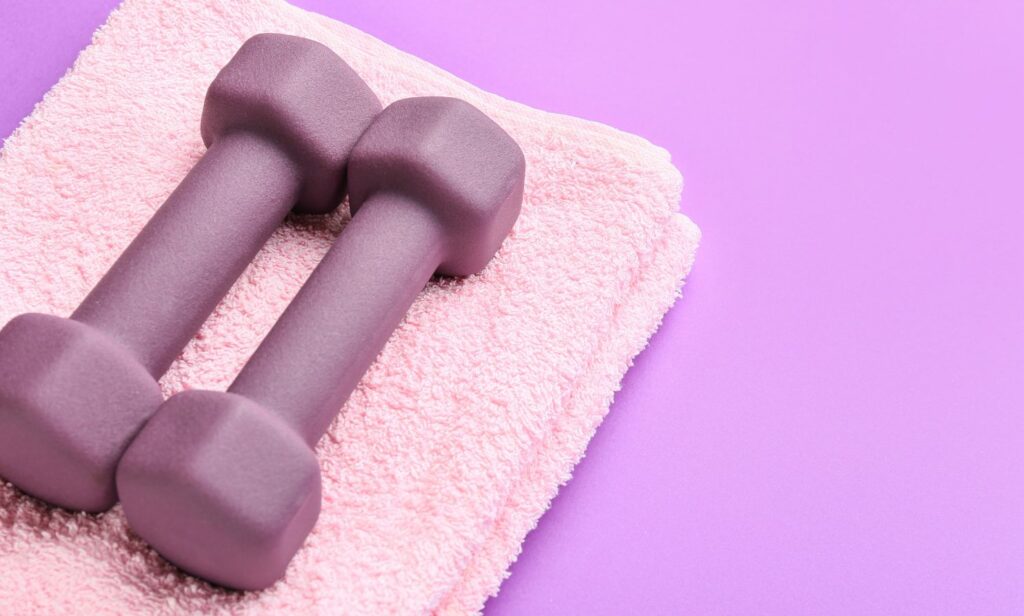 When choosing strength exercises for people in their 50s, it is important to think about how fit you are now and if you have any health problems.
If you have never done strength training before, it is best to start with lighter weights or resistance bands and increase the intensity as you get used to it. Focus on doing exercises that target the chest, back, arms, legs, and core.
Squats, lunges, push-ups, bicep curls, tricep dips, and planks are all great exercises for people in their 50s who are just starting out.
These exercises work out a lot of different muscle groups and can be changed to fit your needs. As you get stronger, you can add more difficult exercises like deadlifts, bench presses, shoulder presses, and weighted lunges.
But it is important to keep good form and pay attention to your body to avoid getting hurt.
Let's take a look at some strength exercises to do regularly to stay fit and in shape.
1. Warm-up and Cool-down Exercises
Warming up before strength training prevents injury. For five to ten minutes, a dynamic warm-up can include light cardio exercises. This boosts muscle blood flow, body temperature, and workout readiness. Perform dynamic stretches for your strength training's major muscle groups.
After strength training, cool down and stretch. This helps keep muscles from getting sore and stiff. Stretching targets the muscles you worked on during strength training. Relax and breathe deeply during each stretch. Cooling down gradually lowers your heart rate and returns your body to rest.
READ ALSO: Common Weight Training Mistakes to avoid making for women over 50
2. Upper Body Exercises
In your 50s, you need strong upper body muscles to do daily tasks and stay independent. Upper body strength exercises focus on making the muscles in your chest, shoulders, back, and arms stronger and more toned.
These exercises not only make you look better, but they also make it easier to do things like lift, carry, and push.
Upper body strength exercises improve balance and stability. Strengthening the upper body, especially the core and back muscles, can improve posture and balance and reduce the risk of falls.
Balance improves daily activities and independence as one ages.
Push-ups are a great way to build strength in the chest, shoulders, and arms, which are all parts of the upper body. They also work your core, making them a good way to work out your whole body.
3. Lower Body Exercises
Lower body strength improves balance and mobility. The exercises help older women in many ways, all of which improve their quality of life, physical abilities, and health as a whole.
Lower body strength is important for everyday things like standing, walking, climbing stairs, and even staying balanced. As we get older, our muscle mass and strength go down, which can make it harder to do these basic things. Regular exercises for the lower body can help counteract these effects and keep older women active and able to take care of themselves.
Lower body strength exercises also help increase bone density, which is a big plus. Osteoporosis, which causes bones to become weak, is common in older women. This is mostly because estrogen levels drop after menopause.
When you do exercises that put weight on your bones, like squats or lunges, your bones get stressed. This makes the cells that make bone work harder, which makes the bones stronger. This increased strength and density makes bones less likely to break, which is a common and often debilitating problem in older age.
Squats are a fundamental exercise that work the quadriceps, hamstrings, and glutes. Lunges are also excellent for the lower body.
READ ALSO: 6 Low-Impact Exercises For Women Over 50
4. Core Strength Exercises
A strong core is important for stability, balance, and good posture, all of which become more important as we get older. It is the center of the body and helps keep the spine and hips stable, which can help prevent falls and injuries.
This is especially helpful for women in their 50s, who are more likely to fall and hurt themselves. Core strength also improves posture, which can help older adults avoid back pain.
Another important benefit is that it makes everyday things better. A strong core helps you do all kinds of things, from simple things like picking things up, bending, and turning, to harder things like carrying groceries or gardening. So, core strength exercises can help older women keep their independence and quality of life in a big way.
Do not forget that core strength exercises can help you breathe better because the muscles in your core, like the diaphragm, are important for breathing.
Strong core muscles make it easier and deeper to breathe, which can help your body get more oxygen and give you better endurance and performance.
One of the best ways to build core strength is to do planks. Not only do they work your abs, but they also work your back, hips, and shoulders. Planks can help improve your posture, balance, and overall stability if you do them regularly.
Pull-ups and Overhead Press are also effective exercises for strengthening the core. Pull-ups are good for your arms and back, and you can make them easier by using resistance bands.
Overhead Press focuses on the shoulders, but it also works the arms and the core. You can use dumbbells, kettlebells, or a barbell to do this.
Closing Thoughts
Strength exercises should be a regular part of your routine if you want to stay fit and healthy in your 50s. There are many benefits to strength training, such as increased muscle mass, stronger bones, a faster metabolism, and a lower risk of falling.
You can strengthen your body by doing the right exercises for your level of fitness, warming up and cooling down the right way, and focusing on different muscle groups.
Also, do not forget to do flexibility exercises and keep track of your progress to keep yourself going. 
Strength exercises are powerful and can help you in many ways, both physically and mentally.
Remember that it is never too late to start taking care of your body and enjoying the benefits of being strong and fit in your 50s.
♡ Love ♡,
Schellea