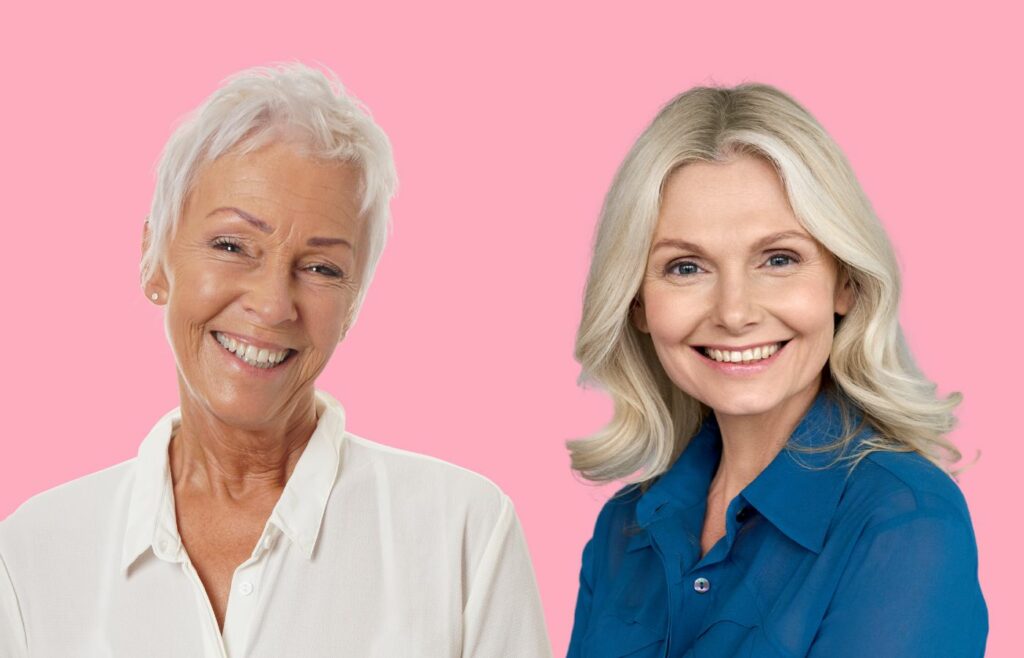 As we age, we often wonder what hairstyles will suit our changing face shape, hair texture, and lifestyle.
It's often debated whether women over 50 look better with long or short hair.
As a woman over 50, I know that my hair is one of the most important aspects of my appearance. It's the first thing people notice about me, and it's an important way for me to express my personal style.
But as I've gotten older, I've struggled with the decision of whether to keep my hair long or cut it short. The long hair vs. short hair debate has been a hot topic for decades, and it's not going away anytime soon.
Are you debating whether to keep your long locks or go for a shorter cut? Read on to explore the pros and cons of each and find the best hairstyle for women over 50.
The Pros and Cons of Long Hair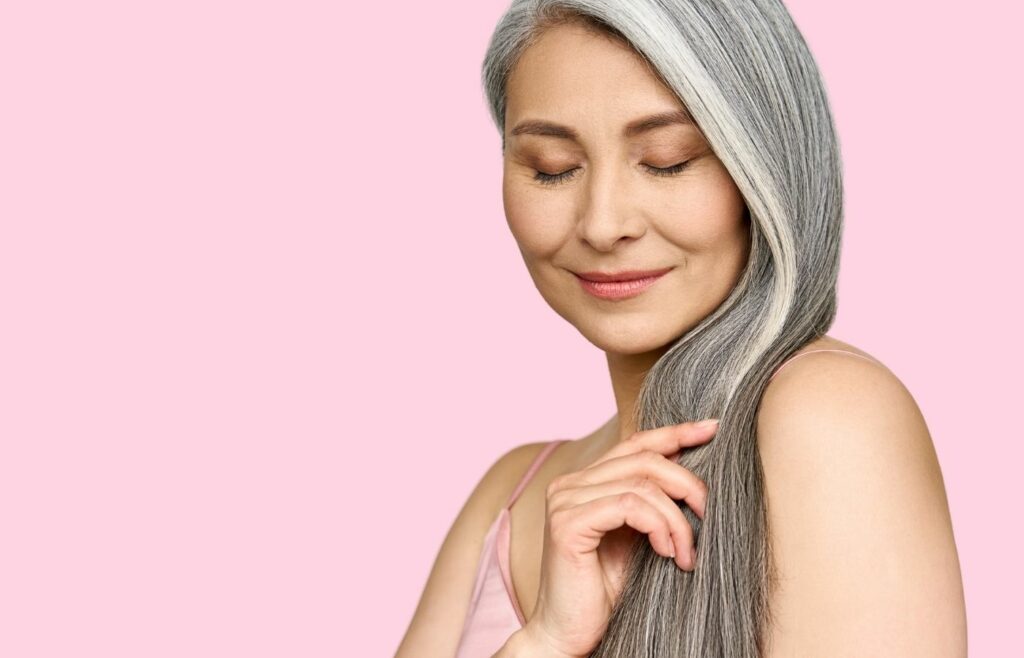 Long hair has traditionally been associated with youth, femininity, and even sex appeal. However, as we age, our hair may thin or lose its lustre, making long hair less desirable.
When deciding whether to keep your long hair, consider these pros and cons.
Pros:
Long hair can be styled in updos, braids, and loose waves, giving you many options for any occasion.
It can make you feel younger and more confident, especially if you've always had long hair.
Long hair can also hide wrinkles and sagging skin around the neck and jawline.Long hair can also conceal neck and jawline wrinkles.
Cons:
Long hair needs regular trims, deep conditioning treatments, and detangling.
In hot, humid weather, it can be heavy and uncomfortable.
Long hair can accentuate thinning hair and make you look older.
The Pros and Cons of Short Hair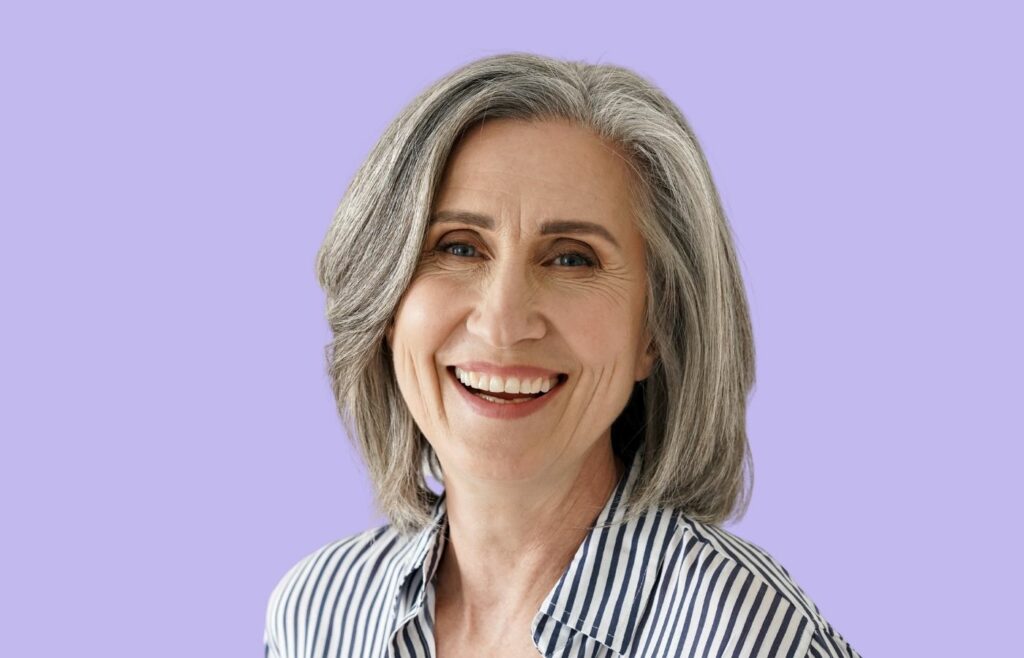 As they get older, many women think about cutting their hair. While there are plenty of advantages to having a cropped 'do, there are also some cons to consider.
Here are the pros and cons of short hair for women over 50.
Pros:
Short hair is easier to style and requires less time. This helps older women who may not have as much time or energy to style their hair.
Short hair can make women over 50 look younger by modernizing their appearance.
Even though the hair is shorter, there is still a wide variety of styles to choose from. These styles include bobs, pixie cuts, and shags.
When the temperature outside is high, you may find that wearing your hair short is more comfortable and helps you to feel cooler overall.
Cons:
Shorter hair limits styling options, but there are still plenty to choose from. This may concern women who like to try new hairstyles.
Women who care about their appearance may worry that short hair is less feminine than longer hair.
Women with certain face shapes may not look good with short hair. It's important to pick a hairstyle that flatters your face.
Short hair needs more haircuts to stay styled. This may cost and take time for women over 50.
READ ALSO: Why Long Hair Is the New Norm for Women Over 50
Things to Consider Regarding Your Lifestyle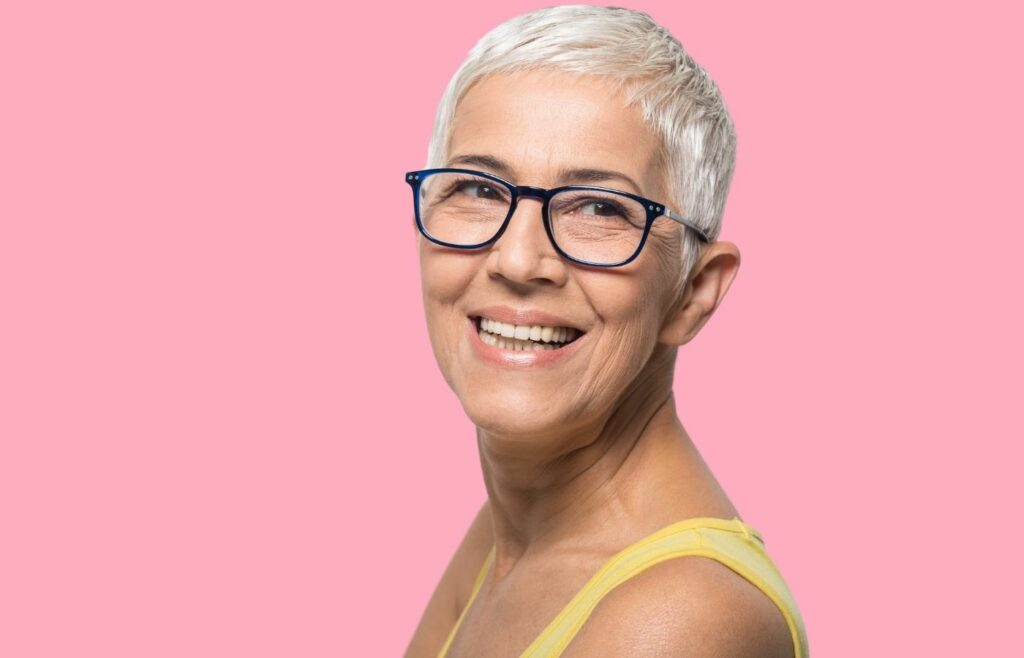 When deciding between short and long hair, your lifestyle is another factor to consider. Do you style your hair daily or prefer a low-maintenance look? Are you in a professional setting that requires a more conservative hairstyle?
It's also important to think about how your features and face shape up. In the same way that short hair can draw attention away from your features, longer hair can make your face look longer and thinner.
You should also think about your routine and how much time you have for upkeep and styling. If you're a woman who's constantly on the go, short hair might be more practical.
The nature and texture of your hair also matter. Long hair can make thinning hair look even thinner, so it may not be the best choice for someone with thinning hair.
On the other hand, long hair can be a stunning way to showcase thick hair's volume and texture. Your own sense of fashion and style should also be taken into account.
Would you rather have a timeless, sophisticated style or something modern and edgy? These will guide your decision between long and short hair.
Long Hair vs. Short Hair: Styling Options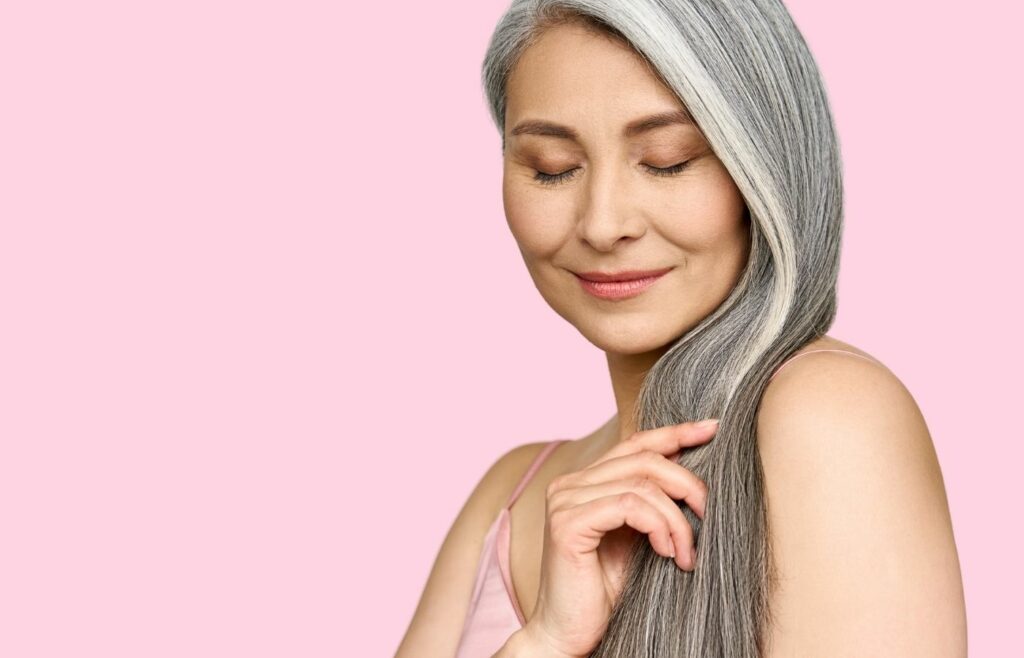 If you're unsure of your hairstyle, try different lengths and styles. You can try clip-in hair extensions or a wig to see how you look with longer or shorter hair.
If you're not sure, you can consult a hairstylist for advice on styles that suit your face shape, hair texture, and lifestyle.
Discover the styling options for long hair vs short hair below!
READ ALSO: Best Hairstyles for Women Over 50 by Face Shape
Long Hair Styling Options
For women over 50, long hair can be a blessing, it can make you look young and vibrant.
There are many ways to style long hair. One of the most timeless styles is the layered cut, which can provide your hair with both volume and texture. Loose waves are also versatile and easy to achieve.
A sleek ponytail or bun is another option that works well for both the office and a night on the town. And since braids and twists are so simple to do at home, they're a great way to spice up your long hair without breaking the bank.
If you want to spice up your long hair, try headbands, barrettes, or hair clips. These can spice up a simple hairstyle with color or texture.
When styling long hair, remember to protect it. Before using curling irons and straighteners, use heat protectants. Deep conditioning treatments can also keep hair healthy and prevent split ends.
The key is to match your face shape and personal style. Don't be afraid to try different looks until you find the right one. With the right tools and products, you can rock long hair with confidence.
READ ALSO: How To Style FRIZZY HAIR For Women With Very Dry Hair!
Short Hair Styling Options
Short hair can highlight your style and personality. There are many ways to look and feel younger with your short hair styling.
Pixie cuts are popular among women over 50. This classic hairstyle can be styled sleek and straight, tousled and messy, or with volume on top. The bob can be blunt or layered, with a side part or bangs.
A spiky pixie or choppy layered cut can add edge to your look. These cuts are ideal for daring individuals who want to make a statement with their appearance. Consider dying your short hair if you're up for some new experiences, and if you've got a daring streak in your hair, go for it! A splash of color can completely change your appearance.
Short hairstyles for over-50 women are endless. Whether you like classic or daring styles, there's one for you. So embrace your short hair and show off your fabulousness!
READ ALSO: Is Long Hair OK Over 50? Top 5 Essential Hairstyle Tips For Women Over 50
Maintenance and Care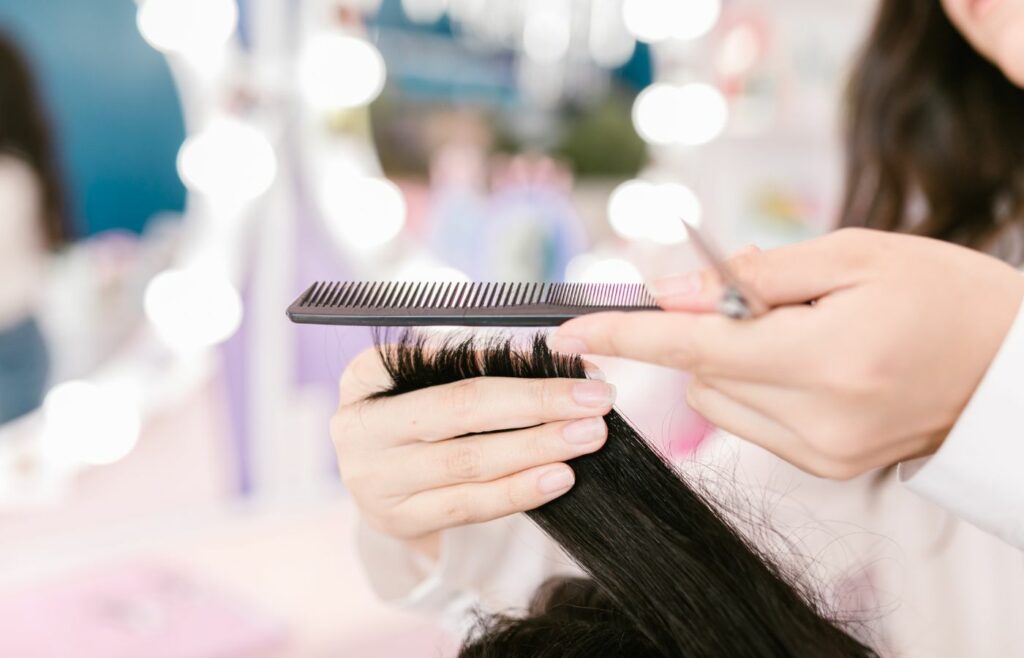 Maintaining hair as women age can be challenging. With the right hair care routine, women over 50 can keep their hair healthy and vibrant.
Hydration should be a top priority. Deep conditioning is essential as we age because our hair naturally dries out. Choosing the right hair products is crucial. Age-specific shampoos and conditioners contain nourishing and protective ingredients.
Regular hair trimming prevents split ends and breakage. Finally, protect your hair from heat damage. When using curling irons and straighteners, use a heat protectant spray. These tips can help women over 50 maintain healthy hair.
Find out the maintenance and care options for long hair vs short hair below!
Long Hair Care for 50+ Women
Long hair requires special attention for women over 50. Our hair thins, dries, and breaks with age. To keep your long hair healthy and beautiful, you need a hair care routine for mature hair.
Get a good shampoo and conditioner for mature hair. Keratin, biotin, and collagen strengthen and nourish your hair from the inside out, so look for products with these ingredients.
Flat irons and curling wands can damage hair, so use them sparingly. Use a diffuser or air-dry instead.
Trim your hair regularly to prevent split ends and breakage, and consider deep conditioning treatments to keep it hydrated and healthy.
Finally, avoid over-washing your hair and wearing a hat or scarf outside to protect your hair from UV rays and pollution. You can maintain your long hair for years with these simple tips. Age is just a number, and you deserve to look and feel your best!
READ ALSO: How To Find Your Face Shape
Short Hair Care for 50+ Women
Short hair is chic and low-maintenance for women over 50. But it's not easy just because it's short.
To keep your hair looking its best, proper care and maintenance are necessary. First and foremost, get regular trims from your stylist to keep your hairstyle looking good.
Use a gentle shampoo and conditioner for your hair type to avoid stripping it of its natural oils. For fine or thinning hair, use a volumizing product. For thicker hair, use a smoothing serum to tame frizz and flyaways. Avoid high heat settings on styling tools and use a heat protectant spray.
A good dry shampoo will prolong your hairstyle between washes. With these easy tips, you can rock short hair with confidence.
Celebrity Inspiration for Long and Short Hair
There are many celebrity hairstyles to inspire you if you're undecided. Jennifer Aniston, Christie Brinkley, Raquel Welchand and Jane Seymour are famous women over 50 with long hair. These women prove long hair is beautiful and youthful at any age.
If you want a shorter cut, you can take a cue from Helen Mirren, Judi Dench, and Jamie Lee Curtis. These women show that short hair can be just as stylish as long hair and even better for some face shapes.
READ ALSO: Do Hair Loss Supplements Work For Women Over 50?
Closing Thoughts…
Long hair vs short hair, whatever hairstyle depends on personal preference and lifestyle.
If you can manage long hair, go for it! Short hair is great if you want to try something new or want low-maintenance. Whatever you choose, remember that the most important thing is to find a style that makes you feel confident and beautiful.
So, whether you have long hair vs short hair, take care of it and style it to feel your best. No matter your age, hair can be one of your most beautiful and versatile features with proper care.
♡ Love ♡,
Schellea
---